Asia, as one of the fastest-growing markets today, has caught the attention of many global entrepreneurs and investors. How can global entrepreneurs learn from the best practices in Asia and China? How should founders in the Asian markets continue to find new business opportunities and get rid of mistakes?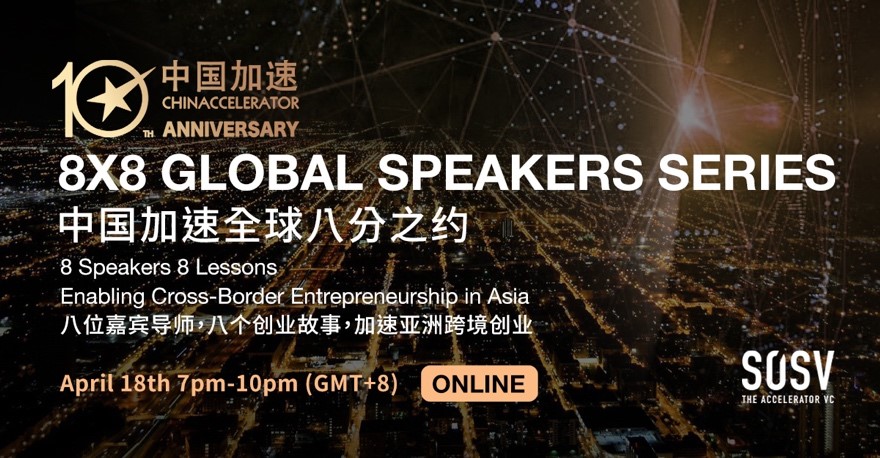 April 18th (Sat) 7pm (GMT+8), Chinaccelerator, the first accelerator in Asia, is hosting the first-ever 8X8 Online Global Speakers Series, lining up speakers from all over the world. They are serial entrepreneurs with successful exits, creative entrepreneur, experienced investors, leaders in tech giants, and global community builders.
They will share their authentic and personal stories and also lessons learned along the way. Specifically, the following topics will be covered:
How can art empower tech companies?
What should founders focus on?
How to build from zero for different organizations?
What does it take to build a superapp?
Think big and do small.
Last but not least, we are making online networking possible at 8X8. Welcome to join a networking session after the 8 speakers' talks where you will be able to talk to our Batch 17 founders and share the same industry and vertical interests with each other.
What is 8X8?
Inspired by the experiences of the highs, lows, fun, and pressure that make up life at a startup.
Twice a year, Chinaccelerator – the 1st accelerator in Asia – invites 8 of our mentors – serial entrepreneurs, investors, and industry leaders– to share their experiences on starting up in Asia, China and beyond for 8 minutes.
At a time of great uncertainty and opportunity for industry upon industry, we aim to leverage our global network to deliver the most valuable insights for entrepreneurs, and also take the lead to create a friendly and welcoming place for diverse talents to exchange ideas and connect with each other. Meet your future investors, co-founders, advisors, partners and friends here!
Speakers:
Cheryl Goh
Founding CMO, Grab
#Superapp #Growth #MarketingStrategy
Cheryl is part of the early founding team at Grab. Starting in Kuala Lumpur as a one-man marketing team, she has set up the marketing practise across Southeast Asia for Grab over the last six years. In 6 years, Cheryl has built the Grab brand into a household name across Southeast Asia, and played a critical role in the company's growth and progression from ride-hailing, into the region's leading superapp.
Today, she leads marketing in over 300 cities, covering all of Grab's business verticals including transport, food, payments and logistics. She also manages Grab's social impact programme and published Grab's first social impact report earlier this year.
Patrick Lee
Co-Founder, Rotten Tomatoes
#SerialEntrepreneur #Exits #Entertainment
Patrick Lee is a serial entrepreneur best known for being a co-founder and former CEO of Rotten Tomatoes (rottentomatoes.com), a leading entertainment website focused on movie reviews and news. He is an advisor to a number of startups including Casetify, ChargeSPOT, Instaread, Kiwibot, Oishii, WePloy, and Zeuss Technologies; and a mentor at a number of organizations including SOSV, Berkeley SkyDeck, Blue Startups, and Founder Institute.
Patrick holds a BA in Cognitive Science from the University of California at Berkeley.
Fritz Demopoulos
Co-founder, Qunar.com 去哪儿
Founder, Queen's Road Capital
#Investor #SerialEntrepreneur #Media #Travel
Fritz Demopoulos has been an entrepreneur and investor within the media and internet industries for over 15 years. He co-founded Qunar.com, China's largest travel internet company; and Shawei.com, China's largest sports internet company. Fritz also had senior positions at Netease and The News Corporation.
Yaw Yeo
General Manager for International Product and Business, Alibaba Cloud
Former Head of New Markets, Twilio
As the product and business leader for CDN, Edge Computing, Video and cPaaS under Alibaba Cloud, Yaw leads several product teams to build global products and drive international business growth.
Prior to Alibaba, Yaw was responsible for new market expansion in the Asia-Pacific region for Twilio (NYSE:TWLO). Yaw started working with Twilio as an investor in 2012. He joined Twilio as employee #1 in Asia-Pacific in 2014 and witnessed Twilio's growth from a startup of 50 employees to a publicly-traded company of 2,500 employees.
Yaw graduated with a B.Sc in Computer Science from Cornell University and M.Sc in Mgmt Science and Engineering from Stanford University.
Yiying Lu
Founder & Director, YIYING LU
#Artrepreneur #Branding #Creativity
Born in Shanghai China, Educated in Sydney Australia and London UK, currently based in San Francisco, Yiying Lu is an award-winning designer, entrepreneur, educator, and bilingual speaker. She was named one of the Fast Company's Most Creative People in Business and Microsoft's "Top 10 Emerging Leader in Innovation".
In the last decade, she has created iconic art for global brands like Disney and Microsoft, and built brands for hundreds of tech startups during her time as a creative director at 500 Startups. Yiying is also the artist behind the Dumpling Emoji and the "Twitter Fail Whale". She was the first international creative collaborator at IDEO.
Patrick Riley
CEO, GAN
Managing Partner & Co-Founder, GAN Ventures
#Accelerators #VentureCapital
Patrick Riley is the CEO at GAN and Managing Partner and Co-Founder of GAN Ventures, a seed-stage venture capital fund. Most recently, he was on the executive team at Techstars, where he oversaw its business development. He started his career working for W.L. Gore and Associates and moved into the leadership of the American Red Cross in Washington, D.C. Patrick left the Red Cross to manage the West Coast sales and operations for a venture-backed healthcare company that had an exit before joining Techstars and GAN. In his spare time, he skis, cycles, travels and spends time with his incredible wife and two daughters.
Edith Yeung
General Partner, Proof of Capital,
Partner, 500 Startups
#VentureCapital #Blockchain #AI

Edith Yeung is a General Partner at Proof of Capital (an early-stage Silicon Valley venture capital fund focused on Blockchain), creator of the China Internet Report and Partner at 500 Startups - the world's most active early-stage incubator. Recognized by Inc Magazine as one of the Silicon Valley investors you must know, Edith has invested in over 50 blockchain, mobile, AI startups including Lightyear/Stellar, Silk Labs (acquired by Apple), Chirp (acquired by Apple), Fleksy (acquired by Pinterest), Human (acquired by Mapbox) and many more.

Before 500, Edith is the general manager at Dolphin Browser, a Sequoia-backed mobile browser with over 150 million installs worldwide. Edith also worked with many Fortune 500 companies such as Siebel, Oracle, AMS, AT&T Wireless and Autodesk.
Abel Zhao
Co-founder & CEO, TravelFlan
#Travel #AI #BigData

Abel is a co-founders and CEO of TravelFlan an Award-winning AI Digital and Big Data Solutions company, utilizing proprietary Travel and Lifestyle – specific B2B2C strategies and solutions to empower Fortune 500 companies like China Mobile, Samsung, SITA and Lotte Group to create incremental revenue streams and improve customer engagement.

Abel has over 16 years of experience in Travel IT and Consulting industries in strategic planning, turn-around management and Sales & Marketing. Previously he was the regional head in Travelport and Amadeus responsible for commercial and strategic initiatives and local market expansion strategy. He also spent 5 years with Air Canada in Toronto as Corporate Analyst, Global Sales and Strategy responsible for revenue optimization and global strategic expansion and 2 years with Hyatt Corporation in Chicago.

Abel holds Dual - Masters degrees from Columbia University and London Business School, and undergraduate in Hospitality Management in Switzerland.
Stay tuned for more speakers.
Free to register: https://chinaccelerator.com/8x8-speakers-series/