As national borders gradually reopen across the region and globally, air travellers now have more reason to cheer as AirAsia Super App continues to expand its flight and hotel offerings by partnering with more than 700 international airline brands flying to over 3,000 destinations and promoting thousands of hotels worldwide.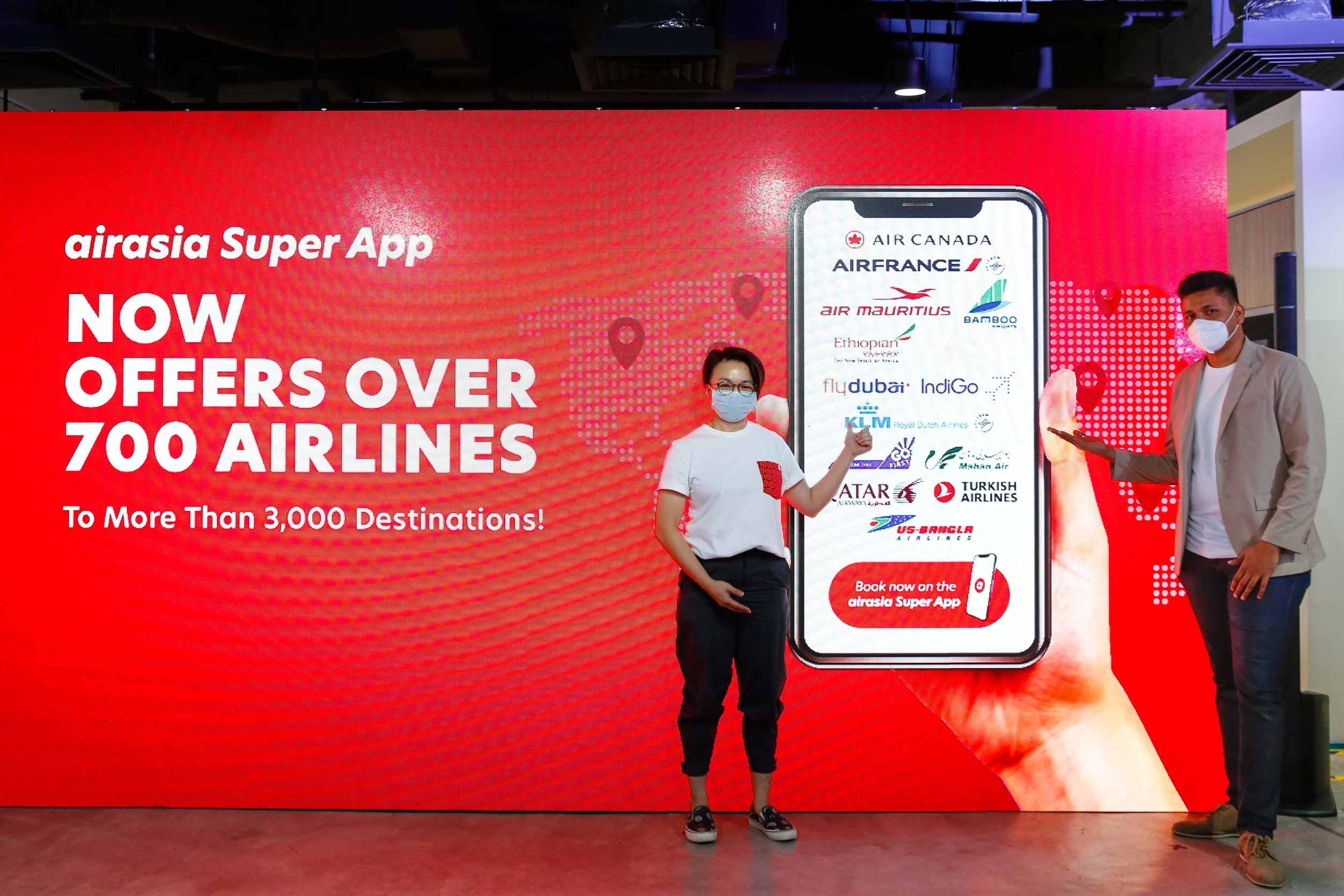 Photo Caption: (From left) Amanda Woo, CEO of AirAsia Super App and Rajiv Kumar, Head of Flights, AirAsia Super App announcing a partnership with more than 700 international airline brands and thousands of hotels worldwide on AirAsia Super App today.
Starting its journey as an online travel agent (OTA) two years ago, AirAsia Super App now has among the world's top airline brands as its airline partners. Some of its newest airline partners are Air Canada, Air France, Air Mauritius, Bamboo Airways, Ethiopian Airlines, flydubai, Go First, KLM, Mahan Air, Qatar Airways, Turkish Airlines, Philippine Airlines, US Bangla Airlines and many more.
Hotel partnerships have also continued to grow with over 300,000 hotels now available on the super app.
With these expanding collaborations, AirAsia Super App users can now secure great value travel deals to many destinations outside of AirAsia's network, including across Europe, Oceania, Africa, the Middle East and the Americas.
Amanda Woo, CEO of AirAsia Super App said, "In just over two years, we are now one of the top three leading online travel agencies (OTAs) in ASEAN based on website traffic, with over 100 million average page views monthly. What gives us a unique advantage is the fact that we are the only OTA that also owns an airline, which has allowed us to leverage our experience with flights to ensure the lowest prices guaranteed on many select offerings. We also have access to a wealth of big and rich travel data, as we have always been a digitally-driven business since day one, 20 years ago.
"AirAsia Super App with its comprehensive portfolio of travel and lifestyle products is well-poised to provide the best value to our customers so they can unlock a more diverse travel offering. We are thrilled to welcome the new airlines and hotel partners and thank them for recognising the vast potential in us and our highly relevant travel-centric user base. We will continue to collaborate creatively with other industry players to stimulate travel demand and complete our product offering as the one-stop platform for all our customer's travel and lifestyle needs."
Rajiv Kumar, Head of Flights said, "As a leader in online travel in ASEAN, we are always looking to support our airline partners with new and creative ways to boost their revenue. Riding on a database of 51 million users base and a social media following of over 55+ million, our airline and hotel partners will be able to leverage off one of Asean's strongest brands, and take advantage of AirAsia Super App's marketing expertise. Using our virtual interlining technology, we will now be able to combine extensive flight inventory and offer itineraries with attractive discounted fares. Now everyone can enjoy low fares from 700 airlines for over 3000 destinations globally."
Mr. Jared Lee, Vice President of Sales for Southeast Asia, Southwest Pacific and India Subcontinent, Qatar Airways said, "Qatar Airways is delighted to be one of the newest airline partners of the AirAsia Super App. Through this, Qatar Airways looks forward to reconnecting passengers from Southeast Asia to the world and bringing them to the destinations of their choice as international travel resumes again."
Estee Ng, Air France & KLM Country Manager for Malaysia, Thailand & Brunei said "Air France and KLM Royal Dutch Airlines congratulate AirAsia on the expansion of AirAsia Super App. We are here to support your activities in Malaysia and we look forward to travel picking up soon."
Philippine Airlines Senior Vice President for Sales and Marketing Oscar Reyes, Jr. said "Philippine Airlines and AirAsia have always been committed to serving the highest interest of our customers in terms of safety, passenger comfort and value for money. As major players in the Philippine aviation industry, our collective efforts have achieved milestones in bringing back confidence in air travel and tourism. As we get closer to the light at the end of the tunnel, we look forward to forging more meaningful collaborations that will spur swift economic growth and recovery post-pandemic."
Ian Lorigan, IATA Regional Director Distribution & Payment, Asia Pacific said "We are delighted to welcome AirAsia Com Travel Sdn Bhd as an IATA accredited travel agent. When borders reopen and travel returns, AirAsia Com Travel's accreditation will open up more opportunities by facilitating their commercial access to airlines participating in the IATA Billing and Settlement Plan in Malaysia. We look forward to continuing working with the team at AirAsia Com Travel Sdn Bhd and to support their business growth."
To celebrate its partnership with new airline partners, AirAsia Super App is offering a 3-day special promotion of up to 50% off for flights from Kuala Lumpur to London, Istanbul, Helsinki, Abu Dhabi, Phuket and Bangkok. Fly from Bangkok to London, Los Angeles, Shanghai, Munich, Phuket and Chiang Mai. Those residing in Manila can enjoy the same discount and fly from Manila to Amsterdam, Los Angeles, Dubai, Maldives, Cebu and Bangkok while those in Jakarta, Indonesia may book flights to Istanbul, Doha, Abu Dhabi, New York, Bali and Surabaya. The special up to 50%* discount will be applied upon selection of voucher code at the payment page. The flights are available for booking from 29 October 2021 (1000 hrs GMT+8) until 31 October 2021, for travel from 8 November 2021 until 29 October 2022. For Thailand, the travel period is from 3 January 2022 until 29 October 2022.
To complete your travel plan, enjoy 50% off all hotels on AirAsia Super App using the promo code AAHOTEL50 from now till 31 Oct.
In November 2019, AirAsia expanded its online offering to include flights on other airlines as it transformed airasia.com into Asia Pacific's leading travel and lifestyle platform in partnership with leading travel technology company Kiwi.com. In November 2020, The Super App announced a partnership with Turkish Airlines.
Stay up to date with everything e-commerce from the AirAsia Super App by following @airasiasuperapp on Instagram and Facebook for the latest updates on AirAsia Super App's e-commerce offerings! For a seamless and enhanced experience, download your AirAsia Super App from the Apple App Store, Google Play Store or Huawei AppGallery now.
*Maximum discount capped applies