Ananda will host its latest event "Urban Tech: Driving Value in Cities Through Technology and Design" on Thursday June 29th at 1pm at the Ananda Campus at FYI Building in Bangkok as part of its ongoing series to support the local innovation ecosystem by bringing in the most innovative and inspirational speakers.
The event is proud to have attracted  lauded author and urbanist Greg Lindsay, who will talk about "Cities-as-a-Service" and esteemed researcher and MIT Senseable Cities Lab veteran Anthony Vanky, who will present on "Data Dimensions of the City", followed by a panel with Ayesha Khanna, an academic and practitioner pioneering Artificial Intelligence in the urban sphere, and Yaron Schwarcz, a Work Economic Forum Digital Leader and entrepreneur in the field of construction and robotics.
In his talk, the New Cities Foundation's Greg Lindsay will describe how the city‐as‐a‐service is changing how we move, work, and live — and the investment opportunities this creates. MIT Senseable City Lab's Anthony Vanky presentation will address his pioneering research which explores how data from pedestrian mobile phones can help to analyze how we interact with the urban environment and we can ultimately optimize its design.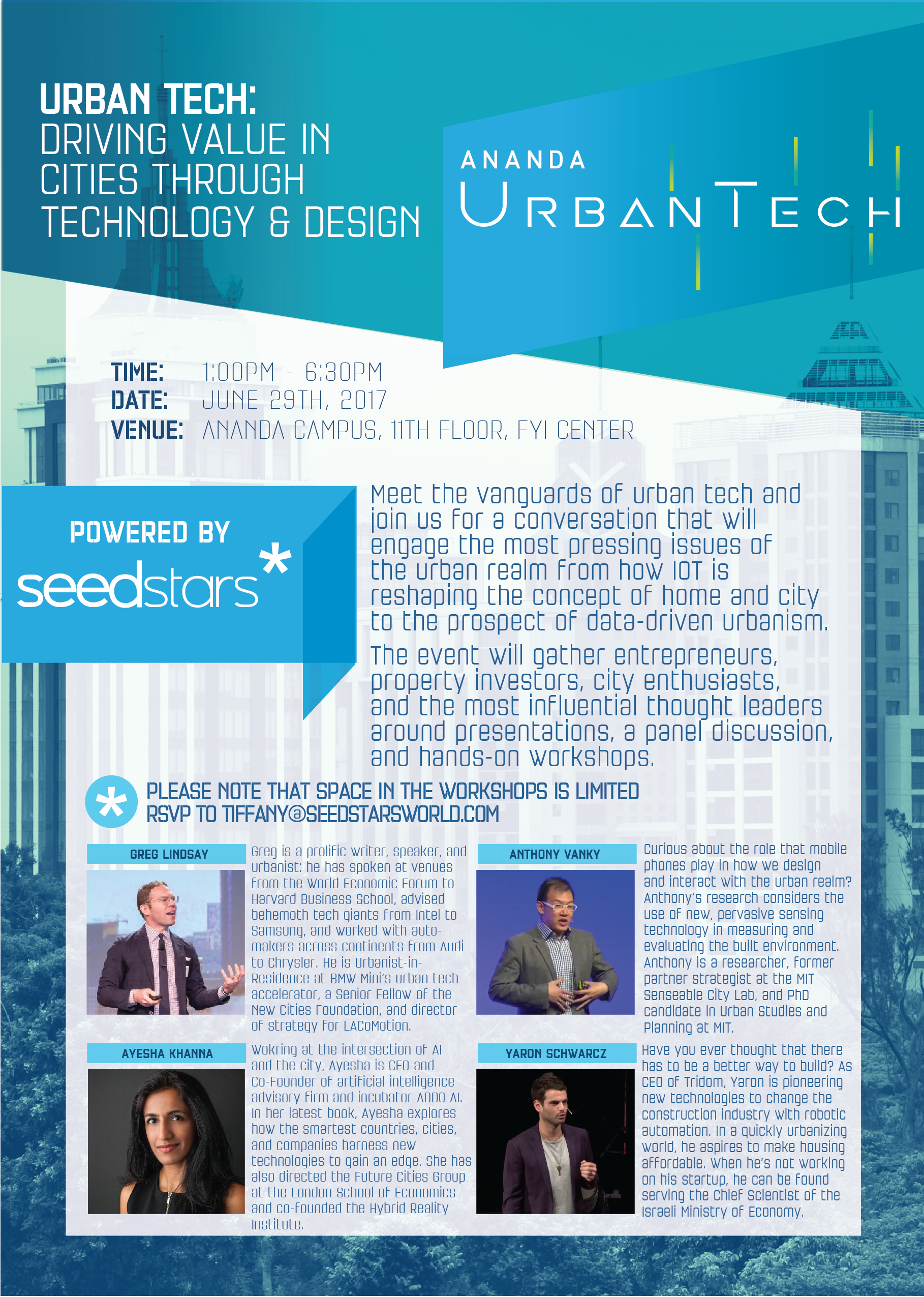 The event will gather entrepreneurs, property investors, city enthusiasts, and influential thought leaders around presentations and hands-on workshops. Think tank style groups led by urban tech vanguards will probe topics from the implications of IOT in the home to the prospect of data-driven urbanism. The objective of these workshops is to explore how we can leverage data, technology, and services to foster economic competitiveness, environmental impact, and market opportunities to improve the quality of urban life.
In the last decade, the proliferation of inexpensive sensors, widespread 4G coverage, and ICT bandwidth have wired and connected cities at unprecedented levels. This broad connectivity and subsequent troves of urban data present new opportunities to monitor the environment, laminate tech services with hard infrastructure, and reconfigure the city. The demand for integrated urban services, transportation networks, and digital applications is on the rise.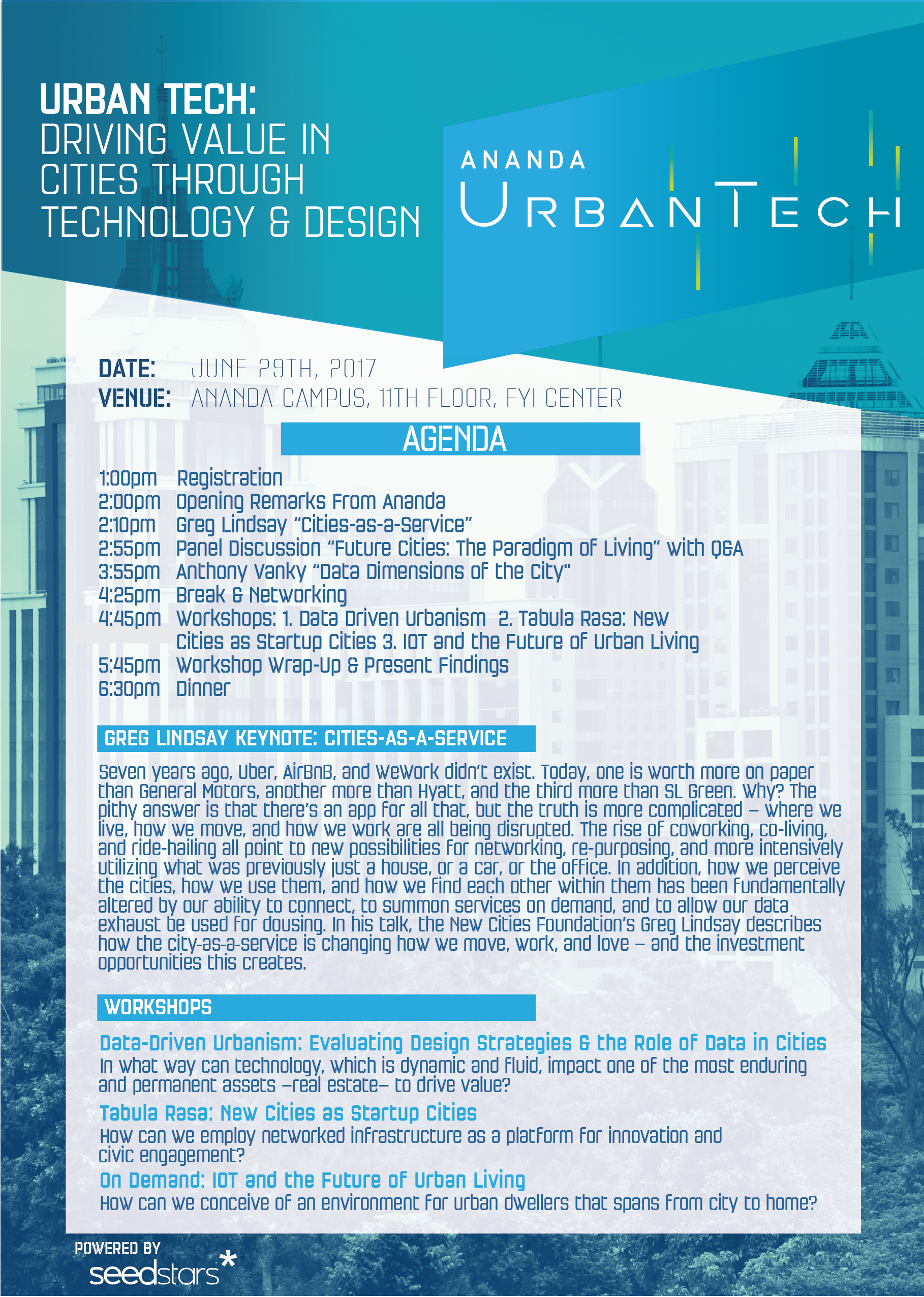 As an UrbanTech company, Ananda aspires to harness the power of innovation to deliver Urban Living Solutions and improve the quality of Urban Life. Ananda CEO Mr. Chanond Ruangkritya said, "With this philosophy we have introduced innovations and new technology into every aspect of the property business, from design, to construction, to finance, to marketing, to facilities, and have fundamentally changed the nature of Thai real estate through the power of the innovations we've delivered." He added, "And what we see coming in the next 5-10 years will be nothing less than a complete revolution in how Urban Life will be lived. Technology is developing exponentially in every field that can affect Urban Life. In the next 5-10 years there will be a revolution affecting what your home is made of, how its built, its design, its facilities, how it integrates in to your life, how it saves you time, how it monitors and improves your health, how it improves your sleep, how it helps take care of the young and old in your family, how it integrates with transportation, how it helps you save money, how it uses clean energy, and on and on in every aspect of your life."
The Urban Tech event will be organized with support from Seedstars World, the global seed-stage startup accelerator and competition for emerging markets and fast-growing startup scenes. Tiffany Obser, Regional Manager at Seedstars, surmises, "As urban populations swell, the city has never been more relevant as apparatus for integration, connectivity, and mobility. We look forward to discussing how cities today can poise themselves to take advantage of greater global connections and tech-enabled business models to engage the increasing flows of people and information. We are very inspired by the dynamism of the entrepreneurs and the breath and sophistication of the tech solutions we've seen coming out of the Asia Region. We're excited to see Ananda harness these promising concepts and solutions in urban living."