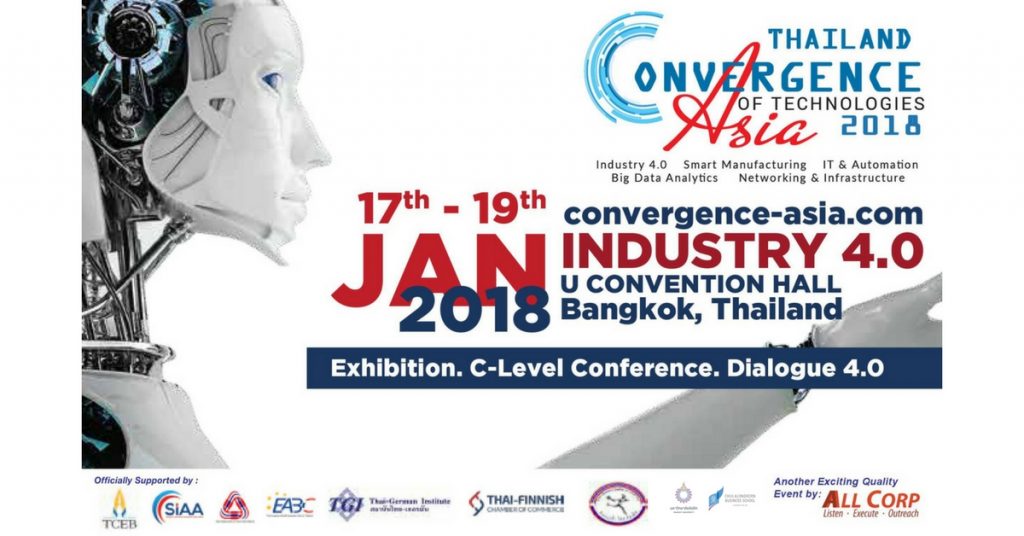 The Convergence of Technologies Asia 2018, which has been located across Asia is coming to Thailand.
From the 17th - 19th of January, Bangkok will see a public - venturing technology event, bringing together regional business and brands with a high-quality reputation for connected Manufacturing, Digital Automation, Industrial Internet of Things and Smart Factory in the fourth industrial revolution. This is much more than just a seminar event. It brings together key players from the entire Smart Solutions, Automation, and Digital form. From engineers and system makers through to brands and manufacturers, the event and conference will explore how the digital and smart technologies are used, inviting future customers and users to interact directly with our participants in one platform.
The industry is on the threshold of the industrial revolution and will really introduce Thailand 4.0 while lifting and strengthening the ecosystem.
Driven by the Internet, the real and virtual worlds are growing closer and closer together to form the Internet of Things. Industrial production of the future will be characterized by the strong individualization of products under the conditions of highly flexible (large series) production, the extensive integration of customers and business partners in business and value-added processes, and the linking of production and high-quality services leading to so-called hybrid products.
Tech industries now have the opportunity to actively shape the industrial revolution. Thailand Convergence of Technologies is enabling and supporting this process with Industry 4.0, Smart Manufacturing, IT & Automation, Big Data Analysis, Networking & Infrastructure at its core.
This event is the perfect place to increase economic competitiveness, drive industries, and business forward, such as manufacturing.
For more information on this upcoming event head over to
https://www.eventbrite.com/e/convergence-of-technologies-2018-asia-tickets-40013921717