Good Doctor Technology Thailand (GDTT), a subsidiary of a regional health-tech company with the vision of providing 'One Doctor for One Family in SEA', was visited by key representatives from the National Health Security Office (NHSO), to witness first-hand operations and processes undertaken behind the scenes by GDTT's medical team in managing COVID-19 patients throughout the 14 day home isolation (HI) programme.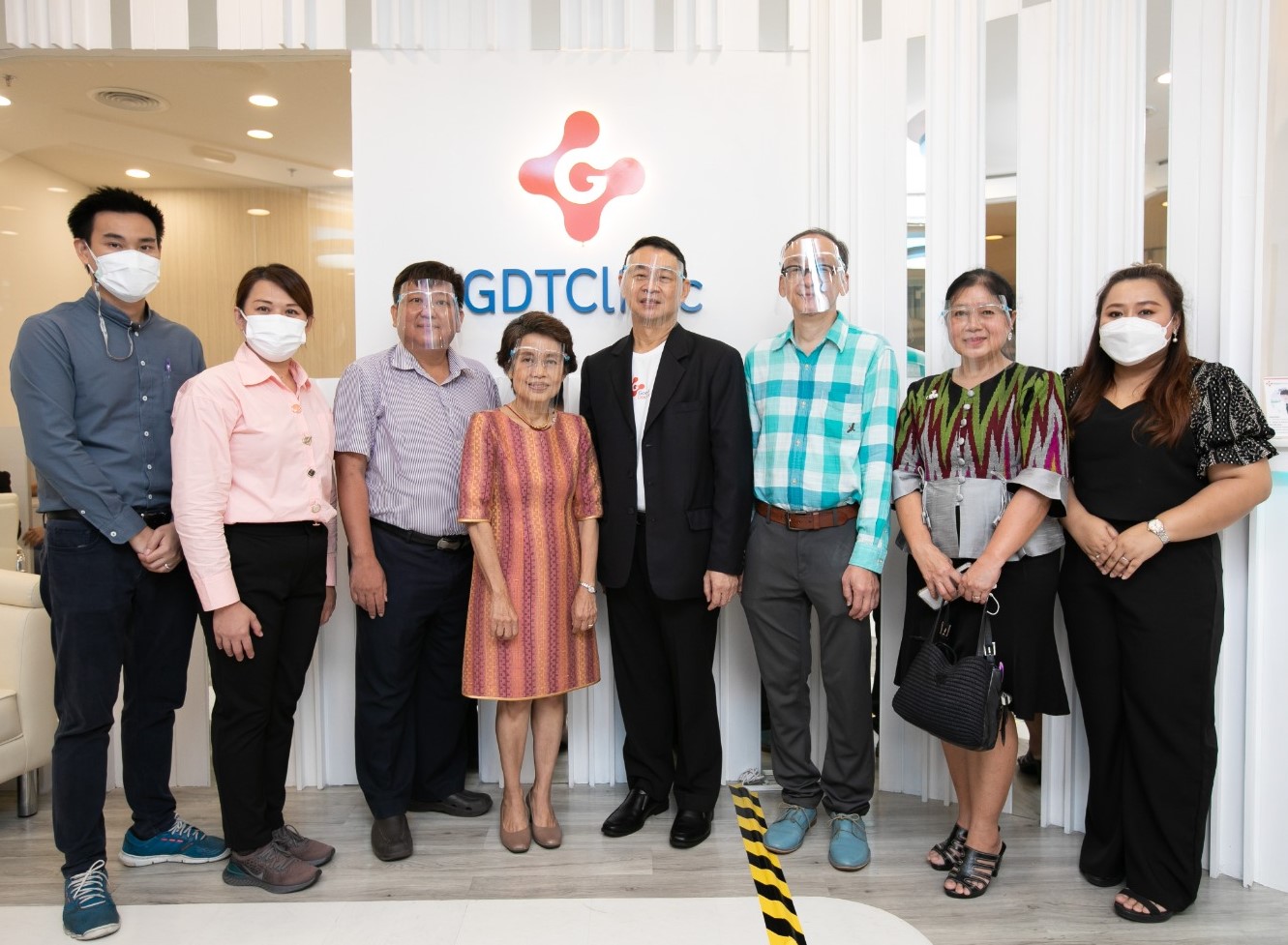 Among the distinguished guests from NHSO (from left to right) were Mr. Supreecha Krobbuaban, NHSO, District 13, Bangkok, Mrs. Piyarat Wongsrisaloaw, NHSO, District 13, Bangkok, Dr. Montree Jeerathaweesuk, representative of the Warm Community clinic, Clinical Prof. Dr. Srisuphalak Singalavanij, representative of The Royal College of Paediatricians of Thailand, Dr. Wirat Aungpoolsawat (3rd from right), Director of NHSO, District 13, Bangkok, Mrs. Hattaya Thanjarun, representative of The Medical Technology Council and Miss Noramon Kaewkalong, NHSO, District 13, Bangkok. They joined Dr. Sudhichai Chokekijchai, Head of Medical at Good Doctor Technology (Thailand) Ltd. (5th from left) along with other distinguished guests from NHSO including Assoc. Prof. Lt. General Dr. Wichai Prayoonwiwat representative of The Royal College of Physicians of Thailand and General Dr. Prajak Boonjitpimol.
During the GDT clinic visitation, a live app demonstration session, a tour of the premises of the clinic and an in-depth showcase of GDTT's medical team tech-driven capabilities were organized to share how the digital-first healthcare provider uses the technology to support COVID-19 patients on their journey to recovery at every possible touchpoint, from continuous virtual symptoms monitoring to hospital referrals. By leveraging on the capabilities of digital health technologies, GDTT has served the largest number of COVID-19 patients in Pathum Wan District and substantially contributed to increasing the accessibility of care and medication to those who require guided medical support. This major contribution to fighting the coronavirus pandemic was one of the main reasons for NHSO decision to visit the GDTT clinic and see how GDTT uses telemedicine to effectively support patients during their greatest time of need. The quality of GDTT's telemedicine and holistic care has been confirmed by many patients across various age groups who shared their testimonials of how timely and beneficial the Good Doctor service was for them.
In August 2021, GDTT was accepted by NHSO to join the Home Isolation programme as a virtual healthcare service provider for asymptomatic COVID-19 patients and those experiencing mild symptoms. The program, which is a part of the COVID-19 mitigation strategy developed by the NHSO, was launched in order to handle the shortage of hospitals beds and influx of patients at health facilities caused by the new cases. Soon after joining the Home Isolation programme, GDTT partnered with Grab Thailand to distribute daily food vouchers for home isolated patients to select three meals a day of their choice during the 14 day period, to improve the virtual experience for patients under their care.
About Good Doctor Technology Thailand (GDTT)
Good Doctor Technology Thailand (GDTT) is a subsidiary company of a regional technology-backed and digital-first healthcare service provider, Good Doctor Technology (GDT). GDT is a joint venture company between China's leading one-stop healthcare services platform, Ping An Healthcare and Technology Company Limited and Grab Holdings Inc ("Grab"), the leading O2O platform in Southeast Asia, to deliver transformative online healthcare services. With the vision to provide "one family doctor for every family in South East Asia" and a mission to provide better access to affordable healthcare services for everyone, GDT launched in 2018 and established its headquarters in Singapore, before making its first debut in Indonesia the following year. Good Doctor Technology Thailand (GDTT) launched its operations in 2021 with the goal of untapping digital healthcare opportunities in the Kingdom. For more information, visit: https://www.gooddoctor.health/
Media Contacts
Regional PR & Communications Lead, Good Doctor Technology
[email protected]