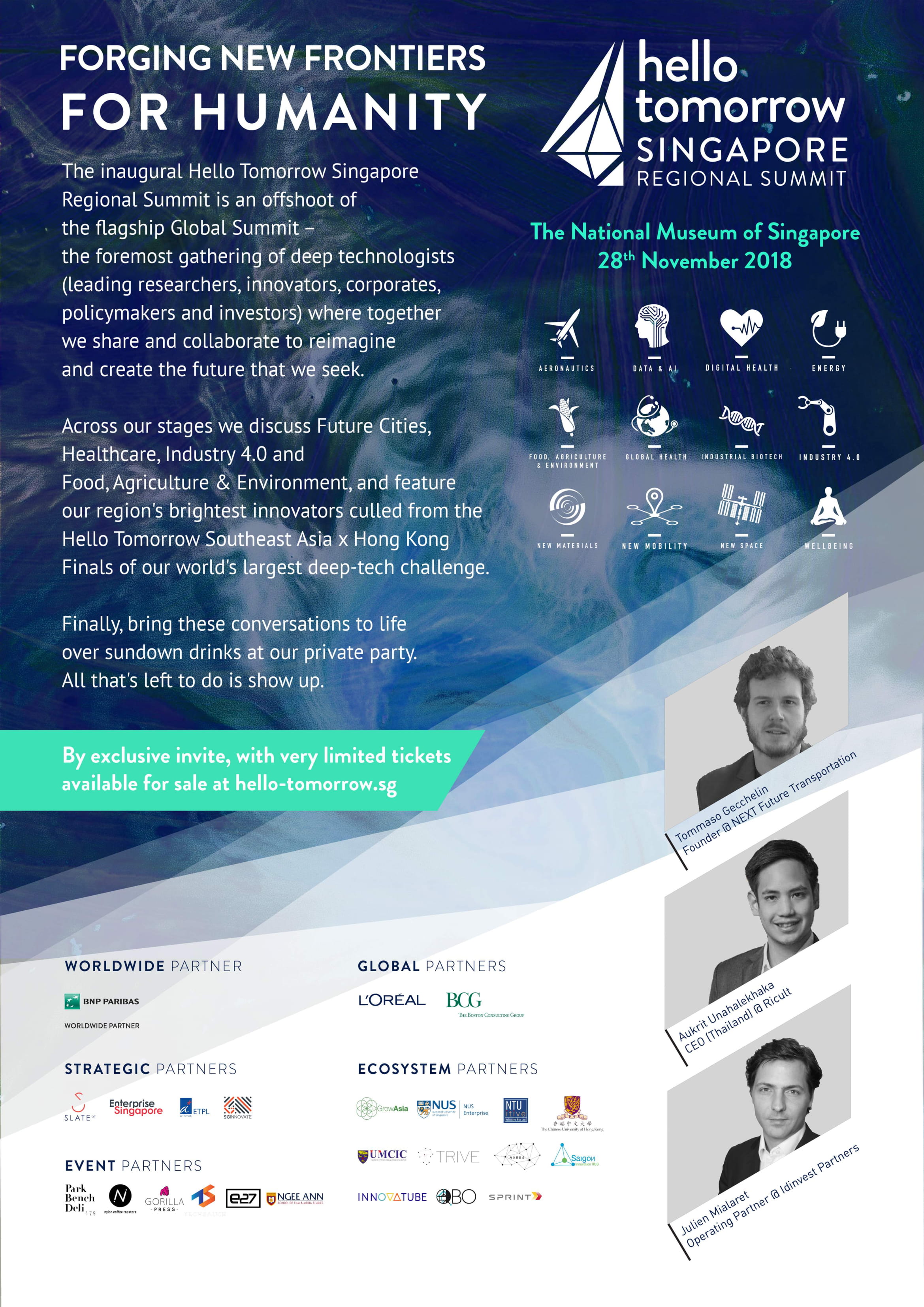 Leveraging on science and technology to realise breakthroughs for humanity, Hello Tomorrow Singapore champions those that embrace the ambitious and the technically challenging. Its Summit will be a congregation of leading researchers, entrepreneurs, corporate innovators, policymakers and investors from the global community for an intimate session of discovery and inspiration to spur meaningful collaborations towards success.
With a focus on verticals deemed crucial to driving development and security within the Southeast Asian region, the Summit will feature dialogues around and core technological trends propelling advancements in Future Cities, Healthcare, Industry 4.0, and Food, Agriculture & Environment, and showcases from the region's brightest innovators culled from the Hello Tomorrow Southeast Asia x Hong Kong Finals (HTSEAxHK Finals). Join us as we explore ways to build a better future, behold the opportunities and collectively imagine and help shape the growing impact of deep technology in all our lives.
Deep Technology: Hard-Earned Future Solutions
Deep-tech innovations are founded upon complex science/ engineering, often characterised by long gestation periods and elaborate integration processes. Commercialising these exponential technologies requires a well-aligned ecosystem comprising thoughtful efforts of a committed group of diverse players.
Large groups are best positioned to address these issues constructively – Hello Tomorrow's paper From Tech to Deep Tech co-written with BCG confirms that 97% of startups surveyed wished for a long-term partnership with a large group. Hello Tomorrow presents a compelling solution to supporting innovators by connecting them to these very actors and accelerating the development of their innovations.
Currently in its 5th edition, the Hello Tomorrow Global Challenge received over 4,500 applications from 119 countries this year. The HTSEAxHK Finals provides regional finalists with an additional round of prizes and opportunities to find relevant partners, even before they proceed to the Global Challenge.
Hello Tomorrow's strategic global network means these applicants gain access to all-rounded support: network, visibility and financing. Previous Global Challenge winners have gone on to raise over €240M. The HTSEAxHK Finals will award S$45,000 in cash and prizes, and flights for the top 3 to participate in the Global Challenge in Paris, France.