The brightest minds in the Blockchain and Cryptocurrency industry gather together for a one day conference to discuss the future and evolution of blockchain technology.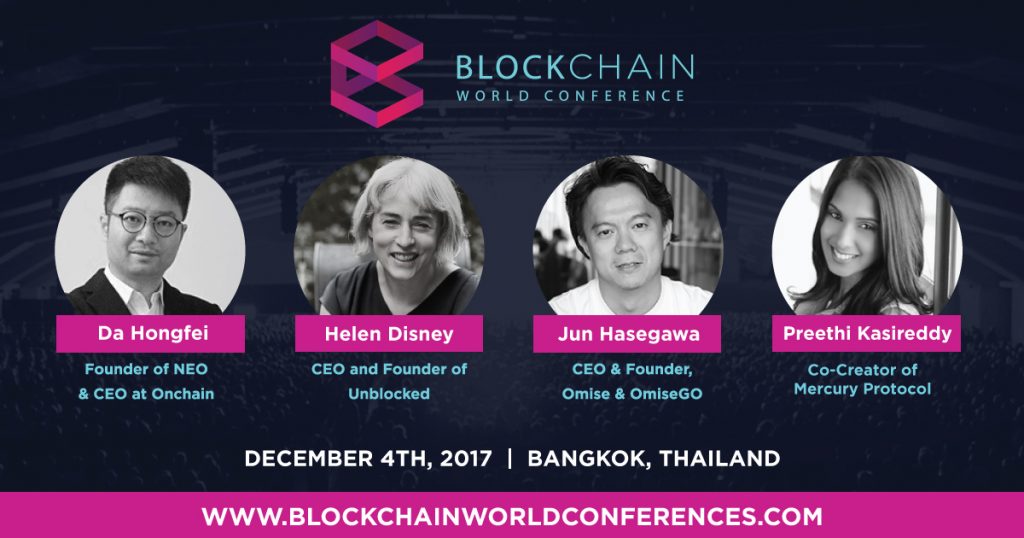 The inaugural Blockchain World Conference will open in Bangkok, Thailand on 4 December, 2017. This conference will feature a diverse lineup of over 20 international speakers engaging with over 1,000 attendees from more than 30 countries.
Attendees will get the opportunity to hear directly from the industries biggest influencers and thought leaders about the future of blockchain technology. Attendees will also get the opportunity to meet, greet, and network with other blockchain enthusiasts.
A broad range of blockchain related topics
The conference looks to provide details on a wide range of blockchain related topics. People who will find the most benefit are those seeking to:
Learn More About the Future of Blockchain Development
Meet & Greet with Leading Blockchain Developers
Invest in Blockchain Start-Ups and Businesses Utilizing ICO Crowdfunding
Increase Security of their Cryptocurrency Assets
Further Understand Government Restrictions and Legality of Crypto
Sharpen Skills as Investors, Day Traders, and Long Term Holders
Network with Blockchain Enthusiast, Investors, Developers, and Businesses Alike
Hear from an international and diverse collection of experts
 A few of the speakers will include:
Da Hongfei: Founder of NEO & CEO at Onchain, an open-source Universal Blockchain System built by AntShares
Preethi Kasireddy: Co-creator and Lead Blockchain Engineer of Mercury Protocol. Former Partner at Andreessen-Horowitz, Former Investment Banking Analyst at Goldman Sachs, and previous Software Engineer at Coinbase
Mance Harmon: Co-Founder and CEO of Swirlds and Hashgraph, technical expertise in Machine Learning, Identity, and Cybersecurity.
Helen Disney: Founder of Unblocked, Innovate Finance's Women in Fintech Power List 2016
Michael Maloney: CEO and CTO of VestChai, co-founder of EduDAO, and ICO Advisor
John Monarch: Founder of Shipchain, CEO and Founder of Direct Outbound Services
Roger Haenni: Co-Founder & CEO of Datum, Co-Founder of StockX, SwissInvest, PCP.ch and Kosi.
Jarrad Hope: Co-Founder of Status, active contributor to OpenNARS an academic general-purpose AI project
Alexander Borodich: Founder & CEO of Universa, named "The Most Active Business Angel in Russia" by Russian Venture Company
Ticketing Details
Blockchain World Conference will be hosted at the Grand Ballroom at Grand Hyatt Erawan Bangkok on December 4th, 2017 from 09:30 - 21:00.
Tickets are available at an early discounted rate of USD400 from now until 16 November 2017 (standard price USD700).
Promo 10% Off Code for Techsauce readers : BWCCOMMUNITY
For more information, please contact:
[email protected] www.facebook.com/blockchainworldconferences https://blockchainworldconferences.com