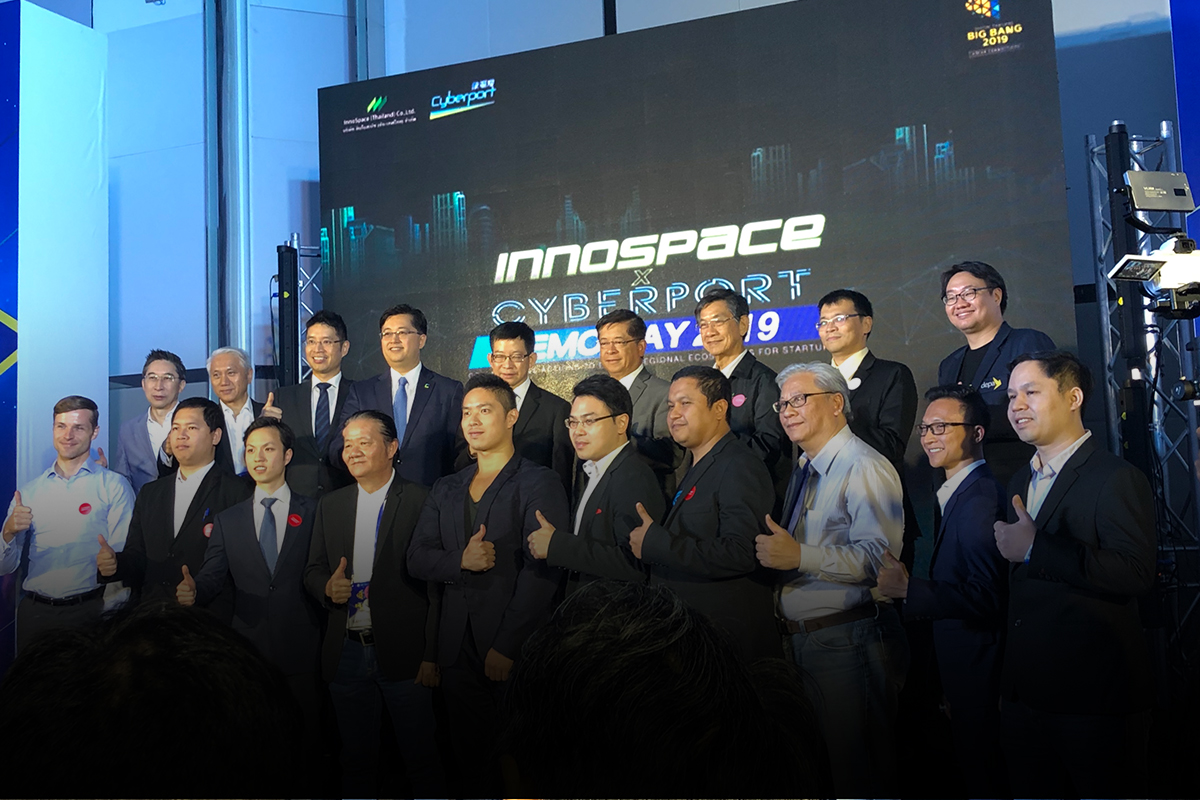 InnoSpace and Hong Kong Cyberport presenting digital innovation exhibition at "InnoSpace x Cyberport Demo Day 2019"
InnoSpace x Cyberport Demo Day 2019, digital innovation exhibition in Thailand 4.0, organized Digital Thailand Big Bang 2019, the biggest digital technology expo in Southeast Asia. InnoSpace (Thailand) Co., Ltd. cooperated with Hong Kong Cyberport to open up opportunity for startup from Thailand and Hong Kong for the benefits of private and public sectors. Ten startups participated and introduced their advanced innovations.
Moreover, there was Business Networking section for startups, public and private sectors to exchange opinions, create networking, and importantly, to expand business partnership internationally. Kobsak Pootrakul, Deputy Secretary General to the Prime Minister for Political Affairs along with Mr. Tevin Vongvanich, chief adviser of InnoSpace (Thailand) Co., Ltd., and representatives of InnoSpace (Thailand) Co., Ltd. partnerships attended opening ceremony on 30 October 2019 at Nile 2, Bhiraj Convention Center, BITEC Exhibition Center.
InnoSpace (Thailand) Co., Ltd. aims to promote and develop Thai startups with the concept "Move Thailand Forward as a Hub of Innovation and Startup in ASEAN". The missions are to create sustainable innovation for ASEAN countries and strengthen Thailand ecosystem. InnoSpace intends to push startups potentials forward internationally, especially the Deep Technology and other industries as well as creating national and international alliance, such as, public and private sectors, financial institution, and educational institution. On 28 February 2019, InnoSpace (Thailand) Co., Ltd. and Hong Kong Cyberport Management Company Limited (Hong Kong Cyberport) signed MOU to support further development of innovation and startups together which led to InnoSpace x Cyberport Demo Day 2019 for startups, organizations, and investors.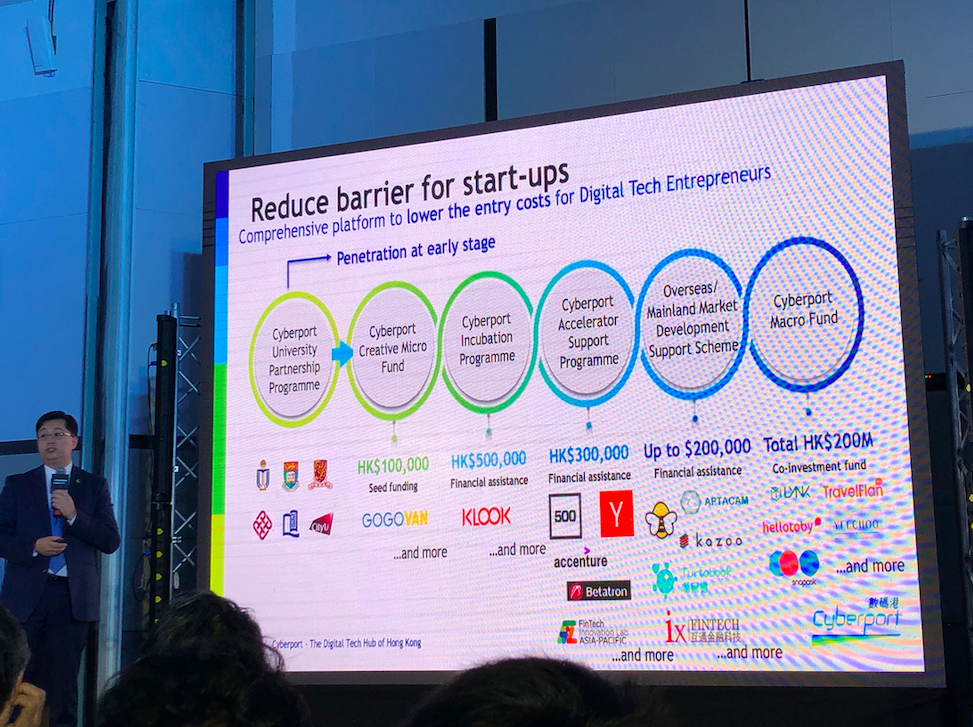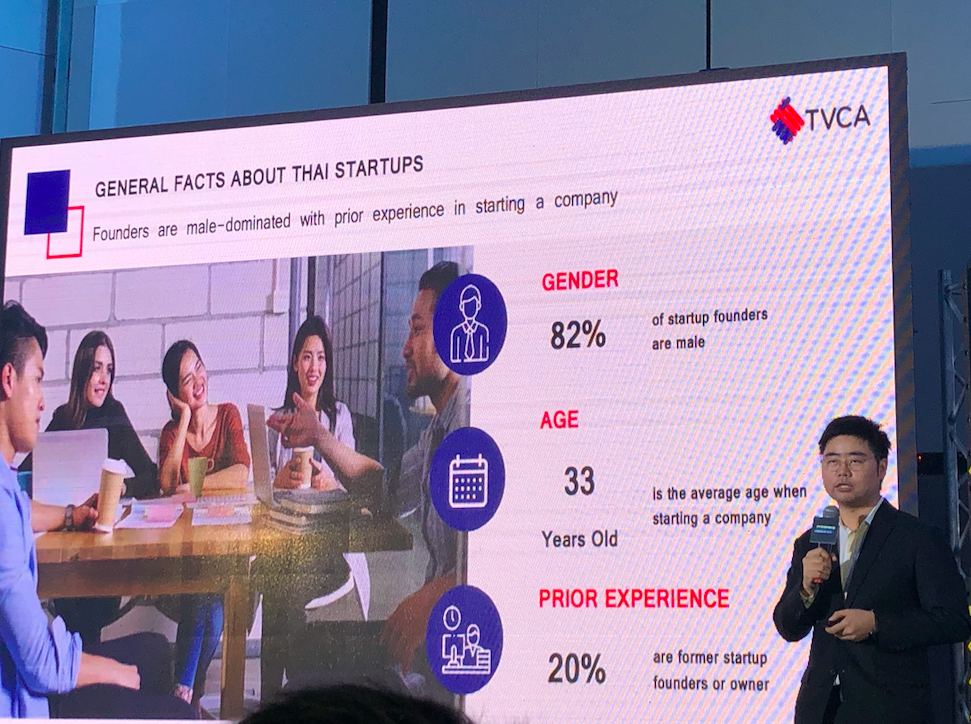 Startup development cycle of Thailand and Hong Kong was presented in the exhibition. Innospace would like to enhance local startups to international level through this event. Ten startups presented their innovations for corporations and investors.
Startups from Thailand are as follows:
Botnoi: Chatbots and Al consulting services
ESPREE.IO: Cloud Payment Platform to Solution provider
TIE Solution: Al Energy Platform
10BIT Development: Thailand tech start-up of medical-instrument
Hybrid Aerator: Energy Efficiency in Wastewater Treatment Plant
Startups from Hong Kong are as follows:
Covergo: Providing cutting-edge technology to the insurance industry
Riskflo: A Collaboration platform to simplify Governance, Risk and Compliance processes for all stakeholders
BAM Fintech: Your Personal Al Stock Robo-Analyst
ORII: The world's first voice-powered ring that transforms your hand into an extension of smartphone
P-Sense: Advanced People Tracking Technology for Retailers and Advertisers
Last but not least, Business Networking section was provided for creating idea exchanging platform among startups, public and private sectors, and investors to strengthen business and expand to international market.
For more information of InnoSpace x Cyberport Demo Day 2019 and other startup updates, please visit http://www.innospacethailand.com/ and Facebook.com/Innospacethailand.
About Innospace (Thailand) Co., Ltd.
InnoSpace (Thailand), the central platform of startups ecosystem of Thailand, focuses on carrying startups forward to international level. With the association of private and public organizations and financial institutions, Innospace aims to support Thailand startups to create innovative economic by supporting technological and other industrial startups.
About Hong Kong Cyberport
HK Cyberport is an innovative digital community with 1,400 partnerships. Hong Kong Cyberport Management Company Limited is conducted by the Hong Kong SAR Government. The vision is to be the hub for digital technology and create a new economic driver for Hong Kong.
Cyberport is committed to nurturing a vibrant tech ecosystem by cultivating and promoting entrepreneurship among youth to support startups, fostering industry development by promoting strategic collaboration with local and international partners, and integrating new and traditional economies by accelerating digital adoption in the public and private sectors. Cyberport focuses on fostering the growth of major technologies application, namely FinTech, a smart living, digital entertainment and e-sports, as well as technology development,