Sanook, Thailand's No.1 news website and entertainment portal, collaborates with Southeast Asia's best online shopping companion, iPrice Group, to offer Thai shoppers a convenient access to the best online deals through various coupons from thousands of merchants. With the growing demand for digital services and online shopping, this partnership aims to enable Sanook readers to make smarter decisions & help them save money by carefully curating the best deals to be made available on Sanook's site.
According to a KKP research by Kiatnakin Phatra Financial Group, Thailand's e-commerce grew by 80% in 2020, revealing it to be the second largest market in ASEAN, following Indonesia. The market is expected to further increase from the current average percentage. Consistently, a 2019 study from We Are Social and Hootsuite showed that internet users in Thailand spent 5 hours and 13 minutes per day on the mobile Internet, which is the most time spent among SEA countries.
"The e-commerce market is very developed in Thailand today. The competition among e-commerce platforms is intensifying, and the number of sellers is increasing. iPrice is on a mission to bring a greater level of transparency, convenience, and trust to consumers in SEA to help consumers save money. Instead of going through multiple marketplaces to find the best deal, users in SEA can instantly access six (6) billion offers from more than two (2) million sellers on a single platform. They can save money by comparing products, prices, sellers' reputation, and delivery conditions all in one place," said Mr. Thomas Lozza, Senior Vice President of Product in iPrice Group. "Together with Sanook, we are excited to bring the latest promo codes to their online readership. This will further enrich Thailand's growing e-commerce market and give everyone easy access to verified online deals," he added.
"Sanook is glad to partner with iPrice Group as we'll be able to provide our users the best exclusive coupons, vouchers, discounts, and premium deals through our website. By helping users find deals easier, we are glad to also help the growth of our local e-commerce market. This will be vital to meet our users' needs and to encourage them to be loyal users of Sanook," said Ms. Kanokporn Prachayaset, Chief Commercial Officer, Tencent (Thailand) Co., Ltd., and Sanook Executive. "With a good platform we created on Sanook Promotion, users can easily search for coupons and enjoy a ton of exclusive deals by iPrice and Sanook. The coupons, vouchers, discounts, and premium deals will be updated frequently to meet users' needs. We believe this collaboration will definitely enable a better shopping experience for Thai consumers," she continued.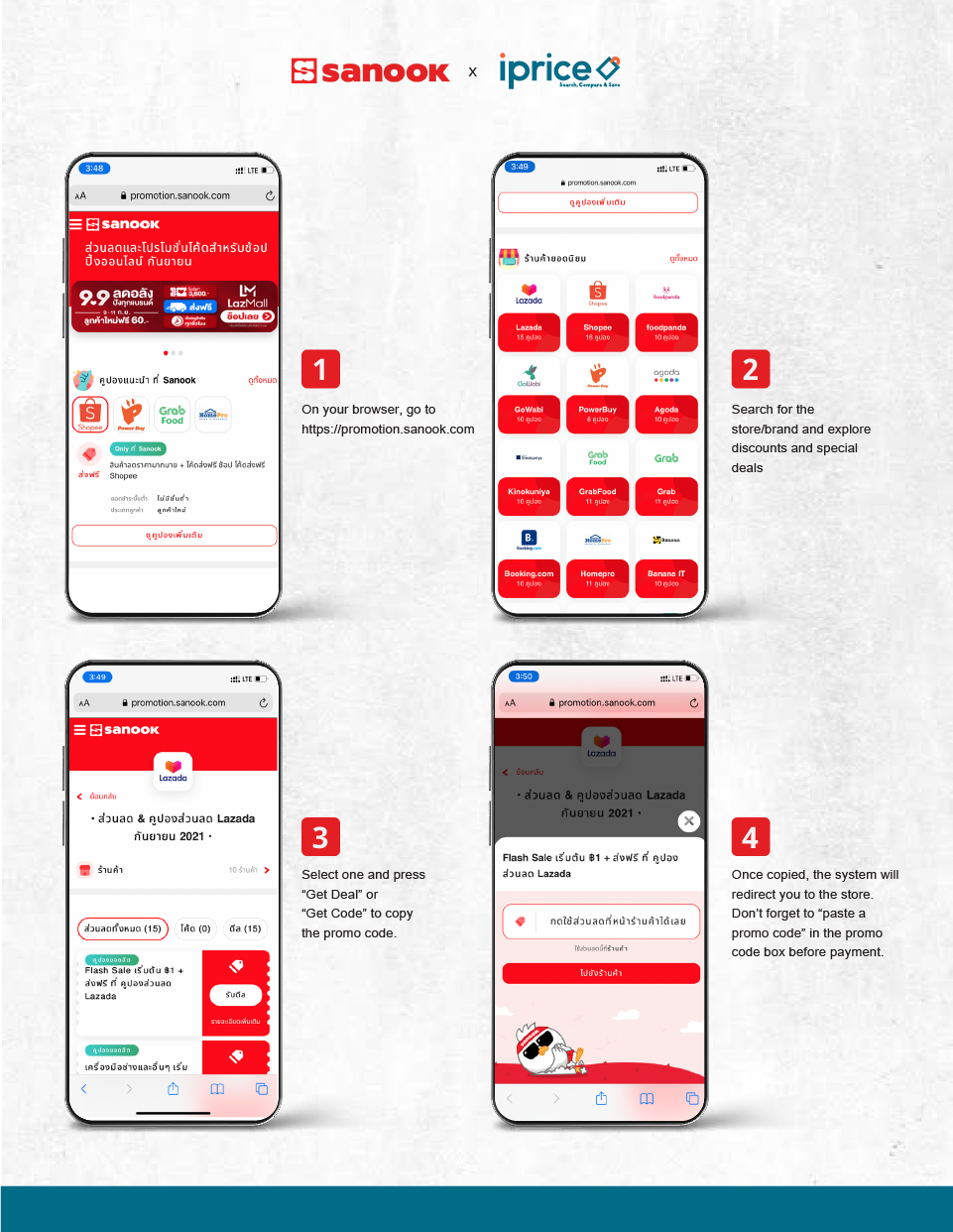 The offers will be accessible today just click promotion.sanook.com and here are 3 simple steps to enjoy them:
Go to promotion.sanook.com
Once on the website, search for the desired coupon
Browse and pick an exclusive discount/coupon.
From now on, all coupons, vouchers, discounts, and premium deals onsite will continuously be updated.
With this collaboration, Thai consumers now have one more convenient way of online shopping.
*** End of Report***
About Sanook
Founded in 1998, Sanook has become one of Thailand's top news sites that provides readers with timely content on entertainment, lifestyle, and general news. Sanook has earned its spot to be the #1 news and entertainment site in Thailand; it gives fast, real-time updates within 24 hours through its social media channels. Sanook recognizes the ever-evolving digital landscape in Thailand as it keeps improving readers' access to news through high features and innovations such as the official Sanook app, which is available for both iOS and Android readers.
About iPrice Group
iPrice Group is Southeast Asia's leading online shopping companion. With a mission to bring a greater level of transparency, convenience and trust to the e-commerce market across Southeast Asia in order to help people save money, the company today operates in seven countries across Southeast Asia namely Malaysia, Singapore, Indonesia, Thailand, Philippines, Vietnam, and HongKong. Currently, iPrice compares and catalogs 6 billion e-commerce offers from more than 2 million sellers, attracting more than 35 million monthly visits across the region.