Korea IT Cooperation Center Singapore (KICC) is calling for applications for the 2020 edition of the K-Startup Grand Challenge (KSGC 2020), with upcoming online regional auditions starting in mid July.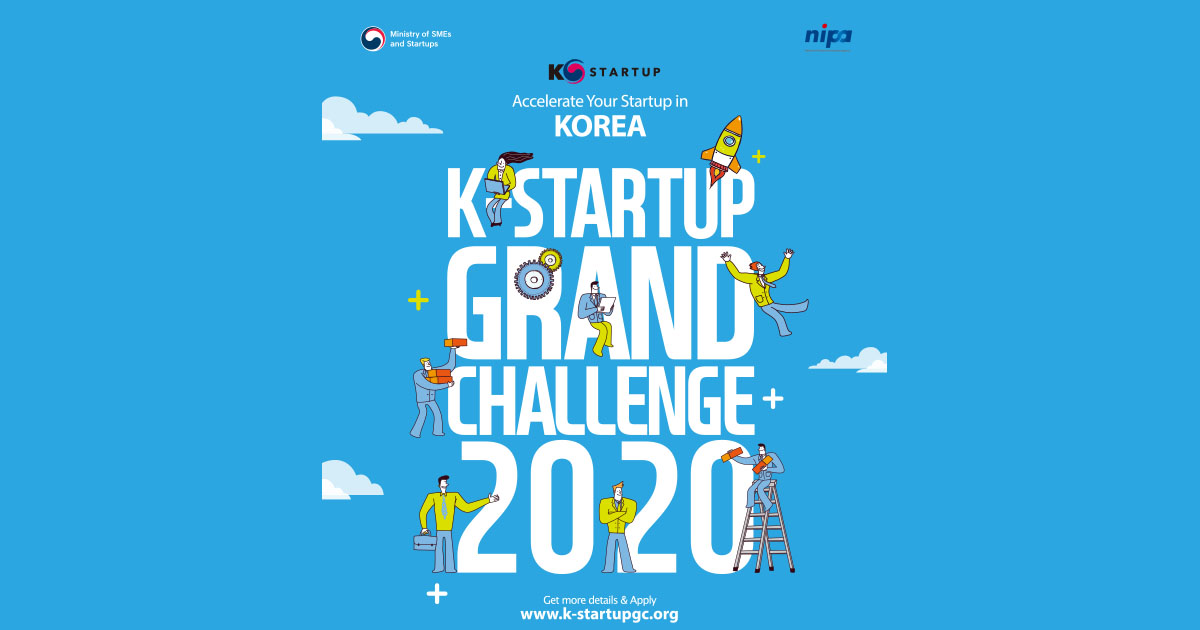 Through its successful management of COVID-19, South Korea has taken the global lead in restarting its economy. KSGC 2020 is one of the initiatives to show that Korea is open for business and welcomes the world's best startups to its shores.
The Top 60 finalists will get a chance to live in Korea and grow their startup in a 3 month accelerator program. KSGC 2020 will cover expenses, provide mentorship, and create partnerships with Korean conglomerates for the finalists. There are also grants for the top 4 finalists of up to $120,000 USD.
To ensure participants' health and safety, all auditions will be held online. If selected, finalists will be tested and quarantined for 14 days upon arrival before commencing the program.
"K-Startup Grand Challenge forms part of the centre's strategy to discover and support the next generation of technology innovations," says Jun Byong Nam, Regional Director, KICC. "We look forward to another exciting breakthrough year for the tech startups from around the world, and how this will be able to benefit Asia's entrepreneurial ecosystem and overall innovation blueprint."
Known as one of the world's most connected countries and an early adopters' market – the startups which successfully get into the programme will be given a chance to network with famous world-class accelerators, test their solutions in the market and use this opportunity to launch their business into neighbouring markets China, Hong Kong, Japan and Taiwan.
With globally renowned South Korean companies like Samsung, LG, Hyundai, Naver and Lotte, amongst the corporates already confirmed to lend their support to the programme, startups in the programme will have access to an international network of globally recognised corporate mentors, fellow founders, and different types of investors who are experts in different key areas of knowledge.
The startups, co-located in the Startup Campus of Seoul's Pangyo Techno Valley, will also have access to state-of-the-art R&D labs, while regular training sessions in the form of information sessions and coaching on South Korean and Asian business culture, specific business topics (e.g. patents, accounting regulations, tax laws, etc.), pitching lessons, and one-on-one monitoring will also be provided.
"Our business has grown tremendously since starting up in Korea—we've established new partnerships with sponsorships and brands, and we've seen a huge growth on our website in terms of traffic and users," says Hannah Waitt, CEO of moonROK Media. "Participating in the K Startup Grand Challenge was the best thing we did for our company, and being in Korea has been nothing but awesome for our company."
Applicants must be a part of a startup that is less than 7 years old or a pre-entrepreneur whose representative holds a foreign nationality or is an overseas Korean. Applicants must also be a part of a startup with a clear objective to expand into Asia through Korea. Provided that they meet the criteria, interested startups and entrepreneurs-in-the-making can read through the details of the competition here (KSGC 2020 leaflet) and apply from now until 25 June.
Korea IT Cooperation Center (KICC) in Singapore
Established in July 11, 2014, KICC serves as a National IT Industry Promotion Agency of Korea (NIPA)'s strategic hub for boosting more vigorous business opportunities between Korea and ASEAN countries in the ICT industry. NIPA is a non-profit government agency affiliated to the Ministry of Science and ICT to the Republic of Korea, which is responsible for providing support to IT enterprises and professionals. NIPA leads national economic development and knowledge-based economic society by promoting competitiveness of overall industries through IT usage and advancing IT industries.