KPMG's Thailand edition of Enterprise Resilience Guide to help organizations navigate through COVID-19 pandemic.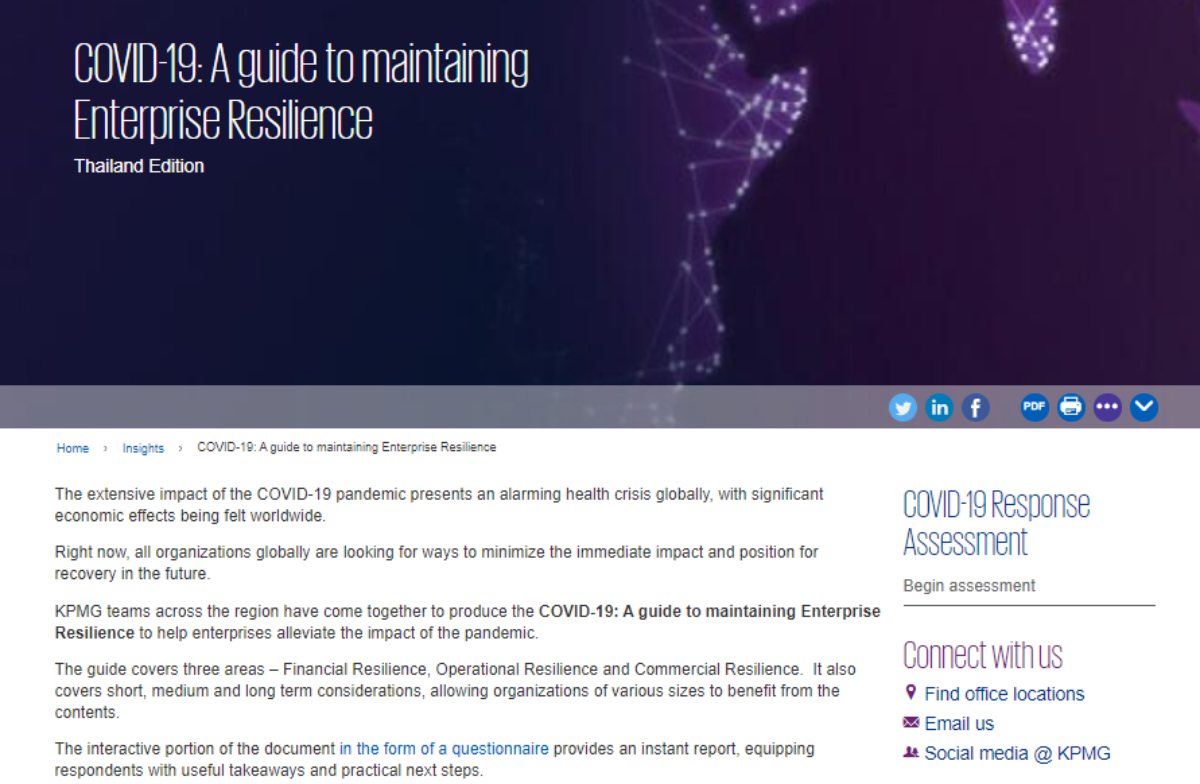 KPMG has launched COVID-19: A guide to maintaining Enterprise Resilience to help enterprises in Thailand alleviate the impact of the COVID-19 virus.
With the pandemic affecting every element of business, from the robustness of supply chains, to the stability of the financial markets, the availability of the labour force and the threat of waning customer demand, organizations are having to manage on multiple fronts, and are being challenged in ways unimagined.
The guide examines these three areas – financial resilience, operational resilience and commercial resilience. It also covers short, medium and long-term considerations, enabling a focus on areas which are of most concern and relevance to individual organizations. The document also has a valuable interactive portion in the form of a questionnaire which generates an immediate report for further reflection and action.
Said Charoen Phosamritlert, Chief Executive Officer, KPMG in Thailand, Myanmar and Laos: "Organizations are experiencing stress like never before, in an unprecedented situation which is seemingly changing by the day. We are aware of the challenges businesses in Thailand are currently facing and at KPMG in Thailand, we are working hard to be a source of information and support to help businesses navigate these challenges. This guide will help organizations, large or small, with a framework to approach the challenges they are facing today, and identify possible gaps that they should focus on to get through the pandemic for the best possible outcome."
KPMG in Thailand also provides a COVID-19 web resource page where we regularly add relevant information that will help businesses operate amidst the 'new normal': here.