With a record 19.7 million travellers visiting Japan in 2015 (an increase of 47.3 percent from 2014), TravelDoor Japan is the perfect mobile pocket travel companion when on the road or whilst planning a trip to Japan. Yuki Hiraki, CEO of LCO-Creation Singapore Pte. Ltd., commented, "We saw an opportunity in the market with the rapid rise of inbound visitors to Japan. With the Japanese government targeting up to 40 million visitors in 2020, TravelDoor Japan provides intuitive locally-curated mobile content to deliver the best possible user experience to the visitor."
TravelDoor Japan is easy-to-use and meets the needs and expectations of travelers in 2016 and beyond. TravelDoor Japan contains expert traveller content and is curated and optimized to provide the best possible on-the-ground experience.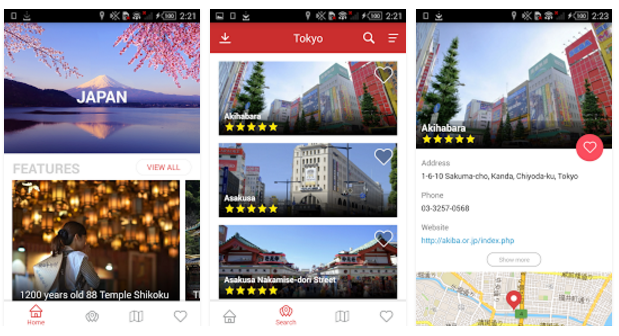 TravelDoor Japan enables travelers to:
Navigate with simple to use offline maps
Bookmark places of interest
Articles about Japanese food, culture, nature, hotspring and more
Find the perfect activity to explore Japan
Travel confidently with essential tips such as city highlights and details on where to visit
TravelDoor Japan includes 275 extensive city travel guides across Japan and includes information on over 2,600 tourist attractions across all 47 Japanese prefectures. In conjunction with Digital Garage, Inc. (*1) and F-ness Corporation (*2), the content is licensed from Japan Hoppers, anonline Japan Travel Guide operated by Travel Vision Inc. (a F-ness Corporation company). Each city guide includes full offline maps for route search and navigation. TravelDoor Japan includes lifestyle articles on Japanese food, culture and nature to help users immerse with locals. Users have access to many points of interest per city and individual city guides, which include sights and highlights. TravelDoor Japan is a trustworthy travel companion that will help users make the most of their time in the land of the rising sun.
LCO-Creation's offline mapping technology is included in all city guides to enable users to navigate around the country with easy, without the need for mobile data or Wi-Fi network access. This is done using the phones in-build GPS to activate directions from current location to preferred destination. The offline route navigation is available for directions by both foot and car.
TravelDoor Japan will be available in maximum 14 different languages including English. TravelDoor Japan is available immediately to download from Google Play Store, and will be available for iOS later this year.
Digital Garage, Inc. (President and Group CEO: Kaoru Hayashi)
Digital Garage ("DG") focuses mainly on 3 business domains: startup incubation, marketing and promotion, and online payment businesses. In the field of digital marketing, DG provides a variety of solutions for activating and monetizing the usage of credit cards and e-money to its client loyalty/mileage programs. By taking advantage of its expertise nurtured over the years on promotion based card usage in Japan and its global network, DG is currently supporting a wide range of marketing activities for client loyalty programs on a global scale. DG is an investor of LCO-Creation.
F-ness Corporation (President & CEO: Naoki Okada)
The central business of F-ness & ASSOCIATES is travel, around which the company has built up wide areas of business. These include: providing businesses in the travel industry the ingredients for travel such as international airline tickets and hotel reservations and the financial support for those elements; inbound-promoting media operations oriented at foreigners visiting Japan; and consulting for inbound marketing oriented at municipalities and private sector business.
About LCO-Creation Singapore Pte Ltd:
LCO-Creation is a leading mobile solutions provider for the travel industry based in Singapore. Founded in 2012, LCO-Creation released TravelDoor, the number 1 travel app for Japanese travellers containing rich travel guides for over 50 destinations around the world. LCO-Creation's vision is to create mobile solutions that give users "Life Changing Opportunities" by transforming their travel experiences.