The top prize at Minor Tasting The Future - Hackathon 2018 went to team "Wake Up, The Coffee Intelligent Machine". The winner was chosen from Thailand's first-ever food and dining tech startup competition, searching for the latest innovations that would change the food and food retail industry in the coming future. Minor International PLC hosted the event, and is ready to collaborate with the winner and aims to build alliances with other start-up teams to support their businesses.
"Minor Tasting The Future - Hackathon 2018" is a start-up competition in search for the country's latest innovation in the food and food retail industry. The event was hosted by Minor International PCL with the support of Disrupt Technology Venture, and 500 TukTuks. The total winning prize money for the event was THB 220,000 with the 1st price being THB 100,000, 2nd prize THB 70,000, and 3rd prize THB 50,000.
There were 99 teams that applied but only 23 got selected to compete in the Hackathon event. Each team received valuable advice from Minor's top executives and was mentored by the country's leading founders and entrepreneurs such as Mr. William E. Heinecke (Founder and CEO, Minor International PCL.), Mr. Krating Poonpol, (Managing Partner of 500 TukTuks and Founder of Disrupt Technology Venture), Mr. Yod Chinsupakul (CEO of Wongnai), and Mr. Natavudh Pungcharoenpong (CEO of Ookbee).
The winning team "Wake Up" introduced an innovative idea of fresh coffee machine franchise, enabling consumers to brew fresh hot or cold coffee automatically in one place. The machine's strong unique selling point stems from the use of fresh coffee bean and fresh milk, while having the system remember their drink preferences. The whole system is ready to be developed into a digital café concept in the near future.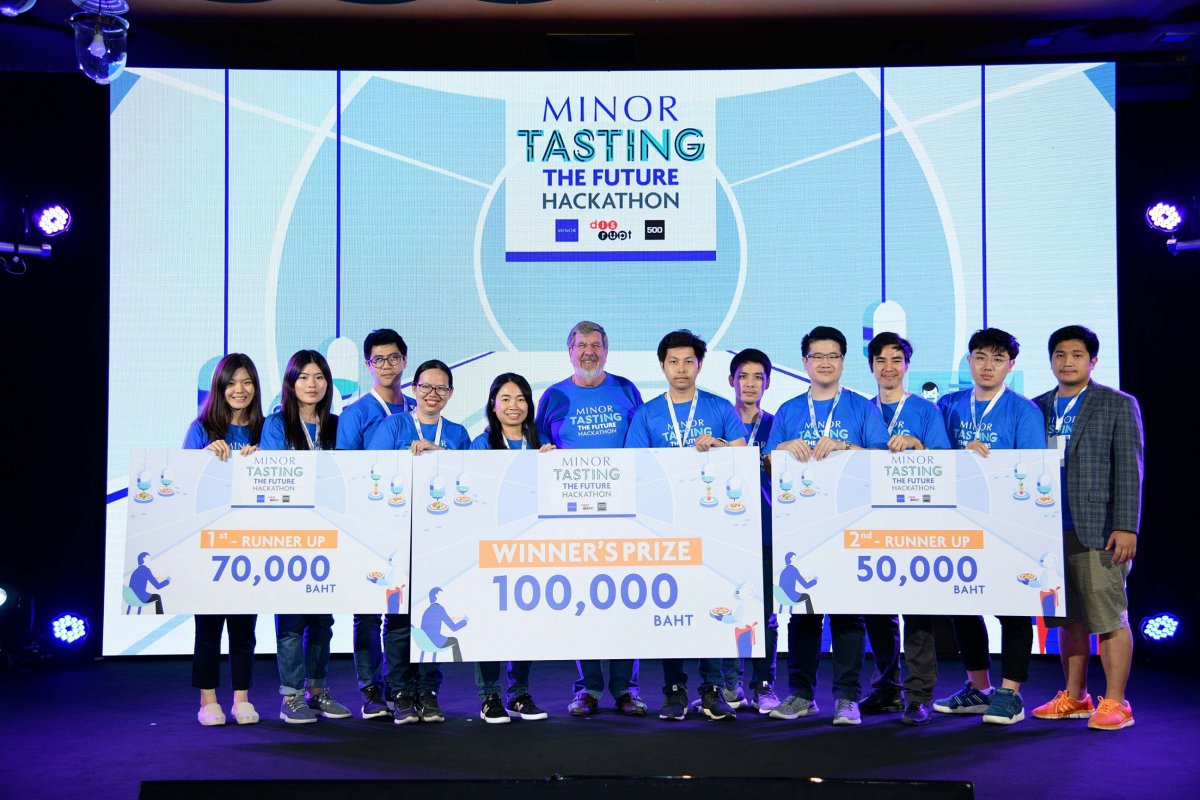 Mr. William E. Heinecke, Founder, and CEO of Minor International PCL. made a statement regarding the support of this event by reaffirming Minor Group's intention to find new ideas that are actually practical in the real-world. "By hosting this event, our aim was to use this opportunity to find talented teams and partners who are ready to collaborate with the Minor Group and create growth and value for our businesses. We are ready to learn and embrace innovative ideas that can help and drive our businesses forward."
"Being market leader means we cannot stay in one place. We must continue to expand our mindset and evolve. The Hackathon has given us more than what we expected. It has given us a taste of start-ups' thinking process, exploring new ways of thinking while working with the start-up teams. This is why our top executives were very involved and interested in every concept and activity. Minor's top executives from different departments attended both days of the Hackathon in order to provide feedback and comments, as well as to learn new ways of doing business that would correspond with new technologies and innovations. From learning how to think differently, to see their work ethics, dedication, and the talent of this young generation, we saw the agility and how quickly the startup teams can adapt - which is an important asset to have in the business world", Mr. Heinecke added.
Mr. Heinecke also stated that from the Hackathon event, Minor Group has identified potential start-ups and already contacted 5 teams to further collaborate, focusing on the digital platform that will help Minor Group effectively improve its customer service, which is one of the company's core values. Minor Group plans to host a similar event again in the future. As for the future theme, it has yet to measure the results and closely monitor the evolution of technology as it is continuously changing on a daily basis.
Mr. Ruangroj Poonpol, Krating - Managing Partner of 500 TukTuks and Founder of Disrupt Technology Venture said this is the first-ever process of finding and choosing startups in 'food and dining' industry in Thailand. In additional to fin-tech and e-commerce trends that began to occur, food and dining tech is a rising trend which is very suitable for Thailand. The food business is a potential industry with great opportunities. The launch of this concept will elevate the country to a fast-paced innovation center in the food and food retail industry in Southeast Asia.
"The overall startup this year was better than the one last year. There are more business varieties and the new startups have a more interesting concept. Food and Dining Tech is a huge market with great growth potentials and will continue to grow until next year with the ability to generate fast revenues. Plus, the event is sponsored by Minor Group which allows new businesses to grow quickly because they are the leader in the food business and has a network covering many countries in addition to Thailand."
With Minor Tasting The Future - Hackathon 2018, we have a winner, "Wake Up", who is into coffee business and has many franchises but wants to create a coffee making machine and create their own brand. They want their machines to have fresh coffee beans and milk just like what can be found in a café. Customers can also choose hot or cold beverages while having a system that remembers their drinks preference. This is an interesting concept that utilizes the use of technology that is backed up by years of business knowledge, and a solid business plan, which was agreed by all the judges.
Mr. Tawatchai Meeklin, CEO and Co-founder of Wake Up said he started this 24/7 coffee franchise five years ago with his partners. With 14 franchises today, and 2 more about to be open, he noticed there are many costs involved with investment and other liabilities - which makes the branch expansion very difficult because it requires a lot of money. It caused him to search for a cost-effective solution that would allow him to effectively expand more branches. This is where the initial idea of 'Intelligent Machine' was born. The challenge lies in maintaining the consistency of the taste and the quality of coffee. More importantly, they would need to be able to offer hot or cold fresh coffee. Apart from this stand-alone model, Wake Up aims to improve their machine and create a digital café concept in the future.
"Minor Tasting The Future - Hackathon 2018 is the first event we ever competed in and we are very happy that we won it. We thought that if we had a great idea and collaborated with great brands, we would be able to accelerate our growth quickly. During the event, we got a lot of connections from Minor executives and received great advice on how to quickly scale up to become market leader before competition arises. We believe that the Minor Group will be able to help us achieve our objectives quickly. The name we gave our coffee machine is 'Shibato' which comes from a Japanse dog breed called 'Shiba Inu'. We want people to easily remember us by creating a character that is unique and interesting" said Mr. Tawatchai.
The team who received 2nd place was "Food Hunter", a crowd-funding platform for franchisees to raise capital from investors to start a franchise business.
The 3rd place winner was "Eden Agritech", who created an innovation that could extend the life of fresh fruits and vegetables.