A collaboration between Sasin School of Management, MIT GSW, and the MIT Association of Thailand, the three-day conference will be held March 26th-27th at the Centara Grand and Bangkok Convention Centre at Central World, and at Sasin School of Management on March 28th.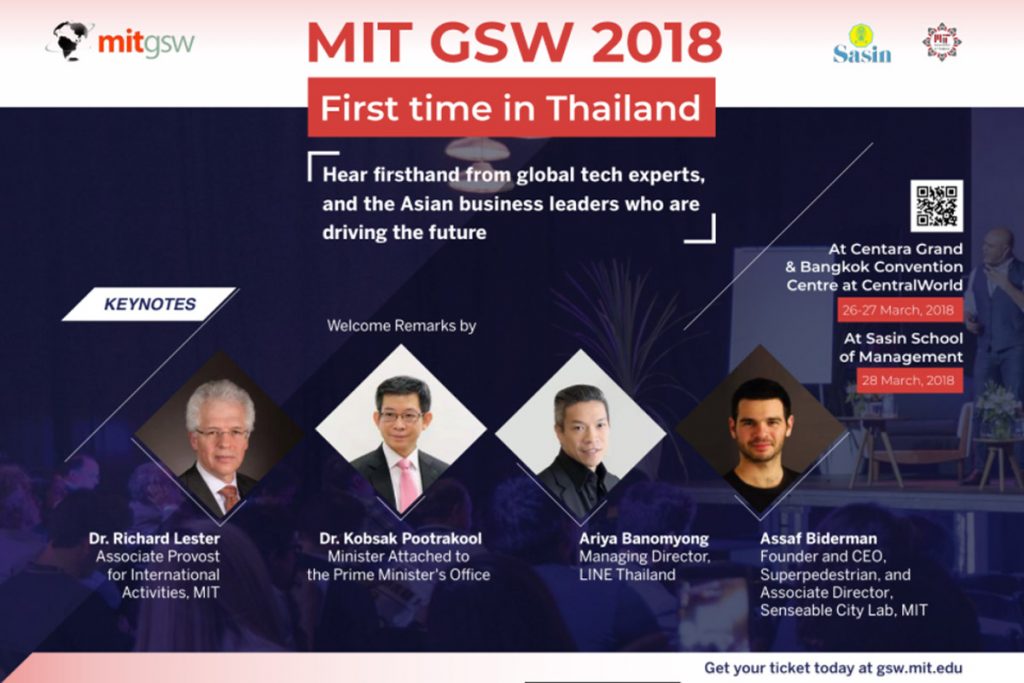 MIT Global Startup Workshop (GSW) is the premier global training and networking event for entrepreneurs. Since 1998, MIT GSW has hosted its conference in a different location each year, and for the first time, MIT GSW 2018 will take place in Thailand. This year's theme is dream big. dream tech., tools for innovation-driven entrepreneurship.
The 2018 conference will include a range of exciting speakers from the U.S., Europe, and across Southeast Asia, and an intriguing schedule of timely panel discussions about startups, technology, and the future of business!
Khun Paron Israsena Na Ayudha, Director of Sasin School of Management, said, "This event brings the best of MIT to Thailand and sets them loose in no-holds-barred debates with the leading entrepreneurs of Southeast Asia. This is how practical learning happens, and we're proud to be a part of this important event!"
Rafael Reif, President of the Massachusetts Institute of Technology, also expressed his support for holding the event in Bangkok.
"For 20 years, the Global Startup Workshop has brilliantly advanced the Institute's dedication to research, innovation, entrepreneurship and collaboration. By bringing together cross-sector experts and leaders, GSW has built a global support network, empowering and accelerating entrepreneurship in emerging markets, from Seoul to Madrid, Cape Town to Santiago. And now Bangkok. At GSW 2018, we will dream big. And together, we will make a better world."
Designed for anyone fascinated by technology, innovation, and the potential of startups, this event provides an unrivaled opportunity to exchange ideas with global tech and innovation experts, and the Asian business leaders who are driving the future. Participants will also be able to share best practices and lessons learned, network with thought leaders from around the world, receive hands-on training on business plans and pitches, and compete in competitions for US$15,000 in cash prizes.
Charamporn Chotikasatien, President of the MIT Association of Thailand, noted that, "As a co-organizer, it's a great honor to be a part of a project that is a significant business event for the country. We are confident that participants can expand their businesses, and get new ideas that will help them accelerate and elevate their businesses to local and global levels."
MIT GSW 2018 will include
60+ global speakers
10 panels (FinTech, UrbanTech, E-Commerce, and many more…)
10 workshops (Ideation, Networking, Prototyping, and more…)
7 keynotes,
3 competitions,
3 days with lunches, coffee breaks, and a welcome reception.
100's of connections
...and a million ideas!
A limited number of early bird student tickets are available at US$70 (until March 16th) and then $100. Professional tickets are US$500.
Special for Techsauce's reader, use the code GSW-TECHSAUCE10 to get 10% discounts. Tickets are available at gsw.mit.edu.
For more information, contact [email protected]  or call +66-02-218-3855.