Even the record deployment of vaccines and regular mass testing cannot stop coronaviruses or flu variants from constantly mutating and reinventing themselves.
Both measures have faced distribution and public hesitancy issues, while mixed messaging on social distancing and wearing face masks also continues to plague our communities.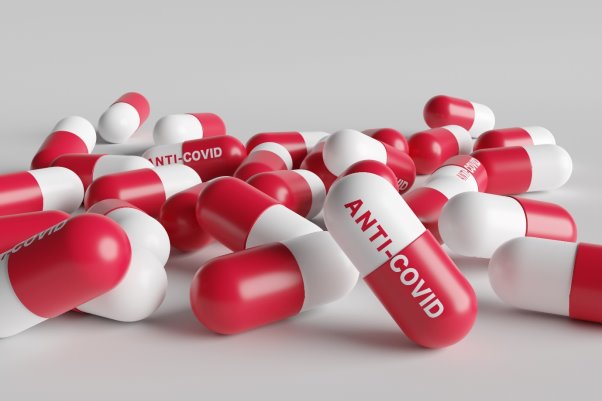 Caption: Permanent end to COVID pandemic lies in new generation anti-viral drugs - not simply vaccines and testing
The WHO (World Health Organization) has spoken again (BBC TV News – from 17.30 minutes in) about not easing pandemic restrictions, because new variants can flare up anywhere until there is a permanent cure.
We should also consider this present-day conundrum against historical parallels such as the Spanish Flu (1918-20) when the initial death toll was relatively contained, lulling a global population already fatigued by the devastation of WW1 into thinking the worst was over.
But that virus then mutated into its most deadly strain, killing 50 million people when Earth's population numbered less than two billion – it's now close to eight billion.
So, as the COVID storm appears to fade, governments, scientists, and authorities like the WHO face a difficult balancing act: managing the expectations of their people, businesses, and economies, while guarding against another COVID variant, protecting lives, and improving longevity and overall health provision.
This is before even starting to look at long-term pandemic damage done to millions of people with other conditions, denied proper care during COVID or left with the varied and insidious effects of Long COVID.
Another challenge is that COVID-19 has been just one of several recent viruses with global pandemic potential, including SARS, Indian Flu Variant, Ebola, and Zika Virus.
In fact, over 100 potentially dangerous pathogens have infiltrated the human population over the past 15 years and, due to the modern way we live, such risk is unlikely to change.
Therefore, as with Climate Change, a long-term pandemic protection plan is vital as the world cannot afford the millions of human lives and trillions of dollars of economic loss inflicted by a more virulent virus or strain - like the final wave of Spanish Flu.
Instead, a permanent solution to virus and strain outbreaks is imperative. These must come from accelerated drug development programs in the form of a 'once and for all' anti-viral drug or drugs that can block coronaviruses and flu variants from finding a human host in the first place.
So, who is working on this challenge, and what advanced technology is needed to create a timely long-term solution, in the same way as penicillin and other antibiotics changed healthcare more than 50 years ago?
Established 'Big Pharma' names Merck and Pfizer, already have anti-viral products available claiming to do just that, though a major report from Nano Magazine recently suggested these were repurposed drugs from prior programs and required frequent re-dosage: eight times per day for Merck's drug Molnupiravir and 'only' four doses per day for Pfizer's Paxlovid because it must also be taken with an HIV drug.
But the traditional pharmaceutical industry does tend to concentrate on repurposing, as it's much cheaper to develop a product that's already passed clinical trials, rather than going through that process for all-new products.
Paul Sheedy, a founding partner at Enabling Tech Capital – an international investment company that supports life sciences and drug delivery - said:
"Drug development and delivery has seen record investment since COVID, but the pharma industry's finance strategy on innovation tends to favour re-purposing old models and candidates.
"Fortunately, we are now seeing new methods of computational drug development and intend to support companies using this to deliver solutions for future healthcare and pandemic protection.
"These smaller and nimbler drug development companies are using innovative AI and nanoscale platform technologies, which don't always get the same attention or funding yet are more able to transform how we deal with viruses.
"Oral delivery means that they are also easily distributed away from the established and centralised healthcare infrastructure, which the pandemic has shown as inefficient, counter-intuitive, and likely to concentrate infection, all issues that expert critics have voiced for decades but are now laid bare to everyone."
One company looking to change all this is California-based Verseon, using a proprietary AI and advanced computational platform technology for future drug delivery. The company insists these are not repurposed drugs, but transformational solutions to many global healthcare challenges.
Verseon currently has six drug candidates in development, including a promising anti-viral drug to potentially block all coronaviruses and some flu variants at the source.
This could be on the market within 18 months with a necessary final $60 million investment, a small amount compared to the $1 billion pharma industry norm for a single new drug (source: Biospace), and weighed against 5.6 million COVID deaths globally and an estimated $3 trillion in economic output lost since the start of the pandemic (source: Statista).
This could also end the perennial threat from flu variants to health systems globally.
In 2017 the Financial Times identified Verseon as having one of the most promising drug development platforms for the future. It is now poised to deliver to a hungry market for new precision medicines.
And while understandably coy about its pioneering research and methodology, Verseon has made its platform available to trusted luminaries from both industry and academia and was also able to appoint a new Chief Technical Officer Dr Sangtae Kim with a stellar research and sector profile.
Pfizer's former SVP of R&D Strategy Robert Karr went on to invest in Verseon, saying: "Everyone else has merely dabbled in the field of systematic drug discovery. Verseon's disruptive platform changes how drugs can be discovered and developed, and the company is poised to make a dramatic impact on modern medicine."
Intellia Therapetics' CEO John Leonard commented: "Verseon's revolutionary platform shifts the discovery paradigm from handcrafted techniques into a systematic industrial process."
Chairman of The World Nano Foundation – the leading not for profit organisation specialising in nanomedicines and AI – Paul Stannard said: "We regard this computational drug delivery technology as the vital breakthrough towards deploying many more medicines and treatments at the point of care, and affordable for all.
"It's clear that some anti-viral drugs being developed are recycled formulae created to keep costs down. However, our research shows that new computational and AI-driven drug development methods deliver 15 times more value, which has to happen if we are to improve life and longevity."
Verseon's senior management team holds 100 patents in this very field, and Verseon CEO Adityo Prakesh said:
"Using our computational and AI background, we approached from a new angle and made huge progress at the identification and development stage.
"And though it is hard to see how human trials might be shortened or even removed, we believe we can drive down risk, boost predictability and attract investment for programs that target some of mankind's greatest ills."
Verseon Head of Discovery Biology Anirban Datta said: "Vaccines and the current anti-viral drugs are retrospective solutions that don't treat newly emergent strains. We need a different strategy to avoid always being one step behind viral mutations.
"We switched target – from the virus to the human host. If we stop SARS-CoV-2 (COVID-19) from entering our cells which, unlike viruses, don't mutate then we have a long-term solution.
"Even better, the strategy should work against other coronaviruses and influenza strains that use the same mechanism as SARS-CoV-2 to infect cells – a key point, since it surely won't be the last pandemic to affect humanity."
Verseon CEO Adityo Prakesh added: "We can end the 'COVID Groundhog Day time loop' of mutation upon mutation by using anti-viral drugs for coronaviruses, backed by impact funding and resources in the same way that vaccine development was accelerated.
"However, we also saw the negative side of government involvement, with political squabbling – particularly in Europe – over who should have what vaccine and when, which hampered vaccination rates and may have enabled more mutation of the virus.
"Instead, we are seeing that the real investment muscle is coming from a surge of impact investing in healthcare, and in particular AI and nanomedicine platform technologies. Major investors are now looking to back anti-viral drug platforms like ours that can transform healthcare and deliver lasting returns, plus a real change in future health provision as well as protect battered economies.
"At present, we are 18 months away from introducing our drug delivery solution for coronaviruses and flu variants, if we can secure some investment, otherwise it will develop alongside our other Verseon drug candidates, including precision oral anticoagulants to prevent heart attacks and strokes – a threat to 51.5 million vulnerable patients globally.
"We're also developing a novel chemotherapy agent to overcome cancers that mutate and resist existing drugs, currently causing over 90% of chemotherapy patient deaths, as well as oral medications to prevent and relieve Diabetic Retinopathy, a progressive loss of sight affecting 33% (154 million) of the world's diabetics - currently 463 million but expected to reach 578 million by 2030.
"However, the time frame for these technology platform developments could be cut dramatically once we close our next funding round."
"Two years ago, we moved all our operations back to California, and this allowed our team to double down on our technology platform - the results will speak for themselves."