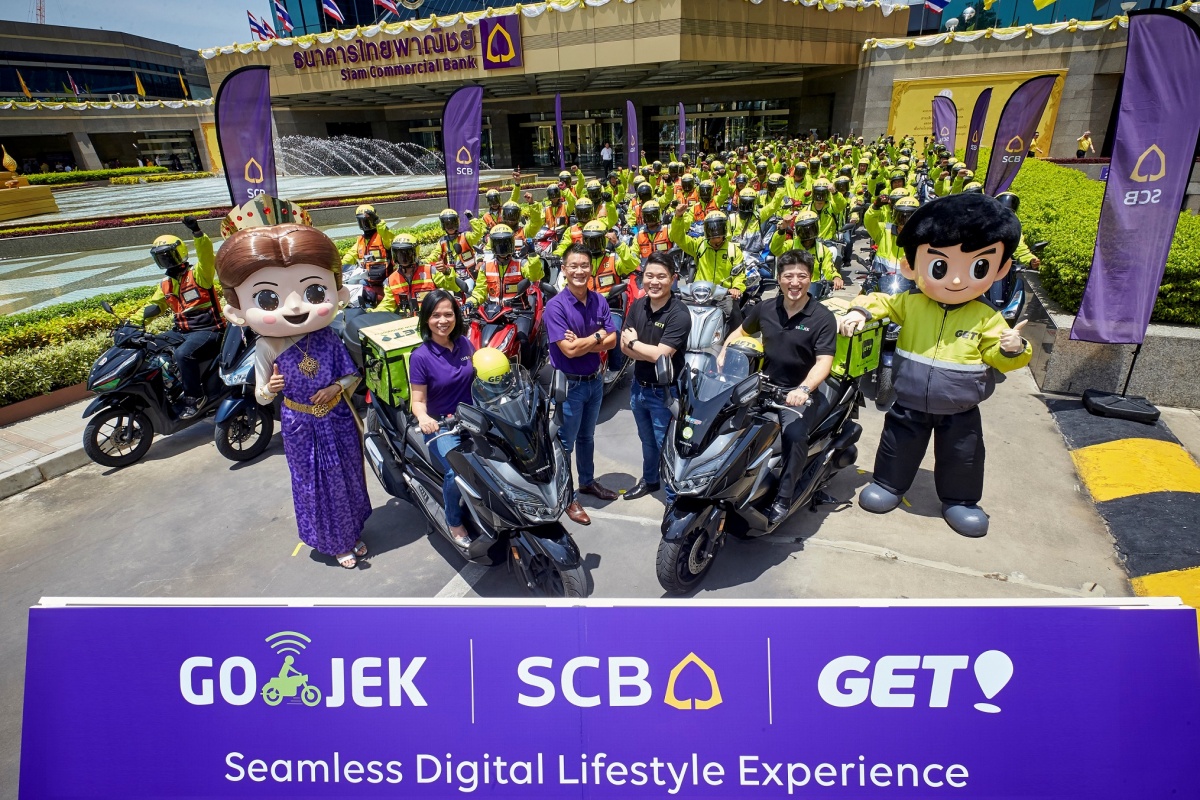 As a digital banking leader in the country, Siam Commercial Bank has made another great stride in its commitment to driving the leapfrogging growth of the digital economy in Thailand with an announcement of significant investment in GOJEK, Southeast Asia's leading on-demand multi-service platform technology group, and business alliance forged with GET, a lifestyle on-demand application.
 With the partnership banking strategy, SCB wants to propel the digital lifestyle ecosystem in which GET drivers, merchants, and end consumers will be given an enhanced opportunity to the financial inclusion through total financial solutions, such as digital lending to the retail client segment and small SMEs (SSMEs), payment solutions, GET PAY via SCB Easy App, Cash out from GET PAY into SCB accounts, and life-accident-health insurances for drivers, easily and conveniently.
SCB President Dr. Arak Sutivong said SCB has an aim to turn itself into the platform banking through development of new competitive edges. In particular, digital technologies have been applied to develop new and existing services to meet different kinds of clients' needs. To boost the competitiveness, SCB must not only bring technologies for product and service development, but also move forward with a new normal of growth and seek operational business growth that arises from mergers or takeovers (inorganic growth), such as finding new partners with growth potential and investment in technology literate companies.
This led to the announcement of the significant investment by the bank in GOJEK, the largest on-demand multi-service platform in Indonesia. With the valuation as high as that of decacorn, GOJEK is the fast-growing multi-service platform technology group in Southeast Asia. With a common intention and goal shared with GOJEK to propel the ecosystem catering to the demand of end consumers and SSMEs, SCB decided to take part in investment in the Series F Funding Round of GOJEK. With the robust and competitive business partner having the on-demand multi-service platform that serves the client demand timely, he believed it will be a key to making SCB achieve its ultimate goal of becoming "The Most Admired Bank."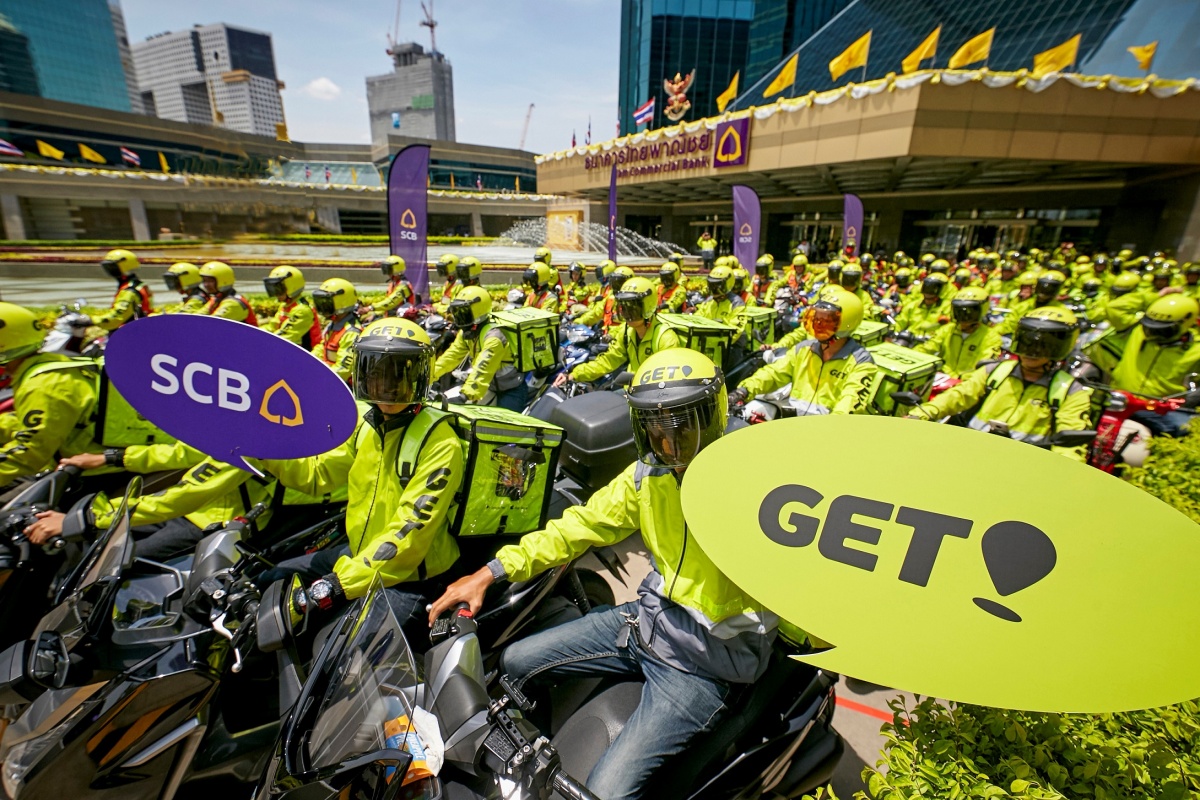 Aside from the joint investment with GOJEK, SCB President Mrs. Apiphan Charoenanusorn said the bank has forged business cooperation with GET, the lifestyle on-demand app, as the strategic partner to create and develop the digital lifestyle ecosystem concretely in Thailand. It is part of efforts to propel the country's digital economy through GET drivers, Mae Manee and GET FOOD merchants, and SCB Easy and GET end consumers. With the realization of the customer focus for service development, SCB saw an enhanced opportunity in this cooperation to the financial inclusion through total financial solutions for three main segments:
GET Drivers: Digital lending, account opening, cash in to GET PAP via SCB Easy, cash out from GET PAY to SCB accounts without any fee, and different types of insurance services such as life, accident, and health insurances.
Merchants: Digital lending to SSMEs, cash out from GET PAY to SCB accounts without any fee.
End consumers: Various payment solutions including savings account deduction, credit top up to GET PAY via SCB Easy, binding credit card/debit card, and supreme promotions for SCB clients only.
"One of our goals for this collaboration is to create a "Seamless Payment Experience. But what differentiates most in this business cooperation is to further support and link key business partnerships of the bank in various segments such as retailers and wholesalers, hotels, restaurants, hospitals, and leading universities, as well as the international partners, with the lifestyle on-demand multi-service platform of GET App to boost the exponential growth and upgrade and expand the scope of the ecosystem to satisfy clients to the utmost," she said.
Mr. Andrew Lee, Head of International of GOJEK, said, "SCB shares our ethos of using technology to improve the lives of consumers, drivers, and merchants and we are excited to have them on board as an investor. The GOJEK vision and ecosystem model has proven to be successful at creating more efficiencies for consumers and income earning opportunities for drivers and service providers across multiple industries in the region. The partnership with SCB shows continued confidence in our business strategy across markets as we aim to further scale our model and enhance operations in Thailand and elsewhere."
Mr. Pinya Nittayakasetwat, CEO of GET, said, "GET is growing rapidly, but this is only the beginning as ride-hailing and online food delivery penetration is still small compared to the market opportunity. We are excited about our partnership with SCB as it will help us reach a wider audience and provide a more seamless experience for all our users. With GET's technology and consumer insights coupled with SCB's expertise in the financial services industry, we believe this partnership will bring extensive benefits to millions here in Thailand."
To encourage clients to use GET, the lifestyle on-demand application, special promotions are made available as follows:
New Clients: Free food delivery (GET FOOD) service worth 50 baht for three times only when putting the GETSCBF1 code and free ride-booking (GET WIN) service worth 50 baht for three times only when putting the GETSCBW1 code.
Existing Clients: Get a 50% discount (not higher than 20 baht) on food delivery (GET FOOD) service for three times only when putting the GETSCBF2 code and an additional discount of 10 baht on ride-booking (GET WIN) service when making payment via GET PAY.