Bangkok, March 2017 - aCommerce, Southeast Asia's leading ecommerce service provider, has become Thailand's first Google Data Studio partner - a designation given only to partners who have undergone extensive training and passed testing. This is an addition to the company's other marketing certifications such as: Google Analytics 360, Google AdWords Premier Partner, and Google Tag Manager.
As internet users in Thailand increase - projected to be 50% of the population in 2016 - and online is expected to make up 15% of total retail sales in the country by 2024, more traditional companies are adopting digital strategies to increase sales.
The challenge for these companies will be capturing and translating its valuable consumer data into actionable insights to optimize online channel performance. Key questions answered include, what are the best channels to spend marketing budget? Which demographic is most likely to buy what product? What are the most important metrics to track?
Google Data Studio is a new software tool that the aCommerce Marketing team utilizes for clients such as Thai Airways and AIS to aggregate and present data from popular marketing channels such as Facebook, Google and website analytics in a clean, understandable visual format.
Other clients such as Maybelline are using the data to drive more traffic to its shop-in-shop on marketplace Lazada.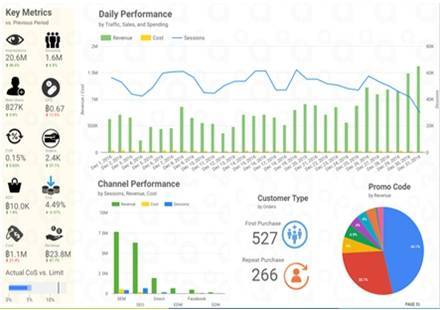 "We believe in providing transparency and sharing insights from digital campaigns with our clients so that we can work together to grow their business," shared Ten Chantaramungkorn, Director of Internet Marketing at aCommerce.
"The amount of data digital campaigns generate could be overwhelming for companies going online for the first time so our team uses Google Data Studio and other G suite tools such as analytics to show what really matters for them in making business decisions."
How does Google Data Studio work?
The tool allows four major functions:
Consolidation: Companies can look at Facebook, Google Analytics data such as ad impressions, costs, users, sessions, bounce rates, conversions, etc - all in one place. Even offline databases can be connected, such as in the way that aCommerce does for B2B company Thai Otsuka.
Automation: All data is refreshed automatically every hour so clients have access to real time data instead of manually exporting and mapping data sets to optimize campaigns and save spend.
Interaction: Custom dashboards clean up data with filters, audience segments and timelines so clients can choose which data set to look at depending on promotion periods.
Sharing: Data dashboards can be shared with both clients and stakeholders free of cost.
In addition to Data Studio visualization, aCommerce offers full-service analytics solutions to clients across Southeast Asia from auditing, implementing, training, and reporting to increase overall productivity in the ecommerce sector.
In January 2017, aCommerce held an exclusive invite-only breakfast event at the Google Thailand office where brands and businesses from various industries were provided with a hands-on training by the aCommerce Digital Marketing team. The next training session will be held in May at the aCommerce office. Businesses interested in attending the training can email [email protected]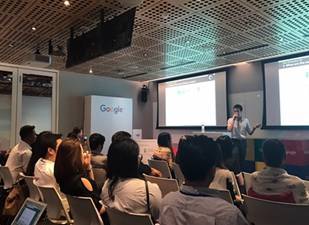 About aCommerce
aCommerce is Southeast Asia's top ecommerce solutions provider, serving global brands and retailers such as L'Oreal, Hewlett-Packard, Samsung, Nestle, Lazada, MatahariMall, and LINE among others. Founded in June 2013, aCommerce has offices and distribution centers in Indonesia, Thailand, Singapore and the Philippines. Ecommerce solutions include performance marketing, brand commerce, store development, fulfillment, delivery and customer care.