Come join us for the exclusive in-person launch event of Tech Thailand Advocates (TTA).
Date: Thursday, 16 March 2023
Event Time: 17.30 - 18.30 (BKK Time, GMT+7)
Venue: At Meeting Room 208 - Level 2, Queen Sirikit National Convention Center, Bangkok, Thailand.
We are thrilled to announce our arrival in Bangkok, Thailand as a proud member of Global Tech Advocates (GTA), a powerful network with over 30,000 tech tech leaders, experts, and investors across the globe. With its headquarters in London, GTA fosters a connected and inclusive community that brings together business leaders, founders, investors, and educators from the worldwide tech ecosystem. GTA collaborates on finding solutions to the international challenges that tech companies face, unifies the private tech sector, and advocates for policy changes with a united voice. Be a part of the exciting launch of TTA and witness the power of our collective voice.
**Since there are a limited number of seats, registrations will be approved by the organizer.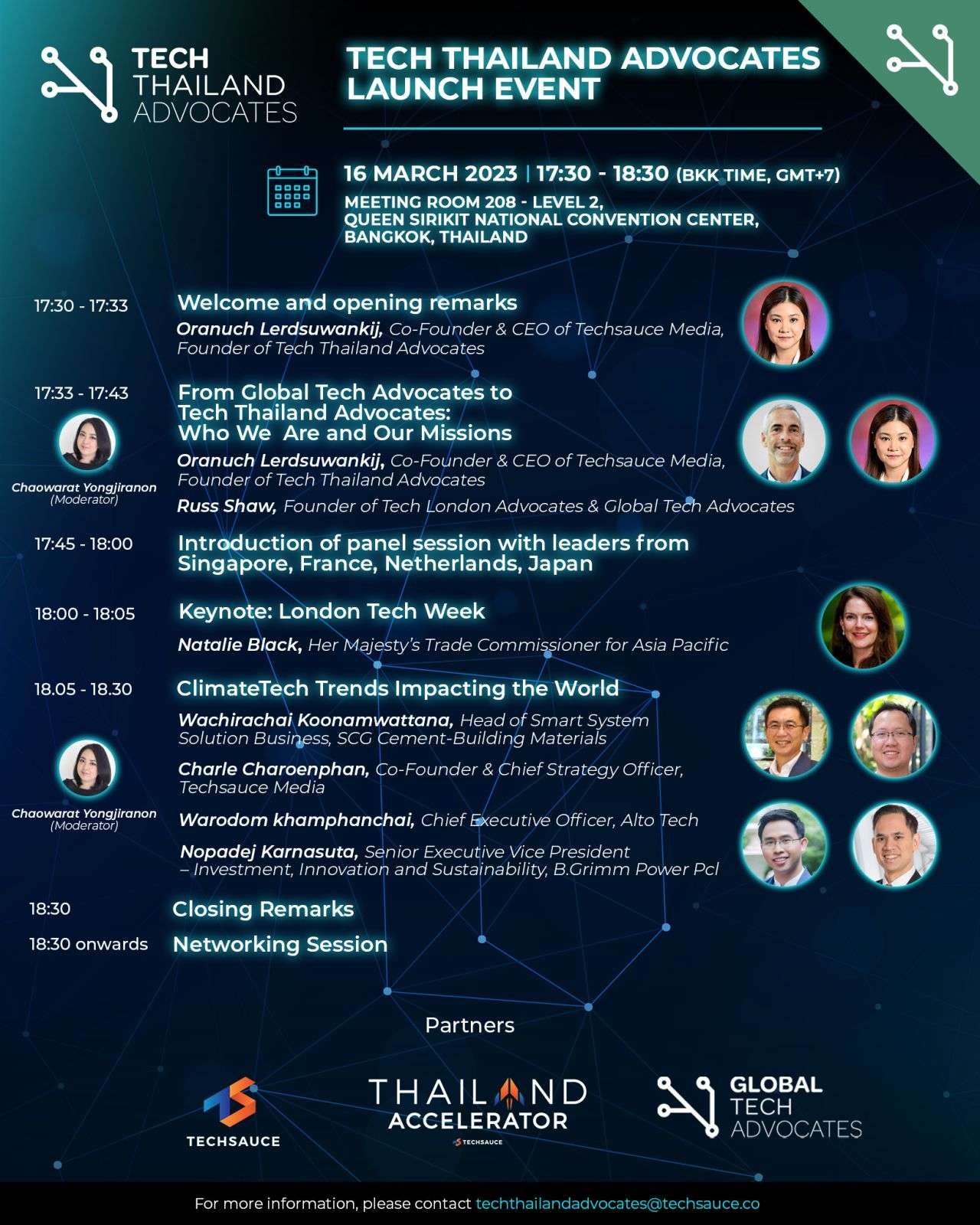 OUR OBJECTIVES
As a part of the Global Tech Advocates international network, Tech Thailand Advocates works to connect startups and large corporations with investors, in addition to facilitating connections between those organizations and other international networks.
ABOUT TECH THAILAND ADVOCATES
Tech Thailand Advocates is led by Oranuch Lerdsuwankij, CEO and Founder of Techsauce Media Co., Ltd. Her mission has been to develop Thailand's platforms and ecosystem. This is to connect Thai startups, large corporations, and investors with global and innovation tech hubs over the past 10 years through various ways. The project represents another important step towards elevating the Thai ecosystem.
For more details please visit: https://techthailandadvocates.org/
ABOUT TECH GLOBAL ADVOCATES
Global Tech Advocates is a non-profit organization designed to address the challenges facing society through its international network of technology communities. The organization brings together more than 30,000 tech leaders, experts, and investors from 30 countries around the world. Founded by Russ Shaw, a global advocate for technology leaders. The organization supports tech ecosystems and campaigns to help address the challenges that companies in the tech industry face.

RSVP : Link