Digital Transformation is now changing the way businesses operate from their traditional style to the modern and technological oriented ways. Since the change has become imperative for all businesses, small, medium and large, Thailand's government is stepping up to take action to push the country towards a digitalized nation.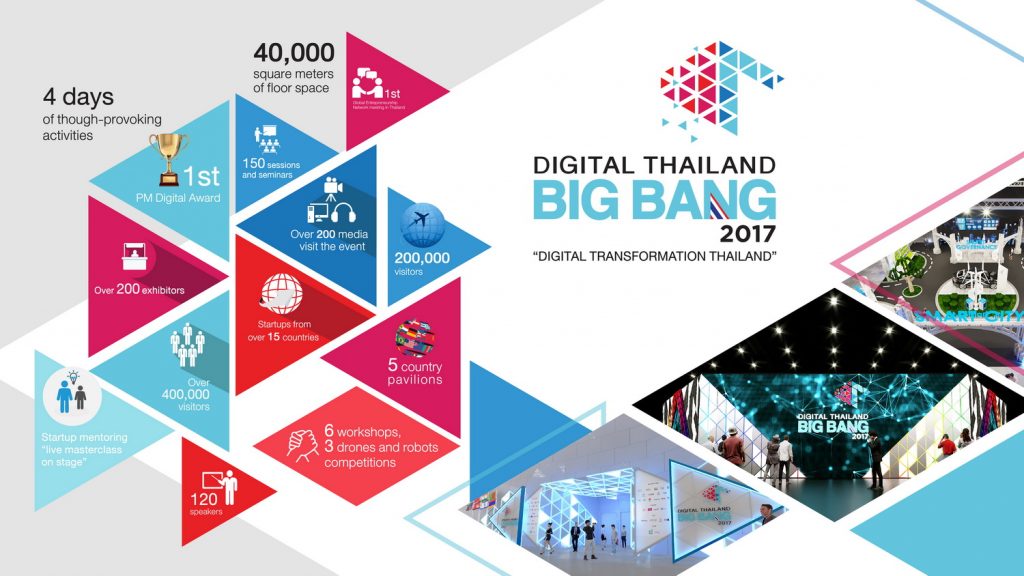 Thailand's Ministry of Digital Economy and Society (DE) in collaboration with Digital Economy Promotion Agency (DEPA) will host "Digital Thailand Big Bang 2017" under the theme "Digital Transformation Thailand". The summit covering 40,000 square meters of exhibition space brings together leaders that are on the forefront of the digital-tech industry and showcases latest technological advancements from government, agencies and organizations around the globe.
Dr. Pichet Durongkaveroj, Minister of Digital Economy and Society (DE) said
"They are fundamentally important for the community, public healthcare services and digital workforce development that should be implemented at all levels of society. Additionally, the necessary digital infrastructure should be established and developed to support a digital park, digital community and a smart city so that the nation can completely transform into the Digital Thailand."
The Biggest digital-tech showcase in South East Asia
The four-day event is the largest international digital-tech showcase in South East Asia aiming to attract about 200,000 visitors. The exhibition is divided into 4 thematic zones, including over 200 exhibitors, 150 sessions, seminars, 120 speakers, 5 country pavilions, 6 workshops and 3 competitions including IoT, Robot, and Drone competitions.
Dr. Nuttapon Nimmanpatcharin, President & CEO explained the details of the 4 exhibition zones
The first zone "Digital Ecosystem" focuses on initiatives of current and future technological innovations that have been developed and widely used in several industries. Digital entrepreneurs covering digital startup ecosystems, digital startup displays, financial services & funding, global connectivity and co-working spaces are also featured in the zone.
Digital Community and Smart city
The second zone is where participants will learn about super clusters of smart cities and experience future life through technological advances collaboratively initiated by concerned agencies and organizations.
The third exhibition area, will expose participants to the simulation environment in which actionable digital-based policies will be initially implemented in Thailand. Encouraging a swift adoption of investment, promotion activities, facilitator measures from abroad, the mega project covers digital industry, digital university, digital real estate, logistics, transportation and digital companies
The last zone is a creative and fun space where everyone can experiment, share and exchange their ideas to create innovations. Featuring co-working space, maker space, new innovations, participants will be provided with inspiration and insight into future businesses. Highlights of this zone also include on-stage robot battle, e-Sports and various interesting workshops.
Highlight speakers
According to Dr. Pichet, some of the highlight speakers include ;
"In addition, there will be digital development consulting and financial funding from government agencies and leading organizations provided for business owners. At the event, participants will enjoy exploring the latest industry trends and experience cutting-edge technologies and innovations that showcase beyond your imagination. The 4-day exhibition will also culminate with a PM Award to honor individuals and enterprises that support and encourage the digital transformation. A collaborative effort between the government and the private sector to show Thailand's potential and readiness to become Thailand 4.0"Dr. Nattapon added
The Digital Thailand Big Bang 2017 will take place from September 21 – 24 2017 at IMPACT Challenger Hall 1-2, Muang Thong Thani, Bangkok. For more information, please visit  www.digitalthailandbigbang.com
This article is advertorial.