Thammasat University has appointed Bangkok Bank Public Company Limited to develop the TU GREATS app to provide students and university personnel with services ranging from student ID card creation to student registration payment starting in the academic year 2020. The MoU signing ceremony took place on July 22, 2020 with an objective to drive the university toward a cashless campus to create a complete digital ecosystem in line with the digital way of life.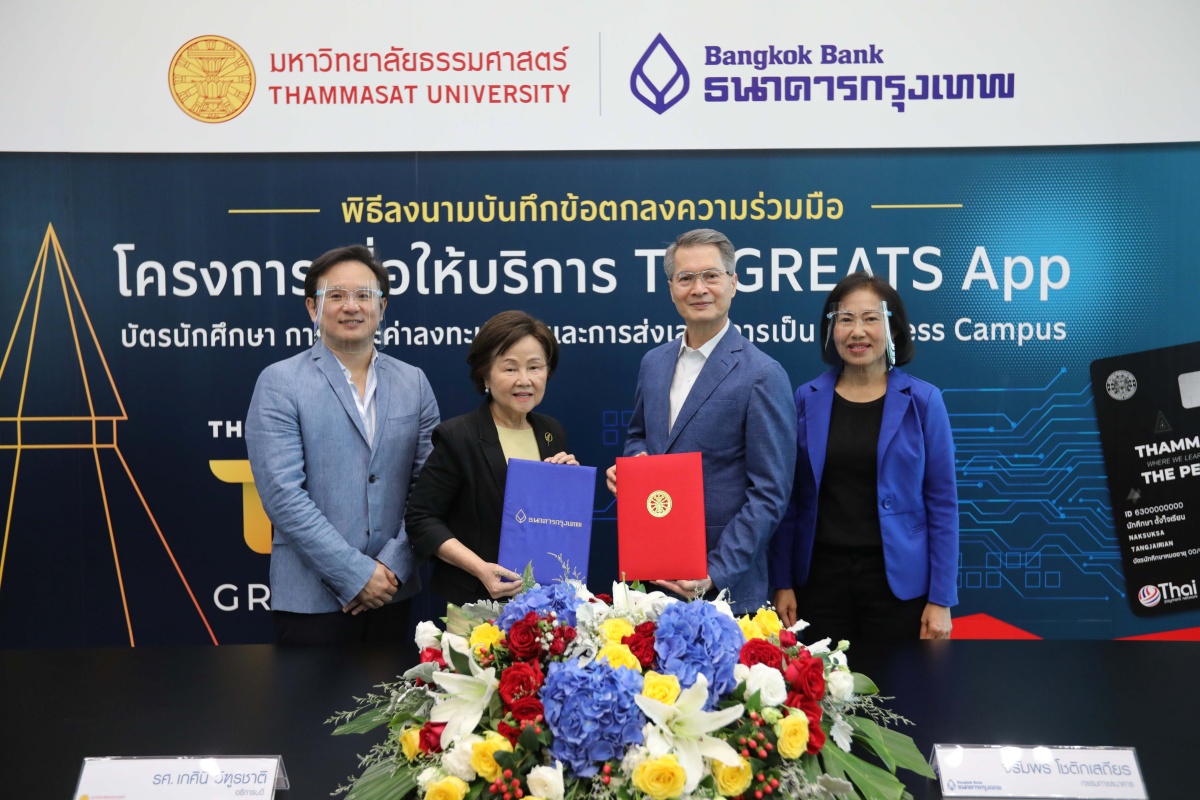 Associate Professor Gasinee Witoonchart, President of Thammasat University, said that this cooperation between Thammasat University and Bangkok Bank is an important step in line with the university's strategy to become a university of the future and to be one of the leading universities meeting international standards with an ability to adapt and compete in the 21st century. Bangkok Bank will play a part in supporting the university's digital transformation to lay the foundation and further complete Thammasat University's digital ecosystem.
Meanwhile, the collaboration will support the move to a cashless society within the university under the concept of a 'cashless campus' in line with the university's vision that emphasizes both learning and facilitating students and university personnel through development in the following five dimensions: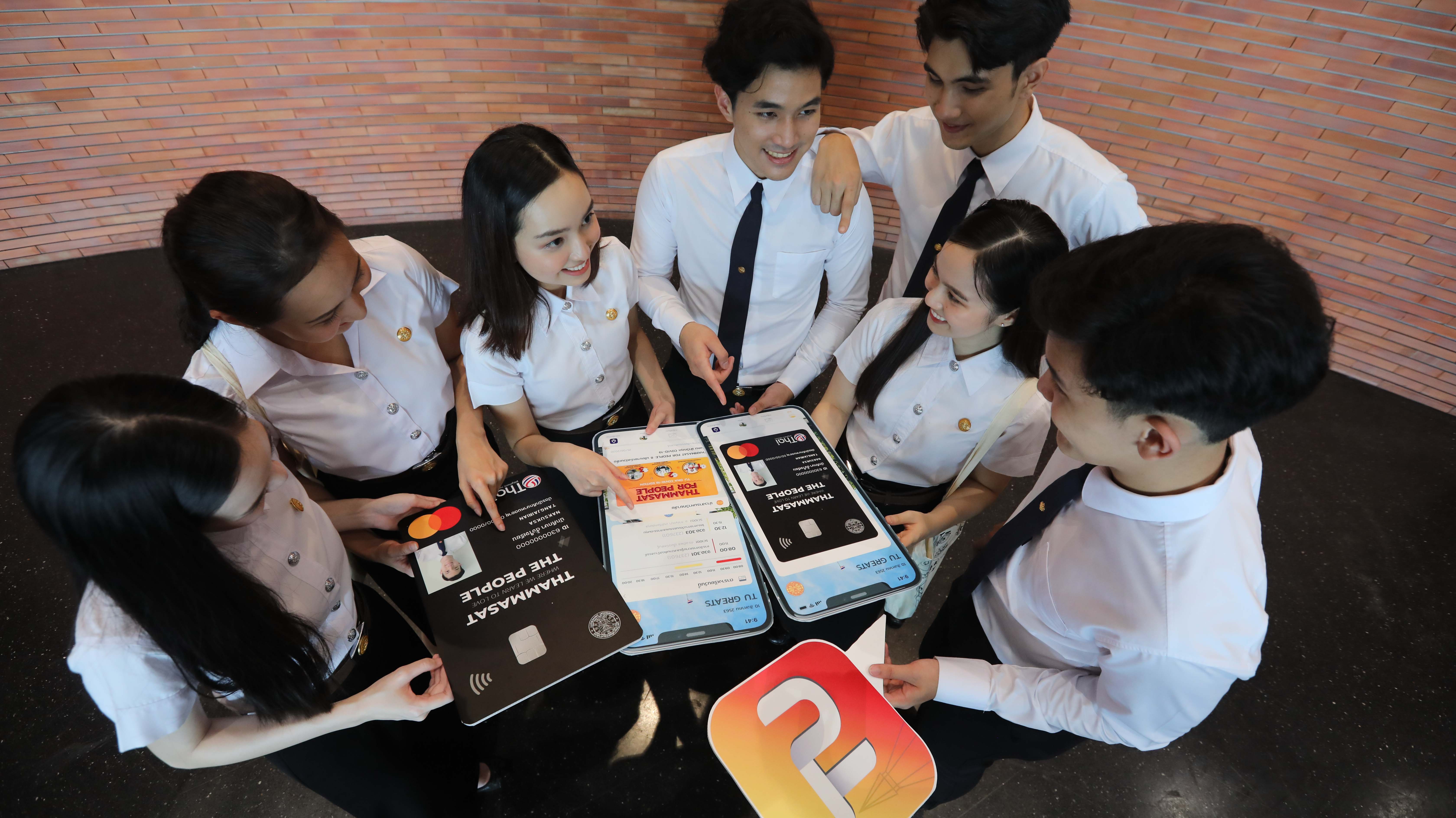 1. Creating graduates with GREATS characteristics which are essential elements of leaders who succeed in the 21st century, including:
G: Global Mindset – modern and able to keep abreast of a changing world in various dimensions
R: Responsibility – have a sustainable sense of responsibility towards oneself, other people, society, and the environment
E: Eloquence – able to communicate creatively and efficiently
A: Aesthetic Appreciation – appreciate the beauty and value of art, music, and architecture
T: Team Leader – able to collaborate with others both in the roles of leader and team member
S: Spirit of Thammasat – have the spirit of Thammasat and confidence in democracy, rights and freedom, and accept different opinions and fight for fairness.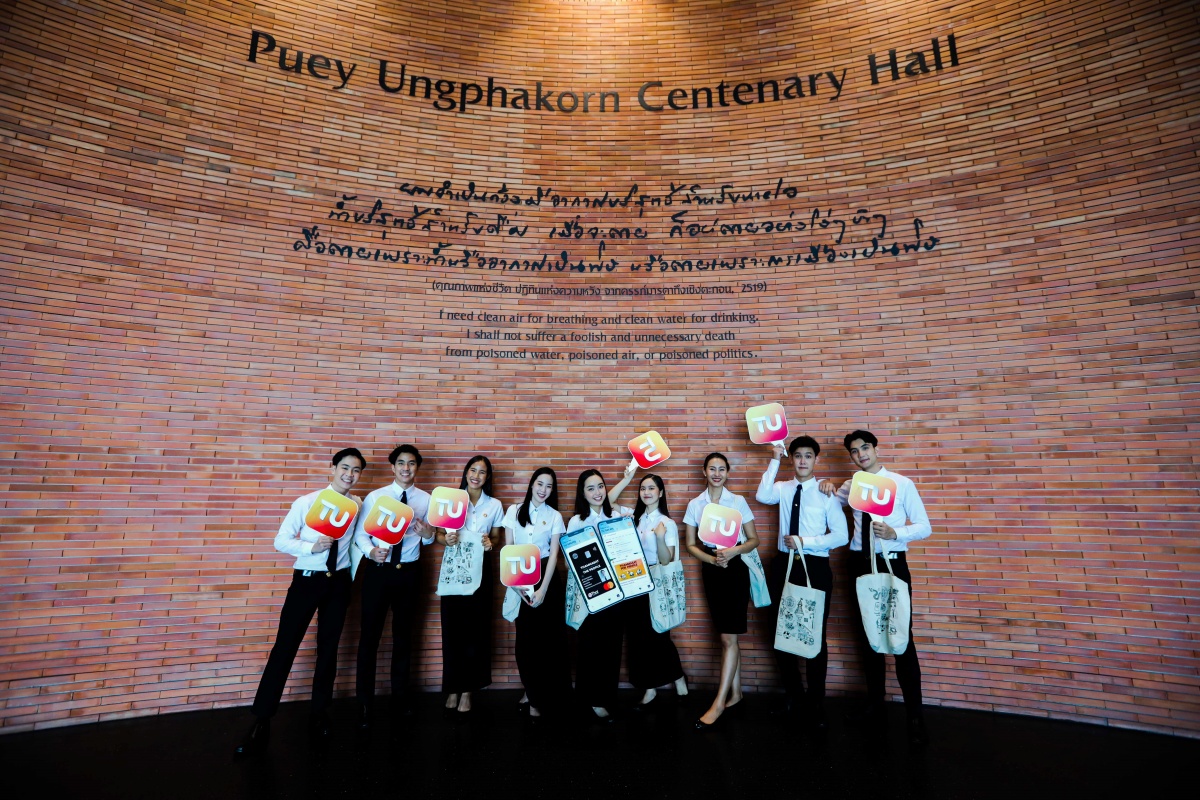 2. Conducting research and innovation that bring developmental changes to Thai society and the world.
3. Creating a sense of globalism and a collaborative network both domestically and internationally.
4. Focusing on being the university for people providing academic and health services that meet international standards.
5. Aiming for stability and sustainability with modern management.
"With this cooperation, Thammasat University and Bangkok Bank share a common goal of implementing beneficial projects for students and university personnel through the TU GREATS app, including student ID card making and payment of registration and fees via the digital bill payment system to drive the university to become a cashless campus. We will also initiate new projects and support current projects that will benefit up to 49,615 people consisting of 41,010 students, 2,207 lecturers and 6,398 university personnel, to improve the quality of teaching and learning, deliver knowledge and provide greater convenience to university students and personnel," said Associate Professor Gasinee.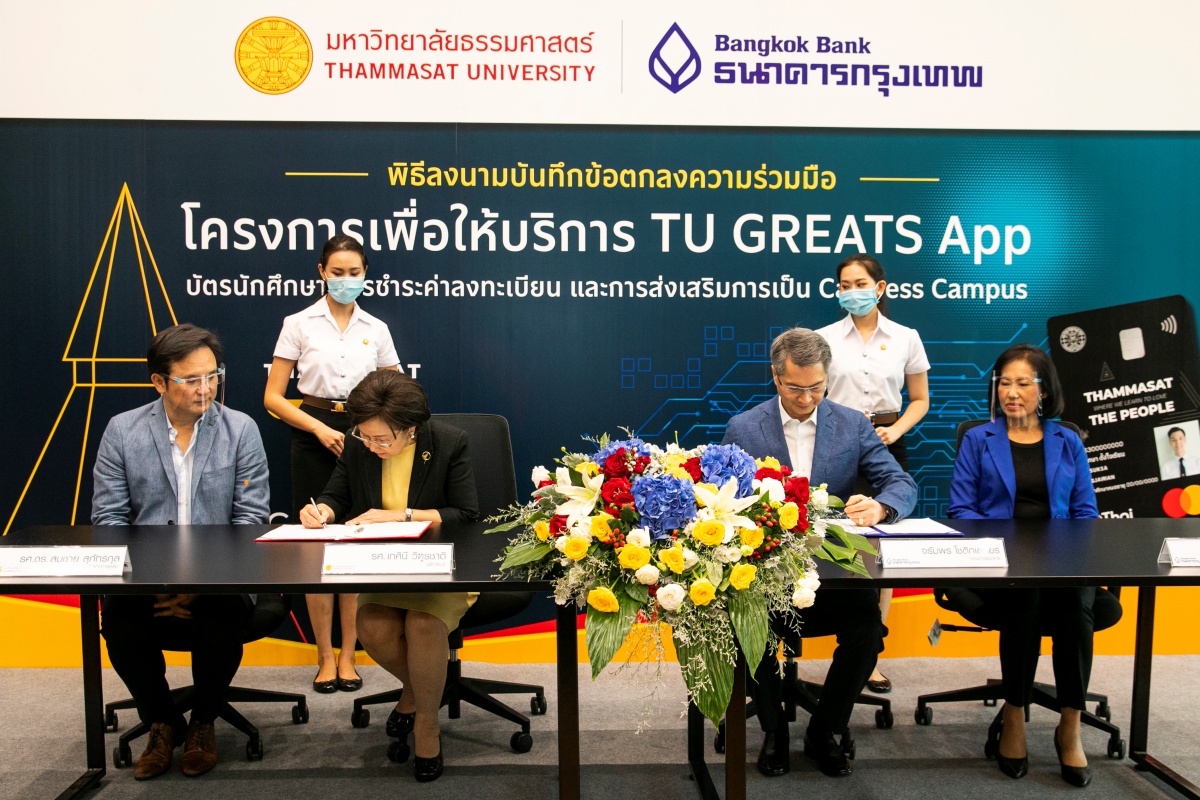 Bangkok Bank Executive Director Charamporn Jotikasthira added that under the collaboration Bangkok Bank will continue to develop more services to support the digital lifestyles of Thammasat University students and personnel. New services under the TU GREATS app will be developed for a wide range of needs including academia and knowledge, digital payment for tuition fees and other expenses, as well as facilitating life on campus. The app will be an important gateway to a digital world where Thammasat University students and personnel are connected on the same platform with the following services:
1) The TU GREATS app is developed by Thammasat University and Bangkok Bank for students and their parents, faculty and staff. The app works on both iOS and Android operating systems and uses a Face ID technology to enhance security as well as Live Watermark technology for virtual student ID cards. The technologies make using the app convenient, quick and secure as it has an anti-forgery and anti-spoofing system. The app is connected to students and the university's database to provide convenience on many fronts.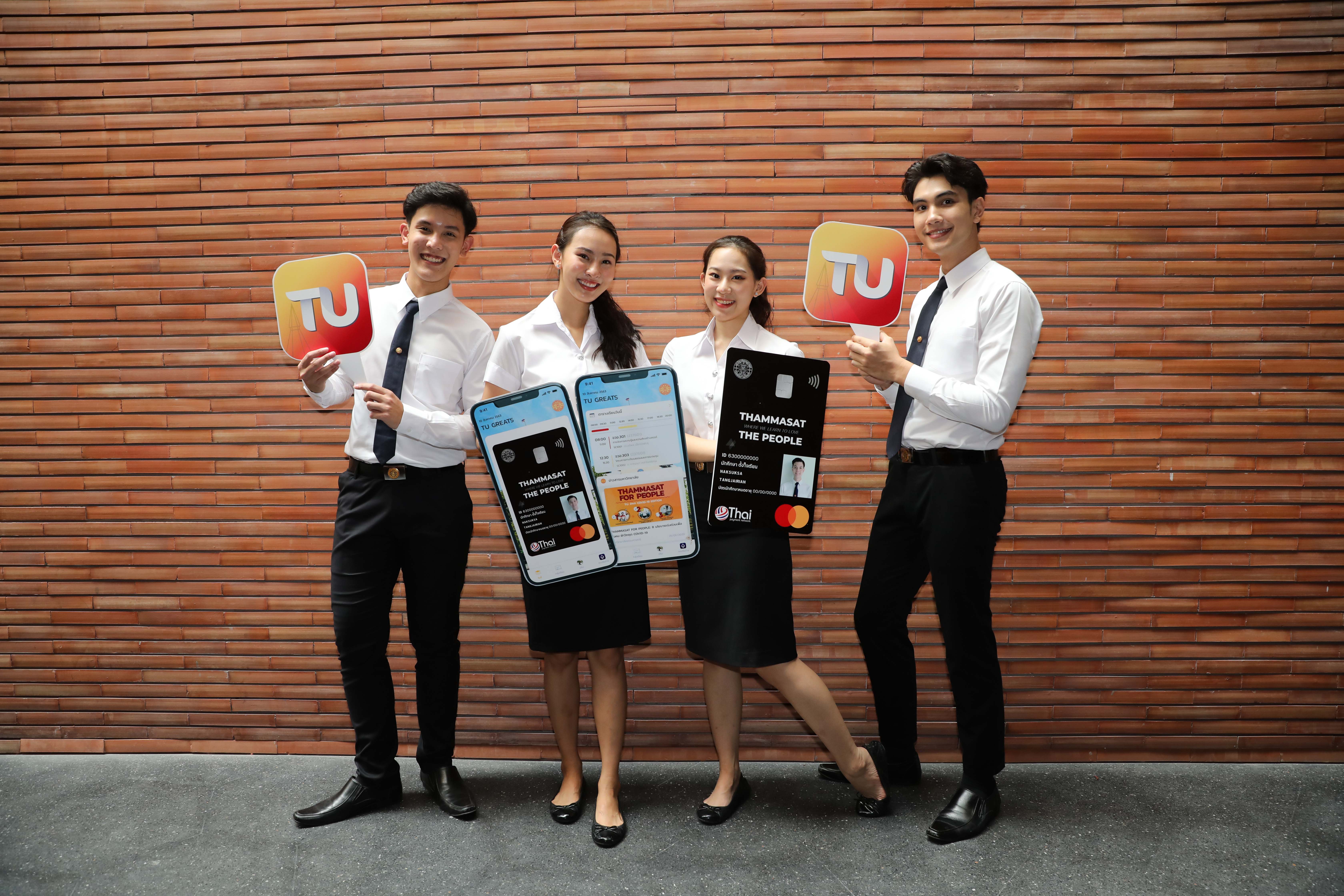 • Teaching and learning – the app facilitates access to information. Students can check their class timetable, academic results, information about their university advisor and course information. The app promotes teacher-student engagement and communication allowing for taking attendance and class participation, enables university advisors to provide advice to their students who can make appointments via the app, and provides access to online study resources and other information 24 hours a day.
• Payment – the app supports payment of registration fees, and other products and services of the university including payment to vendors on campus and surrounding areas. Payment can be done via the app in a convenient, quick and secure fashion which reinforces the university's vision to be the cashless campus.
• Lifestyle – the app enables users to create events and accepts online registration. It is also a channel to receive information and communication from the university and faculty, helping to build a digital society between students and the university.
2) Student card (plastic card) - The bank will create a student ID card with functions in conjunction with the Be 1st Smart TPN Mastercard Debit Card, which can be used for financial transactions similar to Bangkok Bank debit cards, withdraw cash from ATMs and swipe to pay for goods. The card also has a distinctive style and design on the front, showcasing the work of a student who won the first prize in a card design contest and received the highest votes from Thammasat students.
3) Expand collaboration to build Thammasat University into a completely cashless campus. The university and the bank have co-developed a digital ecosystem with payment systems and equipment installed on campus and in surrounding areas to support e-payment and QR Code systems, as well as accelerated the development of more diverse transactions including bill payments systems and connecting with Bangkok Bank Mobile Banking App. Moreover, the bank has launched campaigns to encourage students and personnel to continuously use and transact on the TU GREATS app.
The TU GREATS app will help Thammasat students, faculty and staff to live their lives more conveniently on campus, where various services have been developed from surveying the opinions and needs of Thammasat people. The app is a real central platform to unite Thammasat people — not only in teaching and learning, but also supporting today's digital lifestyles, as it will be an important channel for transactions and access of university information. It is also an electronic wallet that connects to the Bangkok Bank Mobile Banking application for payments. In the future, the bank will continuously add useful services for Thammasat people to knit the TU GREATS app into Thammasat people's digital lifestyles both in the university campus and in everyday life," said Charamporn.