The stress of a global pandemic and the isolation caused by lockdowns has triggered a shadow pandemic; a mental health crisis across much of the world. However, the prolonged effects of the pandemics have led to the increased public conversations on issues of mental health and well-being.
According to the recently released Thailand TwitterTrends Report, people are redefining what well-being means to them. Thais have moved past the stigma that talking about their mental well-being is taboo. During the pandemic, conversations on the platform about well-being and mental health surged across Southeast Asia. In Thailand, there has been a 16% increase in the volume of Tweets on well-being between 2018 - 2021.
In recognition of this year's World Mental Health Day (Oct 10), Twitter is continuing its commitment to protecting the health of the public conversation and for the people to have a free as well as safe space to talk openly about their struggles with mental health.
"Twitter is committed to continue protecting the public conversation and making it easier for people to receive help and support on mental health issues. We've partnered with local mental health authorities and nonprofit organizations across Southeast Asia to understand public conversations on mental health, promote advocacy and campaigns, and launch #ThereIsHelp - a notification service that provides valuable mental health information and resources. We look forward to continuing the collaboration with more mental health organizations across the region to expand our efforts for those in need," said Monrawee Ampolpittayanant - Head of Public Policy, Government and Philanthropy, Southeast Asia at Twitter.
Twitter's #ThereisHelp Notification service and Search Prompt for Suicide and Self-Harm
Launched in 2019, the #ThereIsHelp notification service provides valuable mental health resources to vulnerable people and encourages them to seek professional help. In partnership with local mental health authorities and nonprofit organizations, Twitter has also launched a dedicated search prompt for suicide and self-harm in more than 30 markets globally to amplify awareness and help connect people with valuable mental health resources.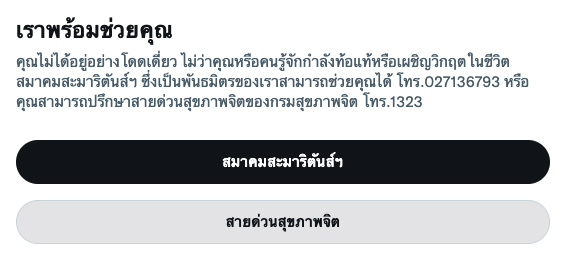 Twitter believes that preventing suicide and addressing mental health requires collaboration across all of society — public, private and non-profit. This is work we can only do effectively by collaborating with local government agencies and NGO partners such as Into the Light Indonesia (@IntoTheLightID), Samaritans of Thailand (@Samaritans_Thai), the Department of Mental Health Thailand (@PR_dmh), Mental Health PH (@MentalHealthPH) who is one of our Trust & Safety Council members on suicide prevention and mental health, National Center for Mental Health, Philippines (@ncmhhotline), BefriendersKL (@BefriendersKL), and Samaritans of Singapore (@samaritansofsg) in addressing and destigmatising mental health issues through conversations on the platform in Southeast Asia.
"Over the last decade, the Department of Mental Health Thailand has made significant strides in Thailand's suicide prevention efforts. We were pleased to participate in the recent Twitter Spaces event about suicide prevention since exchanging experiences and ideas with organizations and people from other Asian nations benefits both us and the Thai people. Additionally, collaborating with Twitter Thailand enables us to interact with more people and raise awareness about suicide prevention and mental wellness as a global concern," said Dr Varoth Chotpitayasunondh M.D., FRCPsych.T., PhD, Department of Mental Health Thailand.
"Suicide is one of the leading causes of death in Thailand, taking the lives of thousands of Thais annually. The mission of the Samaritans of Thailand is suicide prevention through the provision of unconditional emotional support. Our partnership with Twitter has expanded our reach to people in need of our service. It has also raised awareness of the gravity of the suicide problem in Thailand and the importance of suicide prevention work. We are very thankful to Twitter for partnering with us," said Trakarn Chensy, Chairman, Samaritans of Thailand.
To raise more awareness on this important issue, Twitter is launching a custom emoji representing the international symbol for mental health awareness, and it will be available throughout this October. A green ribbon emoji will automatically appear in your tweet when you Tweet out with one of the hashtags #WorldMentalHealthDay, #WMHD2021, #MentalHealth, #MentalHealthMatters, #MentalHealthForAll #MentalHealthAwareness, #StepUp2021, #OnMyMind and #MentalHealthinanUnequalWorld.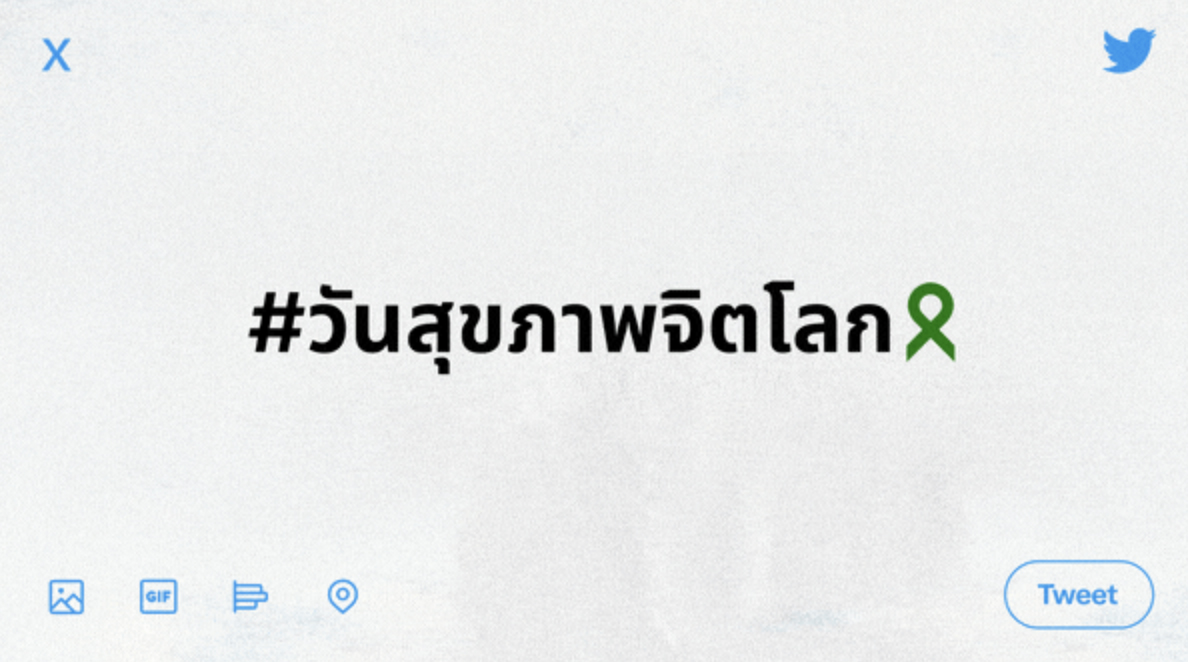 Covid-19 has encouraged acknowledgement that mental health challenges are not a reflection of character but of circumstance - often beyond our control. This World Mental Health Day, remember that you are not alone and #ThereIsHelp out there.