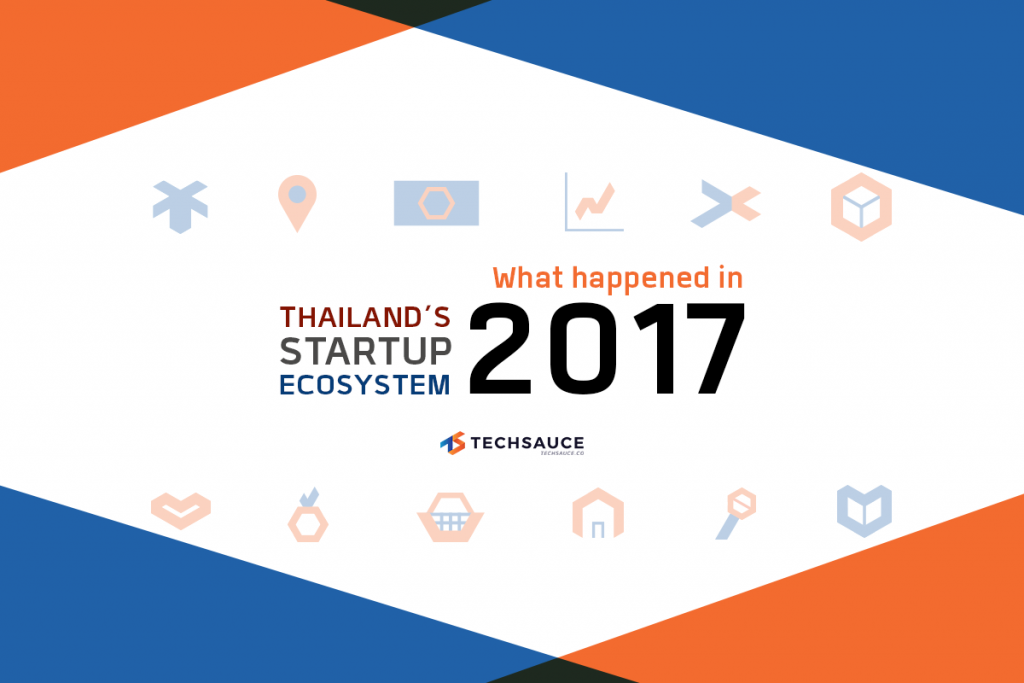 This past year Thailand Start-up Ecosystem has developed and grown through many events.  Since it sucks to be out of the loop on what was hot, Techsauce has summed up all the important events to keep you updated. 
What were the most important highlights of Thailand's Startup Ecosystem in 2017?  Let's take a look!
E-Commerce Startups Continues to be Strong in Thailand
Mega $65 Million Series B Investment
The Business Sector Rushes to Set up CVC, Hoping to Invest More in Startups
Omise Secures First ICO Fund in Thailand
Business Acquisitions Continues
E-Commerce Startups Continues to be Strong in Thailand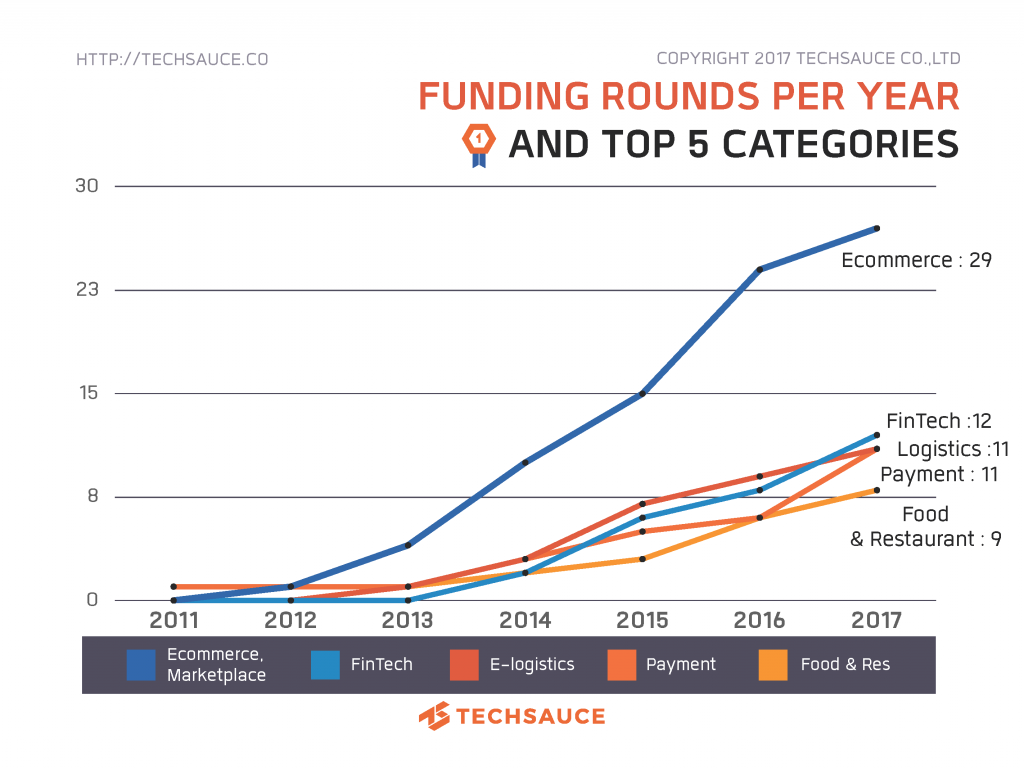 When talking about the overall picture of the Start-up industry in 2017, the sectors that made big waves were E-Commerce, FinTech, Logistics, Payment, and Food & Restaurant.
#1 E-Commerce
We give first place to E-Commerce as it has become intensely hot as can be seen by the flow of funding going into more than 5 startups in 2017.
"Techsauce did not fail to create "E-Commerce Landscape 2017: Thailand's E-Commerce businesses all in one place!" to give a clearer picture of the sector.  You can check it out."
The direction of E-Commerce in Thailand will be like overseas.  More big fish companies will start eating up little fish companies.  If not more acquisitions, then more joint ventures between offline wholesale companies and online companies.
#2 FinTech
FinTech or technology used with finance and banking such as in the case of Omise, DeepPocket, and other companies.
#3 E-Logistics
In 2017 two startup companies in this field received funding.
#4 Payment
The Payment sector actually is a part of FinTech, but the Techsauce team believes it deserves its own ranking given the significant development of Payment technology. This year saw 4 companies in this field receive funding.
#5 Food and Restaurant
In 2017 two startups in this field received funding.
Mega $65 Million Series B Investment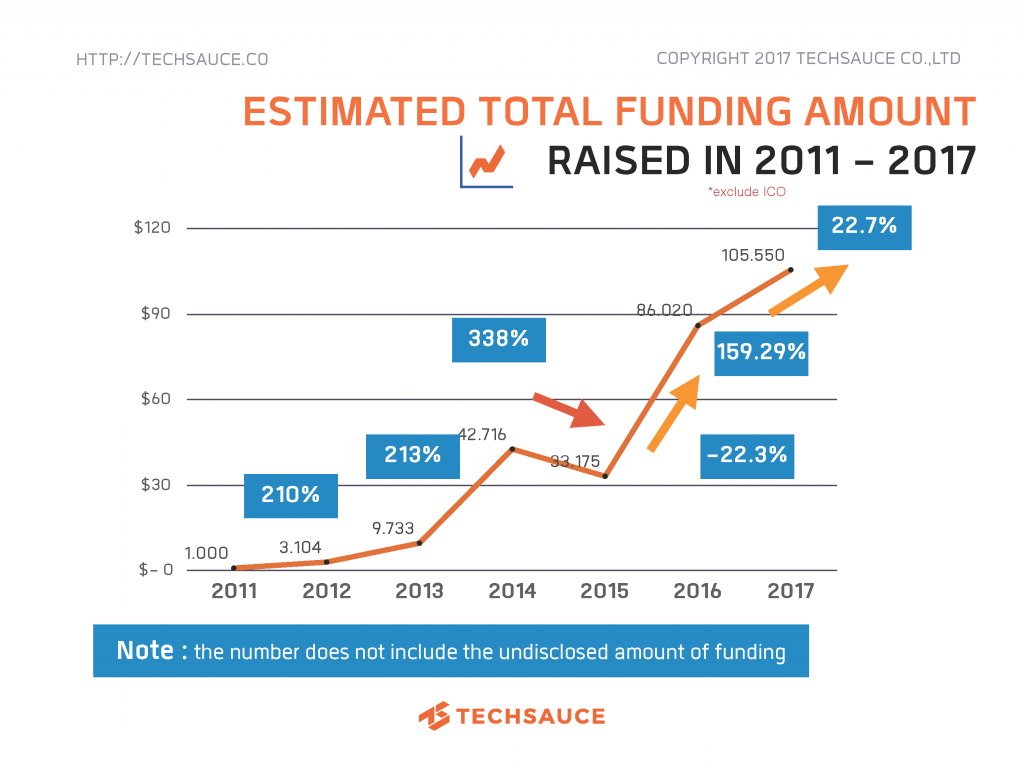 For the past 6 years (since 2011 to 2017) more than 90 Thai startups (that have agreed to reveal their information) have received funding.
The total amount of funding in 2017 (excluding ICO and open information) valued at US$105.5 million.  Growth has been the highest in 6 years (since 2011), but a significant part of it came from the aCommerce deal that boosted the total startup investment in 2017 to a level never seen before.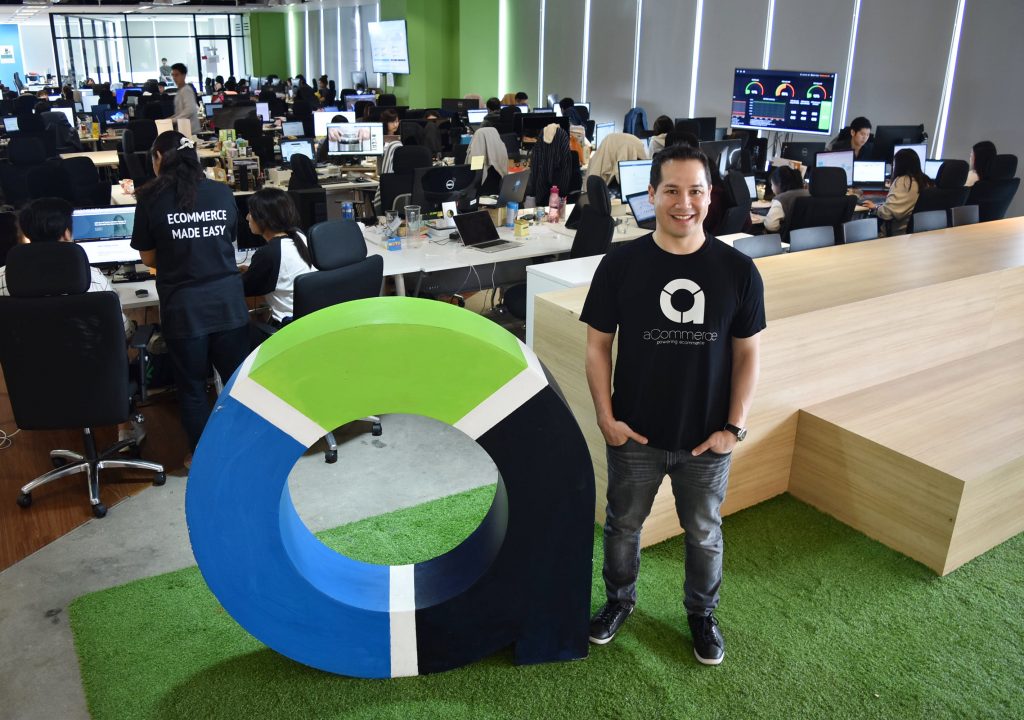 The aCommerce deal was the biggest funding made in 2017 because it received Series B funding worth US$65 million (2.14 billion Baht) from Emerald Media, Blue Sky, MDI, and DKSH, together with consultation from North Ridge Partners.
For more information about aCommerce deal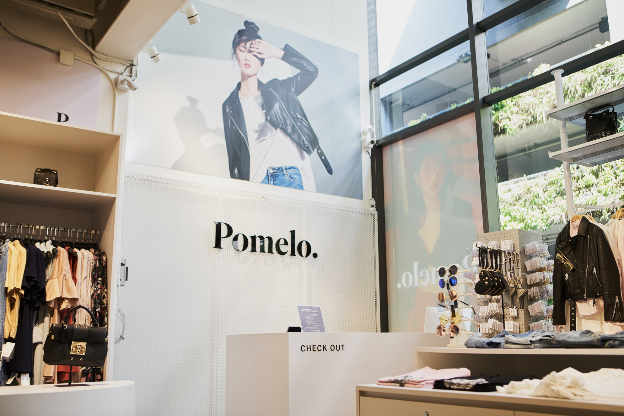 Runner-up to the aCommerce deal was the Pomelo deal which received Series B funding worth US$19 million (622 million Baht) from Central Group (Thailand) and Start Today Ventures (owner of ZozoTown website, one of the biggest e-commerce companies in Japan). In addition to this, towards the end of 2017 it received further Series B funding from JD.com, Provident Capital Partners, and Lombard Private Equity.
For more on Pomelo 
Pomelo raises further Series B funding worth US$19 million led by com
Pomelo receives further Series B funding from Central Group and Start Today Ventures
The Business Sector Rushes to Set up CVC, Hoping to Invest More in Startups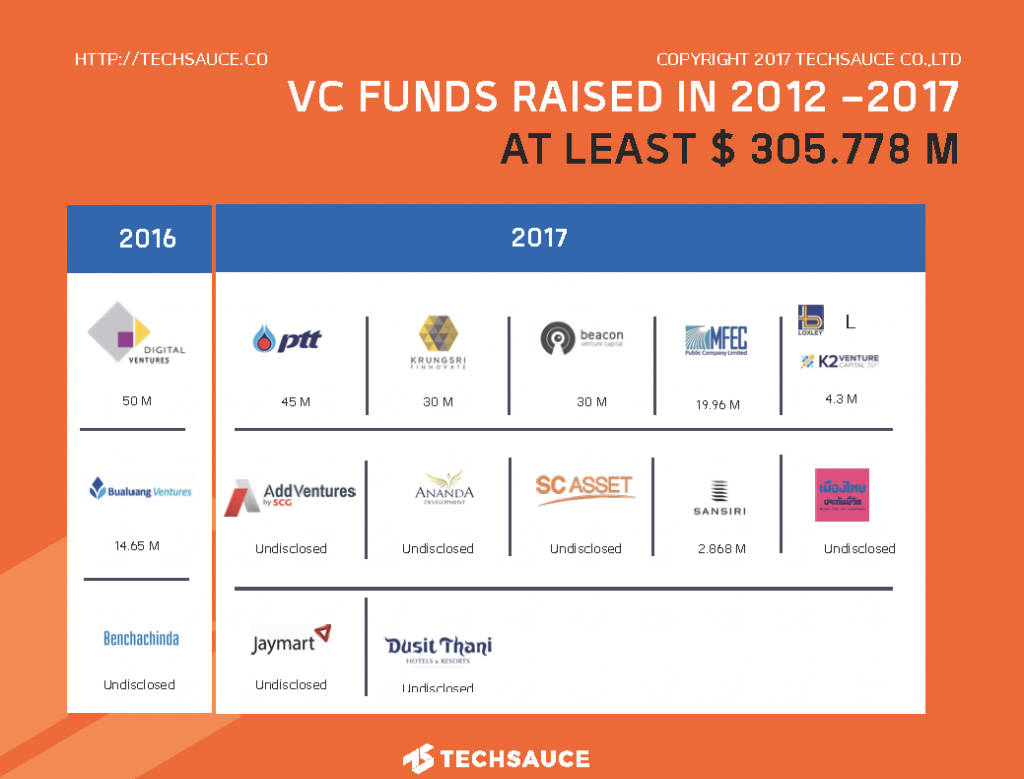 2017 has truly been the year of Corporate Venture Capital or CVC because various businesses have started to set up CVC of their own to the point where there is now a large amount of CVC.  The reason behind this movement is the realisation of the true potential of startups in Thailand to develop products and increase revenue.
Thai CVC does not only invest in Thai startups, but in those from overseas as well,  because businesses see the the potential of growth that can be achieved outside the country.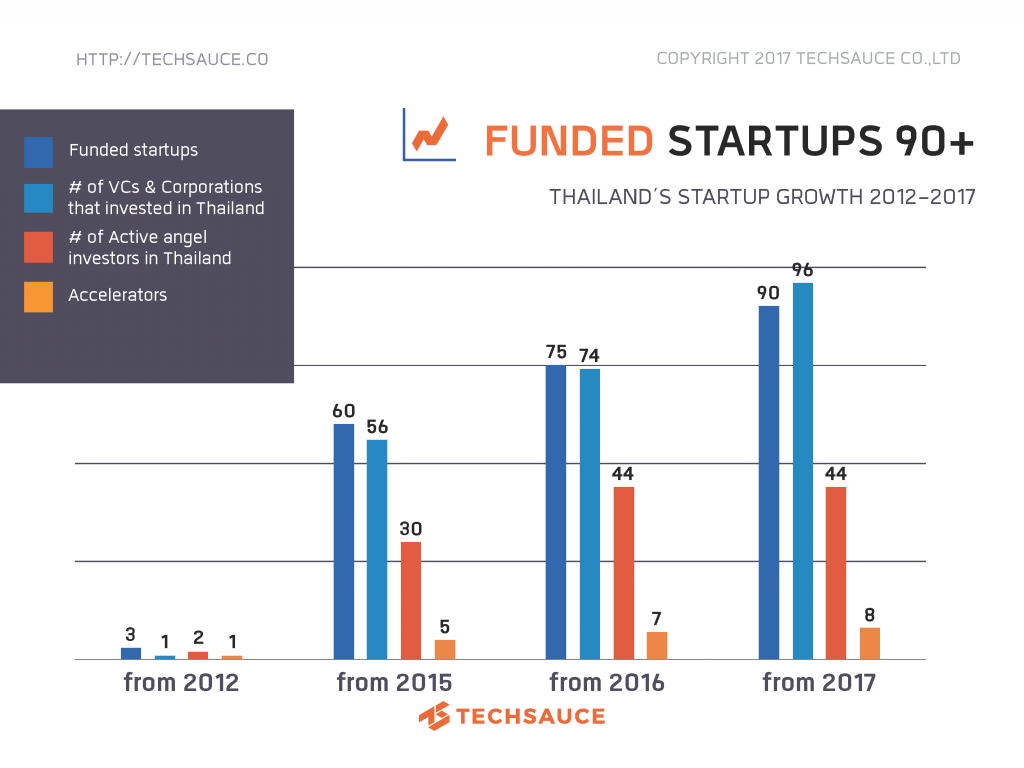 The banking sector is not the only one to jump into CVC.  There is also energy companies such as PTT (Express Solutions or ExpresSo), the chemical and construction company of SCG (AddVentures by SCG), IT company Jaymart (J Venture), and hotels such as Dusit Thani (Dusit Colours) too.
Omise Secures First ICO Fund in Thailand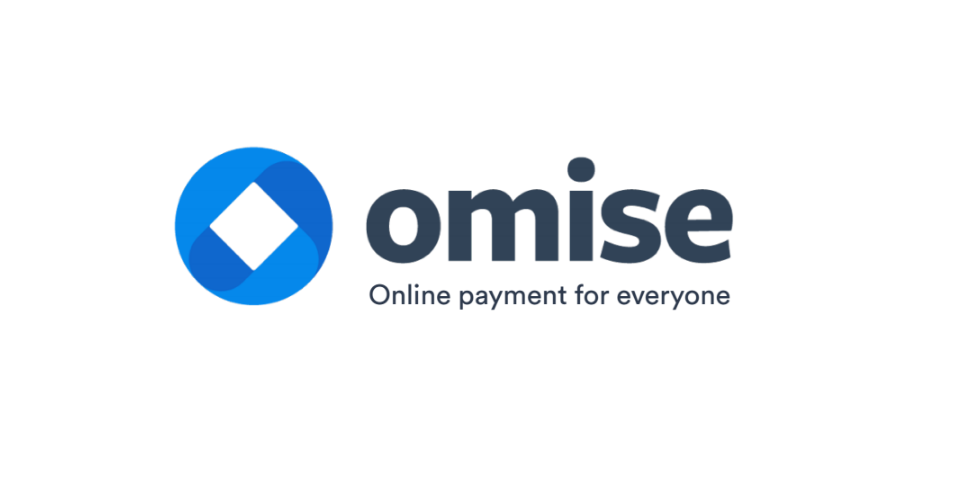 Initial Coin Offering or ICO has been around overseas for many years now. This alternative way of raising funds by using Blockchain technology to offer coins or tokens of a cryptocurrency to backers to invest in the development of their Blockchain technology, in which anyone can write a program in, has gained popularity. An example of an ICO that has had great success is Ethereum which raised US$18.4 million to develop its Blockchain system that allows anyone to use it to write programs. Despite the increasing amount of ICOs being made, Ethereum is seen as the first ICO that is very successful and the system that it has created has helped paved the way to make it easier for others to create ICOs.
Important points:
The first ICO that has become popular at this time is Ethereum
Ethereum has paved the way for other ICOs to follow
In Thailand the first ICO came from Thai-startup Omise, which was initiated in cooperation with Japanese founders. The startup works to develop a Payment Gateway platform. It opened the OmiseGo ICO fund in mid-2017.  Just from the first day of the opening, the startup had raised up to US$25 million (819 million Baht).
Business Acquisitions Continues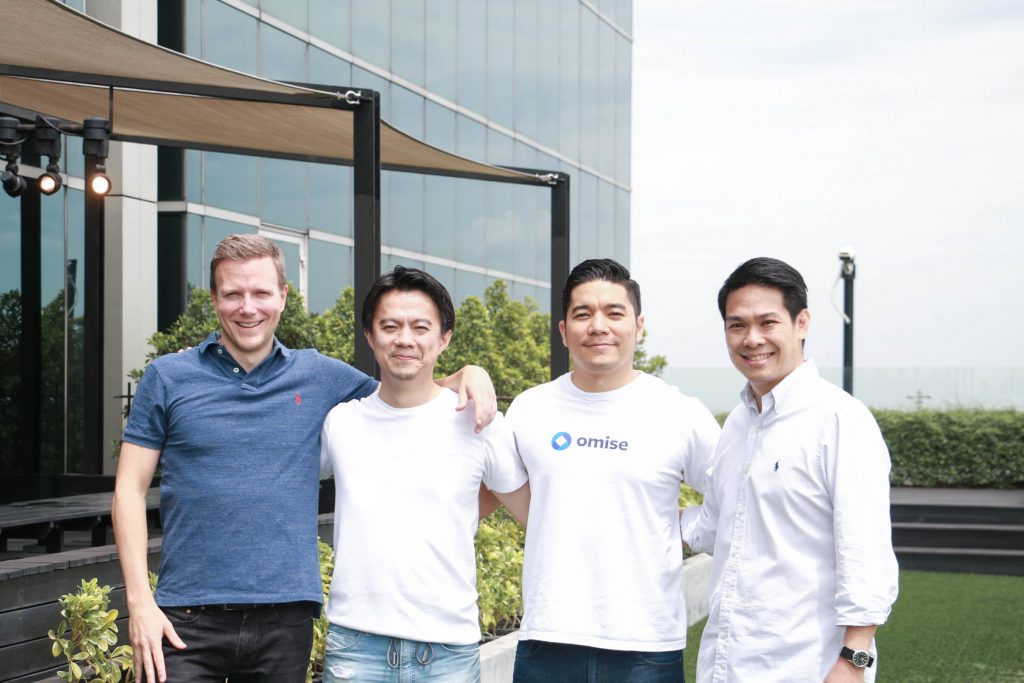 Mergers and Acquisitions or M&A in 2017 saw big companies purchasing startups to support and strengthen their own businesses. There were two big deals of the year: Omise acquiring Paysbuy and LINE acquiring DGM59.
The first deal was Omise acquiring the startup that has been legendary in Thailand for Payment Gateway, Paysbuy. Prior to this it had been a subsidiary company of DTAC from the year 2008-2017.  The acquisition value was not revealed.
This acquisition allows Omise to expand into an even bigger company as Paysbuy already has Telco, insurance, tourism business and services, and online wholesale businesses.
Omise is also able to enter into the E-wallet business much faster with OmiseGo (OMG). The deal highlighted the strengths of both Paysbuy and Omise. Paysbuy is already known for its development of Payment products while Omise has made a name for itself with a smart team working on UX to create an experience that truly meets the needs of customers.
For more details read https://techsauce.co/en/fintech-en/omise-acquires-payment-gateway-e-wallet-business-dtac-subsidiary-paysbuy/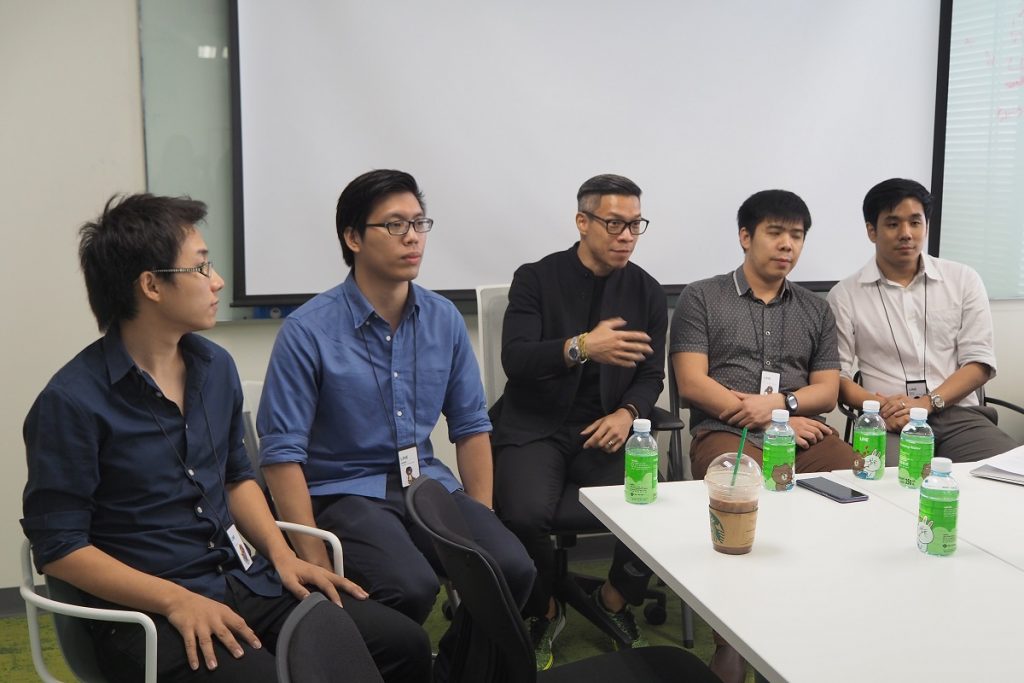 Deal number 2 is LINE Thailand acquiring DGM59, a software and marketing tools startup. This deal aimed to add creative technology and application experts to LINE Thailand.
In 2016 DGM59 developed its BCRM service to be used as a tool to help manage customer relations for the LINE Official Account through LINE API.  BCRM increases various LINE services by gathering user information in the LINE Official Account. DGM59 was also the winner of the LINE Hackathon competition.
LINE services varies from country to country depending on the consumer behaviour in each country.  For example LINE MAN is only available in Thailand. LINE therefore looks to DGM59 to support LINE in creating more new services or solutions that meet the needs of Thais.
Investment is usually made by the main LINE company headquarters, but this time around action was taken in the Thai market. This signals the movement of LINE in this region. Next year will see a big developments for users in this market.
Read more on LINE: LINE Announces DGM59 Acquisition and Sets up First Developer's Team in Thailand
Download Thailand Tech Startup Ecosystem Report Q4 2017 Slide
The wait has ended!  Readers can now download the Thailand Tech Startup Ecosystem Report Q4 2017 by Techsauce at slideshare.net
This ends the wrap-up on what went on in Thailand's Ecosystem in 2017 by Techsauce. We would like to ask you our readers, what was the most important event in Thailand's Ecosystem in 2017 for you?  We are excited to hear what you think! Write to us!