Every year, Techsauce presents the overall progress of the startup ecosystem in different formats. For the year 2020, Techsauce is developing a new way of reporting to better present data to allow our readers to gain a deeper insight into Thailand's startup ecosystem. Thus, we are enthusiastic to introduce to you our Thailand Startup Ecosystem Year in Review 2020.
***Read the Thai version of Thailand Startup Ecosystem Report 2020 here with the PDF version to be released soon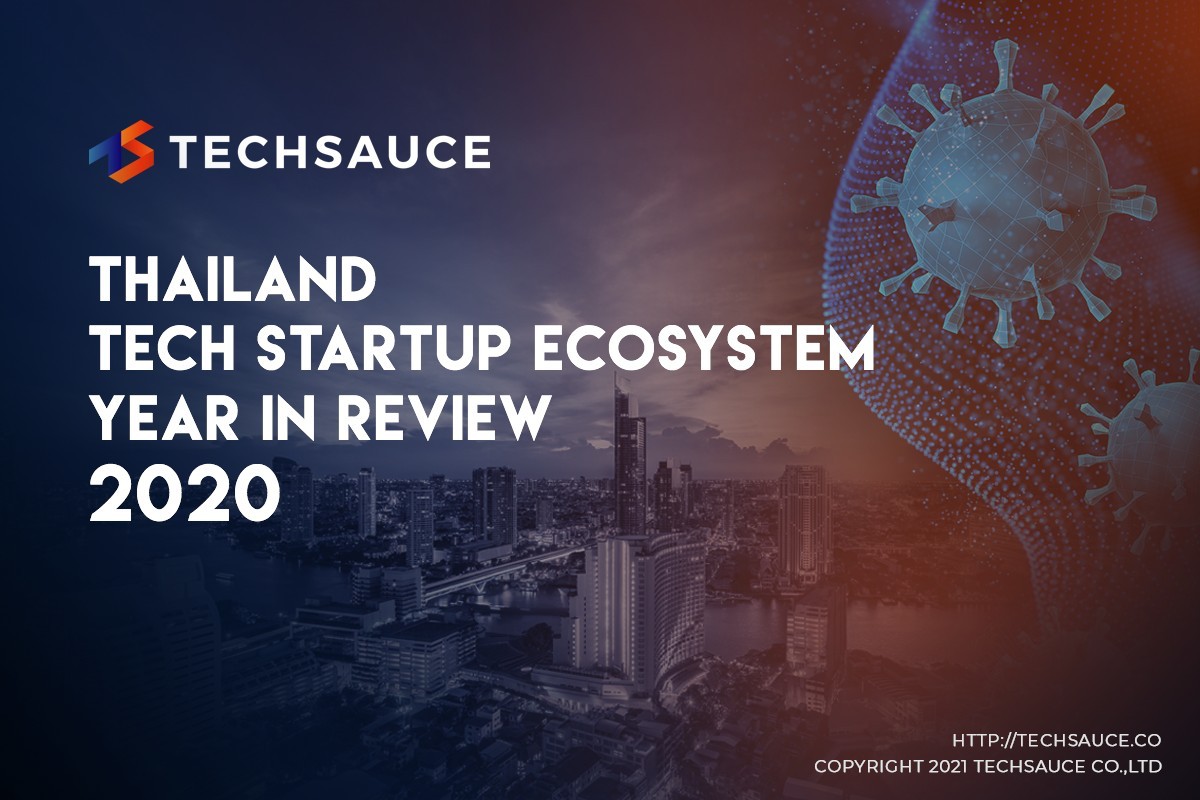 Tech Startup Overview in Thailand
The year 2020 presented huge challenges to Thailand's startup ecosystem with the COVID-19 pandemic which affected every activity in the ecosystem. These challenges forced all stakeholders, from business owners, investors, regulators, and all related businesses to adapt for their own survival as well as the survival of their business partners.
The COVID-19 situation in Thailand intensified in March 2020 when the government announced lockdown measures which prohibited the organization of events that require a large gathering while people were asked to refrain from visiting public places. The lockdown caused serious consequences for businesses, with the most severe aspect being the prohibition of normal businesses operation. A large number of startups revealed that their business lacked income in the initial stages of the lockdown, while many owners reported generating zero income during that period. The industry that was hardest hit by the pandemic was tourism, especially those that catered to foreigners in Thailand.
However, the COVID-19 situation also urged businesses – from SMEs to large corporations – to pay attention to their digital strategy. Therefore, tech startups gained the perfect opportunity to adapt themselves and their main services, or even introduce new services to increase cash flow for the company. Moreover, many businesses developed new ways to allow users to fully access their products and services through digital channels as well as offered their expertise in developing digital products to SMEs and corporations during this period.
Meanwhile, startups that had a strong online presence were among the first to grab this opportunity for growth during the spread of the COVID-19 virus. The lockdown meant that suddenly a large number of people had to work from home, thus, online shopping became a necessity which promoted the growth of e-commerce service providers and online services such as food delivery services. Thai tech startups also worked with small businesses in the country to help them connect with customers during the lockdown by introducing them to various platforms which played a part to mitigate the effect of the lockdown on businesses.
Another sector that experienced business growth during the lockdown were companies that provided online education platforms and digital content as people were looking for ways to reskill and upskill themselves as well as enjoy digital content during the period of travel restriction. However, business owners revealed that the positive effect was only short-term, as no permanent trend has emerged after the crisis, especially for the education platform in which in-person sessions would usually offer a better experience to customers.
For investment-related activities, both business owners and investors agreed that the lockdown meant that networking and funding activities were much more difficult to carry out. Most importantly, for high-level startup funding, investors would typically prefer to meet founders in person which was difficult to arrange during the lockdown.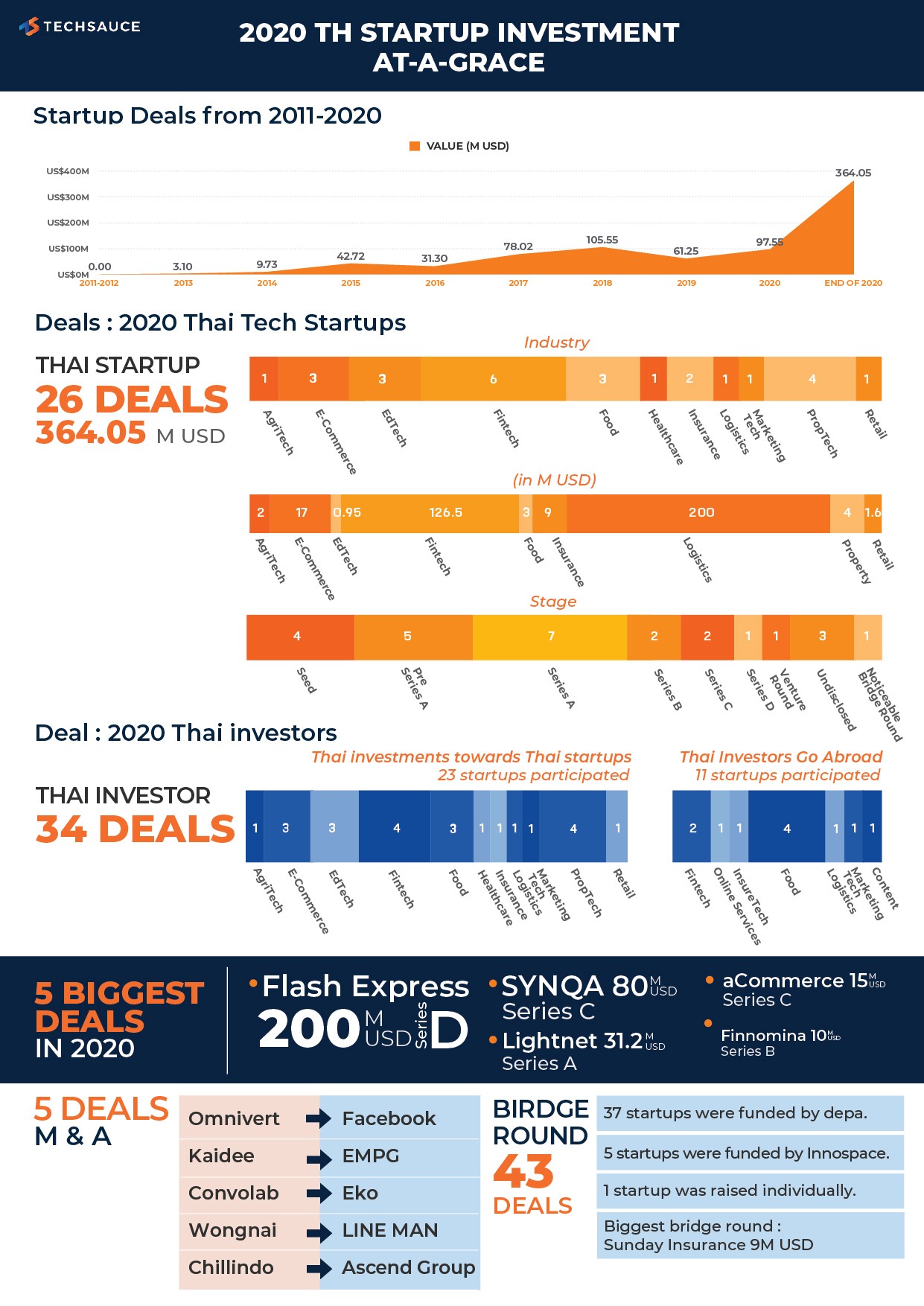 Suggestions for Startups
In the year 2020, the biggest transformation for startups was bringing in cash flow as well as increasing the business' runway as the time was not conducive for startups to raise funds or accelerate their growth as the challenging situation urged founders to reconsider and strengthen their business fundamentals.
At the same time, startups with strong income in 2020 should decide to go ahead with funding activities to leverage their success in surviving during this crisis. However, startups should not consider solely investments from VCs, as there are other sources of funds, from bank loans, equity crowdfunding and debt crowdfunding from investors that have been approved by the Securities and Exchange Commission of Thailand (SEC), as well as monetary support from other agencies related to innovation.
To lower costs, business owners must assess the company's assets. While lowering the headcount may help with financial figures, once owners decide to cut out key staff, it would be difficult for the business to operate as efficiently as it had before.
Meanwhile, seeking advisors, especially those who had faced other crises, could help business owners understand how to manage their company during each stage of the crisis in various aspects, from the financial aspect, human resource management, to emotional and pressure management which will definitely become overwhelming for many during a situation like this.
However, in 2021, the spotlight has landed on accelerators. We can expect to see specialized accelerators which will provide great opportunities for new business owners to access the startup ecosystem, especially for industries or technologies that were difficult to access a few years before such as Gaming, Internet of Things, 5G, Blockchain, FoodTech, HealthTech, and Smart City, among others.
Suggestions for Investors
Apart from keeping an eye on startups that were outstanding in 2020, investors should also consider investing in SMEs that has the ability to transform into a tech company with domain expertise as well as the experience to navigate through crises. Meanwhile, family businesses are now handing over their company to the next generation who are more likely to consider various forms of funding and are also more open to new technology.
The SEC has issued new regulations permitting private placement-SMEs (PP-SME) with the objective for startups and SMEs to have a standardized way of fundraising. The regulation allowed companies to raise funds through newly-issued shares or convertible debentures to both institutional investors and private investors. Most importantly, the regulation decreases the steps that had to be taken to make investments which benefit startups and investors alike.
Also, in 2021, hackathons, incubators, and accelerators will take back the spotlight. Investors will get a chance to see new faces in many other industries in the ecosystem compared to three years ago. Apart from taking the time to understand startups, investors should take note of opportunities in various industries as well as explore new technologies to find startups that are worth your investment.
Suggestions for the Public Sector
In 2020, the public sector offered a wide range of measures to support the tech industry including policies to stimulate the economy throughout the year which were extended into 2021. However, these measures were only effective for a short period of time.
For small businesses, the government introduced campaigns to support business owners, from extending tax payments, temporarily lowering tax rates, to offering low-interest loans, while business owners expected that government support should work swiftly and in time to rescue their business, as it would be much more difficult to fix the damages that will occur if the support is not implemented in time.
Meanwhile, digital agencies in Thailand such as DEPA and NIA have continuously supported businesses in the country. DEPA introduced bridge financing which supported 38 businesses in 2020 while NIA considered launching matching funds in the near future.
Another key proposal that the government should consider is the proposal issued by Thai Startup Trade Association which has been proposed to the parliament to study the impact of foreign online services and electronic transaction providers – especially regional unicorns – on local startups. The association proposed 4 measures and 3 policies to address this issue as follow:
4 Measures to Enhance the Competitive Advantage of Thai Startups
1. Determine the proportion of trade for foreign players in the e-marketplace.
2. Promote the sales of Thai products overseas.
3. Introduce an anti-trust law that supports market competition to prevent a single dominant player in the market. If there is only one player in the market, the government should collect taxes at a high proportion to urge the market leader to compete at a fairer market price.
4. The government should issue policies to support Thai businesses and startups such as cut business taxes, purchase products and services from Thai digital services providers, and use the taxes collected from foreign platforms to fund Thai startups and businesses.
3 Policies for the Government to Implement
1. Policies to promote the services of Thai startups
2. Policies to enhance the competitive advantage for Thai startups
3. Policies to promote the operation of startups such as waiving capital gain tax
Activities, Investment Trends, and Business Updates by Industry
Tourism
The tourism industry was the industry that was most severely affected by the pandemic, especially for businesses that relied on international tourists as the nation was under lockdown. Domestic tourism was also affected but to a lesser degree as people were still able to travel between provinces.
Meanwhile, many tourism startups pivoted to other related sectors such as offering food deliveries or software development services.
This year, all stakeholders should find a way to support the industry to survive the most critical periods, for example, the Thai government has already introduced the "Rao Tiew Duay Gun" campaign to promote domestic tourism and boost the industry.
Moreover, the country is making an effort to welcome back overseas tourists as soon as possible while staying safe, therefore, vaccination is a crucial process that can help the industry recover.
Retail
The industry was affected due to the lockdown as well as the decreased purchasing power during the spread of the virus. However, the industry bounced back after the situation improved.
Moreover, the government launched several measures to urge citizens to spend under Section 33 "Rao Rak Kan" financial aid scheme through the "Pao Tung" (an e-wallet application provided by the government) or "Wallet" mobile application.
MICE
The industry was severely affected due to the lockdown and the ban on event organization.
While the industry quickly shifted to offering virtual and hybrid events which allowed some activities to be held, not all events could continue as normal.
Real Estate
The real estate industry was also severely affected from this crisis as consumers delayed their plans for large purchases due to economic concerns.
However, while people did not buy new properties, there is a trend for homeowners to renovate their homes, thus posing an opportunity for property tech and living tech to cater to these consumers.
Meanwhile, construction technology is still in the spotlight with an upward trend as there are major infrastructure projects scheduled to take place during the next 2-3 years.
E-Commerce
The industry saw an upward trend during the spread of COVID-19 and the lockdown period.
E-Commerce is likely to grow in the long term for both users and sellers. While users receive convenience from e-commerce and are becoming more familiar with the experience, sellers are turning to online platforms as storefront sales have dropped in recent periods.
Meanwhile, e-commerce enablers still have a chance to grow in line with regional e-commerce trends.
Thai startups that offer services in e-commerce supply chains, such as e-commerce enablers, still have a good opportunity for growth in Thailand.
Logistics
The industry saw an upward trend during periods of travel restrictions thanks to the growth of e-commerce.
The major Flash Express deal also brought excitement to the tech industry in Thailand.
Meanwhile, Kerry's IPO in the Stock Exchange of Thailand was a key movement that demonstrated great opportunities for growth for Thailand's logistics services.
FinTech
For consumer FinTech, banks are still the major players in this industry as they have played key roles in developing digital tools to support campaigns to boost purchasing power during the COVID-19 crisis such as the "Pao Tung" application.
On the other hand, consumers are now more interested in wealth management services in order to preserve their assets during uncertain times.
The interest in cryptocurrency in Thailand was apparent after Bitcoin prices broke through 1 million baht barrier while the SEC's authorization of Digital Asset Portals in Thailand allowed traders to easily gain access to cryptocurrency. At one period in 2020, six portals were open for business in Thailand.
DeFi is another financial service that has become a rising star and is gaining much interest from both tradition financial institutions and FinTech startups.
In 2021, we can expect to see more SMEs using digital financial services as a large number of Thai consumers have already adopted these services.
Moreover, FinTech service developers also had a chance to offer new services to users who are more open to new experiences during the lockdown.
Insurance
The COVID-19 situation boosted sales of health insurance products, however, after the pandemic turned into a global crisis, insurers are now more cautious about the risks associated with insurance products.
Meanwhile, there have been a number of movements in the InsureTech industry, while digital services are essential for both domestic and regional insurers.
Sunday, a startup with headquarters in Bangkok, received US$9 million during their Bridge Round that was joined by Thai corporations and regional companies, which is expected to lead to a strategic cooperation in the near future.
Online Service
The merger between Wongnai and LINEMAN increased the competition in the industry for food delivery and other related services. From the market that was once dominated by unicorns from overseas like Grab and Gojek, major players in other industries are exploring their chances in the market such as SCB and True Corp who are taking part in the food delivery business.
In 2021, we may witness other mergers among startups specializing in online services due to the discount factor in startups from the COVID-19 situation as well as the desire of large corporations to expand their business.
We can also expect to see online services being offered in other regions, especially in major cities such as Khon Kaen, Chiangmai, and Phuket where consumers can find online services that are similar to those in Bangkok. Moreover, these cities are likely to experience economic growth due to the measure to promote smart cities across different regions.
Education
The uncertain situation during this period urged workers to consider reskilling and upskilling.
The biggest challenge for companies offering education technology is the user experience. If customers feel like they have received a good experience, learning on digital platforms could become the new normal.
Moreover, as Thai consumers prefer to learn using Thai language, domestic platforms still has the opportunity for growth.
Universities in Thailand have adapted by seeking different types of partnerships, firstly, joining forces with tech startups to develop a digital platform, and secondly, working with world-class universities to introduce standardized courses to learners.
Healthcare
The spread of the COVID-19 virus urged consumers to pay more attention to their health which was one of the factors that accelerated the adoption of digital services in the healthcare industry such as telemedicine.
Healthcare services that target domestic consumers will definitely have a good chance for growth this year.
For B2B, startups that specialize in business solutions for medical services will steal the spotlight.
AgriTech-FoodTech
In Thailand, technologies such as AI and robotics are adopted in AgriTech.
Meanwhile, most businesses in the FoodTech industry focuses on downstream activities while there are significantly less use of technology to add value to products upstream. However, there is an accelerator and incubator that directly focuses on this objective which is Space-F.
We can also expect to see a rising trend for investments in overseas FoodTech companies including for plant-based food.
Digital Content
Most entertainment content experienced growth during the lockdown, however, it seems that the players that benefit the most are overseas content platforms.
Meanwhile, the lockdown played a part in driving more companies that provide globally exclusive content to offer their services through online platforms, which accelerated the adoption of this form of entertainment.
There have been talks of Thai soft power through digital content, however, no concrete initiatives have emerged.
The government sector has been more supportive of the gaming industry, for example, DEPA has recently established a game accelerator.
Moreover, more investors are showing an interest in e-sports.
The Overall Startup Ecosystem and Updates in Funding Activities
Review of Funding Activities
In 2020, Thai startups raised US$364.05 million in disclosed amounts from a total of 26 funding rounds, the highest number since Techsauce started collecting this data. During the year, there were five rounds of funding that raised over US$10 million, with one of these being a Series D round that achieved over US$200 million which was the biggest deal ever achieved since data collection.
Looking closer at the details, most investors prefer investing in the growth stage, especially for CVCs that focus on developing strategic partnerships to seek further opportunities for existing businesses. In 2020, there was a sluggish period for investments demonstrated by the decrease number of funding rounds as well as less access to new startups.
Meanwhile, startups in the early stages must prove that they have traction and a unique proposition in order to attract investors during this economic crisis. With this huge challenge, there were barely any new startups during this period.
On the other hand, in 2020, there were a total of 43 disclosed bridge funding deals, a contrast to the mere 15 deals achieved in 2019. Organizations that offered bridge funding were Digital Economy Promotion Agency or DEPA and Innospace, a joint venture between the private and public sector with the aim to promote innovation. There was also one startup that announced its own bridge round which did not receive any financial support from these two organizations. There were also other investors who disclosed that they considered offering bridge funding to startups in their portfolio to alleviate the impact from COVID-19. However, the list of startups, the number of deals, and the valuation were not disclosed.
Funding activities also faced a huge obstacles caused by the COVID-19 situation. Both startups and investors revealed that due to the uncertain situation during the spread of the virus, investors decided to call off their investments. The circumstances during this period negatively affected startups, especially those that are in the growth stage, as the lack of funding may prevent the startup from achieving business growth in line with its original plan.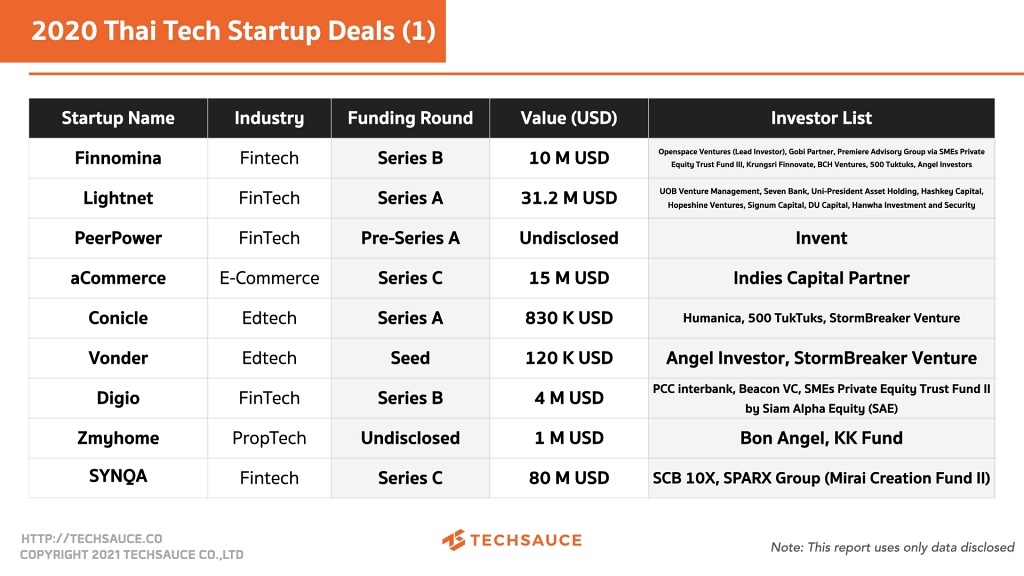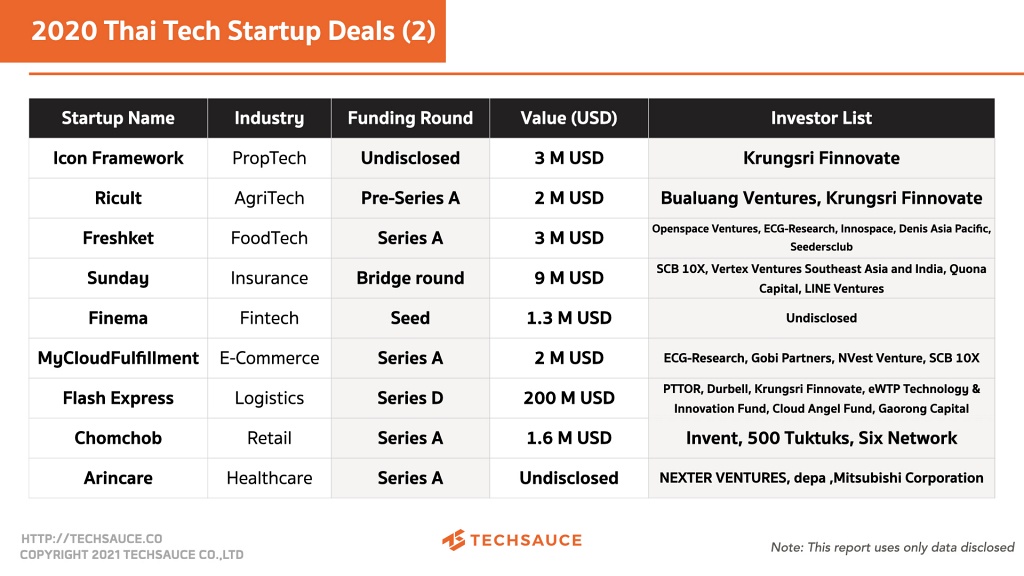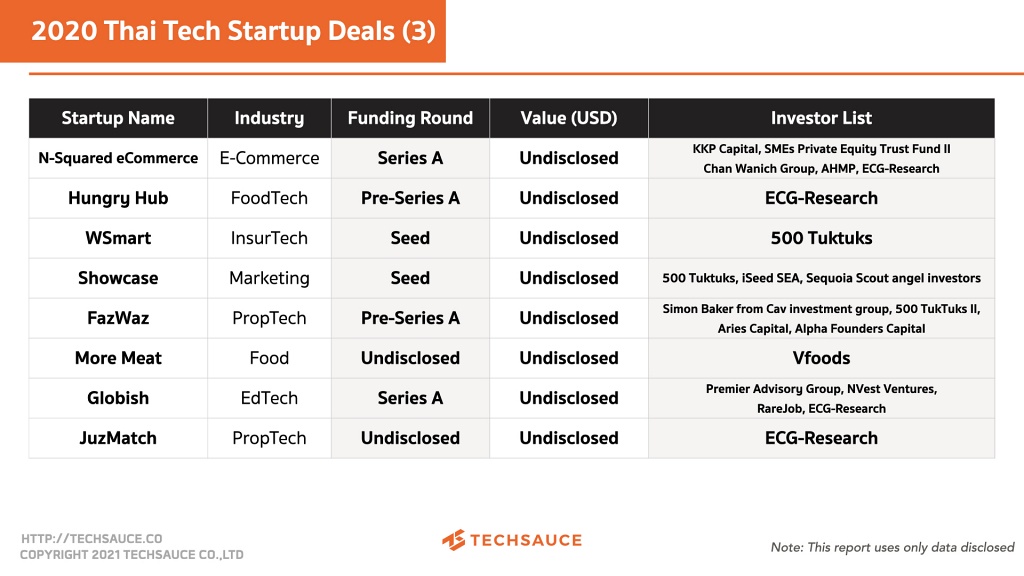 Notable Startup Funding Activities in 2020
The Largest Funding Round: Flash Express Series D round at US$200 million
Flash Express – a Thai logistics services provider – announced that it had successfully raised US$200 million during its Series D funding round with a total of 3 investors from Thailand which are PTTOR, PTT's oil and retail business arm; Durbell, a food and consumer goods distributor owned by TCP – the company behind Red Bull in Thailand; and Krungsri Finnovate, a CVC owned by Krungsri – a Thai bank under the MUFG umbrella which is an international financial group with headquarters in Japan. Three other investors also participated in the funding round: eWTP Technology & Innovation Fund – a fund that has received investments from Alibaba, Cloud Angel Fund, and Gaorong Capital
Flash Express was founded by Komsam Saelee in 2017. While Flash Express has never announced the results of its previous funding rounds to the public, it is revealed that Flash Express had received funding from Alibaba, the giant e-commerce company in China.
Highlight Funding Activities for FinTech Companies
In 2020, FinTech was still a top-ranking industry as 3 out of 5 highest-value deals in the industry were FinTech startups. The first is SYNQA, which is the new name for Omise, one of the leading Thai FinTech startups that announced in 2020 that it had received US$80 million for its Series C funding round. SYNQA is a payment gateway service provider.
The second highest-value deal went to Lightnet, a regional money transfer service provider that received Series A funding worth US$31.2 million from overseas regional CVCs and corporates.
Meanwhile, the third-largest deal went to Finnomina, a wealth management service provider that received Series B funding worth US$10 million from a leading VC in the region.
Thai Startups : M&A
The year 2020 saw a significantly higher number of Thai startups that exited compared to the previous year, with the most prominent deal being LINE MAN who announced a merger with Wongnai, a startup that founded one of the biggest food and lifestyle portal platform. LINE MAN received funding to grow its business and carry out the merger from BRV Capital Management with a US$110 million investment. With this merger, LINE MAN successfully spun off LINE Thailand officially became LINE MAN Wongnai.
Another merger in the spotlight among Thai startups was Facebook's acquisition of Omnivirt, a marketing tech startup. Though the startup is not headquartered in Thailand, its co-founder is Thai and the company had previously attracted Thai investors.
This year, there were two mergers in Thailand's e-commerce industry. The first was Kaidee, an e-commerce platform that has been operating in Thailand for nearly a decade, who successfully negotiated a deal to sell its operations to EMPG, a globally leading developer of online marketplaces, though the value of the deal between Kaidee and EMPG was not disclosed. Another deal was between Chilindo, an e-commerce platform, and Ascend Commerce, a digital trade company under the CP umbrella, one of the largest conglomerates in Thailand. The deal was aimed at developing a Thai e-commerce platform with Ascend revealing its value at 558 million baht (approximately US$18.5 million).
Another merger in October 2020 was between Hipflat, a real-estate marketplace developer in Thailand, and LIFULL Connect, a global market place developer headquartered in Japan. LIFULL Connect is the company behind Dot Property, a regional real-estate marketplace service provider in Asia.
Apart from corporate acquisitions of startups, Thai startups also merged their businesses to strengthen each other. Eko, a Thai company specializing in business solutions, acquired Convolab, a leading Thai startup that specializes in developing AI chatbots, and founded a new company called Amity.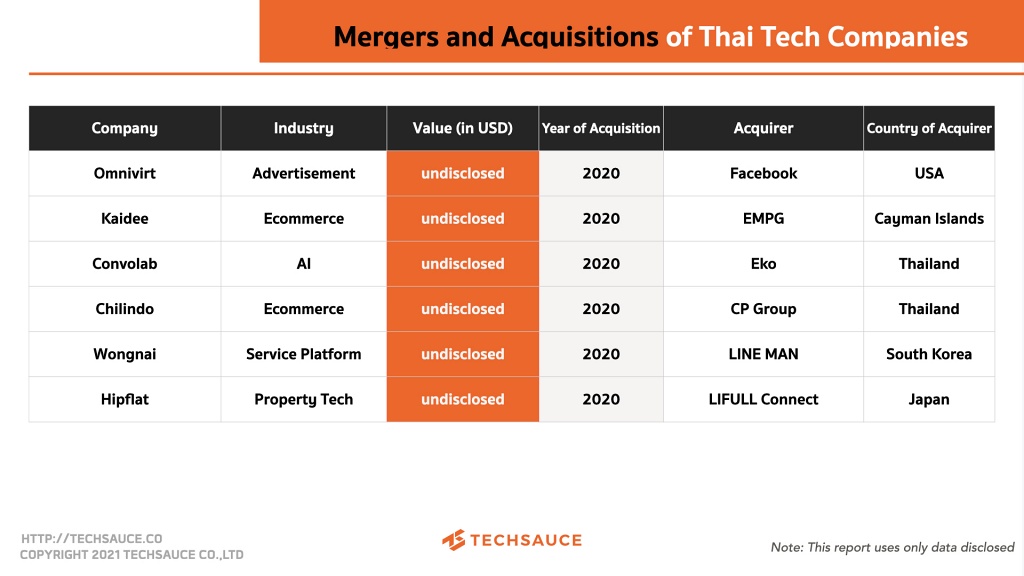 Bridge Financing in 2020
In the year 2020, a total of 43 startups applied for bridge financing. This number is higher than the previous year as many startups encountered financial issues due to the spread of the COVID-19 virus, driving the need for additional funding. Apart from applying for bridge funding, many startups also sought financial support from organizations that offer funding in special bridge rounds.
Organizations which revealed that they offer bridge funding include Digital Economy Promotion Agency or DEPA through the Digital Startup Fund which offered support to 37 startups and one SME. Meanwhile, Innospace, a joint venture between the private and public sector with the aim to promote innovation, funded 5 startups with additional startup companies being considered for funding. For the bridge round with Innospace, some startups used convertible debt as a tool to fund SMEs which was recently authorized in 2020.
Additionally, Sunday Insurance revealed that it had received investment through a US$9 million funding round.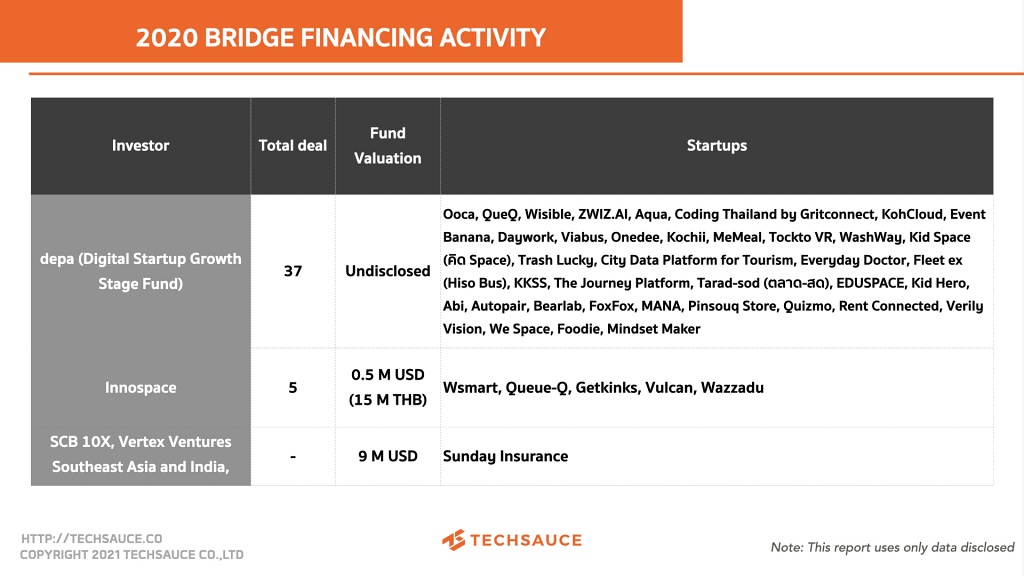 Thai Corporates and Overseas Investments
The largest corporate funding deal in 2020 that was participated by Thai investors was the MUFG funding for Grab worth US$706 million which led to a regional partnership between Grab and financial institutions under MUFG – Krungsri Group in Thailand. Meanwhile, Krungsri Finnovate, a CVC, has entered into a partnership with Grab to develop financial innovations for consumers and partners who are platform services providers.
On the other hand, Thai Union – a leading food producer – was the Thai corporate that made the highest number of investments in startups through their CVC – Space F – which incubated and funded FoodTech startups worldwide. In 2020, Thai Union funded 3 FoodTech startups from Singapore and one from the US, totaling four companies throughout the year. Thai Union also joined Fushcia Venture Capital, Corporate VC from Muang Thai Group Holding, to invest in Alchemy FoodTech, a FoodTech startup headquartered in Singapore in what was announced as a bridge round of funding.
Intouch Holding and its CVC arm Invent also continuously funded startups overseas, especially through Ninja Van's Series D funding round to raise funds for the Singaporean logistics startup.
Another financial institute that funded overseas startup was Bualuang Venture by Bangkok Bank which invested in Pand.ai, a startup headquartered in Singapore that develops AI chatbots.
Additionally, SCB10X by SCB funded BlockFi, a DeFi service provider from the US with the rationale that the financial industry in Thailand and in the region should prepare for this rising trend in digital asset management. Moreover, SCB10X also announced that it is investing in the Asiaparent Content Portal, a platform that offers family-based content aimed at mothers around the world.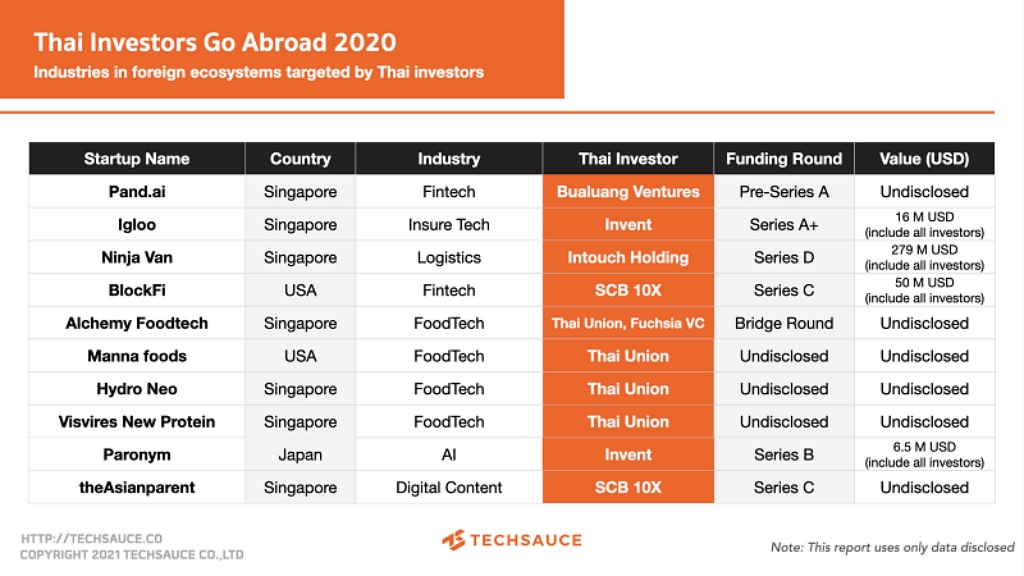 In 2020, two mutual funds announced fundraising activities which were Bualuang Ventures that added US$65 million to its funding and Innospace, a joint venture to develop innovation in Thailand that received a significant amount of funding totaling US$20 million in 2019, who made the announcement confirming that it has established a bridge financing fund of US$1.6 million with the aim to specifically support startups during the COVID-19 pandemic.
Diving Deeper into the Startup Industry
Suggestion: Blurred Lines between Startups and SMEs
The COVID-19 situation severely affected startups which meant that many companies were not able to follow their business strategy in the same way as they would during normal periods, especially in the industries that had been negatively impacted by COVID-19 – from tourism, event, retail, to real estate. A large number of startups in these industry immediately faced serious issues once the lockdowns were announced, leading to dwindling cash flow that went down to zero, urging them to make huge adjustments their business operations.
These adjustments meant that instead of driving business towards growth, founders must focus on making a profit from sales, therefore, many startups transformed into SMEs that focused on selling products and services to continue generating revenue for their business. Many companies also cut their headcount and changed their organization structure to ensure that they stay in business.
Operating with this method demonstrated the resilience and flexibility of Thai startups, as most startups were able to handle the situation well and stayed in business throughout the crisis. Meanwhile, the next stage will be reviving their business and making long-term adjustments which is expected to begin in 2021.
At the same time, COVID-19 also positively impacted certain businesses, especially those that operate on a digital platform, from e-commerce, logistics, food delivery, education platforms, to online business solutions which were in high demand. One of the players related to the e-commerce industry – Flash Express – was the startup that received the largest amount of funding in 2020 which was also the year that the company reported a five-fold increase in the number of packages delivered.
In addition to tech startups that benefit from the digital trend, Thai SMEs that were able to undergo a digital transformation are also more likely to achieve growth in a similar way to startups. Today, many startups in the seed or bridge funding stage started out as SMEs and discovered the way to grow their business using the methods of tech startups.
The transformation for SME to startup is enabled by technological advances as well as the changing of the times as today younger generations of business owners who have inherited their family business tend to have an understanding of startup growth as well as how to develop their operations using digital technology.
In 2021, it is possible that startups and SMEs can freely cross into each other's territory, depending on their solution and situation that they find themselves in. This fluidity has also become a point of interest among the startup community, the government, and supporters. While the startup community tends to focus on the opportunity for growth and development, the government seeks to understand SMEs and startups in order to properly oversee this sector and offer appropriate support.
Community and Talent
The Emergence of Venture Builders and Its Impact on Talent
Venture building is a way of developing innovation within organizations by incubating innovation as separate business units. If a project has the potential for success, the organization may spin off the business as another company. While venture building is not a new concept in 2020 – this idea has been around in Thailand and in the region for many years – the concept attracted the interest of the startup community after SCB announced the establishment of SCB 10X in the beginning of 2020. Apart from SCB 10X, other organizations in the same level sought to develop innovation in similar ways.
Venture building could become a successful in Thailand as venture builders have the means to attract talent as well as more resources compared to startups. However, the challenges in 2020 posed many obstacles to business operations due to the COVID-19 situation, thus, there have not been any definite movements in Thailand, while many are expecting to see an interesting spin off in 2021.
The Founder and Talent Situation in 2020
The spread of COVID-19 severely affected startup founders as business management during these tough times were immensely challenging as they had to navigate the crisis of the decade. Notably, many factors affected the decision of founders about various issues especially those relating to human resources management which is a key resource for startups.
However, it is undeniable that in risky industries, lowering the headcount often occurs as a way for the business to survive. At the same time, while letting go of employees, management must consider the morale of those staying. A positive factor is that talented employees will still be in demand among other organizations that have the means to hire them, especially in the tech industry that offers more opportunities due to the demand for digital transformation.
Meanwhile, startup founders in Thailand have formed a strong community where they share experiences on how to handle crises and actively offer help to one another. Many founders have also connected with experts on essential matters such as finance or human resources as well as received insight from those with experience in managing crises in Thailand, thus, they are much better equipped with the knowledge to deal with the crisis.
The Government and Policymakers
Permitting the Establishment of a Cryptocurrency Portal in Thailand
The SEC permitted the establishment of digital asset exchanges in 2020 which officially set the standard of services offered to investors and allowed Thai customers to access the sales of assets through domestic service providers. Combined with the fact that Bitcoin broke through the 1 million baht price point, a large number of new investors has since entered the market.
The interest in digital assets attracted huge international financial players to this type of asset while those in Thailand are expressing similar interest. Many expect to see large investors in Thailand making movements within the digital asset market from 2021 onwards.
Unlocking Cannabis: from Addictive Plants to Herbs
Apart from cryptocurrency, cannabis is another trend that has attracted a lot of attention. With the law unlocking the use of cannabis, many businesses are now offering products with cannabis, especially food. However, this trend is likely to be short-term as the real impact from unlocking the use of cannabis lies in driving more acceptance for research and development so that different sectors – especially the private sector – can fully utilize this plant.
Industries that stand to gain from new measures regarding cannabis are FoodTech and HealthTech which are offering new products related to cannabis, while AgriTech is likely to seek assistance in promoting the cultivation of cannabis.
New Regulations for SMEs: PP-SME and Crowdfunding
In 2020, the SEC issued additional regulations regarding fundraising for SMEs to offer SMEs alternative options for fundraising. The first is private placement-SMEs or PP-SME which allows companies to raise funds through newly-issued shares or convertible debentures to both institutional investors and private investors under certain terms and conditions, which officially permitted startups and SMEs to fund their companies using convertible debentures.
Another regulation deals with crowdfunding – both equity crowdfunding and debt crowdfunding – in which the SEC will issue permits for the private sector to act as crowdfunding platforms, with currently five platforms offering crowdfunding services in the country.
***Read the Thai version of Thailand Startup Ecosystem Report 2020 here with the PDF version to be released soon