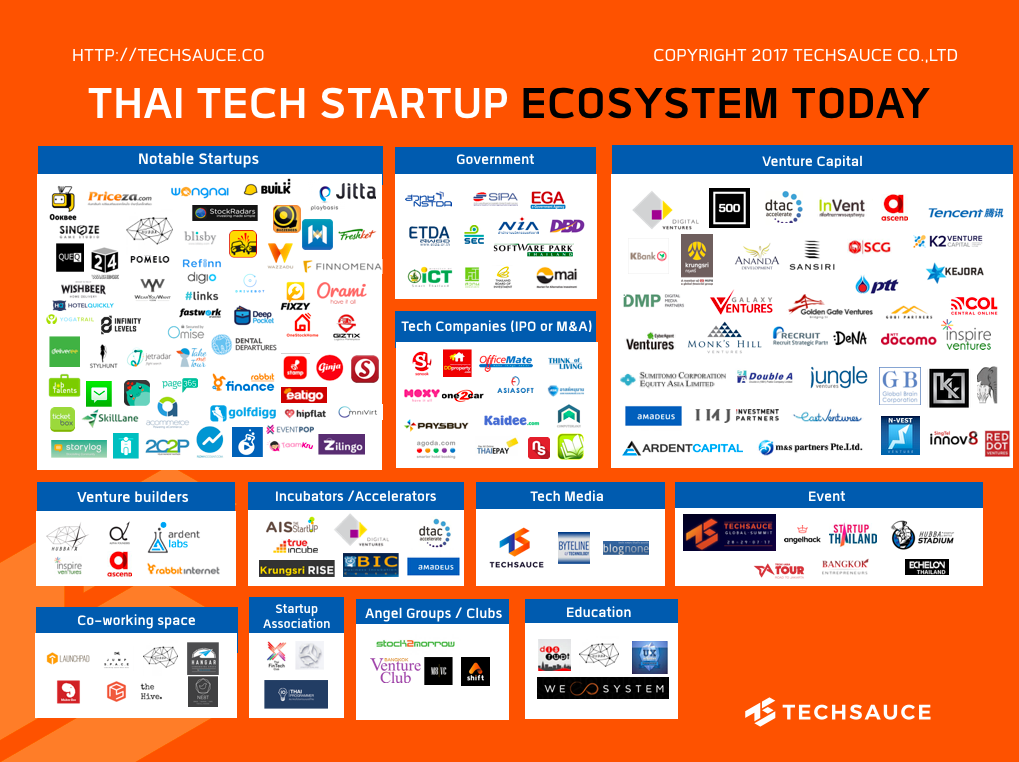 Techsauce has been collecting and developing the data on Thailand's startup ecosystem for the past 5 years. Today we are happy to announce the update of our report: Thai Tech Startup Ecosystem 2017
The Thai Tech Startup Report issued by Techsauce shows:
The rise of funds raised: In 2016, Thai startups raised funds of at least USD $86.02 million. It's important to note that this number does not include several undisclosed Series-B fundings. Also in 2016, three of the country's biggest deals happened to date.
The biggest deal ever for Thai startups was worth 'USD $19 million': This is the deal invested in Ookbee by Tencent (the giant internet company from China) followed by $17.5 million from Omise Payment and Orami at $15 million.
Within less than 4 years, during 2012 - 2016, Thailand has gone from having less than 3 funded startups to over 75 funded.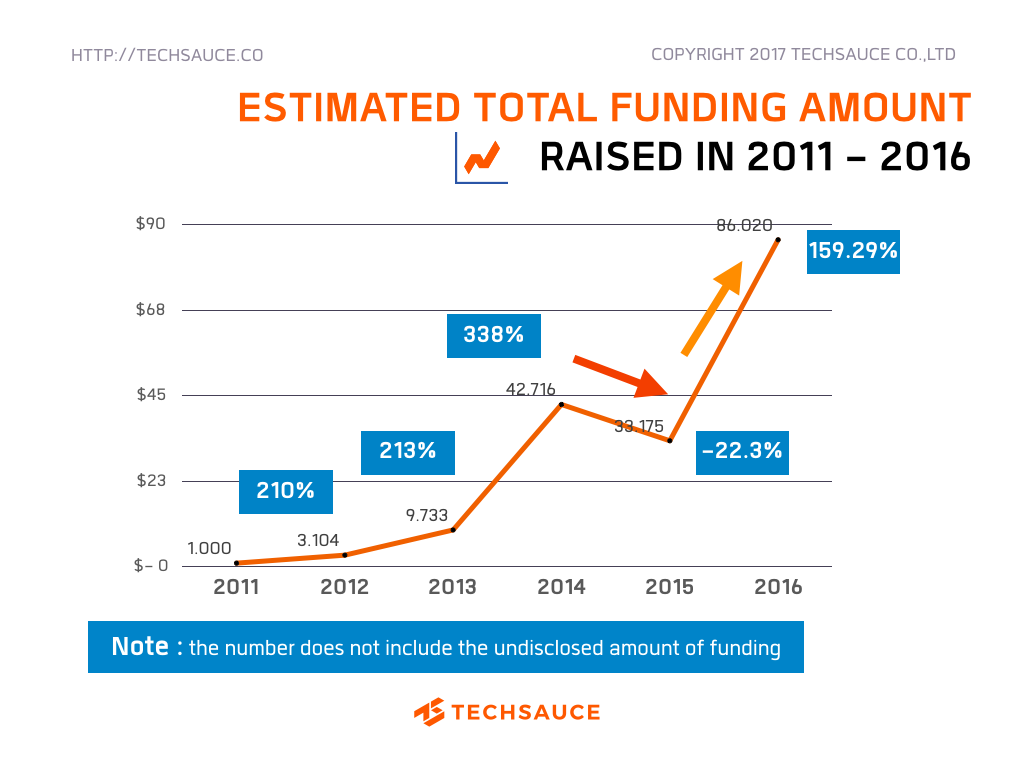 Food businesses are gaining interest: Three new deals occurred in 2016, and during the beginning of 2017, there have already been 2 more.
M&A of tech-related businesses is estimated to be at least USD $108.17 million since 2004: This is the sum of figures disclosed. However, it can be surmised that the actual figures are closer to USD $200 million.
Ecommerce has been the most popular with investors: Since 2011, 24 funding rounds have occurred for Thai Ecommerce businesses - approximately triple the number for the next most popular sectors, which were E-Logistics and FinTech (9 rounds each) and Food & Restaurants and Payments (8 and 7 rounds each, respectively).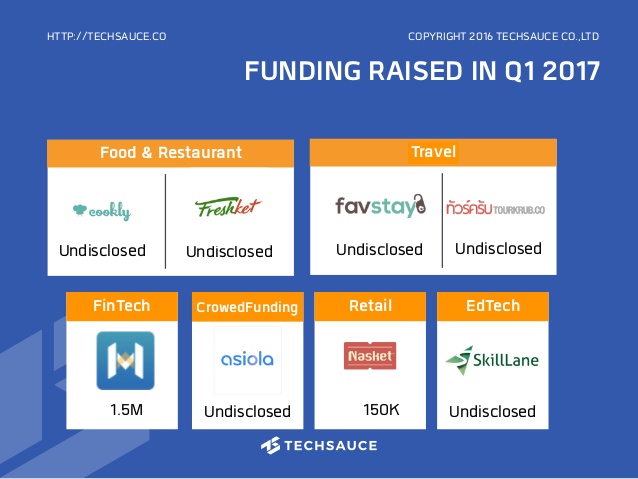 Thai startup funding as of the beginning of 2017 - GetLinks also announced a Series-A (undisclosed) on March 21, 2017.
The most active VCs in Thailand: 500 startups - 12 deals to date (38 if including 500 TukTuks), dtac accelerate - 22 deals to date, and InVent - 10 deals to date.
Thai VCs and CVCs have raised at least USD $247.128 million since 2012: The biggest amount disclosed was USD $50 million by Digital Ventures in 2016, which is significant because was the first year for a Thai bank (SCB, founder of Digital Ventures) to enter the CVC scene, and it also raised the biggest amount of funding to date.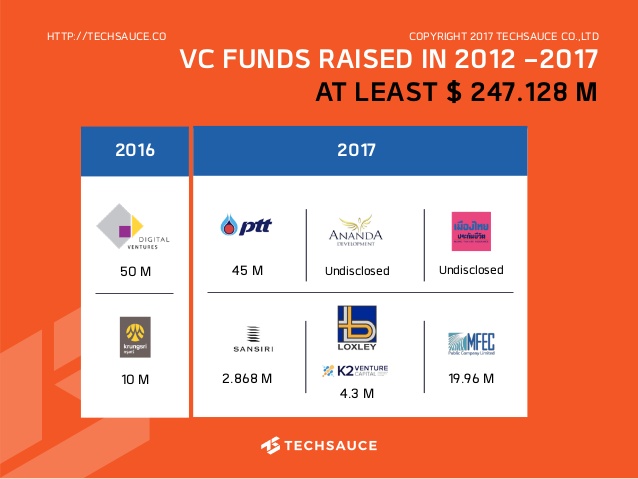 The biggest disclosure of CVC funds raised to date happened in 2016 by Digital Ventures at USD $50 million
2016 was the year of Corporate Venture Capital: Various business sectors have jumped into the search for innovation both via Direct Investment and as Limited Partners. This trend will most likely grow by leaps and bounds in 2017
The Thai Corporate VC landscape has had three waves of investors, with 2017 being the year that the Corporate VC landscape is starting to diversify.

Wave 1: Telecom – AIA, DTAC, True, Ascend (2012-2015) – Foreign investors and telcos came on strong in the beginning, because in the early days a lot of innovation was very mobile focused, moving away from innovation and onto mobile platforms.
Wave 2: Banks - SCB & Krungsri (2016-2017) – After a 4-year gap, the scene saw a lot of new interest mainly from banks as fintech captivated interest not just of the local community but globally. In 2016 & 2017, Thailand's startup ecosystem is seeing an influx of CVC activity with local banks. Aside from SCB's Digital Ventures, Krungsri has also debuted its CVC arm Krungsri Finovate (official opening March 28, 2017).
Wave 3: Diversification - SCG, PTT, Ananda, Sansiri (2017) – Even before banks get off the ground, corporates are also starting to invest with startups – creating innovation, accelerators and new funds. 2017 appears to be the year that the CVC scene will diversify - already since the beginning of the year we've seen companies from the construction (SCG), energy (PTT), insurance (MuangThai Life) and properties (Ananda & Sansiri) sectors getting involved.
Our report contains detailed information on all the tech-related startup M&As that have happened since 2004, Series A, B, C, Angel and Seed Rounds raised by startups during 2012-2017, as well as the portfolio companies of those most active VCs and Angels in Thailand.