United Nations Development Programme (UNDP) and the Securities and Exchange Commission of Thailand (SEC) together with its partners, Thai Listed Companies Association (TLCA) and Global Compact Network Thailand (GCNT) are launching the SDG Guidebook for Thai Listed Companies and SDG Impact Standards.
The SDG Guidebook for Listed Companies is designed to act as a practical guideline for businesses to integrate the Sustainable Development Goals (SDGs) into their business operations and strategies. The Guidebook also incorporates globally recognized tools and frameworks on impact measurement and management which businesses can refer to in their corporate reporting process on their positive contributions to social and environmental issues and in their SEC's 56-1 One Report Disclosures.
The SDG Impact Standards are voluntary internal management standards designed to help businesses and investors embed sustainability and the SDGs into their management systems and decision-making practices by defining how their strategies, management approaches, transparency, and governance need to improve to operate sustainably and contribute positively to the SDGs.
Through various practical examples, the Guidebook and the Standards provide the framework to support organizations make better decisions on various sustainability issues from carbon reduction to waste management and inclusive workplace. It also guides organizations to reimagine business models and partnerships to innovate as well as to take action to mitigate risks and grasp opportunities that each goal presents.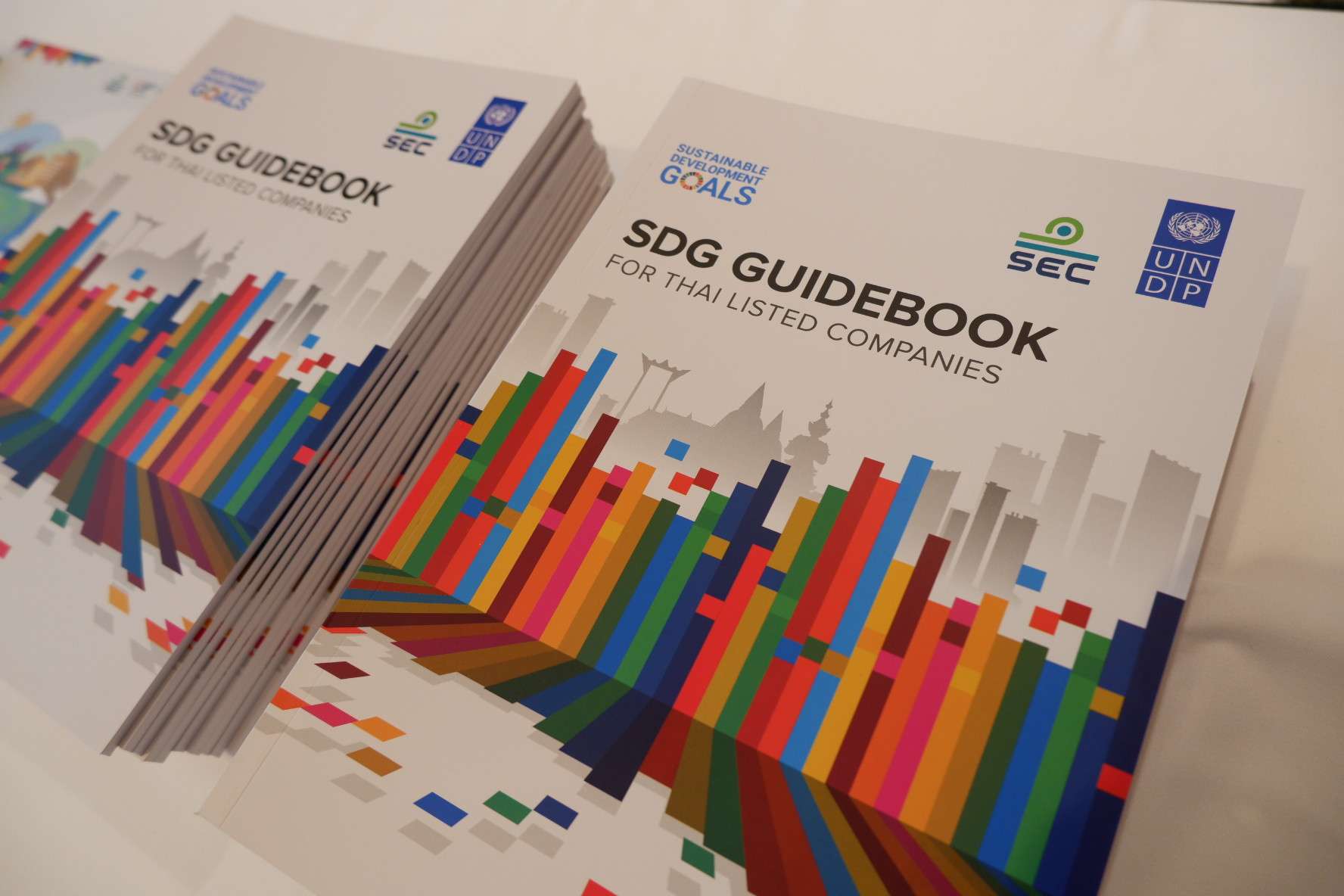 Srettha Thavisin, Prime Minister and Minister of Finance, attended the event to share his expectations regarding sustainability in Thailand's business sector. He stated that "The SDG guidebook and the Impact Standards can be both a business opportunity and a new way to strengthen competitiveness for listed companies and the business sector in Thailand. Nowadays, companies want to invest in a country that has a clearer path toward sustainable development."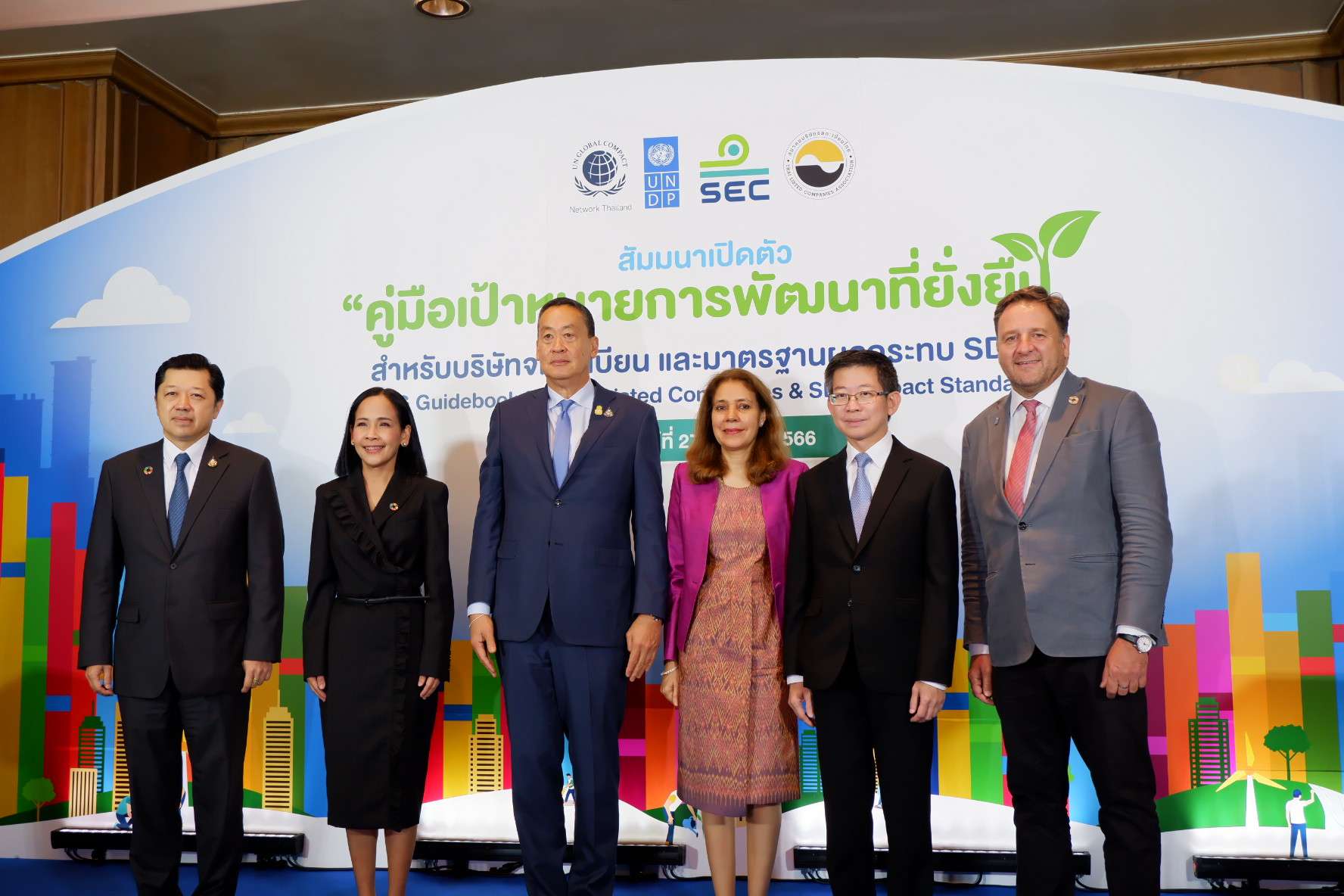 Meanwhile, Ms. Gita Sabharwal, UN Resident Coordinator commended the progress made in supporting the Thai capital market to access best-practice tools and resources and increase their alignment with the SDGs. "As we take the agenda of SDG acceleration forward, we must do so with the full participation of the private sector. As captains of industry, businesses have the power to transform supply chains for across-the-board sustainability, and the SDG Guidebook for Listed Companies launched today provides that necessary tool to deepen private sector ESG alignments. The UN in Thailand very much looks forward to continue assisting the country's historic green transition towards a prosperous, low-carbon, climate-resilient and just nation."
The business sector is considered to play a crucial role in supporting Thailand to achieve the Sustainable Development Goals, relying on an ecosystem that must begin with the vision of executive leaders and extend to promoting sustainable development investments. Pornanong Budsaratragoon, Secretary General, Securities Exchange Commission of Thailand (SEC) said "The SEC is dedicated to building a capital market ecosystem that supports sustainable growth, with a focus on raising businesses' awareness and integration of the ESG principles into their operation in line with the SDGs. We also emphasize the leadership role of company board members and senior executives in shaping the corporate value chain, and encourage investors to give more weight to responsible investments to establish a sustainable value chain and ecosystem. Additionally, we advocate for the use of new financial tools to mobilize private sector capital towards achieving the SDGs. This effort requires ongoing cooperation and support from relevant organizations, both domestically and internationally. We hope that the SDG Guidebook for Listed Companies and SDG Impact Standards will serve as a valuable resource that enhances Thai listed companies' knowledge and understanding of the SDGs, enabling them to incorporate the principles into business operations effectively, facilitating their information disclosure in line with global best practices, and empowering them to prepare accurate and comprehensive annual reports (56-1 One Report) in line with international standards. In essence, the SDG Guidebook can help to foster trust and confidence among investors and stakeholders across the entire business value chain."
The SDG guidebook and the SDG Impact Standards will be a tool that establishes new standards and benchmarks in conducting business, as well as helps create an environment of dedicated and sustainable business practices. Dr. Kobsak Pootrakul, Vice Chairman of Thai Listed Companies Association emphasized that "Sustainable development in the areas of the environment and human rights is an issue that the global community continuously emphasizes, and it has become a primary concern for every country, including Thailand. All sectors in Thailand, including the government, private sector, regulatory bodies, and all relevant stakeholders, have placed importance on and jointly set this as a goal in driving the sustainability of organizations and the nation. For example, the Office of the Securities and Exchange Commission (SEC) has enhanced the disclosure of information in the annual report (56-1 One Report) to cover the environmental and human rights policies and practices of listed companies throughout the entire value chain. This has become a new standard for listed Thai companies in terms of learning, sharing experiences, comparing, and competing among themselves in an area of sustainability. It also involves incorporating the ESG (Environmental, Social, Governance) into a company's business operations, which is a means to further develop and advance Thailand in achieving its mission of environmental preservation and global human rights protection."
Likewise, Suphachai Chearavanont, President of the Global Compact Network Association Thailand, stated that "the Global Compact Network Thailand aims to promote a 'Race to the Top,' encouraging businesses to compete in doing good and being innovative. The organization collaborates with partners across various sectors to support registered companies in Thailand, especially medium and small-sized companies, throughout the Thai supply chain. They also provide transparent, efficient, and accountable public sustainability reports and actively monitor and follow up on the results of these initiatives."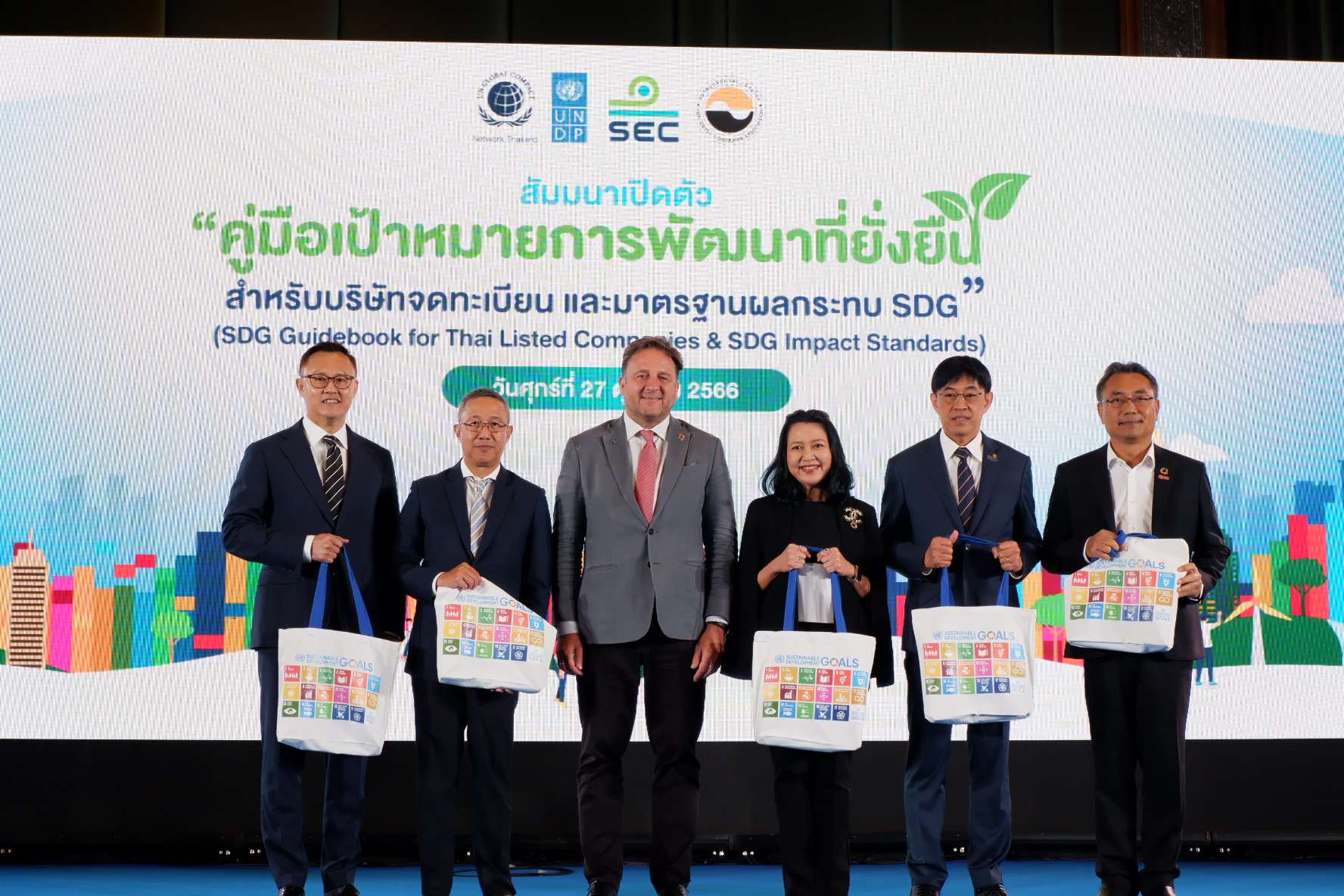 To ensure the acceleration of progress towards the Sustainable Development Goals, Renaud Meyer, UNDP Resident Representative to Thailand, emphasized "the achievement of the Sustainable Development Goals requires strong collaboration and a coordinated approach between all sectors of our societies. Government alone cannot do it alone. There is a shared responsibility between public and private sectors, between state and non-state actors. This is why UNDP is actively engaging with businesses and expects this SDG Guidebook to provide very concrete and practical suggestions for listed companies not only to align their operations to the SDGs but also be able to better quantify and account for their contribution to the achievement of the Goals. The impact measurement and management framework introduced by the Guidebook will strengthen the business case for investments aligned to the SDGs and incentivize more companies to contribute to the SDGs."
Download SDG Guidebook here