At Slush Singapore 2018, Techsauce sat down with Nick Halla, SVP International of Impossible Foods to learn about their exciting new approaches to the food industry with a plant-based meat that has the same taste and texture of animal products.
About Impossible Foods
We started Impossible Foods 7 years ago to address one of the biggest challenges we have as a civilization, which is to feed the growing population. Our founder, Dr Patrick Brown, had spent 25 years at a medical school doing research at Stanford. He took a step back and realised that the reason for challenge is our reliance on animals on food production technology.
Animals are great at producing food we love to eat, but they are very inefficient. As a biochemist, he saw this as a great opportunity because a cow is about 3% efficient technology. But if you go directly to plants, you may create a platform that can create the most delicious meat, fish and dairy food that the world has ever experienced, more efficiently & sustainably.
Where did the idea originated from?
Our founder Patrick Brown in 2009, took a sabbatical and spent 25 years doing cancer and genomics research, and everything in food. He saw those challenges and decided that he could have biggest in the world by working on this. He realised the only way to address a challenge like this is to produce products that consumers like better. And if that is done, the industry, from agriculture to food production will change with it. If not, it will always be an issue. Taste, texture, flavour and that experience are what we have to focus on first.
How is it different from the real meat? How is it better?
Our benchmark is meat from the cow, because that is what consumers worldwide love, and where consumption is growing very quickly along with the big environmental impact behind that. When we first started company, we spent the first 2 years researching and understanding why people like meat, then went into the plant based world building new ways to try and replicate that. 2 years in, we decided that we would use ground meat as the first product experience. It is used in almost every global cuisine from dumplings to meatballs, burgers and tacos.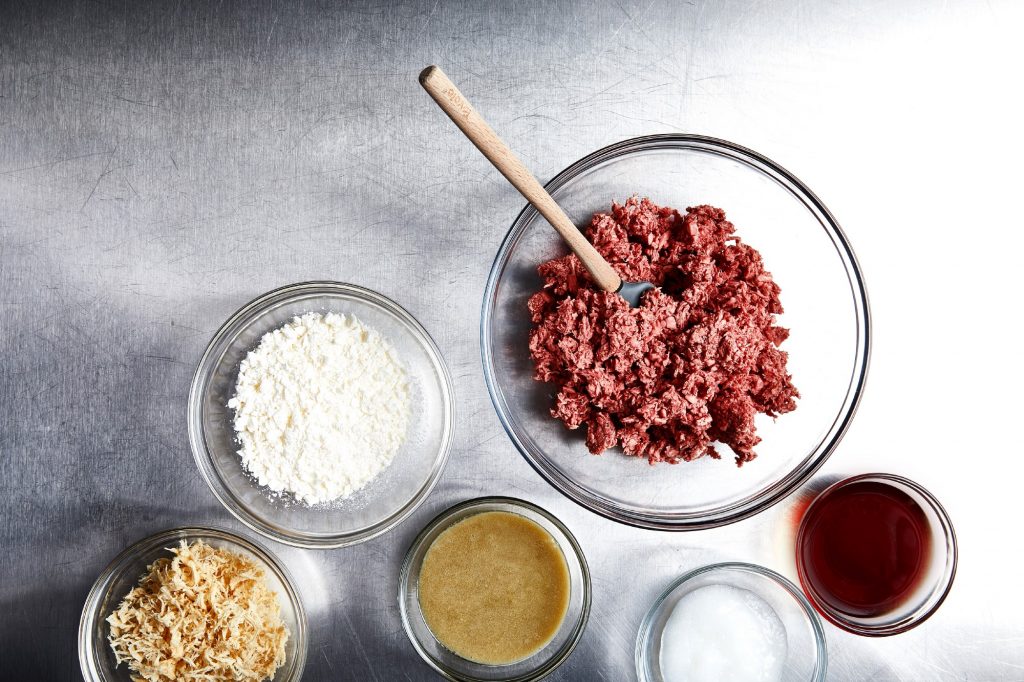 For the first products, we were not very good. But within a year, we could do a blind taste test with meat eaters, where they thought it was a type of meat, but still preferred meat from the cow. But when we do the blind taste tests now, about half of them prefer us over the meat from the cow, so we have actually caught up to the cow. We are not limited to what the cow's body can do, as we are getting better every day. Our goal is to be substantially preferred by any meat eaters across the world.
One of the biggest difference is that we produce all our product directly from plants. By doing that, we are much more sustainable. The Impossible Burger and ground meat uses approximately 95% less land, 87% less greenhouse gas emissions, and 74% less water than meat from the cow.
What is the biggest challenge?
There has been veggie products in the market for a very long time, and they have never met that sensory drive and pleasure of what meat, dairy and fish lovers are going for. So one of the biggest challenge is educating consumers that this is possible. Initially, we did that by going to the meat shops in America.
When we launched the product in the US, most food companies go to wholefoods or other grocery stores, to sell their products off the shelves. We decided that that was not the best way to do it. We needed to build credibility that this is a better type of meat. So we started with David Chang in New York City, who was known for saying "I'll never put anything vegetarian on my menu because it doesn't meet what my consumers want." But to Impossible Food, this is meat. So he put his brand and name, and we went to all the big meat shops in US and spread that way to build credibility that it is a delicious food.
Where do you sell your products now?
Our first restaurant was at Momofuku, we built up to about 40 restaurants in first year. We launched in July 2016 and at first, it was all about credibility. In September last year, we built up our first real production. Now, we are selling in about 3,500 restaurants in US, from top restaurants like Cockscomb in San Francisco to fast-food restaurants like White Castle. We are expanding our range, and our goal is to be a product to every consumer worldwide.
We then started our international journey about 4 months ago, where we launched in Hong Kong and are now in about 60 restaurants in Hong Kong & Macau. Very similarly, we want to build the credibility that this is a delicious food, so we started with the top chefs & restaurants in Hong Kong like May Chow, Asia's best female chef in 2017, Uwe Opocensky, who runs Beef & Liberty, one of the big burger restaurants, and some of the high end hotels. But now we are starting to go into mainstream in Hong Kong as well.
Do you have any plans to expand to SEA or Thailand?
We are doing a lot of focus on Asia. Asia today is where 44% of world's meat is consumed and it is growing very quickly. Food safety and security are big challenges, so Hong Kong is the starting point. In the next several years, we are planning to expand quite broadly throughout Asia.
Any plans to produce products other than meat?
Yes. The first 2 years, the platform we were developing and are continuing to develop, was made to do anything an animal does for food, but better. We have early researched into fish, chicken, cheese, anything from animal and we have many prototypes. If you look at our strategy as a company, ground meat has big environmental impact, and the biggest impact you can have is to make that go as quickly as you possibly can, and continue to make that better. But over the coming years, we will launch other products and platforms for our development.
How do you see the trends in food tech in next few years?
Interestingly, when we started the company 7 years ago, no one talked about this being an issue, challenge, need, or even an opportunity. I sense that the whole conversation has changed globally. Now you hear people talking about it and new incubators popping up everywhere. The momentum behind this, the need to feed the growing population and the tools to create better food are starting to come along. I think this industry is at the very start of what it is going to be in a few years.
Suggestions for startups who want to do Food Tech or Health Tech?
Follow what you love and are interested in. Look at what consumers want and create something they need. One thing that I see a lot is that there are a lot of design in food, such as anti-food like gluten free, soy free and GMO free. Create something that just drives value and pleasure to consumers, while making smart choice on health and sustainability.