Techsauce sat down with Chris Boncimino, Visa's Senior Vice President, Head of Digital Solutions in Asia Pacific, to find out how digital is transforming payments in Thailand and across South East Asia, as well as the opportunities that lie ahead in the digital payment arena.
How does digital transform the payment process?
"By our very definition we were a network before being a network became cool," explains Chris, the new head of digital products for Visa in Asia Pacific, when he sat down to talk to Techsauce.
Chris further said that Visa had been a part of the digital and networking world from its very early days.  
Visa Inc. is a global payments technology company that connects consumers, businesses, financial institutions and governments in more than 200 countries and territories, enabling them to use electronic payments instead of cash and checks. Visa operates one of the world's most advanced processing networks — VisaNet — that is capable of handling more than 65,000 transaction messages a second, with fraud protection for consumers and assured payment for merchants.
"We continually look at how we can use our network breadth and payment expertise to extend the value of electronic payments so more people can use Visa in more ways and in more places around the world," said Chris.
It is something the company has been focusing on for the past 60 years. The goal has always been to discover and work with the next piece of important digital technology that will make the customer and client experiences better.  
Over the years the company has introduced a number of payment innovations such as EMV-chip cards to increase security by ensuring high levels of encryption, through to enabling new payment experiences such as contactless payments, QR code payments, and the Visa Token Service which enables mobile payments, to name a few.
Right now, the lifecycle of a payment method is constantly evolving as digital technologies advance. Cards can now be issued digitally, with Visa cards embedded in smartphones in most major markets.
"We are offering the payments ecosystem – financial institutions, device manufacturers, technology companies – the tools and services that help deliver secure, fast and reliable payments services across diverse commerce experiences. In some cases Visa is enabling new experiences; in other cases we are co-developing with strategic partners like Apple Pay, Samsung Pay and others, and in some cases we are leading the innovation such as Visa Checkout," added Chris.
At the moment, Samsung Pay is the only "pay app" available in Thailand.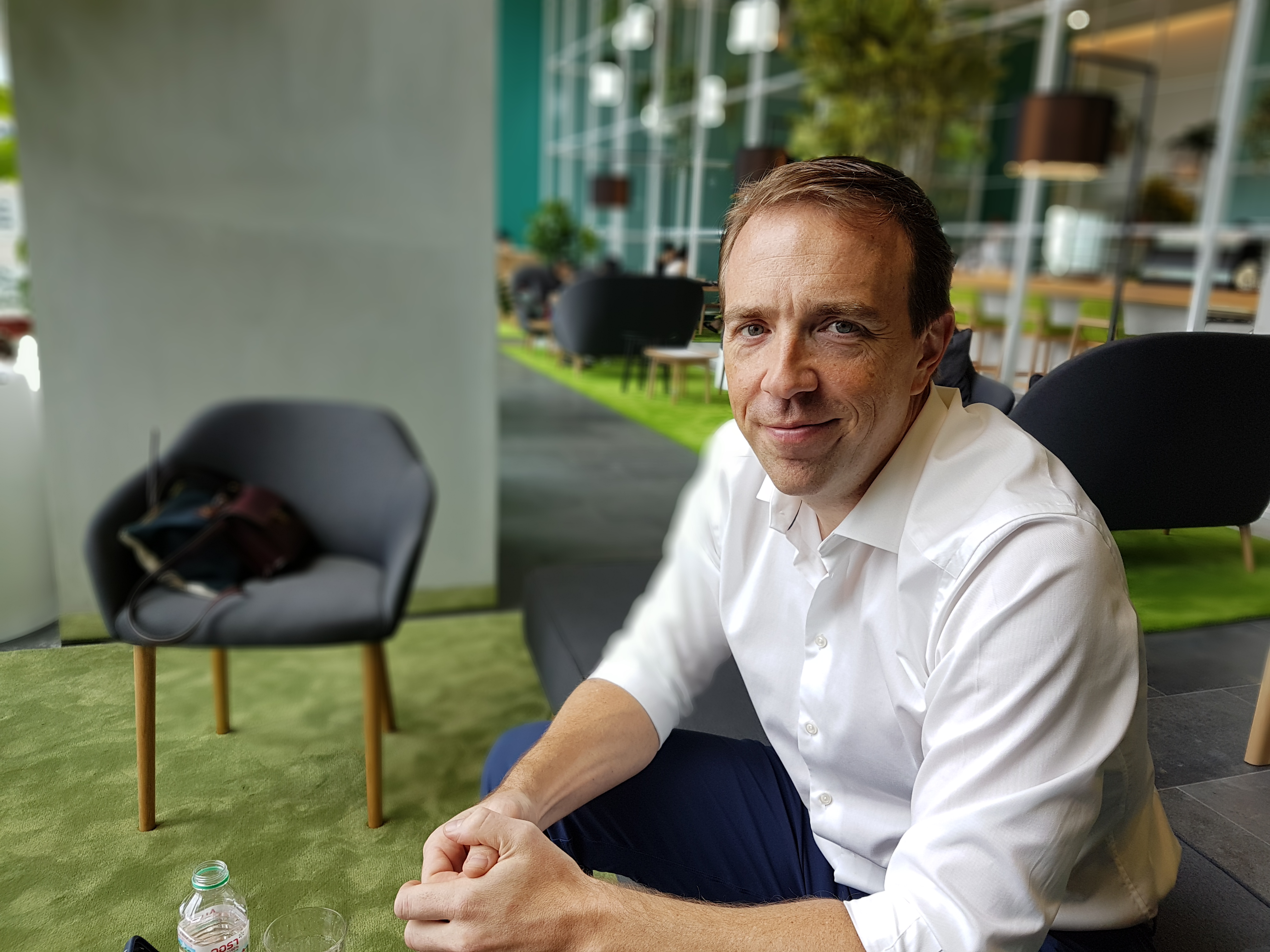 Are we heading to a cashless society?
When asked about the path towards a cashless society, Chris explained that there are barriers that must be addressed before a society becomes entirely cashless.  From a customer's point of view, the concerns are security, assurance, convenience and better control of their money.  For merchants, their primary concern would be that of cash flow, for example: a restaurant would need almost immediate cash flow available for daily operations.
The Thai government has been progressively advancing its cashless society policies in an attempt to bring the majority of Thais into the formal financial system. The government's concerns regarding tax collection, fraud, and accurate accounting are being simultaneously solved through the introduction of electronic payments. A new level of transparency for governments and all stakeholders will exist when a society becomes cashless.
Visa is committed to working closely with governments, financial institution clients and merchant clients to expand access to electronic payments. Consumer education needs to run in parallel too. The adoption of new payment technologies is a fine balance between usage and acceptance. Payment apps will be slow to take off if merchants are not accepting them, just in the same way it will be hard to create the business case for merchants to accept them while few people are using them. Visa bridges these gaps by engaging with all stakeholders in the payment ecosystem.
How is Visa driving financial inclusion in South East Asia?
Visa's global network is a powerful platform to advance financial inclusion. By bringing people into the formal financial system, we Visa helps improve lives, foster opportunities and strengthen economies.
Digital payments are an "on ramp" to financial inclusion — very often, they are the first formal financial product a person uses. Visa has spent the last 60 years connecting hundreds of millions of people and organizations to a global system that enables fast, safe and reliable financial transactions. With their network's reach, insights and technical capacity, Visa is well positioned to advance financial inclusion.
In South East Asia Visa runs financial literacy programs to educate people on practical money skills such as budgeting, saving and spending responsibly. We also provide electronic humanitarian aid disbursement for victims of natural disasters in countries like the Philippines. When the Philippines was hit by a typhoon, Visa partnered with Oxfam to help transfer humanitarian funds to beneficiaries' Visa prepaid cards. The financial aid received is often the first time these people use electronic payments and many have gone on to open bank accounts to start budgeting and saving to improve their livelihood.
What is next for Visa?
We are transforming our retail payment network into an open platform for payments and commerce. For the first time in the company's history, developers at merchants, financial institutions, technology companies and startups have self-serve access to some of Visa's most popular payment capabilities via the Visa Developer Platform.
Visa is unbundling products and services – so developers can pick and choose from a suite of digital payment and commerce solutions. Examples of services available through APIs, SDKs, and documentation include identification and verification, account validation, person to person payments, transaction alerts, and Visa Checkout.
Visa's aim in opening up its network is to accelerate the migration to new digital commerce experiences and support of consumers who increasingly rely on connected devices to shop, pay and get paid.
The vision for Visa Developer is to deliver an open marketplace where developers can publish their own digital commerce and payments application, download examples of what others have built and partner with financial institutions and merchants to bring solutions to market.
With the proliferation of the Pays, mobile payment is playing a bigger role in the ecosystem. However, for now, cards and mobile devices will live together.  
What are the opportunities and challenges for FinTech?
In Chris's view, a challenge for fintechs is the lack of knowledge and understanding on how to engage with major financial organizations.   Usually, fintechs will have good ideas and capabilities but are not knowledgeable regarding working and engaging with big financial institutions.  
On the other hand, big financial organizations often do not want to work with disruptors, even though the intention of a fintech company is not to disrupt big business methods, rather to help people or to solve problems for people. The role of Visa is to bridge this gap in engagement by opening up opportunities for big businesses to be involved in the process of solving those problems with fintech.  Visa does this by directly engaging with fintechs, releasing standards and APIs for development, and investing in startups aligned with Visa's vision and strategy. Put simply, it is fostering better understanding on both sides.
The road ahead for payment technology
The next set of companies that see a problem and try to solve a problem will come from fintechs. However, the solution to that problem will be mobile-centric and based on the following four principles:
A significant focus on security and privacy standards.

The customer experience will dictate the way payment evolves.

It has to be accessible to everyone.  Not only the end-users but, for everyone in the payment system such as the banks, merchants, and all stakeholders.

It will be open to ideas that are not known yet, the technology will allow for possibilities that have not yet been explored.
The road ahead for emerging markets
The transition from a cash society to a less-cash society takes time.
Payment networks should consistently innovate, and work closely with governments, regulators and central banks to realize the full potential and benefits of electronic payments, and move towards being cashless. Further, they should actively participate in creating awareness and familiarizing people with digital currency.
Visa's job is to create the right conditions, including payment capabilities and industry standards, for its partners to deliver innovation. Standardized QR Code is a good example because it offers a cost effective alternative to a traditional Point of Sale device, which will help to scale electronic payment acceptance in emerging markets. In this case, Visa brings its expertise, security standards, and interoperability as part of industry-wide solutions, working alongside governments and other stakeholders.
Through innovative new technologies, we are likely to see a continuous expansion of electronic payments in Thailand, allowing easier and more secure access to funds and payments than ever before.
Learn more how payment technologies will make our lives better from FinTech Fusion Stage supported by VISA at Techsauce Global Summit 2017 in Bangkok this July
_______________
Techsauce Global Summit 2017 is the melting pot for global and regional leaders in technology, venture capital, corporations and startups. Heralded by many as the "freshest and edgiest" tech conference in Southeast Asia, this is Southeast Asia's must-attend conference for technology entrepreneurs from Southeast Asia who wish to propel themselves onto the global stage and global investors who wish to identify the region's leading startups.
As Southeast Asia's first global-scale conference, it will assemble more than 6,000 participants in Bangkok on July 28-29 including 1,000+ startups, 200+ venture capitalists, angel investors and corporates, and 200+ journalists from global media outlets for this year's ultimate gathering at Centara Grand Convention Centre in Bangkok, Thailand. The Summit facilitates an opportunity open up to Asia and the rest of the globe with top VCs and corporations such as 500 Startups, Y Combinator, Techstars, Life.Sreda VC, Facebook, Samsung, HP, Dentsu Inc., EY and Idea Tokyo.
See a full list of speakers and full info here: http://summit.techsauce.co
Book your tickets today & save – price goes up every month, so book now for the cheapest price
To reserve spacing for booths, contact us at [email protected]