In this day and age, consumers are expecting an increasing level of personalization and customization in the products they consume. This naturally also applies to healthcare and as we learn more and more about our bodies, we want to be sure that we're getting the best care for our specific needs.
Utilizing new technology in the very traditional healthcare sector enables healthcare providers (HCPs) to find detailed answers and open lines of communication with their patients.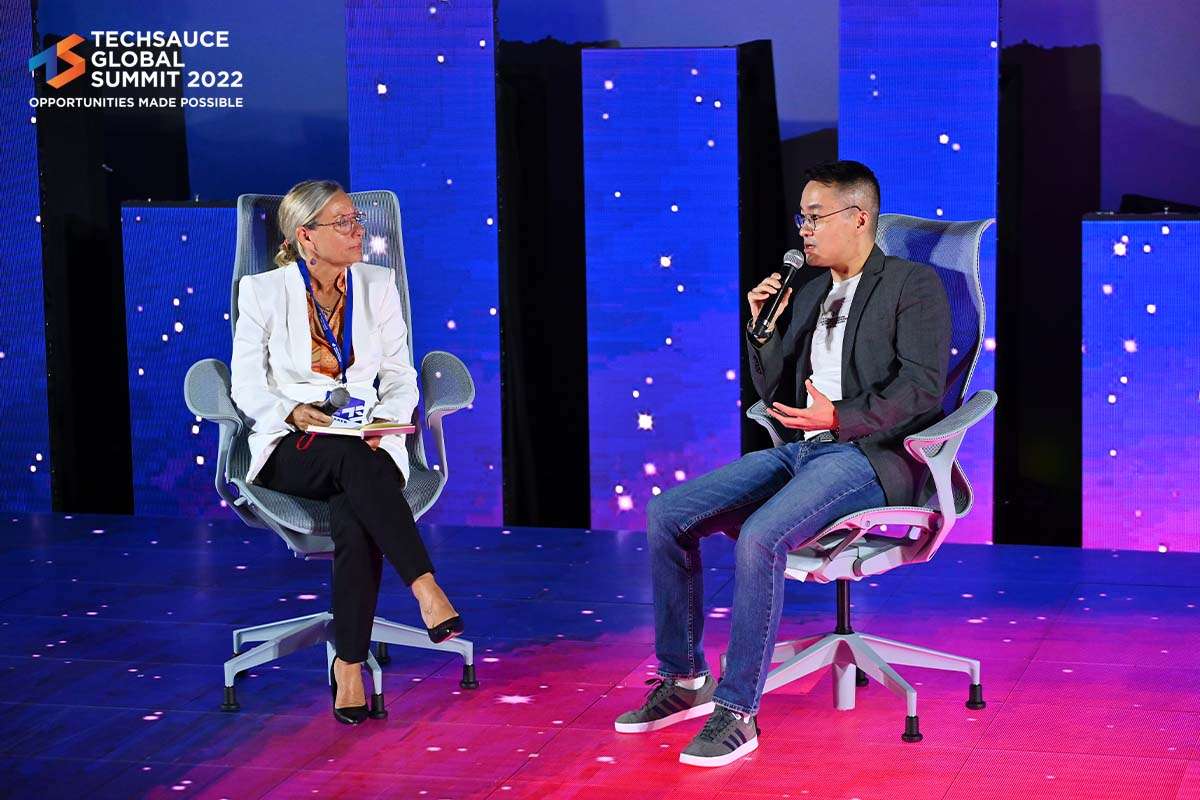 In a fireside chat on Saturday, Susie Ruff, Founder & Executive Advisor of RUFF & CO., interviewed Bin (William) Xu, Digital Innovation Lab Lead, China & APAC of Pfizer Inc. In their discussion they covered a large range of topics including, innovation strategies, the future of healthtech, and industry collaboration.
At Pfizer's digital innovation lab, William said, they focus on encouraging the adoption of emerging technology and test different ideas before scaling up. All the digital technologies they're involved in are to benefit patients and HCPs.
He said his past experience in startups and venture capital gave him the ability to make strong and sound decisions which couldn't have been done without knowing how to run businesses or how to create products from the ground up.
Susie opened by mentioning that there's a challenge to come up with digital solutions in the pharmaceutical industry and she's mostly heard of companies looking for ways to get closer to the patient. She asked William how that relates to Pfizer and his own work.
"Everything we do impacts people's lives"
External factors that affect his work include the incredibly rapid pace of the technology sector and keeping up to date on the latest trends or technologies that can be adopted. He said another one of the biggest challenges is regulations because of how specific they are to each country or region and how they need to be able to work with them so that they don't stifle innovation.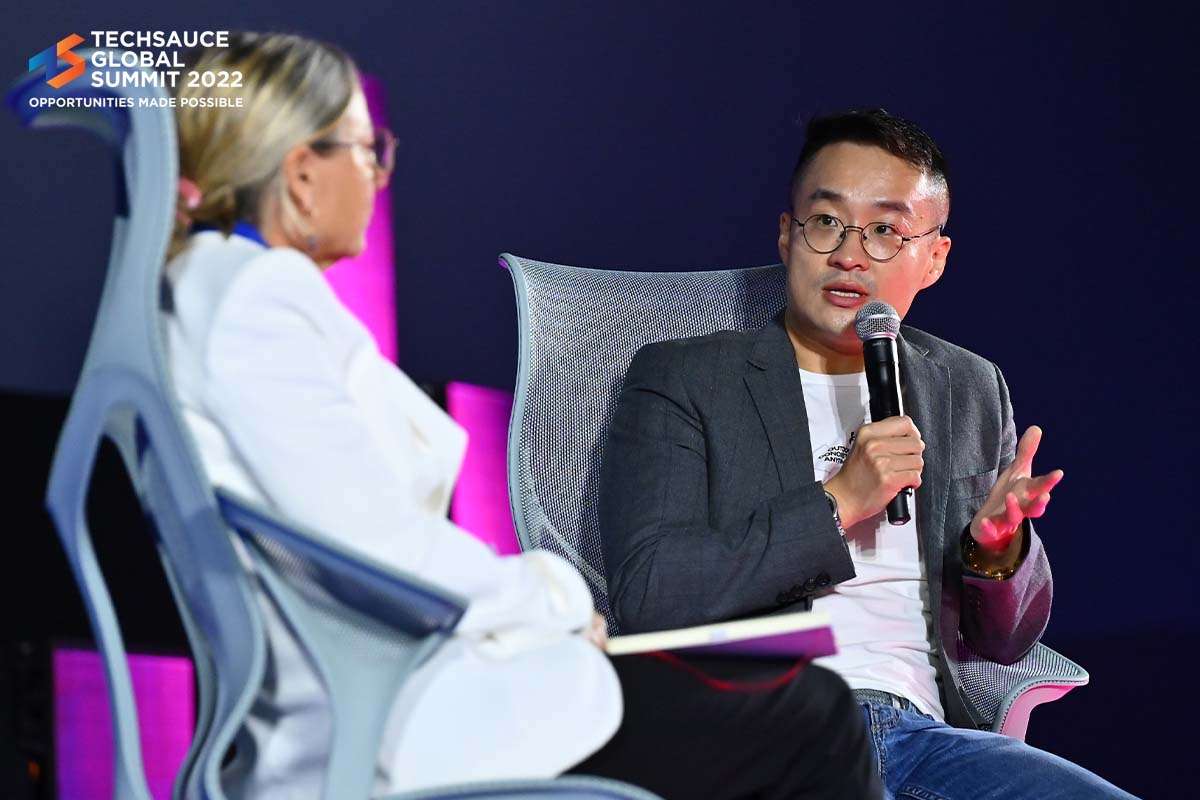 "How do we define our innovation landscape and how do we prioritize? There are always shorter, commercial, operational goals, and the results of innovation do not transpire overnight. And so usually it takes a long time for things to come to fruition for us to really understand if something's going to fly or not"
He mentioned that an internal challenge was communication between teams, not only in a company but also industry wide. He described the landscape as everyone working in their own "silos". He wished for more awareness and communication between teams. For those in the lab at Pfizer, he found success in working more as a startup within a giant organization. Using startup methodologies and philosophies allows them to move quickly within the slow moving goliath.
Moving quickly
The pharmaceutical industry cannot work in the same way as they used to. With personalized medicine and new technology there are new ways of working and new players in the ecosystem. William explained that he sees a need for a two-prong open innovation approach to these shifts in the ecosystem.
Inside-out open innovation
"having understood what some of those therapeutic areas, or patients or healthcare professionals, are faced with, for instance lack of information or a shortage of fast and accurate diagnosis technology. Or perhaps there's a shortfall when it comes to patient engagement. Having understood these painpoints we collaborate with different ecosystem participants."
"We realize we can't do this by ourselves. Healthcare is not an industry concern, it's a social concern."
When thinking from outside in, he said that there are lots of infrastructure technologies that are happening, but of which they have limited knowledge.
"The entire pharma sector, when compared to some of the other industries [...] we are actually a bit late when it comes to digital transformation and technology."
He elaborated by saying that despite the knowledge about world wide advances such as the metaverse or block-chain, there's still no clear idea as to how it can be applied to the pharmaceutical sector. He said therefore they like to try things out, investing early, even though they know it's going to be a long process towards a final product.
New technologies with lots of promise
With increasing opportunities for patient empowerment, and patient-reported outcomes, William mentioned that he was excited about trying different platforms within the internet of (medical) things. IOT can give HCPs feedback and certain biomarker information. He mentioned that it would allow carers to constantly monitor the health of their patients but it still requires a lot of infrastructure and bold moves to make happen.
He mentioned that while the U.S. is advanced in things like digital theraputics, China is leading when it comes to internet hospitals. The reluctance to go to a physical hospital during the Covid-19 pandemic really became the catalyst for that growth.
He sees the increasing use of remote consultations, diagnoses, and presicriptions. While not every ailment can be looked after that way, there's certain tech that is empowering it, such as IOT and the super apps wechat and alipay.
Innovating in a complex system
"Innovation isnt a technology problem. It's a people issue."
With the complexity of the medical industry, both Susie and William acknowledged hurdles to innovating. To improve healthtech innovation, he encouraged the audience to develop an internal culture of being able to accept failure. Each project needs lots of iterations or prototypes.
He found that people tend to be risk averse and prefer the shortcut, but it's still important to keep an eye out for the pockets of opportunity to create a project with strong measurable impacts. He shared that he uses product design and startup ways of thinking to design a MVP with goals linked to the benefit of the patient or the healthcare professional. He encouraged focus on hitting those targets before scaling up. He said that would give the workforce more confidence to try new things while being considerate of time and resources.
Working with startups
With collaboration between startups and corporates, everyday there's a new challenge. The first thing William mentioned was the usual culture disconnect between the two different types of companies. Using startup methods in the innovation lab and co-designing technology with their startup partners, rather than just acquiring a service, helps to bridge that gap. He found that startups want to be a co-inventors, co-creators. He recommended that, to manage that relationship, each party would need to develop knowledge about eachother's advantages and challenges.
"[Startups] are quite small and they have different goals and they work on different timelines. And how do go about and really understand what startups are after or what are the actual value propositions? So we really need the kind of people who have had exposure, have had experience in both the large pharma as well as the startup sectors in order to close the gap between these two."
Some modern challenges
They finished their conversation by talking about the biggest healthcare challenges in China. William highlighted China's rapidly aging population and acknowledged that it's a common challenge in other parts of the world as well. He said with resources becoming more scarce, the question should be, how can we empower healthcare professionals? He said that in the future, it will be necessary to focus on technologies that help HCPs make intelligent, quick, and accurate decisions. He specifically recommended areas that would help with reducing administration, or perhaps opportunities to use more AI for early detection or in a triage role.
Fundamentally, he argued, healthtech should reduce the gap of communication between healthcare professionals and patients in order to bring them together. People do what their doctors tell them and he said he would like to see more "conversation symmetry". Better communication and health tech can empower patients and help them communicate and manage chronic disease, chronic conditions, symptoms or side effects.