You've certainly heard of Wikipedia, the free encylopedia. But did you know that a team of volunteers is helping to improve Wikipedia's photographic coverage of monuments in Thailand - and you can help?
The annual Wiki Loves Monuments competition is held in more than 40 countries. This year, more than 3800 photos have already been submitted in Thailand.
By Siripatwongpin - Own work, CC BY-SA 4.0, https://commons.wikimedia.org/w/index.php?curid=43737356
We asked Athikhun Suwannakhan, one of the organizers of the competition in Thailand, a few questions about this year's contest.
Why should people get involved in Wiki Loves Monuments in Thailand?
"This is our fourth consecutive year in Wiki Loves Monuments, the world's largest photo competition. It is designed to bring together those that appreciate and value part of the beautiful Thai cultural heritage. Thailand has a long history of culture, art, traditions and customs. These appealing features not only attract millions of travelers each year, but serve as living narrative of the history of our nation. We have more than 2,000 registered historic sites according to Thailand's Fine Arts Department. Yet, only a few of them whose photographs are available on Wikipedia. These submitted photographs are shared with the world under free licenses on Wikimedia Commons, a free media repository providing most of the images for Wikipedia and beyond."
By Chainfoto24 - Own work, CC BY-SA 4.0, https://commons.wikimedia.org/w/index.php?curid=42958886
What kind of photos are you looking for?
"We are looking for photographs of monuments and historic sites. The aim is to make the world's heritage sites visible for the worldwide public."
If you haven't contributed to Wikipedia before, what's the best way to get started?
"Contributing to Wikipedia is easy, instant and commitment free. Wikipedia is an edible website that allows anyone to edit any page within the wiki. Users may also upload pictures videos for encyclopaedic purposes using the upload wizard. This makes submitting to Wiki Loves Monuments quick and simple. For more details on Wiki Loves Monuments and our future activities, please visit www.wmth.org."
---
Although the main project page is in Thai, it's easy to contribute in English. Using the interactive map you can find a monument near you. Note down the "monument ID" like "0005506". Then, set off with your camera! Once you've captured a great photo, you can tap the "Upload your photo" link to be walked through the submission process. Entries should be submitted by 30 September.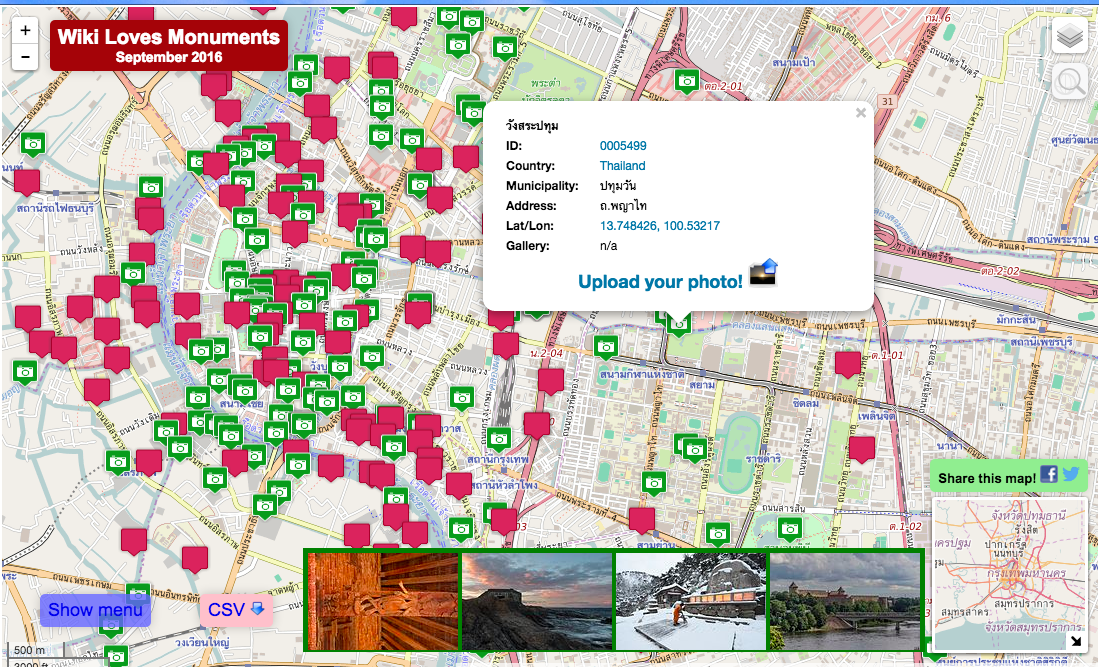 So, be inspired by some of the previous photos that have been winners in Wiki Loves Monuments, and get snapping!
By KOSIN SUKHUM - Own work, CC BY-SA 4.0, https://commons.wikimedia.org/w/index.php?curid=43531519