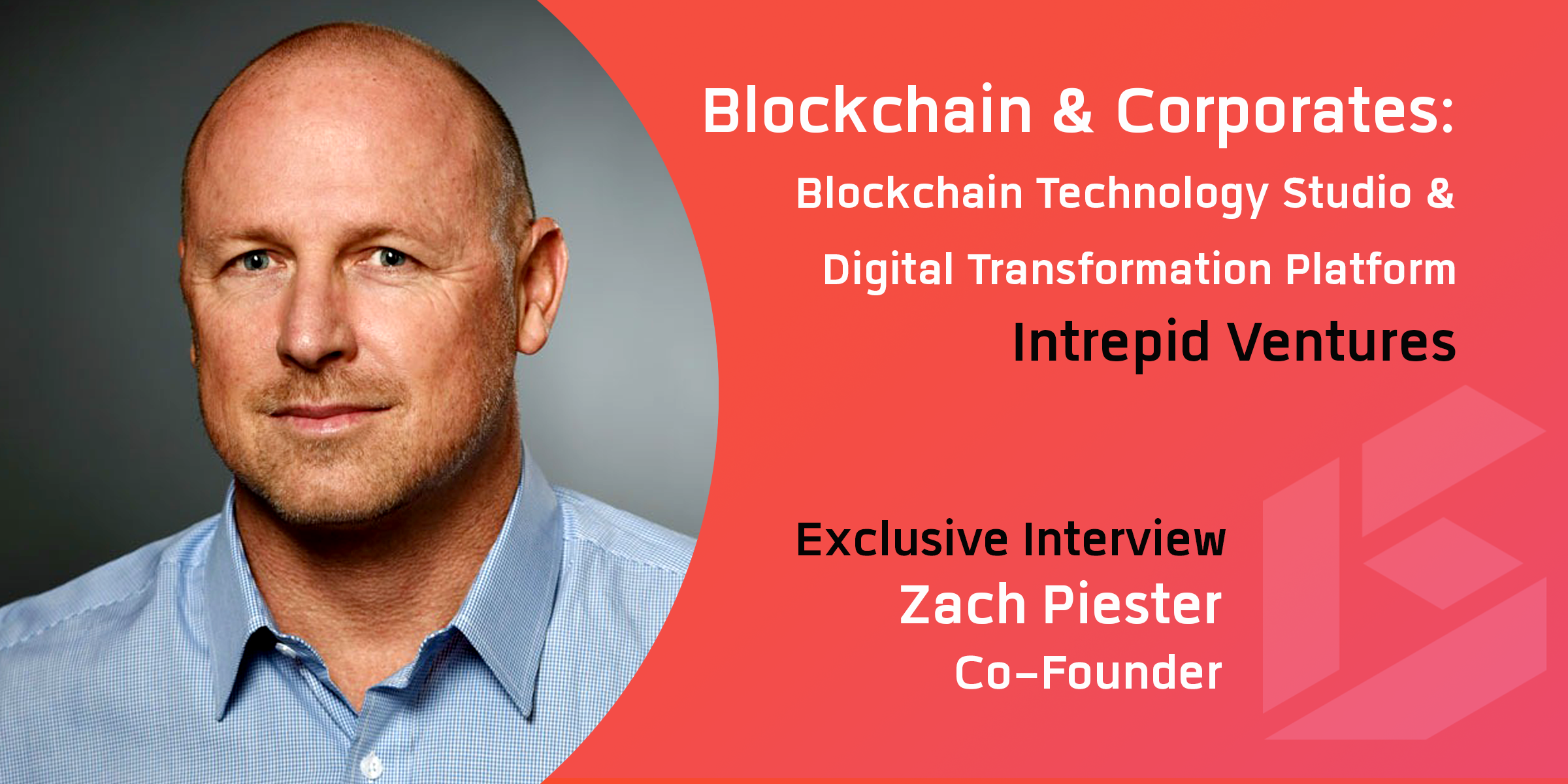 Techsauce sat down with Zach Piester, co-founder of Intrepid Ventures, to discuss blockchain and how corporates are incorporating it into their digital transformation. 
While Intrepid Ventures refers to itself as a "blockchain transformation studio & digital transformation platform," behind the scenes the company focuses on R&D in blockchain and investing, as well as ecosystem building. According to Zach, when looking at the ecosystem and the nuances of technology, investment firms cannot be myopic. Companies need to engage in education, help build communities, create ecosystems, engage with stakeholders, other businesses, and regulators, as well as focus on investing. Intrepid Ventures is currently joining with other investors who are incubating and accelerating, building their own technologies and platforms and investing in new startups.
All of this is leading the world into an up-and-coming trend which Zach refers to as "blockchain plus" - where blockchain is a core, but is surrounded by converging technologies like artificial intelligence, machine learning and advanced analytics. That's part of the marvel - previous "technologies of the future" that are just coming into our reach are already developing in their interconnectedness before we even take full control of them. Intrepid Ventures is one of the firms that is latching on to the vision because it has already grasped that future.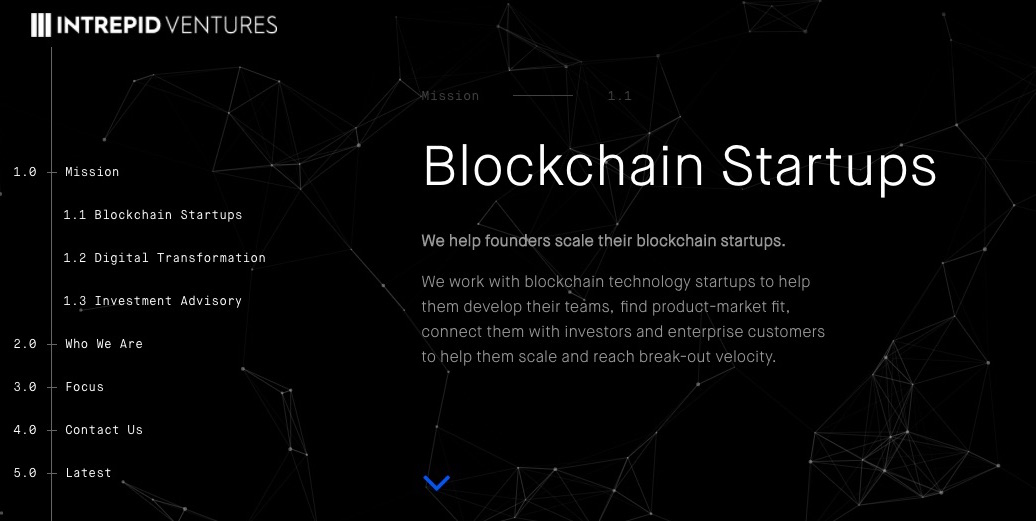 The firm was started two years ago by co-founders Zach Piester and Collin Thompson. It was Collin who approached Zach with an idea about blockchain: What if they developed a secure messaging form and a securely encrypted device powered by the blockchain technologies for secured communications? Even though Zach had been angel investing for some time, blockchain was a new term for him. He went home to research blockchain and its uses.
"I had no idea what Collin was talking about - literally, I had no idea. I didn't know what blockchain was. I didn't know about currencies even though I've been investing for so many years," Zach shares. "But I went back and did my homework and came to the conclusion that, 'Wow! it's everything!'"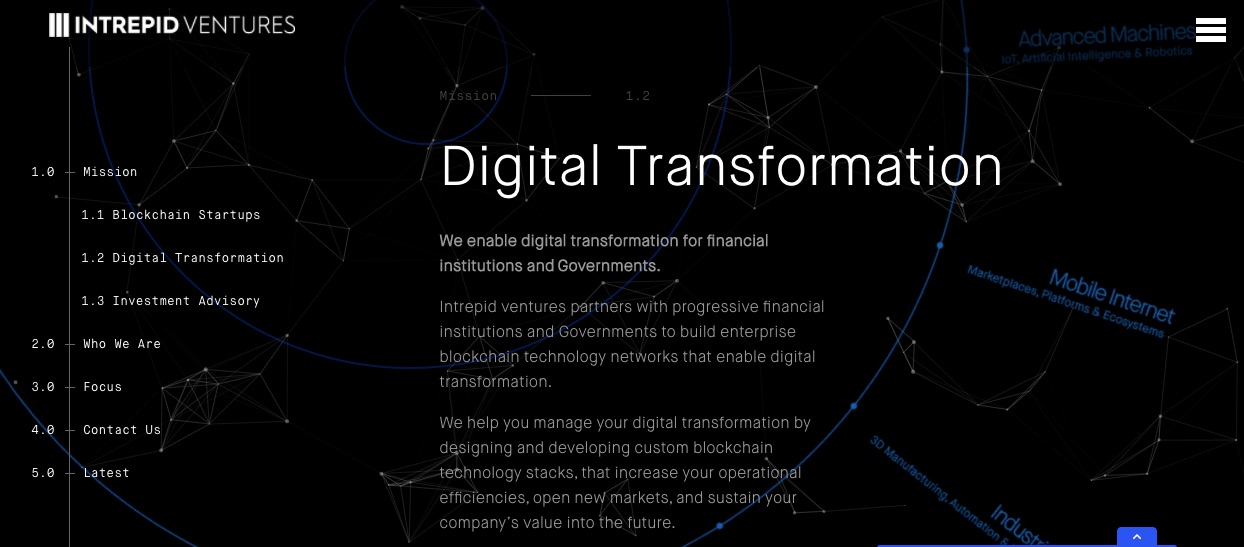 With that realization, that blockchain could be utilized everywhere - the collaboration was born. A big plus was that Zach found it easy to invest with Collin. "I really like Collin. He is so inspirational and he is motivated. Ultimately, I joined the company as a co-founder. And the original pieces were really like a visual development studio. How do we take the flexibility of what the market demands today versus what we can offer?"
Zach explains the plight of companies today being interested in blockchain, but lacking a few of the puzzle pieces to integrate the technology and put everything into place. Intrepid Ventures helps to fill in the gaps and assemble the puzzle pieces into an effective working model - they are both investors and business advisors. The diversity of their clients, ranging from banks to insurance companies, even shipping companies and government agencies, illustrates the growing interest that corporates and agencies have towards blockchain.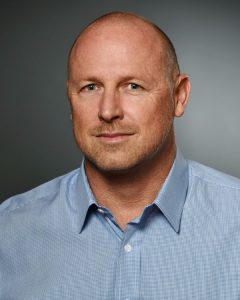 "Part of that is some companies just need capital.  They just need some capital fusion. Maybe some guidance; maybe some expertise, but they are strong in developing. And they just need scalability capital. In the blockchain world, that's less so. It's more so that you have a couple of entrepreneurs, a couple of good ideas, it may not be a start out, and the product might not be full. So how do we inject more than just capital? Our expertise helps us to ultimately develop and primarily advance us to real business cases, because we come from a business perspective and we work with a lot of banks, a lot of insurance companies, a lot of shipping companies and government. They come to us and say "we have a problem and can you solve that?"  – Zach Piester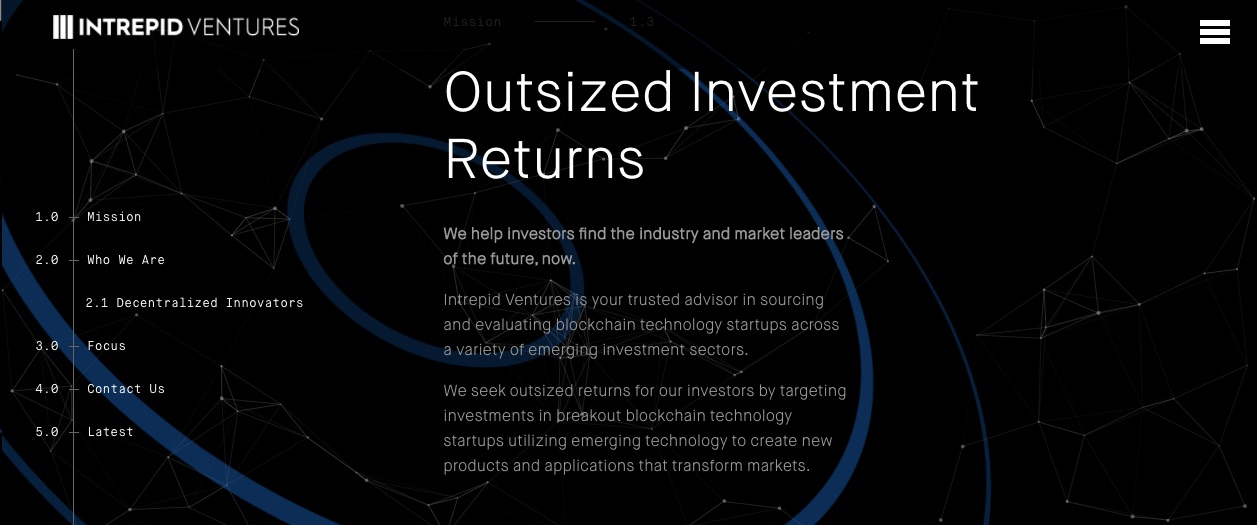 How are corporates responding to blockchain?
Zach has experienced that many companies know about or have heard about blockchain but do not fully understand what it is. He shares, "Typically, what happens in many large organizations is they all ask the same question: Why is it so important?"
They come to us because we are very open; we are very pragmatic; for real, we say nine times out of ten, we don't need blockchain. It is literally less than 10% of the time that the problem we are trying to solve requires blockchain. It better suited for another technology. But one time we do, it works out really well.
Some businesses know what it is and some do not - but many share an uncertainty about how it will benefit them in the long run, if at all. For Intrepid Ventures, it is important to get businesses depending on blockchain technology and emerging technologies. But ultimately their goal is solving real problems for real companies. They are equally concerned with how to help companies survive and stay competitive as helping them to build new models and services that help them keep up with the pace of the technology.
Says Zach, "In most cases with big corporates, they come to us with those questions like, 'What is it?' 'Why is it important?' 'Do I need to think about it for today or for the future?' and, 'What does it offer me and my customers today I don't have today?'"
Further, companies typically all have the same problem even though the industries differ considerably.  Companies ideally want to be efficient, they want to optimize and exploit existing businesses. Some will explore new technologies, new markets, new products and new services to continually be competitive.  However, ultimately a logistics company will want the same as a bank. How can they optimize the flow of information? How do they automate to the point where there is less risk of human error? How do they reduce fraud in the transaction chain?
For Intrepid Ventures, the solution is simple - they all need a platform. And due to the firm's strong development team, the building of solutions platforms is easy.
Intrepid Ventures are not only builders and investors, but they also fill the role of consultant. Companies approach them wanting to be a part of the deal flow as Intrepid Ventures has access to over 5,000 developers in their global network of blockchain solutions-builders. Corporate venture capital firms want to engage that deal flow and build blockchain technology at the same time. As consultants, Intrepid Ventures collaborates with the corporates to gain access to the developers and guide them along the process of investing and building technologies.
The forecast: Where is blockchain headed in the future?
According to Zach, the future for blockchain is transformation.  One of the main stumbling blocks Intrepid Ventures has come across most times is human nature and its reluctance to accept change. Zach advises that it is important for companies to consider how they will maintain consistent, viable growth. Businesses need to constantly weigh up how they will exploit existing business but also explore new technologies.
"Companies need to optimize current best studies, technologies, and tools to allow for maximum optimization while exploring new technologies that allow you to build new services and new business models," he shares. Zach praised the mentality of some banks and organizations in Thailand that are engaged in the actual building process.
"We see some banks optimizing for today and sort of exploring, but only few actually build. That's really, really difficult. But there are some in Thailand who are really doing it. There is a very small section of organizations that are being built, doing it not just from the marketing perspective or for the PR of being innovative. They are actually driving in a pure digital growth transformation for the organization," he observed.
Zach believes the next big market for blockchain in agriculture. Drawing the example of Vietnam, he shared, "Agriculture is a big market that no one wants to be a part of. For example, Vietnam exports enormous amounts of agricultural products to the rest of the world. Among their primary customers is the United States, whose quality controls in terms of pesticides and contaminants are among the stingiest in the world. As a result, reachability and tracking are critically important to Vietnam and many other countries. Using mobile, blockchain and other technologies, Vietnam will be able to from point of origin test and proof that every step of their process is within the strict criteria for export in the US."
Ultimately for blockchain, it is not so much about how well corporates understand it. Rather it's about how open they are to looking at new technologies that are vital to their business and that prepare them for future growth.
Catch Zach Piester, co-founder of Intrepid Ventures & hear more about the firm's phenomenal work at Techsauce Global Summit 2017 on July 28-29 at Bangkok's Centara Grand Convention Centre in the The Art of Global Corporate Venture Capital: Success cases and learning from around the world panel at 10.10 - 10.40am on the Main Stage, July 29 along with Dr. John Leslie Millar (Ananda), Tim Casio (Samsung NEXT), Hiro Saijou (Yamaha Ventures), Paul Ark (DV) & Sompoat Chansomboon (Dtac)!
This article is based on an interview with Zach Piester by Oravee Smithiphol, Executive Editor at Techsauce Thailand.