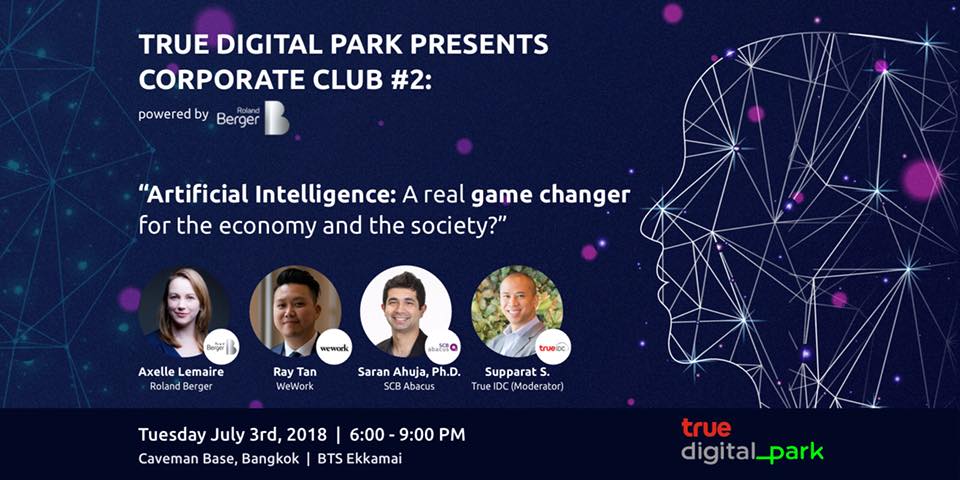 Everyone from Elon Musk to Vladimir Putin suddenly seems to be talking about Artificial Intelligence (AI) and how it will change the world – for better or for worse. But what does AI really mean, once you set aside the hype and fears of Terminator-style killer robots?
What will it mean for business? And for the economy and society? How quickly will it arrive? Where can it be applied? Will it save the planet? How should companies be responding to it? And how should consumers embrace it?
Explore these questions together in this casual gathering - with beers and World Cup! ? ⚽ ?
The session will be conducted in English and take around 1 hour, followed by networking session.
*PANELISTS* ? Axelle Lemaire, Partner and Global Head of Terra Numerata at Roland Berger; Former Minister of Digital Affairs in the French Government (2014-2017) ? Saran Ahuja, Ph.D., Senior Data Scientist at SCB Abacus ? Ray Tan, Regional Sales Director at WeWork Southeast Asia
Moderated by Supparat Sivapetchnarat, General Manager at TrueIDC (Internet Data Center)
*AGENDA* 18:00 Registration 18:30 Welcome session 19:00 Panel discussion and Q&A 20:00 Wrap-up 21:00 Enjoy World Cup 2018 - Round of 16
***
True Digital Park's "Corporate Club" series – powered by Roland Berger – are platforms to help corporations capture trends and opportunities in an age of disruption, by seeing the future through the lens of entrepreneurs and learning how other corporations are working with startups and advancing their innovation journey.
True Digital Park session is free to attend (for a limited time). No technical knowledge required, sign up, and come with the open mind and your burning questions!