Thailand is quickly becoming one of the biggest e-commerce markets in Southeast Asia.  Statista, an online statistics, market research and business intelligence portal, reports in 2017 Thailand's e-commerce market had a total of $2.9 billion worth of trade and has been growing at an average of 14.5% annually.  By 2022, sales in the market is expected to reach $5.8 billion and in 2025, $11.1 billion.  Currently the biggest e-commerce business is technology and media, which is worth $1.2 billion.    
*Click here for the original Thai version
Techsauce has compiled all the e-commerce businesses in Thailand to give you the big picture of the country's e-commerce.  We tell you who are the biggest players and who are the new to the game. 
Over the years the lines between B2B, B2C, and C2C have become blurred as many businesses have created themselves to become B2B2C or B2A (Business to All).  Techsauce made it our mission to give a clearer picture by grouping together the businesses in the market to show who is doing what right now.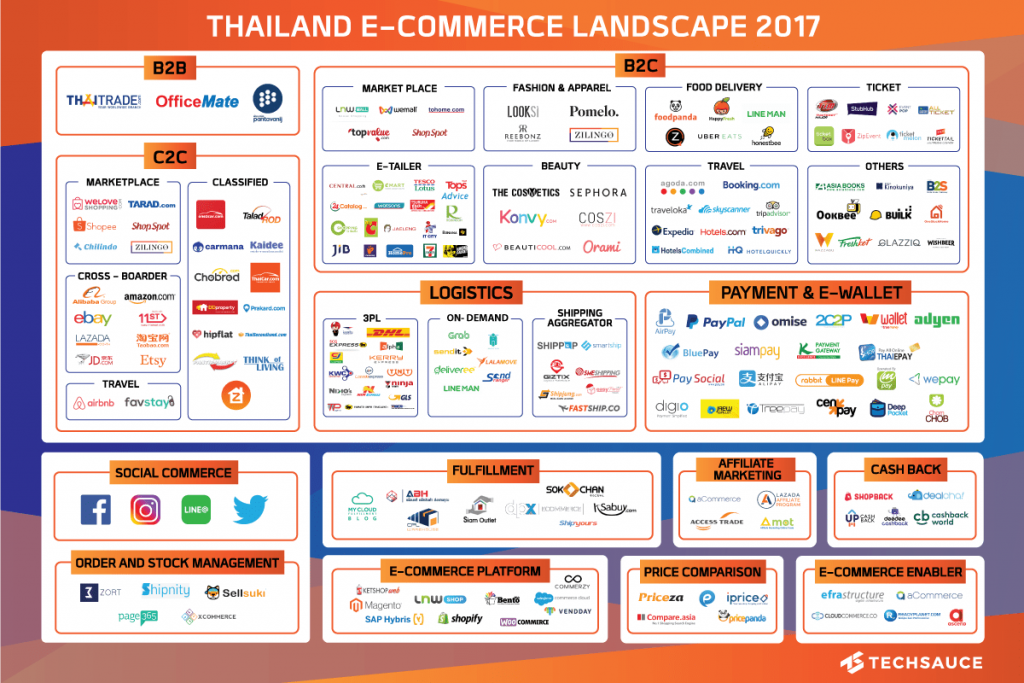 C2C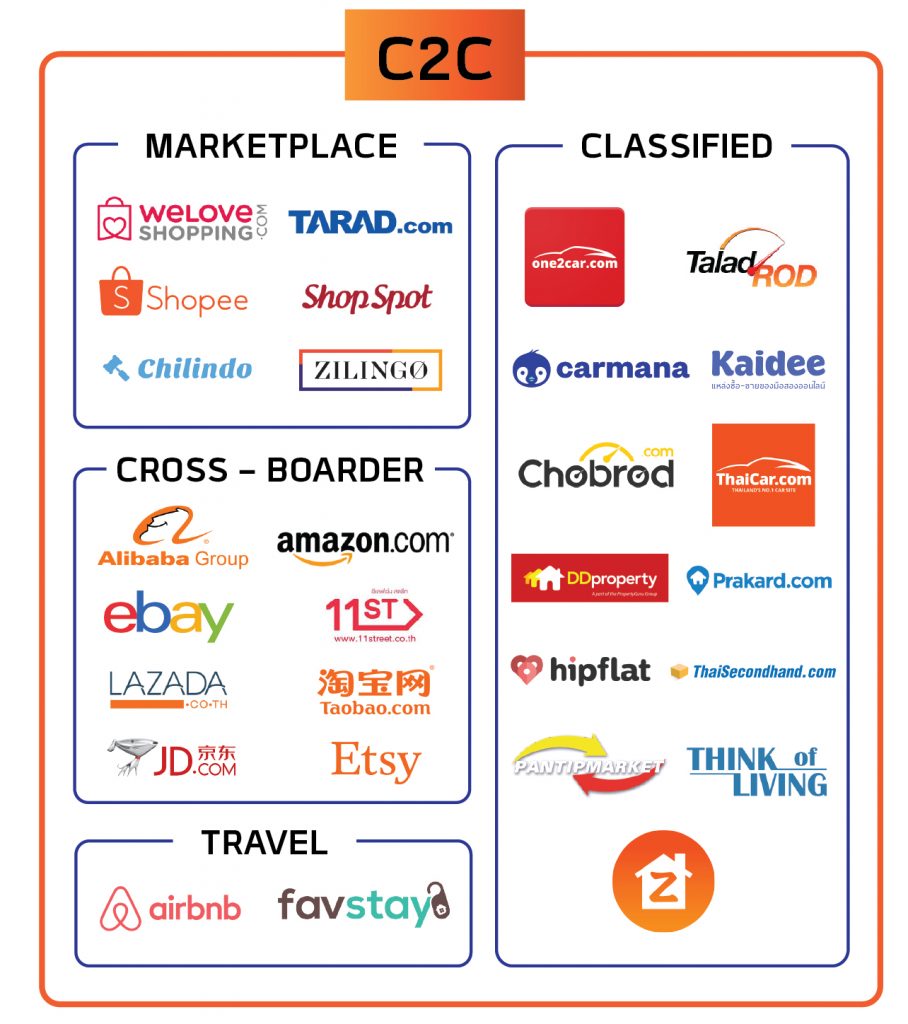 Let's start first with C2C where there has been many newcomers towards the end of 2015 such as Zilingo, which targets the SME group by focusing on fashion, and Shopee, a mobile application which launched at the same time.  In 2016 Shopee revealed its app was downloaded 5 million times and had 1 million orders per month.  These numbers clearly reflect the rapid growth of shopping via smartphones in Thailand. 
In the past few years overseas companies took a leading role in the e-commerce market.  This is especially true for Lazada, which grew into such a giant company.  So big, it caught the eye of Alibaba founder Jack Ma, who acquired it, increasing its value to $1.5 billion.  In addition to this, there was 11 Street, which invested heavily in its launch at the beginning of 2017.  It revealed the groups of products most popular among online Thai shoppers were Kid & Baby and Beauty & Health.
Buy-sell websites or apps are busier than ever with the likes of Kaidee and Pantip, along with house and condo selling site DDProperty, which has extended its channel to be a mobile app.  There is also Hipflat, prakard.com, Think of Living, ZmyHome, and sites selling second hand motorcycles.
The most interesting C2C group is the Travel category, which is dominated by Airbnb.  The online marketplace and hospitality service for people to lease or rent short-term lodging drew over 774,000 tourists to Thailand.  Over 300,000 Thais used the service on their trips abroad.  There is also Thai startup Favstay, which says it is a more active version of Airbnb focusing on vacation homes in Thailand.  It received investment from hospital company Dusit International in mid-2017.   
B2C

In 2017 the biggest player in the Fashion sector was Zalora, which changed its brand to LOOKSI after it was acquired by Central Group.  It changed its image to be more Thai and more accessible.  On the other hand there was Pomelo, a rather active startup that was launched in 2014.  After receiving a significant amount of investment from Central and JD.com, Pomelo has become a hot marketplace to keep an eye on.
In the category of Beauty, there is beauty leader Sephora which launched its website in 2016 by merging with Luxola, a website that sold leading makeup brands in Southeast Asia.  At the same time Indonesian startup Orami, a merger between Moxy and Bilna, secured 535 million Baht worth of funding from Facebook Co-founder Eduardo Saverin in 2016. 
The market that is seeing a lot of action is Food Delivery.  The market is getting crowded as Food Panda in mid-2016 announced was joining hands with Grab to expand its food delivery service even further.  LINE MAN, a merger between Lalamove and Wongnai, highlighted the strengths from each of the three businesses by targeting famous restaurants.  So far it has gotten a lot of attention from foodies in Bangkok and other provinces.  At the beginning of 2017 there was UberEATS, a branch of ridesharing Uber app targeting connoisseurs with premium Thai and international restaurants.  Other than these big players, there are more apps such as Zab Delivery, honestbee, and Happy Fresh making up the rest of the market. 
Let's take a look at the Travel sector led by Agoda, booking.com, Expedia, and Tripadvisor.  Despite the market being quite full, there are still new startups coming in such as Traveloka, a startup from Indonesia that emphasizes on the Southeast Asia region.  It won funding worth $350 million from Expedia, which increased its value to $1 billion, making it the latest unicorn to be born in the region.  Besides this, there is also Trivago, a search engine that compares hotel prices, backed by Expedia, a big shareholder of the startup.
Meanwhile there are many startups seizing opportunity in the Ticketing sector in Thailand as well.  First off there is Event Pop, which recently got a new round of funding from two big CVCs: Invent and Beacon VC, to develop its event organizing platform.  It provides complete event services from selling tickets online to marketing, event registration, and customer relations.  Another startup to keep an eye on is ZipEvent.  Since 2016 it has expanded its B2B business by extending its event organizing service to providing registration for In-event engagement and creating registration kiosks.  Ticketmelon is also an upcoming startup this year that provides the unique service of utilizing RFID cards which use radio waves to make payments for purchases at an event.  The cards come in the wearable form of wristbands, making it easy for people to participate more at events.
Startups that do to fit in the mainstream categories have also emerged.  They include Freshket, a fresh produce online marketplace,  BUILK.com, a business selling construction materials online, OneStockHome, another online construction seller, and wazzadu.com, a platform showcasing construction material and interior designing shops in Thailand. 
Big corporations have also decided not to miss out in the e-commerce market.  There is Central Group opening its online websites for Central department store, Tops supermarket, and Robinson department store.  There is CP Group setting up websites for Tesco Lotus, 7-11, and 24Catalog.  Lastly ThaiBev bought BigC and Cmart.  
Payment & E-Wallet
The most competitive e-commerce market you could say is FinTech groups Payment and E-Wallet.  So far there has been an massive move from banks and private companies coming out with their own platforms.  There is so much going on that if Techsauce were to talk about everything, this article would not end.
Let's start with Omise's great success in raising funds for its ICO.  It's digital coin OmiseGO (OMG), is now among the top 12 digital coins in the world.  In mid-2017 it acquired Paysbuy.  Meanwhile the latest 2C2P to launch in the Social Commerce sector is Qwik, which provides payment services via Facebook Messenger.  There is also Alipay from China that merged with True money to invade the market by accepting payments through 7-11 convenient stores.  It's goal was to have up to 100,000 points for payment by the end of 2017. 
Another aspect of payment online that cannot be overlooked is providing refunds for online payments.  A startup that has recently targeted this niche market is Shopback, with its cash back service.  Customers who purchase items from the app's partner can get their refund automatically via an e-wallets. 
Logistics
Another sector that is getting hot is Logistics.  Techsauce has compiled information on startups in the 3PL group that include Thailand Post Company, Kerry Express, Ninja Van, Nim express, and On-demand groups.  There are also businesses that focus on delivery within 1 hour such as Alpha, Grab, Line Man, Lalamove, SCG Express, Send it, Skootar, and Deliveree.  In addition to these two groups of businesses, is the service of providing a network of delivery information and coordinating communication between customers and delivery companies.  The startups providing this support are Giztix, Shippop, Smartship, and SME Shipping.
Social Commerce
Social commerce in Thailand is driven by social media giants Facebook, Instagram, Line, and Twitter.  Many online shops now depend on these platforms by posting photos and details of products and accepting orders through inboxes.  This new way of doing business  is so popular it has taken up 50% of social commerce purchases.
E-commerce Enabler
Finally after grouping all of the following e-commerce startups, Techsauce cannot leave out providers of digital infrastructure solutions for e-commerce businesses.  Whether it is marketing ready-to-use platforms such as Efratructure, ReadyPlanet, and Ascend, a spinoff of True Corporation.  Other than these platforms, there is aCommerce, a complete service provider of End-to-End E-commerce by using B2A (Business-2-All).  The latest round of funding the startup receive was 2.14 billion Baht from Emerald Media.
Techsauce hopes this has given you the big picture of what the e-commerce landscape is like for Thailand.  It is growing and changing the lifestyles of Thais now and for the future.  New startups are sure to come and increase in great numbers in the years to come. 
Techsauce has made a great effort to include all e-commerce startups.  If there is any startups missing or there is a need for an update you can always contact us at [email protected] and we are glad to update our report.
Join us at Techsauce Global Summit 2018!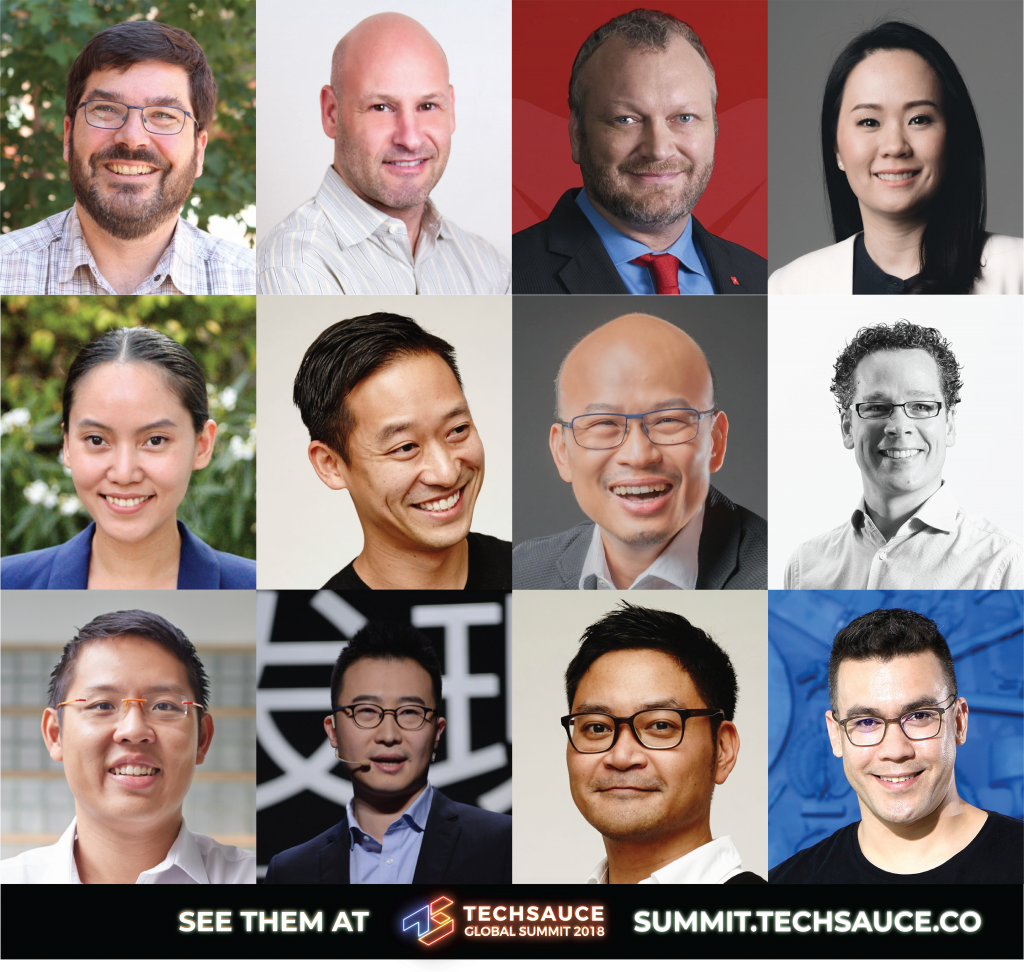 Want to know more about the startup world? Join us at Techsauce Global Summit 2018 at Centara Grand, Central World, June 22-23, 2018.  For more details go to https://summit.techsauce.co/