Marketplaces might be difficult business to run. Like all multi-side platform businesses, they suffer from the classic chicken and egg problem. The technology has no value unless buyers and seller are present. In this article from techsaucesummit 2016, you can learn from the experts what are the key success factors when you want to launch marketplace platform in South East Asia.
Background Mr. Pawoot Pongvitayapanu (Pom), Managing Director and Founder, TARAD Before he started tarad.com in 1999, he started C2C market called thaisecondhand.com. The customers usually asked for some platforms that helped them sold their products. Therefore, he started tarad.com in term of B2B2C market. In 2009, Rakuten came and bought the majority mindshare. However, in early this year, Rakuten was out from Southeast Asia and he decided to buy everything back.
Mr. Patai Padungtin, Principlel/Evangelist of Buik Builk was launched in 2010. He provided the free software as a service. It was called the ERP platform for construction. This software was launched for free. His business model was shifted along the way, from advertising model to a big data. He could analyse the data in the construction industry. It benefited for construction manufacturers. After that he knew he could not sell only a big data. Then the model was changed to e-commerce. They could match the demand with the users' side to the supply. He connected the construction companies and manufacturers together. Furthermore, he launched the online construction store, called yellow smart purchase (B2B construction e-commerce); acting like a middle man, no warehouses and getting partners. This year he launched "J' Joo Wasadukosang" campaign. He helped them sell their materials.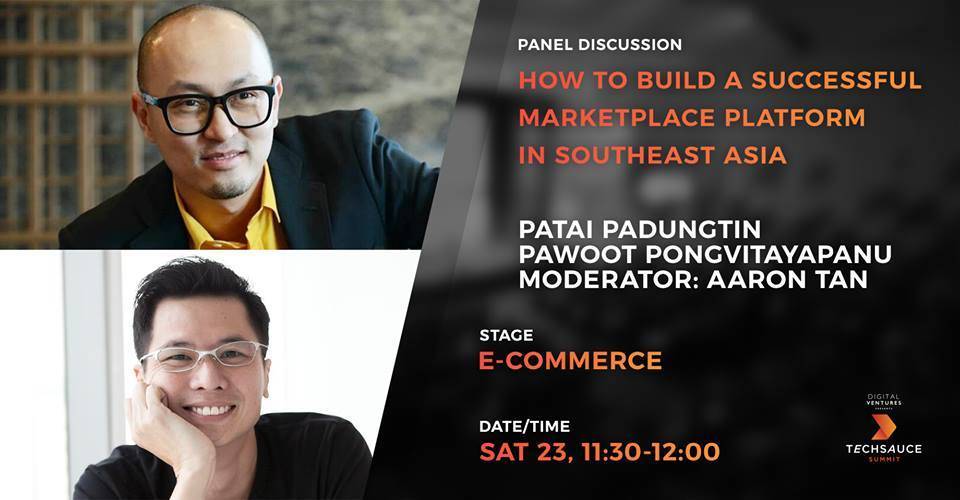 How do you track the success of your company?
Mr. Patai - His business model started from building a real software for construction company. You needed to think about 4 components which are
Traffic

- How can you grab the traffic?

SKUs

- It has to be a place that contains so many products. Last year, he tested his models with 30 products. He had limited chance to sell. He found that he needed to have variety products.

Logistic

- He cannot use Lalamove bike to send the bricks/steals to his customers. So he needs trucks. The customer also don't want the dirty products. Moreover, he cannot use COD (Cash on delivery) because the value/price of each order is quite high.

Financing

- 80% of his transaction is credit terms. He has the financing support from the bank. He provided credit term service, gave the customers construction credit scoring and let them go to bank easier.
Now his company contains 40,000 construction companies. He contributes a lot of data which is about what they want to buy in the near future. He see the demand and provide the right price at the right time.
Mr. Pawoot - In the past, e-commerce in Thailand looked like a catalog model. The customers didn't buy the products online.  When Rakuten came, it was changed to commission model. This means we are the 1st company which get the commission from the marketplace. He earned a lot of revenue. However, he burned a lot of money as well.
So the KPI changed to GMV. He had the traffic and the important thing was the conversion. Until the e-commerce competition was booming; people kept spending money but Tarad is the company who stuck spending money. Finally, he decided stop burning it.
This year, there were many companies shut down such as Ensogo, Groupon and etc. In Southeast Asia, many things are changed. But some countries such as India still be in the money burning game. In Southeast Asia, we have big guys like Lazada/Alibaba. It's clearly that no-one can fight with these big guys.
Other important points.
Mr. Pawoot
Mr. Patai
What do you think about the marketplace actually on Facebook?
Mr. Pawoot: C2C and social commerce is very big in Southeast Asia. Don't be scared, you just jump into, bring the social media and integrate it with your platform. You cannot stand alone.
What is the biggest challenge for SMEs if they want to start their own vertical e-commerce business?
You have to study the market and competitors. It depends on your industry such as construction which has construction marketplace already. For Seafood marketplace, it's a very huge market in Japan and Taiwan. Moreover, he suggested not only focused on domestic market but also international market as well.