Fifty-five Thai coworking spaces were surveyed in this report by Techsauce and CAAP which reveals many interesting insights from the co-working space scene. Five to six years ago, several factors came together at just the right moment to spark rabid growth in Thailand's startup ecosystem, enabling Thailand's first tech startup event to grow from a gathering of 120 people to a regional-level tech conference with over 3000 attendees within just 5 years.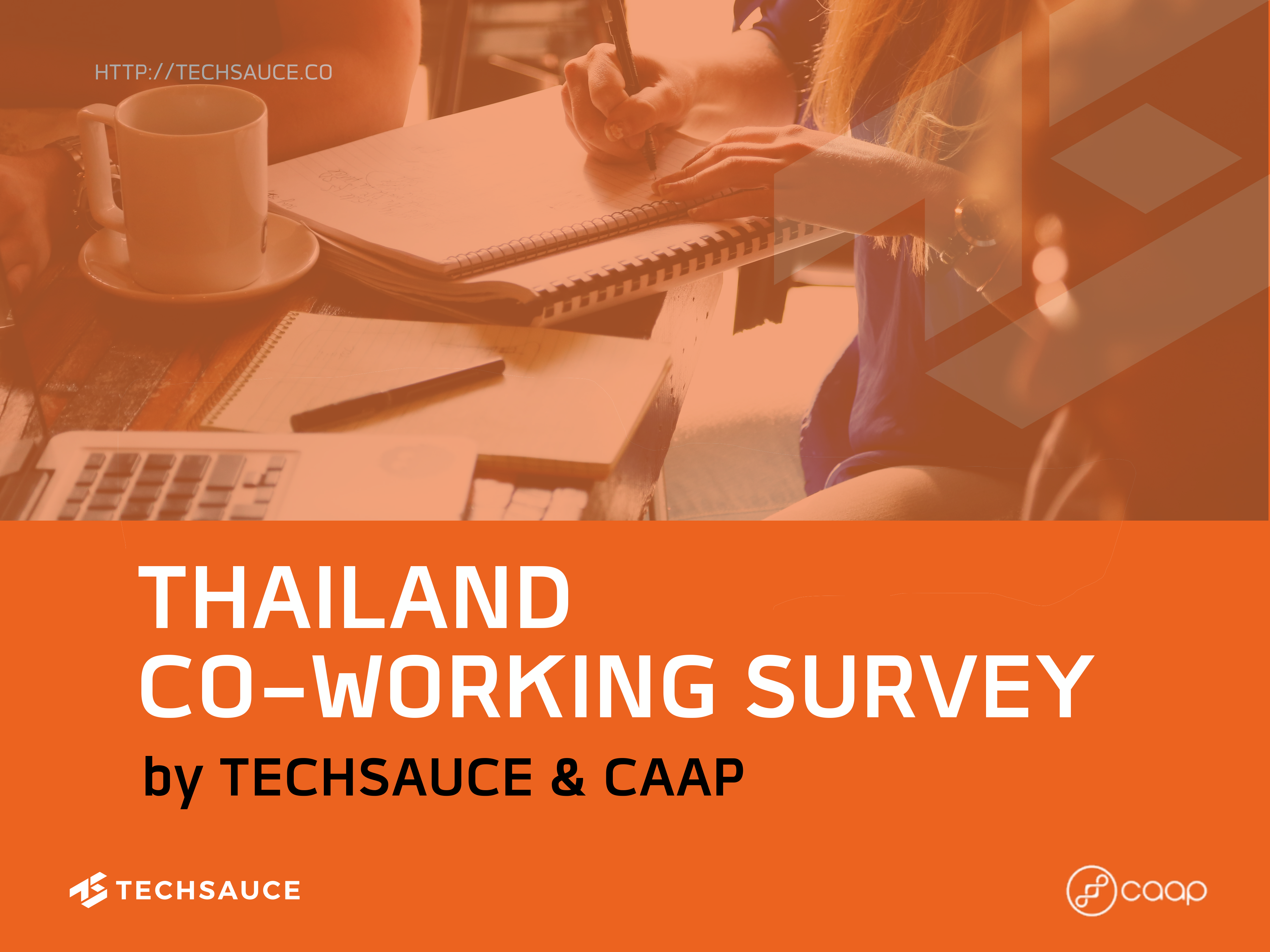 For coworking, it was the infamous Great Bangkok Flood of 2011 that led two brothers, Charle and Amarit Chareonphan, to seek out an alternate office solution when they were flooded out from their own offices, which in turn led to the start of HUBBA - Thailand's first coworking space geared toward tech startups. With their passion for community-building, the two helped to spearhead Thailand's coworking space movement which soon blossomed into what has become one of the country's largest startup community-building initiatives today with many co-working spaces, niche spaces such as co-making spaces and duel concept-spaces such as "cafe x coworking" or "hostel x coworking" sprouting up all over the city sweeping Bangkok into a co-working craze.
Coworking spaces throughout Thailand were surveyed for this report, including 39 in Thailand, 7 in Chiang Mai and in Khon Kaen, Pattaya, Krabi, Phuket, Koh Phangan & Hat Yai. Some interesting insights are revealed in this report:
The majority of coworking spaces (36 out of 55) opened during 2014-2015. Only 9 have been opened recently (i.e. less and 1-2 years).
Almost three-quarters of them (76%) are open more than 10 hours a day.
Some offer desk-type seating, some organize their spaces in other ways or maintain open spaces for more flexible purposes such as cafes or event venues, etc.
4% have closed down their business, because they couldn't reach the intended market (Possible because of their location); a few have also shifted their type of business because they found more profitable products.
About 1/3 of them (19 of these spaces) offer 20-50 seats; most spaces are small and primarily focused on hot desking. They started their business with very basic funding.
Meeting rooms are usually more profitable than hot desks, and at least 44% of these spaces offer meeting rooms.
Most co-working spaces have found that location is the best selling point!
Daily rates vary from 160 THB - 450 THB, and monthly rates from 1200 THB - 8700 THB.
Most of the co-working spaces don't have a membership system. Some of them take private offices as members. Many of them did not have a membership system when they first started and only implemented it later. Surprisingly, most do not offer additional benefits for those who have purchased a membership package.
Amazingly, 58% said most of their customers found out about them through social media.
Most of them said they are breaking even & being financially sustainable, but at the same time don't make a huge amount of money from it.
We are doing good business, but it isn't enough of a trend yet to earn a large amount of cash.
In their opinion, location is the best selling point - most of their customers travel to the space via BTS or MRT. Those in the vicinity of department stores, schools, universities have an advantage because they draw tutors, students and parents.
Loft style co-working spaces are the most popular type of design (11 out of 55). Customers prefer the casual, homey & mysterious yet stylish feel that fuses creativity & productivity.
The big surprise: Most co-working spaces are not actually geared toward startups! Only 10 in this survey were geared toward startups. The top three customer groups are students, freelancers & the general public. Yet only 4% of the coworking spaces offer student discounts.
Less than half of them actually identify primarily as co-working spaces. Some other popular identifications include serviced office, meeting rooms, cafes, co-living or co-making spaces and workshop & event venues.
https://www.slideshare.net/techsauce/thailand-coworking-survey-by-techsauce-caap
About CAAP A wider coworking community, The Coworking Alliance of Asia Pacific (CAAP) unifies, supports and promotes collaborative coworking across the region. It counts many coworking spaces and community spaces among its members, including HUBBA Thailand, HUBUD (Bali), The Working Capitol & Collective Works (Singapore), TAO HUB (Koh Tao, Thailand), @CAT (Penang), and numerous other spaces in Cambodia, Indonesia, Australia, and even Saudi Arabia.
About Techsauce Techsauce is the leading source of all tech and business news in Thailand and Southeast Asia. Our on-the-ground reporters and home field advantage make it the home of unique insights, analysis, opinion pieces and data on one of the most mature digital ecosystems in Southeast Asia. Techsauce was born from the partnership of two titans in the Thai technology startup industry, between Thumbsup, the leading technology media in Thailand, and HUBBA, the biggest coworking space network in Thailand. At Thumbsup and HUBBA, we believe that through the combination our different expertise in media, events and community, together we will become a stronger force to drive the Thai startup ecosystem.
Techsauce also hosts Thailand's largest international startup conference annually. This year's Techsauce Global Summit 2017 will be held at Bangkok's Centara Grand Convention Centre on July 28-29, 2017.
See a full list of speakers and full info here: http://summit.techsauce.co
Book your tickets today & save! BOOK NOW
To reserve spacing for booths, contact us at [email protected]