KASIKORN BUSINESS-TECHNOLOGY GROUP (KBTG), a leading technology company, has debuted new contactless technologies for bill payment to be in step with Thai people's 'New Normal' way of life. The service is now available at the KBTG Building, Chaeng Watthana, and will be offered at Black Canyon outlets. The company plans to extend the service to other businesses in the future.
Mr. Ruangroj Poonpol, KBTG Chairman, noted that the COVID-19 pandemic has obviously affected the lives of Thai people, as they have increasingly shifted to digital spending. As evidenced, the number of accounts opened via K PLUS has been surging over the past three months. Meanwhile, contactless technology has played a pivotal role in helping to mitigate the spread of the coronavirus, as it favorably accommodates the 'New Normal' in Thai society.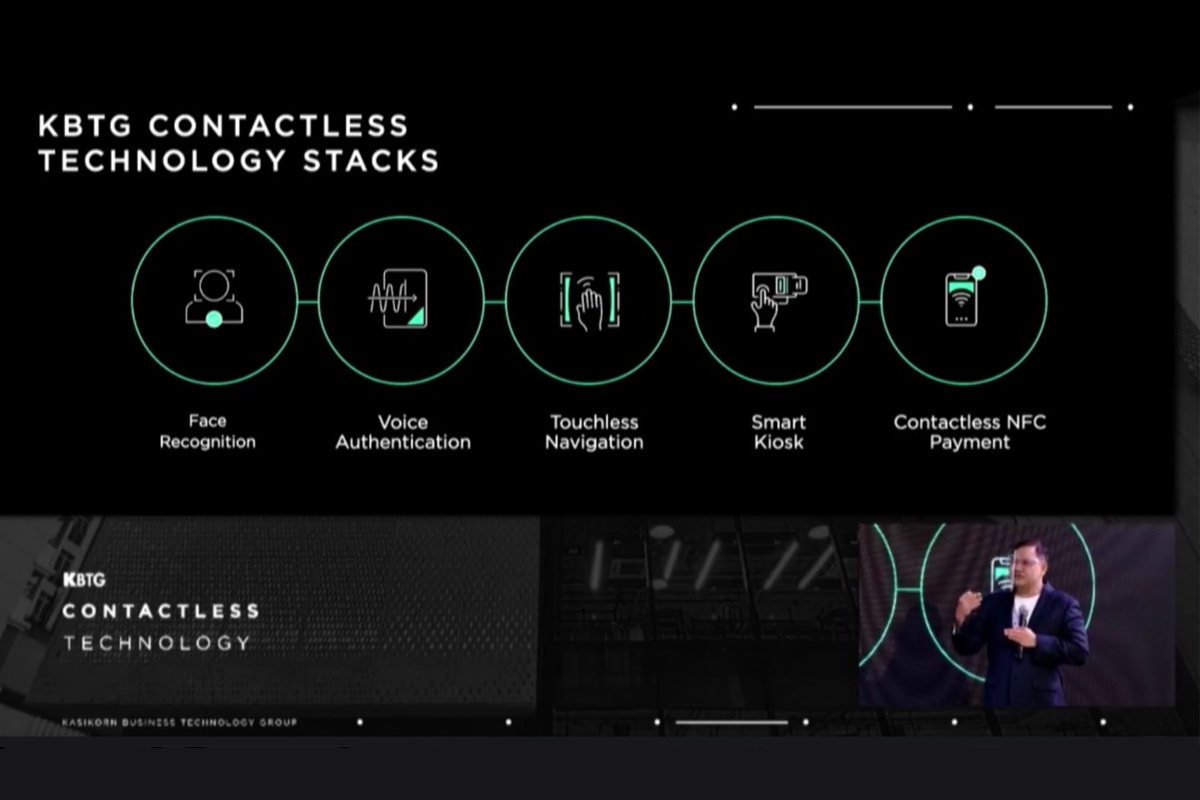 KBTG – the IT arm of KASIKORNBANK – has developed six new contactless technologies which include:
1. Face check-in: Facial scanning technology for identity authentication even if the service user wears a surgical mask. To facilitate the current 'New Normal' lifestyle in Thailand, this technology also features alert notification for service users who do not wear masks.
2. KLox: A locker service for service users, who can open/close lockers via contactless facial scanning. The service is now available at the K+ Building, Samyan.
3. Eat by Black Canyon: A self-payment kiosk service, which has been jointly developed by KBTG and Black Canyon restaurant, with the aim of fostering a 'New Normal' environment in the Thai café and restaurant industry. The self-payment kiosk features a contactless menu system, which requires hand gestures for instructions, without the need to physically touch the screen.
4. Contactless Menu: A contactless food order system via tablet, which can detect hand gestures of the customers as they give instructions.
5. Face Pay: Payment service via facial scanning for service users to confirm account debit. The service is fast and secure, needing only two simple steps.
6. ReKeep: A new digital receipt service for stores. Their customers can receive a digital receipt by scanning a QR Code, which helps reduce touching and global warming because the service is paperless.
Mr. Ruangroj added that KBTG aims to create innovative technologies amid the COVID-19 situation. It has initiated the development of these new contactless technologies to keep the Thai population safe from the contagion. This initiative has been launched alongside attempts to restore and reinvigorate economic potential and businesses. Adjustments have been made to the concepts, visions, management styles and habits of various businesses, starting with restaurants and carried forward into banking circles – with KASIKORNBANK set to embrace the status of the 'Future of Banking'. Moreover, KBank is now prepared to expand on contactless technology and make these new features available to businesses in the entertainment, fashion and health industries in the near future, as part of the so-called 'New Normal'. As time passes, these new contactless technologies will become familiar to us as they are integrated into the everyday life of people in our society.