KK Fund, a Singapore-Headquartered venture capital fund investing in seed stage internet and mobile startups across South East Asia, Hong Kong and Taiwan, is launching our first Meet your Match Thailand session which is an initiative to match investors to Thailand-based startups in light of the uncertain situation due to the Covid-19 virus. In order to support the startup ecosystem, KK Fund has signed up more than 20 investors to participate in this initiative to connect Thailand startups with potential investors.
In light of the Covid-19 pandemic, governments in various countries have enacted measures that severely limit traveling. For example, Singaporeans and long-term pass holders are advised to defer all non-essential travel abroad. Those who choose to travel abroad regardless will have to pay full/unsubsidised hospital charges if admitted for coronavirus-related treatments. While these measures are enacted to mitigate the pandemic, it nevertheless resulted in fewer face-to-face meetings between startups and investors.
KK believes that we should not let the current situation stand in the way of promising startups meeting potential investors. As such, KK Fund launched the "Meet your Match" initiative for startups and investors to meet online.
First "Meet your Match" session
The first session will be focusing on Thai Startups.
Participating VCs include 500 TukTuks, Aucfun, Add Ventures, Beacon Ventures, BonAngel Venture Partners, Burda Principal Investments, CAC Capital, Cento Ventures, Colopl Next, Cyber Agent Capital, Denso Thailand, Expara, Golden Gate Ventures, Insignia Venture Partners, KK Fund, Krungsri Finnovate, Monk's Hill Ventures, Openspace Ventures, PTT, Sequoia, Spiral Ventures, Sumitomo Corporation, Toyota Tsusho, and Vertex Ventures.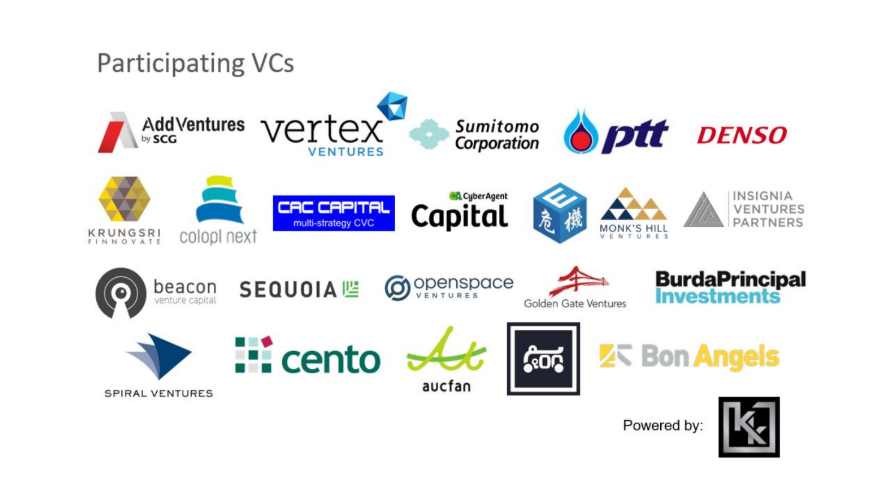 Application process
1. Thai startups to submit the application (From 27th March 2020, 12:00pm Thai time to 10th April 2020, 12:00pm Thai time)
Fill in the necessary information in the Google form link and indicate which investor(s) you would like to connect with
We have shared the investor's funding mandate for startups to better identify which investor(s) will be best suited for them.
2. List of interested startups will be sent to the investors. If the investors are interested in any of the startups in that list, an online session will be arranged between the investor and the startup
"Meet your Match" Session FAQ
1.Application is only for
Startups based in Thailand
Startups having operations in Thailand and at least one of the founders is based in Thailand
2.Sharing the contents
Please Do Not share the video contents on Social Networking Sites but we encourage you to share the picture of the meeting scene with the hashtag "#meetyourmatch" after confirming with the investors.
3. Logistics
Upon successful matching, an online session over zoom will be arranged by the investor with the startup
Investors and startup are encouraged to keep to the session to under 30mins (20mins for presentation and 10mins for Q&A)