Impact Collective, a community-driven global accelerator for startups working on creating impact in Asia-Pacific under the UN SDGs, has launched the 2021 program and selected 50 promising startups from 13 countries in the region to partake in a 10-week virtual program.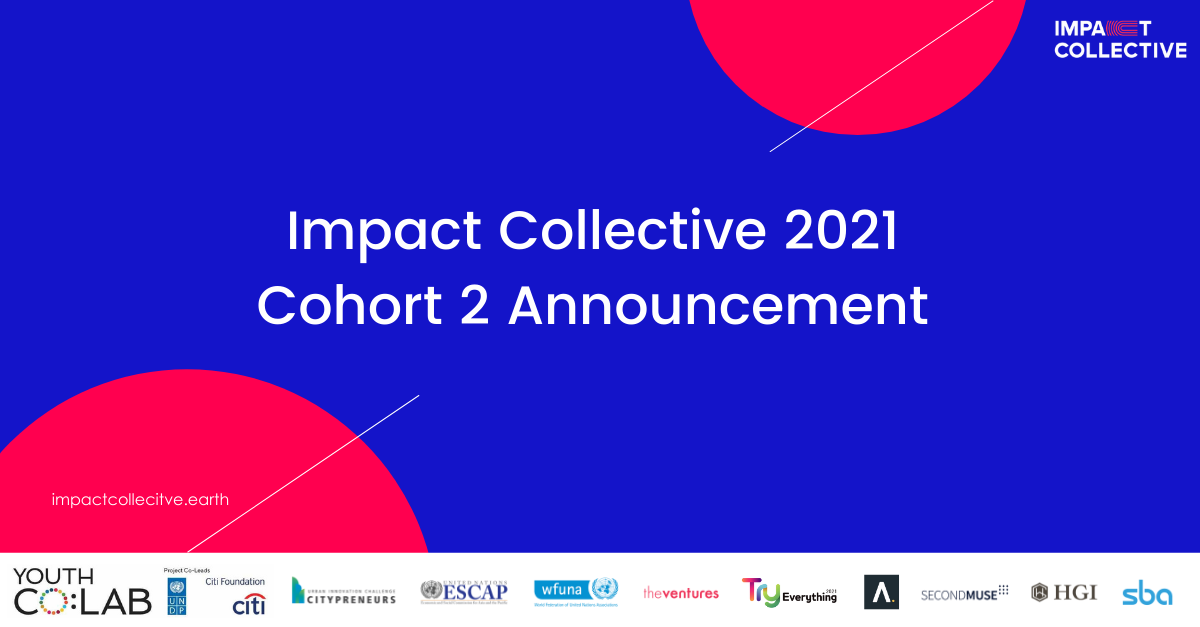 Selected teams will receive mentoring from 70 industry experts; participate in workshops on impact-profit alignment, work with policymakers and ecosystem builders to explore pilot opportunities in Asia Pacific cities, and network with experts and investors to further develop investment opportunities.
Startups will also leverage the program's blockchain-powered platform to gain votes from Impact Collective's 1,200 community of impact makers, who play a hands-on role during the entire acceleration process, including in selecting participants for the program and investment decisions.
"We adopted the community-driven approach for the entire startup acceleration process. Regardless of their background and whether they are investment professionals or not, members of our society 'collectively' have the intelligence to tell which companies better impact our society and, ergo, which ones are best-suited to receive investments and community support. We believe this will enhance diversity as well as greater financial performance," says Changseong Ho, Co-founder of TheVentures.
The diverse group of teams was chosen from hundreds of applications from 39 countries around the world. In line with the UN SDGs, the startups are tackling the most pressing economic, societal, and environmental issues in the world with their innovative solutions in areas including agro climate, green packaging, food waste management, circular commerce, ed-tech, wave energy, and digital healthcare.
At the end of the program, startups will participate in a Demo Day on November 8 - 10 to showcase their business to a group of leading venture capitalists, seasoned entrepreneurs, business executives, ecosystem builders, academia, and Community Voters from the Impact Collective Community. The top 10 teams with the most votes will receive USD 50K - USD 500K from the Impact Collective fund to accelerate growth in the market.
The accelerator is powered by TheVentures, Seoul-and-Singapore-based venture capital, Citypreneurs, an UN-backed growth initiative for startups to scale the UN SDGs, and Weave, a creative collective. It has backing from industry-leading companies and seasoned entrepreneurs including Hashed, HG Initiative, Kakao Corp, Krafton Inc, Neoply, and SecondMuse.
In 2020, 84 teams from 39 countries joined the acceleration program. Eight startups successfully raised a total of US$ 7.5 million in funds, 60% of which were women-led.
For updates regarding the status and news about Impact Collective, please visit the official website and social media accounts:
About Impact Collective
Impact Collective is a community-driven investment & acceleration project for impact-driven startups focusing on opportunities in Asia Pacific. We invest in, support, and connect startups that are solving global challenges to accelerate positive impact in the world. The program is hosted virtually from 4 innovative cities: Seoul, Ho Chi Minh City, Singapore, Bangkok. For more information, visit https://impactcollective.earth
Contact Yuree Lee/ [email protected]