Bosch helps to tackle air quality issues in Thailand by supporting the Baan Soo Foon research project, a residential model initiated by the Chiang Mai Breath Council that focuses on green management in households. The Baan Soo Foon project aims to mitigate air pollution and small dust that plagues Chiang Mai, one of Thailand's most polluted cities, by using specific types of plants to capture small dust. The air quality monitoring box by Bosch plays a key role in validating this project by way of delivering real-time data values processed by high performance sensors, which is essential in deriving and implementing measures to improve air quality.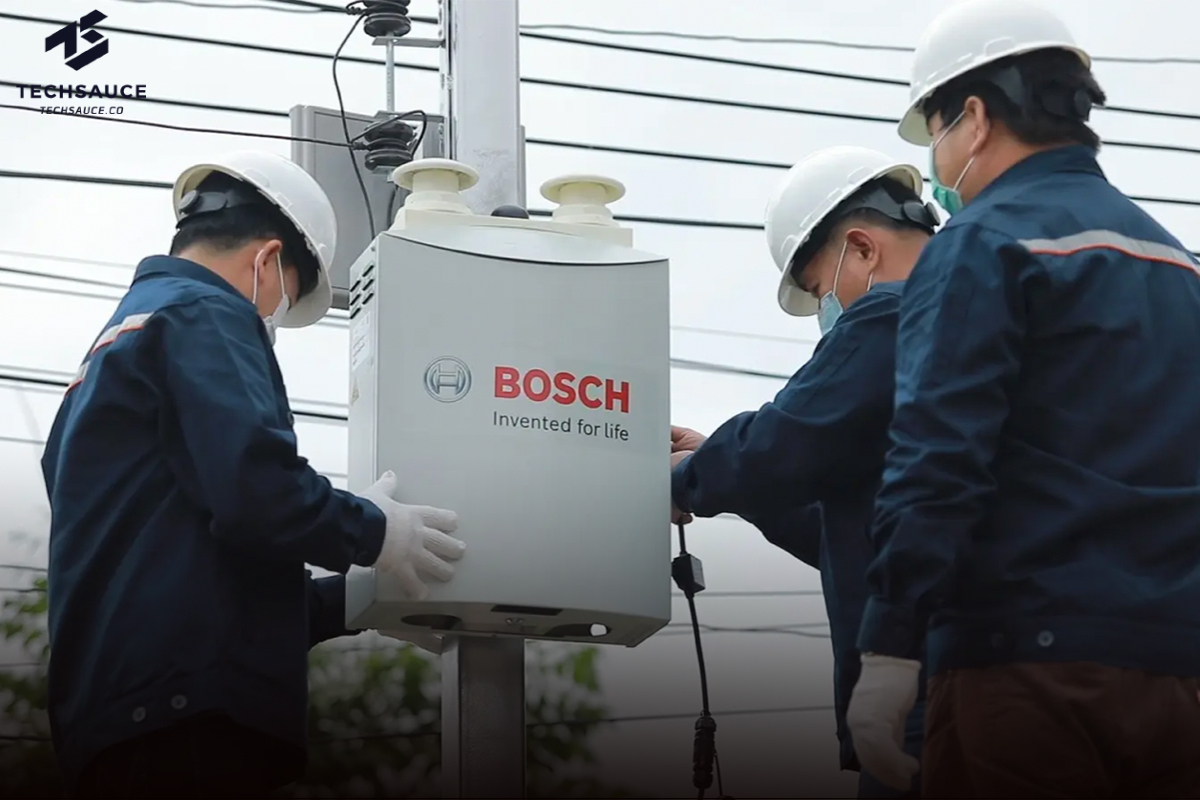 In November 2021, Bosch air quality monitoring boxes were installed in the Muen Sarn community to measure ambient air quality, especially PM2.5 levels. In collaboration with Chiang Mai University's Environmental Science and Research Center, Bosch also supported with installation of DustBoy – a mobile, sensor-based dust detector developed by the university's researchers, to measure the air quality within the households that volunteer to grow plants to reduce PM2.5 concentrations.
The Bosch air quality monitoring box collects real-time data on pollutants from the sandbox area to be analyzed, helping researchers determine the specific plant types that are able to absorb PM2.5 particles. The findings show that plant species that are acicular (needle-shaped) and have thick, rough, and hairy leaves are more efficient in absorbing PM2.5, a result that would allow for the creation of more green spaces to mitigate the effects of pollution, thus help Thailand enjoy cleaner air and a better quality of life overall.
Joseph Hong, managing director of Bosch Thailand and Laos said, "Bosch continues to develop technologies that improve the quality of life – and the air quality monitoring box is one such example. As air pollution is a growing concern and poses serious health and environmental risks, I am pleased that this innovation is able to support the realization of a future with cleaner air."
Assoc. Prof. Dr. Somporn Chantara, director of Environmental Science Research Center, Faculty of Science, Chiang Mai University, said, "Our collaboration with Bosch Thailand has enabled us to gain access to the technologies that help monitor the situation of the air quality index more efficiently in specific areas. It provides our researchers with instant reliable data to verify if dust-absorbing plants can help improve air quality."
Sureerat Treemanka, vice chairman of the Chiang Mai Breathe Council, said, "The "Baan Soo Foon" project is aimed at encouraging all sectors to work together to control air pollution. If all sectors help one another, we will be able to address air pollution more effectively and revive Chiang Mai to become a more livable city."
Bosch technology helps cities mitigate air pollution and PM2.5
Identification of pollutants as well as the ability to access real-time high-quality data quickly and easily from various locations is key in air quality management. Bosch air quality monitoring box is part of Bosch air quality solutions for cities and industries. The tiny box that combines Bosch sensors and software capabilities enables real-time and reliable measurement of air quality information covering key air pollutants, including particulate matter and environmental parameters, and constantly sends their local measurement data to the Bosch cloud for analysis and further processing by means of Artificial Intelligence (AI).
Air pollution is largely contributed by land transport
A study by Thailand's Pollution Control Department, Ministry of Natural Resources and Environment found that land transportation vehicles are the primary source of fine particulate matter (PM2.5) in Bangkok and its vicinity (as of May 2021); while open-system biomass combustion, shifting cultivation, and forest fires are major contributors of harmful air quality in Northern Thailand. As urbanization increases the demand for land transportation in one of Thailand's major tourist destination – Chiang Mai – help in controlling air pollution necessitates active cooperation from all parties.
Bosch has been working on solutions to achieve sustainable improvement and reduce emissions as much as possible. Pursuing an open-technology approach, Bosch provides a range of alternative powertrains for more energy-efficient mobility. Other Bosch technologies that can help reduce air pollution also include new brake systems with less brake dust, connected mobility services for efficient road traffic, and automated driving systems.
"Bosch is shaping the future of mobility amid the global rise in urbanization, including Thailand. Mobility must be convenient, safe, and sustainable, protecting our lives and health. Sustainability is also anchored in our products as we develop diverse powertrain solutions to cater to various mobility needs for lower emissions and cleaner air, ensuring sustainable improvement in people's overall quality of life," Hong concluded.