In the booming age of technology, it is undeniable that e-commerce is a rapidly growing business sector, particularly in recent years in Asia. However, despite many businesses wanting to expand online, many do not have the expertise, manpower or funding to do so independently. This is where startup aCommerce comes in: a B2B model that works as a one-stop destination for all e-retail services in the region, with solutions ranging from channel management to warehousing to payment options, meaning that businesses can succeed online without having to stress about independently setting up and managing their e-commerce systems.  

How it all Began
Launched in May 2013 under the CEO and group CEO Tom Srivorakul and Paul Srivorakul, the founders of aCommerce are a group of entrepreneurs from Ardent Capital who together have successfully formed three other startups prior to aCommerce. Together, the team saw a large problem in the e-commerce sector of the Southeast Asian region, ranging from the diversity of the market to the variety of distribution channels to low credit-card penetration rate, making it difficult for businesses to successfully run and manage e-commerce systems that retain a consistent level of quality. With experience in technology, marketing, finance and operations under their belt, the team aims to make e-commerce as easy as possible in Southeast Asia by creating technology that can provide solutions to the various stages of the e-commerce chain.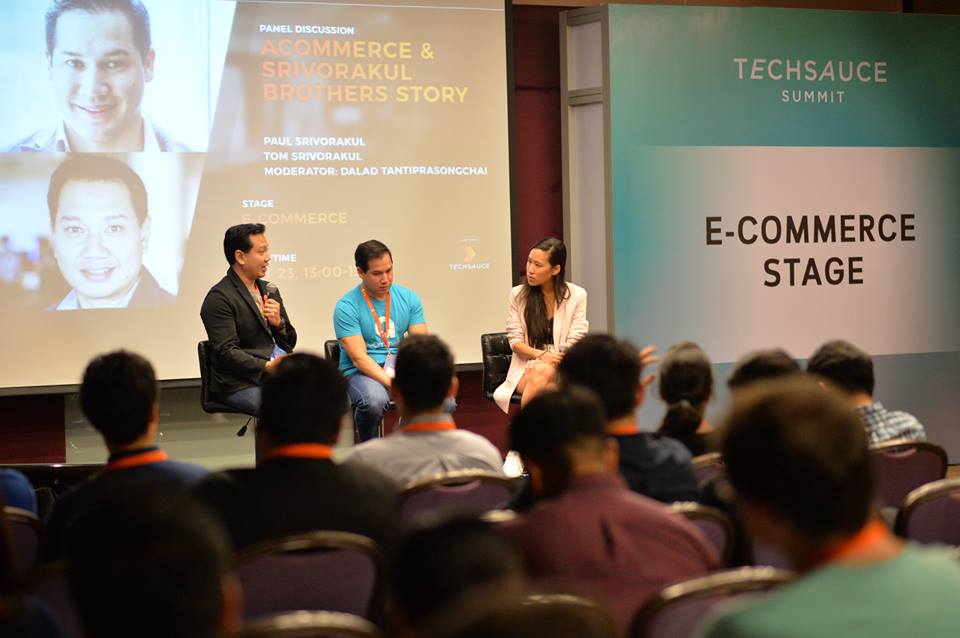 Tom and Paul Srivorakul appeared at Techsauce Summit to share their advices and stories
What it does
While most of what aCommerce provides includes management and development services like technology development, channel management and cross-border management, the brand also provides PR and communication services, plus customer services in the form of social media management, live chat, personal call centres and more on behalf of their clients. They also provide last-mile delivery to companies including Lazada.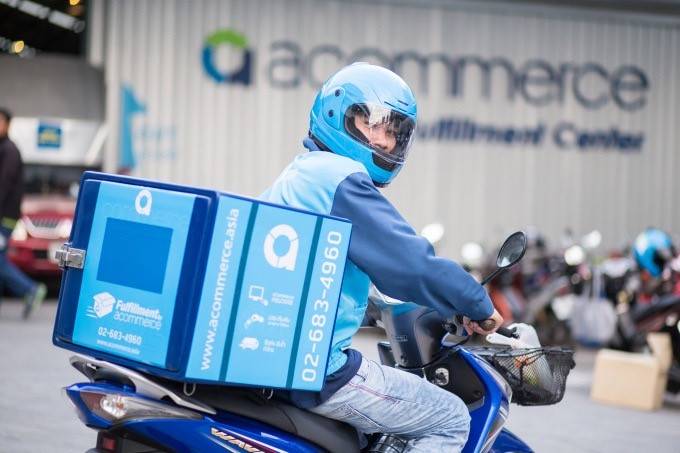 Milestone successes
The company's track record is impressive to say the least, having received a whopping $10.7 million in their series A funding, a record-breaking value for Asia, that was paired with an additional $5 million during a bridge round in May 2015. So far in 2016, the firm has also landed a $10million funding in June, a fund that comes in ahead of the planned series B raiser later this year which also aims to draw in an approximate of $30million. In total, aCommerce have accumulated nearly $50million in the short three years since its launch, an impressively staggering amount that the firm says will be used to further expand their market, technology and solutions.
Back in December 2015, aCommerce formed a strategic partnership with market expansion services provider DKSH, who acquired 20% equity of the startup while providing an undisclosed funding estimated to be around $20-25 million. This was followed by their most recent partnership in October 2016 with the mobile marketing analytics platform Appsflyer. The two organized a mobile commerce workshop that was part of the company's "aCommerece Academy", the training arm of the startup, which focused on topics such as whether mobile application is the best strategy for their business, what digital methods are best for boosting their success, how to improve mobile-first campaigns and so on. These two partnerships with Appsflyer and DKSH are just a couple amongst the large amount of partnerships that aCommerce have formed since its inception.
On top of the investments, the brand has now expanded into Indonesia and the Philippines in the few years since its launch, with hopes to step into Vietnam, Singapore and Malaysia in the near future. During that time, they have gathered some of the region's top-name clients including Lazada, Zalora, Line, AIS, Nestle and more, as well as also being partnered with global technology giants including Google, Facebook, and DHL.
Closing Thoughts
Despite the fact that e-commerce still makes up just 1% of the total retail sales in the region, studies show that it is growing at a 38% rate per year in Southeast Asia. With hopeful signs like Alibaba investing $1 billion into Lazada, it's safe to say that aCommerce have targeted a sector that is definitely growing and will continue to do so. Their provision of quality solutions at all stages of the e-commerce chain means that when the Asian market completely peaks, aCommerce is bound to be one of the leading players that come out on top alongside the market's growth. If and when Amazon decides to focus on the Asian market, they'll know who to call.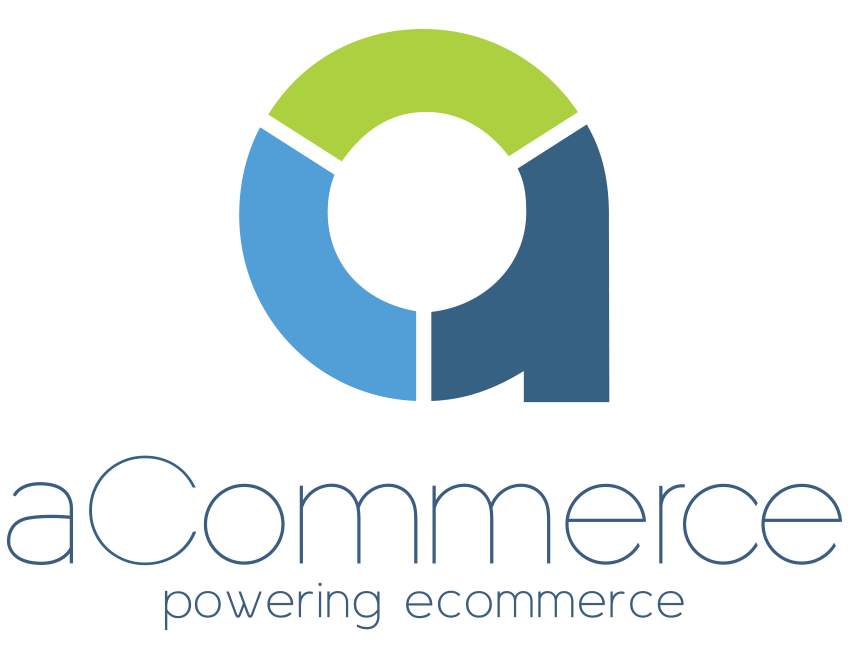 This article is a part of our B2B series. Why is it interesting to talk about B2B? Check out here.