Powered by NTT Ltd., the leading global technology services company under NTT Incorporated (NTT Inc.), NTT Startup Challenge is back for its 4th year. Carrying the theme "Smart World Through Digital Transformation", NTT Startup Challenge 2020 will highlight how digital innovation transforms the world into a better place through a pitching competition and speaker sessions. In this event, NTT will support startups in Southeast Asia by giving them access to global investors, NTT's investor network, cash prize, fun awards, and strategic collaboration.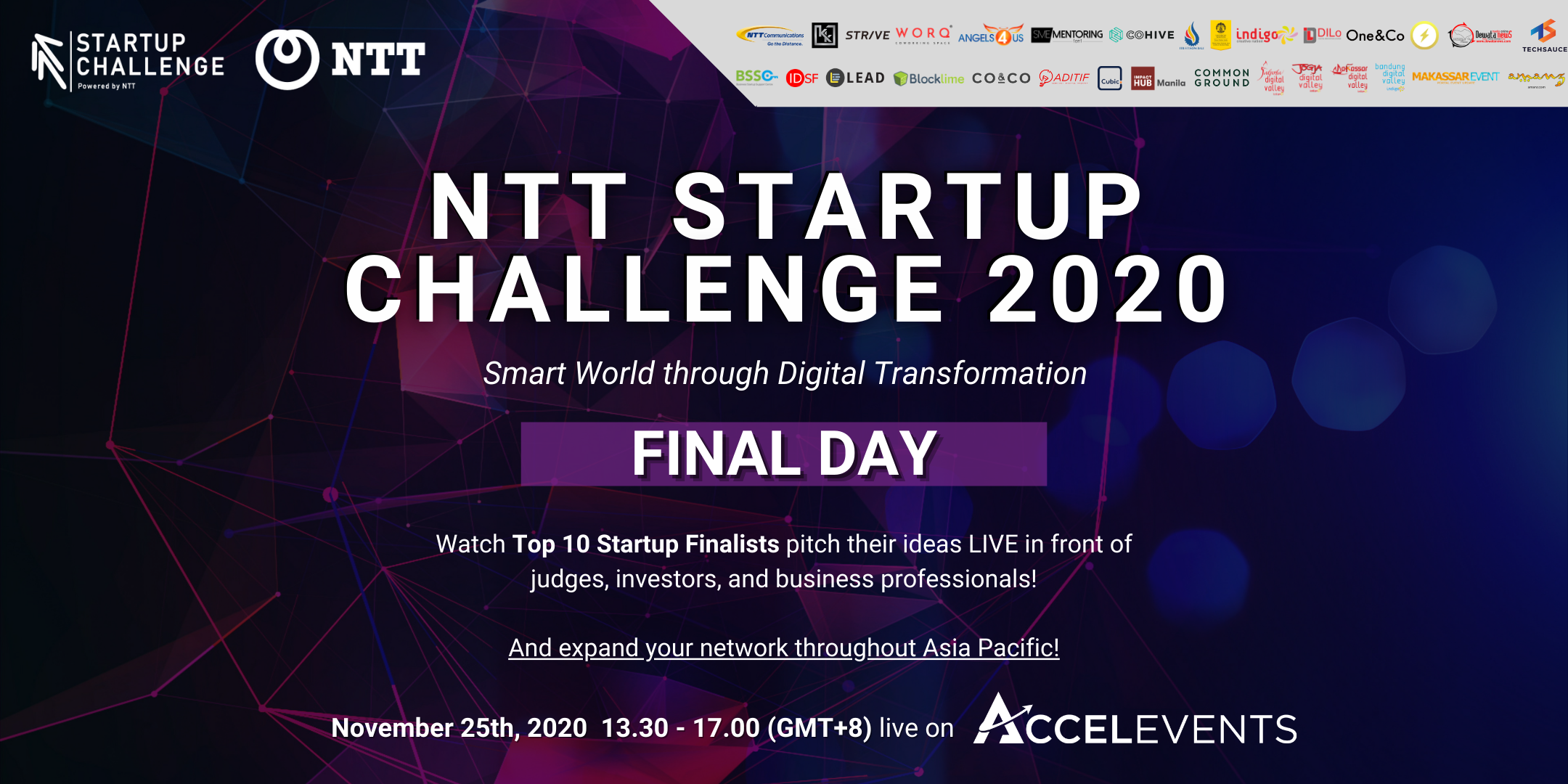 NTT Startup Challenge has been conducted for three consecutive years in 4 countries. This year, the final day of this competition will take place virtually on 25th November 2020. The registrations are already open for startups to submit their pitch decks, and it will be closed by the end of October. Besides pitching competition as its main event, NTT Startup Challenge 2020 will also have other attractions such as keynote speaker sessions and panel discussion sessions by famous VCs and startups.
All business sectors are welcomed to participate in the NTT Startup Challenge 2020. However, the committee highlights these sectors; Gaming, Artificial Intelligence, Fintech, Shipment & Delivery, Health-Tech, BioTech & MedTech, Edtech, E-Fitness, Salestech, CRM & Work Collaboration Tech, and E-commerce. Ten startups from all around SEA will be selected to present their pitch ideas to a panel of judges from various professional backgrounds and businesses, including investors and experts. The finalists will also be given the opportunity to meet-up with several investors and corporates, including NTT and its strategic partners in The Matching Event on the following day.
Last year, the NTT Startup Challenge 2019 provided a total prize of USD10,000; the first winner was Nodeflux, second winner was Modal Rakyat, and the third winner was Awan Tunai. Moreover, Outside won the Panasonic Game Changer Catapult Award and Modal Rakyat won the Orange FAB Award. They were given to use the ICT infrastructure provided by NTT, free of charge.
For more information, please visit the NTT Startup Challenge site: www.nttstartupchallenge.com. To attend NTT Startup Challenge Final Day, register at bit.ly/attendNSC20finalday