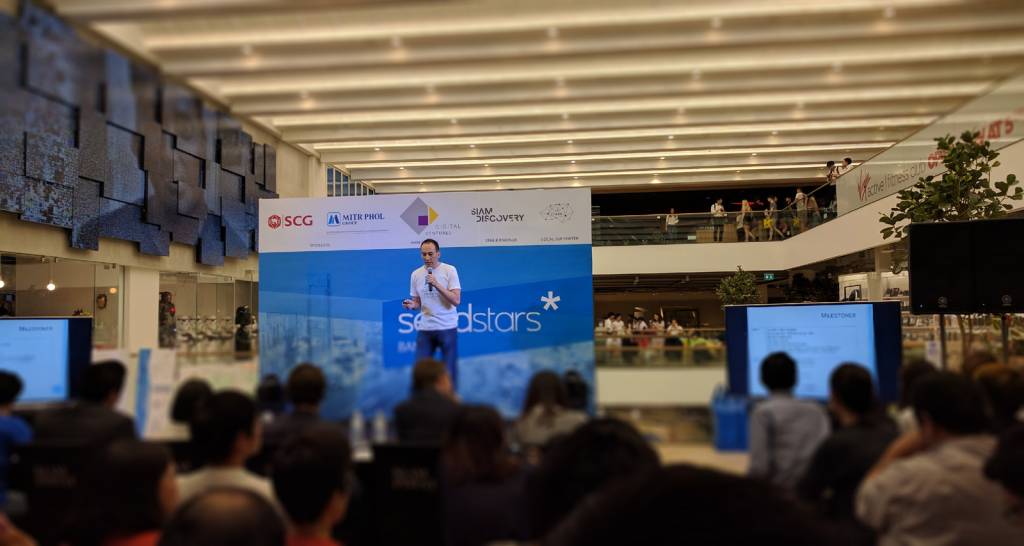 The third Seedstars Bangkok event was held at Siam Discovery on Thursday 18th August. There was a full house as the event kicked off with Seedstars Asia director Katarina Szulenyiova introducing the contest. "Our objective is to find the best of the best". From 6000 applications worldwide, 800 startups will get the chance to pitch at local events.The winning startup will represent the country at the global event in Switzerland, and compete against 65 other startups from around the world. The winner will receive an investment of 500,000 USD.
Paul Ark from sponsors Digital Ventures, echoed Katarina that Seedstars gives a voice to people around the world to grow and scale their businesses. He also noted that more corporates were getting involved in the startup ecosystems, including more traditional companies like sponsors Siam Cement and Mitr Phol group. He also praised the venue Siam Discovery: "this is the most amazing venue I've seen a pitch competition in!"
The nine startups had five minutes to pitch each, before the break we heard from Lawender, Blue Boat Malls,  MoreMate and Verik8 and PeerPower.
First up was law startup Lawender, set up by lawyers Perada Supornpun and Trai Sasatavadhana.Trai explained that they're "committed to give you an awesome lawyer" using machine learning will match the user's wants with lawyers offerings. When we caught up with Lawender before the event, they told Techsauce "what we mainly hope from Seedstars is to learn from whoever we meet, domestically and internationally." While the judges seemed interested by the market opportunity, they quizzed Trai on how Lawender would ensure the quality of the lawyers in their system and avoid leakage of their customers.
Blue Boat Malls was up next, with founder Eduard Dzhamgaryan capturing the audience's attention with a story about his unsuccessful attempt to purchase a T-shirt in Bangkok. Their mobile app is focused at getting consumers the best deals in malls, while also providing a platform for shopping mall management and tenants. They have existing malls signed up as customers, though judge Monthida McCoole questioned the barrier to entry for users since the users will need to download an app.
Zack Schwartz from MoreMate gave a polished pitch about their dating and discovery platform. With some strong traction with beta users, they also have low acquisition costs for their users. They're trying to create a "new social community". The judges praised the strong presentation, but had some concerns about how distinguishable the app was from other social networks, and how to avoid fake or inappropriate user profiles.
Verifik8 emphasised the fact that their market is worth USD 130 billion - the seafood supply trade. There are major issues in the industry with food safety and standards, which they plan to tackle using mobile technology and big data. The judges' questions focused on how they would manage to successfully aggregate and analyse data from many different sources, and the costs of equipment and acquiring customers.
PeerPower focuses on consumer peer to peer lending. Co-founder Vorapon Ponvanit noted that "in Thailand many customers have to make unsecured loans at high rates". PeerPower will connect borrowers and investors to allow borrowers to access credit, and investors a new form of investment, while a "trust platform" will ensure non-compliance is low. Vorapon admitted "there is no law governing peer-to-peer lending" and so they are dependent on regulatory approval. Judge Nick Feneck from Seedstars World questioned how they could validate the idea before launch.
After the break, we heard from four more startups: Indie Dish, Transporters.io, Seekster and Glazziq.
Indie Dish is a food service service focusing on delivering healthy dishes, aiming to "change the world through healthy eating". Founder Darin Suthapong, who previously was a UX designer at Amazon, explained the traction of their current app, and that they are currently looking for strategic partners and hiring rapidly. The judges focused on their strategy for ensuring food safety, and how they would differentiate themselves from competitors like FoodPanda.
Transporters.io claim to be "building the next billion dollar transportation company" by bringing group travel bookings online. Co-founder Chris Armstrong showcased their technology for fleet management, and showed a case study of a bus company who they'd helped in improving their conversions 93%. Judge Jun Hasegawa from Omise asked how they would differentiate themselves from similar companies in the space.
Seekster connects people with service providers like plumbers, cleaners and babysitters. Founder Sahib Anandsongvit showed off a series of partnerships they have set up with local companies, as well as their brand new chatbot. Muai Porlanee Jeamsaksiri, one of the judges from Digital Ventures, asked how Seekster would stop customers going outside their platform for repeat business with service providers.
Piriya Tantrativud, the founder of Glazziq, noted that consumers are currently happy neither with the experience of purchasing glasses online or offline. As well as selling eyewear from a website, Glazziq produce their own low-cost glasses, with more than 150 styles already available. To bridge the online and offline, they have a "home try on" service and a physical showroom. The judges questioned Piriya on Glazziq's customer base and metrics.
After a short break for the judges to consider their verdict, Katarina returned to the stage to announce that Verifik8 were the winners of Seedstars Bangkok! Congratulations to Verifik8, and to all the teams for their excellent pitches.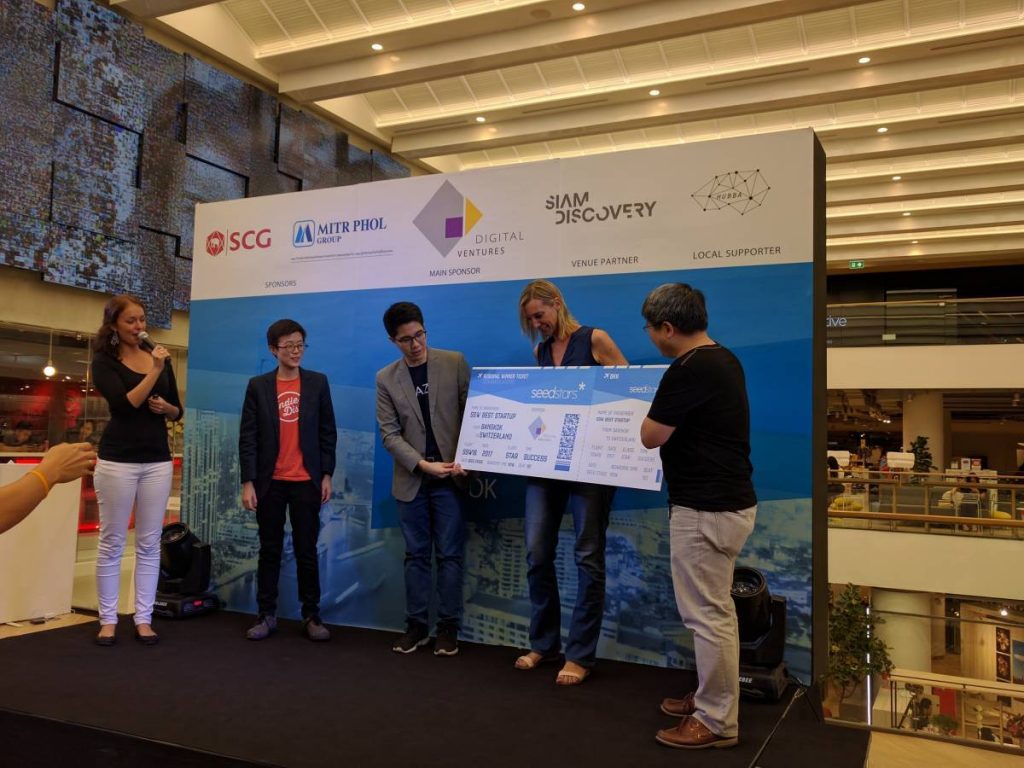 Stay tuned for an exclusive interview with Seedstars Bangkok winners Verifik8 on Techsauce!