aCommerce, Southeast Asia's leading ecommerce service provider, has launched SmartShip, a multi-shipping platform that enables Thai SMEs to scale their ecommerce operations while saving valuable time and money.

What does SmartShip do?
SmartShip aggregates multiple third-party logistics providers (3PLs), offering SME merchants a single interface and dashboard to manage their ecommerce deliveries. By consolidating thousands of orders across many merchants, SmartShip is able to command favorable shipping rates of which savings are passed to SMEs.
Over 400 SmartShip drop-off points across the nation make it easy for merchants to drop off packages close to their home for delivery to their customers. The number of drop-off points is planned to reach over 70,000 by 2018.
Through SmartShip, merchants are able to tap into additional benefits such as cash-on-delivery (COD) payments and shipping insurance. Currently SmartShip has partnered with Asia Insurance to offer insurance on lost packages. An insurance-based escrow payment option is also in the works to bridge the C2C trust gap.
SmartShip brings delivery analytics to SMEs -- providing insights to SMEs to optimize their businesses. Where do orders come from and what are they buying?
Why SmartShip?
Ecommerce is booming in Thailand and is estimated to reach $51 billion by 2025, up from today's $1 billion. A huge driver of this ecommerce growth in Thailand are entrepreneurial SMEs who sell on social platforms like Facebook, Instagram and LINE as well as marketplaces like Lazada. According to estimates, one-third to half of Thailand's ecommerce GMV is happening on Facebook, Instagram and LINE combined.
Despite this massive opportunity, SMEs are still relying on manual and cumbersome processes to operate their ecommerce businesses. Once orders are received (often through Facebook Messenger or LINE) and picked and packed in their living rooms, merchants have to go visit the local post office to ship the package.

Figure 1. Social commerce drives Thailand ecommerce but processes are still manual -- SmartShip helps automate and scale delivery for SME merchants (Source: ecommerceIQ)
Orders are paid for mainly through bank transfer which can take days to process and therefore delaying the entire cycle. Not to mention the fact that over 75% of ecommerce payments in Thailand are through COD which means merchants are leaving money on the table by foregoing those customers who cannot pay through bank transfer, either due to trust issues or simply not having a bank account.

Figure 2. Over 75% of Thailand ecommerce transactions are paid through Cash-on-Delivery. SmartShip enables merchants to tap into COD beyond just bank transfer payments (Source: ecommerceIQ)
SmartShip addresses these challenges by offering a single dashboard to manage 3PLs, hundreds of drop-off locations nationwide for easy access, COD payment processing, as well as shipping insurance.
"SMEs who couldn't offer cash-on-delivery can now do so through SmartShip's exclusive partnerships. This is vital to the growth of their customer base as less than 10% of the country owns a credit card. SmartShip will also speed up the logistics process for small businesses in a competitive market where 51% of Thai shoppers buy through social media channels. We're excited to help C2C merchants work more efficiently and effectively with 3PLs to drive the ecommerce ecosystem forward in Southeast Asia," said Phensiri Sathianvongnusar, aCommerce Thailand COO.
Strategic Partnerships and Proven Traction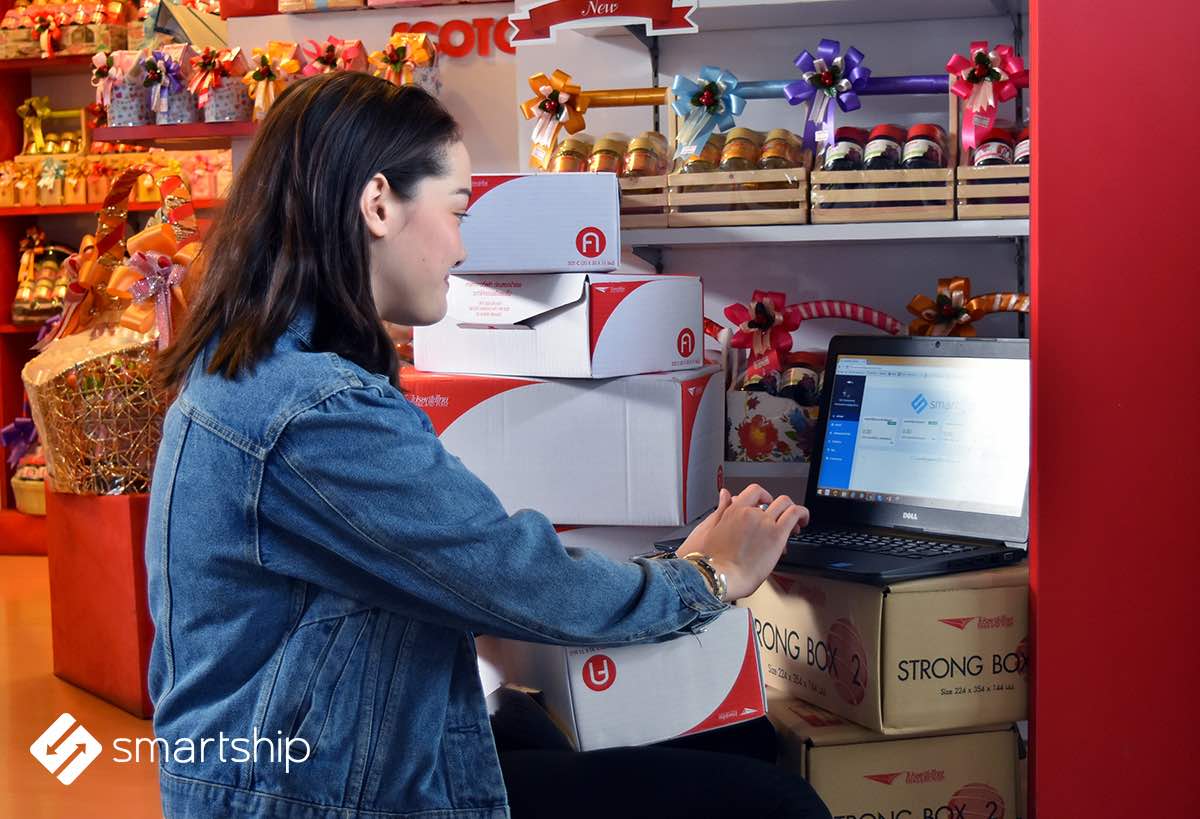 SmartShip's beta program launched in August this year. Thai Post, Thailand's national postal service, was one of the first 3PLs working with SmartShip. Page365, a popular platform for Facebook Page merchants to monitor customer activity, also signed up for SmartShip to offer their users exclusive package drop off and pick up at any Thai Post branch in the greater Bangkok area. Since then, SmartShip has added new 3PL partners such as Kerry Logistics, DHL, CJ Korea Express, as well as drop-off partners such as Airpay and Skybox. SmartShip's next phase will include expansion to Indonesia, Philippines, Singapore and Malaysia.
"SmartShip's open, platform-approach towards logistics has already been proven successful in China with Alibaba's Cainiao. Like China, Southeast Asia has an equally fragmented logistics ecosystem and payment challenges. This is why we believe SmartShip can help take ecommerce in Southeast Asia to the next level," said Akintayo Kayode, General Manager, SmartShip at aCommerce.
How SmartShip works
SmartShip helps SMEs find the best 3PL for cost-effective shipping rates and quickest delivery time depending on the product weight, destination and other variables.
Through aCommerce technology, SmartShip sends automated shipping labels and direct billing to merchants for a simple shipment process depending on the 3PL selected cutting out long queues and payment hassles.
For drop-off locations, merchants will be able to choose amongst over 400 partner counters with a Smartship shipping code sticker and drop off their packages
Additionally, merchants get the most cost-effective delivery prices based on aCommerce's big data logistics algorithm that includes real-time tracking and status updates.
Delivery prices start at 35 baht based on the weight of the package and delivery location with same-day delivery offered within Bangkok and up to 5 days for other provinces.
Get started with SmartShip
Visit the SmartShip website and register for an account.
Top up your account (pre-paid). SmartShip offers four unique packages to best suit each merchant's needs.
Simply create orders and start shipping.
In addition to the technology platform SmartShip, other services at aCommerce being developed to help merchants selling on social platforms include the pickup service where aCommmerce will pick up packages from seller locations, buying boxes & package materials, marketing services though the recent [email protected] partnership and training & workshops via aCommerce Academy program.