Startup Impact Summit 2020 (#SIS20), hosted by WHub, as part of this year's StartmeupHK Festival 2020, organized by Invest Hong Kong ended on a high note as the event attracted over 5,900 attendees across two days. For the first time, due to travel restrictions and social distancing policies, WHub brought the conference online and hosted some of the most sought-after global speakers in the startup and tech ecosystem. Speakers from World Economic Forum, Impossible Foods, The Sandbox, SenseTime, WeLab, Policybazaar, Linktree, GOGOX, Lalamove, GoJek, Carousell, Techstars, 500 Startups, Tim Draper, Jason Calacanis, Mimi Ito and the likes joined us virtually, engaging and connecting with the startup and tech community worldwide.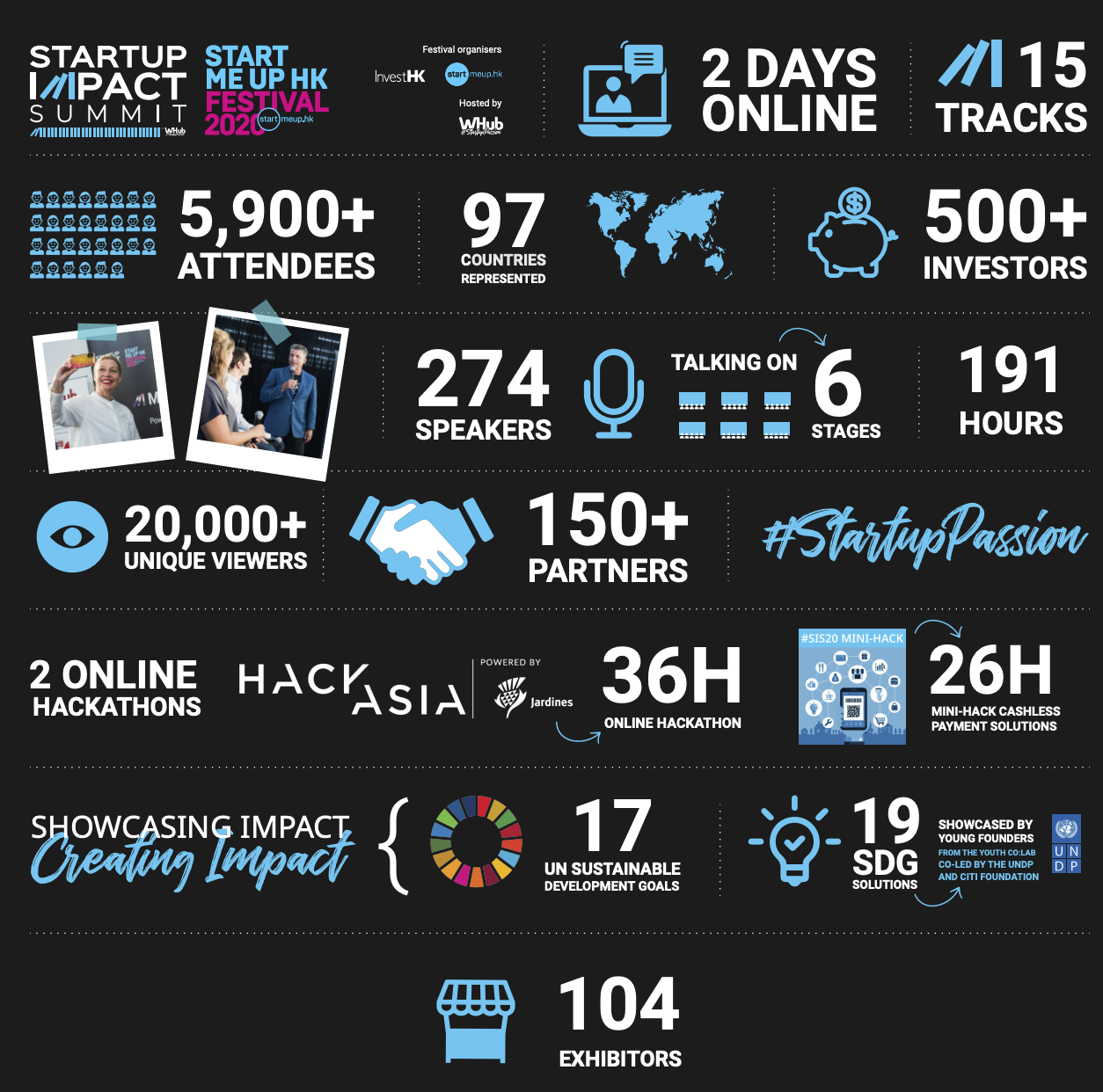 This year, #SIS20 showcased over 270 speakers, presenters, and panellists across fifteen tracks, all designed to share, innovate and inspire the startup and tech community. Attendees had the opportunity to learn about startup investment, finding talent as well as gaining insider information on trending topics and hacks for breaking into Hong Kong and the Greater Bay Area (in short GBA). The conference featured a series of keynote sessions, panel discussions, fireside chats and workshops over two days with speakers from some of the biggest players in the startup scene, including Jason Calacanis, Tim Draper, Ester Wong from Sensetime, Alex Zaccaria from Linktree, Nick Halla from Impossible Foods, Joe Tian 田立新, Mimi Ito and Satya Tammareddy from Stripe. From leading entrepreneurs sharing their personal startup journeys to discussing the cross-over between art and tech, the world of gaming, the future of food, attendees had the opportunity to learn from the best in the industry and engage with speakers one-on-one. Venture Stage, powered by AngelHub, showcased investment trends and opportunities across industries, technologies and different stages of a startup lifecycle.
"This is the first year we've held the Startup Impact Summit online and we are beyond thrilled by the level of attendance, the quality of speakers and the tremendous feedback from our attendees, supporters, partners and participants. Technology is changing the way we live and work and now also the way we conference," said Karena Belin, Co-Founder of WHub and AngelHub. "This is a testament to the true potential of the startup and tech scene in Hong Kong and the power it has for doing business on an international level."
Hack.Asia, the annual hackathon hosted by WHub and powered by Jardines, took place from 6-8 July, 2020. More than 800 startups, students and innovators participated in the final round of Hack.Asia, a 36-hour virtual hackathon with the support from educational institutions and startup ecosystems around the world. This year, the hackathon received over 800 applications from more than 40 countries. 84 finalist teams (comprising 34 startups and 50 student-led teams) were selected for developing and designing technology-driven solutions to address challenges faced by market-leading businesses in the region. Winners received cash prizes and the opportunity to advance a Proof of Concept with the sponsor.
The final pitches and award ceremony took place on the Main Stage (powered by Visa) during Startup Impact Summit at StartmeupHK Festival 2020. The Grand Prize was awarded to FoodieXpress from Boston.
FoodieXpress prototyped an AI-Enabled Business Intelligence Platform to augment the Pizza Hut management team's capacity to adapt to the changing behavior of customers, namely the increasing demand for food delivery. It is A Dashboard, A Demand Prediction Device, and An Optimization Tool.
Mini-Hack, a 26-hour hackathon of product development to create a seamless and cost effective cash free payment ecosystem, took place during Startup Impact Summit. The hackathon welcomed 20 startup semi-finalists from 15 countries. 3 finalist teams from South Africa, Indonesia and Bangladesh competed for the winning place with a cash prize of
HK$50,000 and the opportunity to advance a Proof of Concept. Little Fish from South Africa made the race, an easy to use, digital platform that connects small businesses to their local community, suppliers and financial service providers. They provide the technology infrastructure to help digitize the end to end value chain to improve efficiency, transparency, accountability and sustainability.
The conference also showcased a Tech4Good Pitching stage. With the support of the Youth Co:Lab, a youth economic empowerment initiative co-led by UNDP Asia Pacific and Citi Foundation, 19 TechForGood startups from 13 countries such as Bangladesh, Cambodia, India, Nepal, Pakistan, Vietnam and more, successfully showcased their SDG solutions on IoT, platform, physical and digital products in front of thousands of participants at the #SIS20! Our investor panelists from 500 Startups Thailand, Accelerating Asia, AngelHub, Gobi Partners, and WHub also shared their expertises and insights on making an impact through entrepreneurship with the young founders.
In committing to the realisation of the 2030 Agenda for the Sustainable Development Goals, the WHub and AngelHub Team will continue to collaborate with community partners to scale our impact!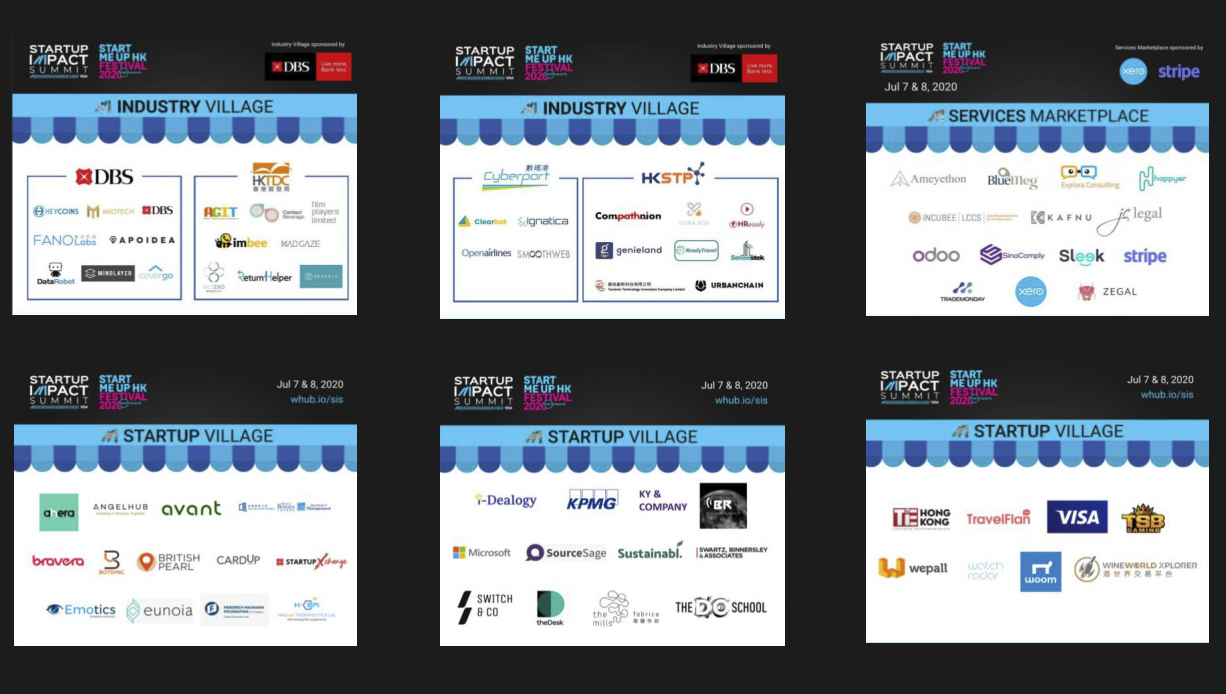 To find out more about the 19
TechForGood startups and the recap videos: https://www.youthcolab-springboard.org/blog/startup-impact-summit-2020
Find a recap of the two days below:
Day 1: https://whub.io/s/aG21G1s
Day 2: https://whub.io/s/W2nkP2o
For further details, please go to the website (https://www.whub.io/startup-impact-summit/2020). Download the photos here: https://whub.io/s/sis-highlights