The Thai Chapter of UNDP's Accelerator Labs – the world's largest and fastest learning network on sustainable development, funded by Germany and Qatar, was virtually launched today. Thailand's Accelerator Lab will be among 91 labs in 115 countries that bring together grassroots innovations with new sources of real time data and experimentation to accelerate progress in meeting the ambitious Sustainable Development Goals (SDGs) by 2030.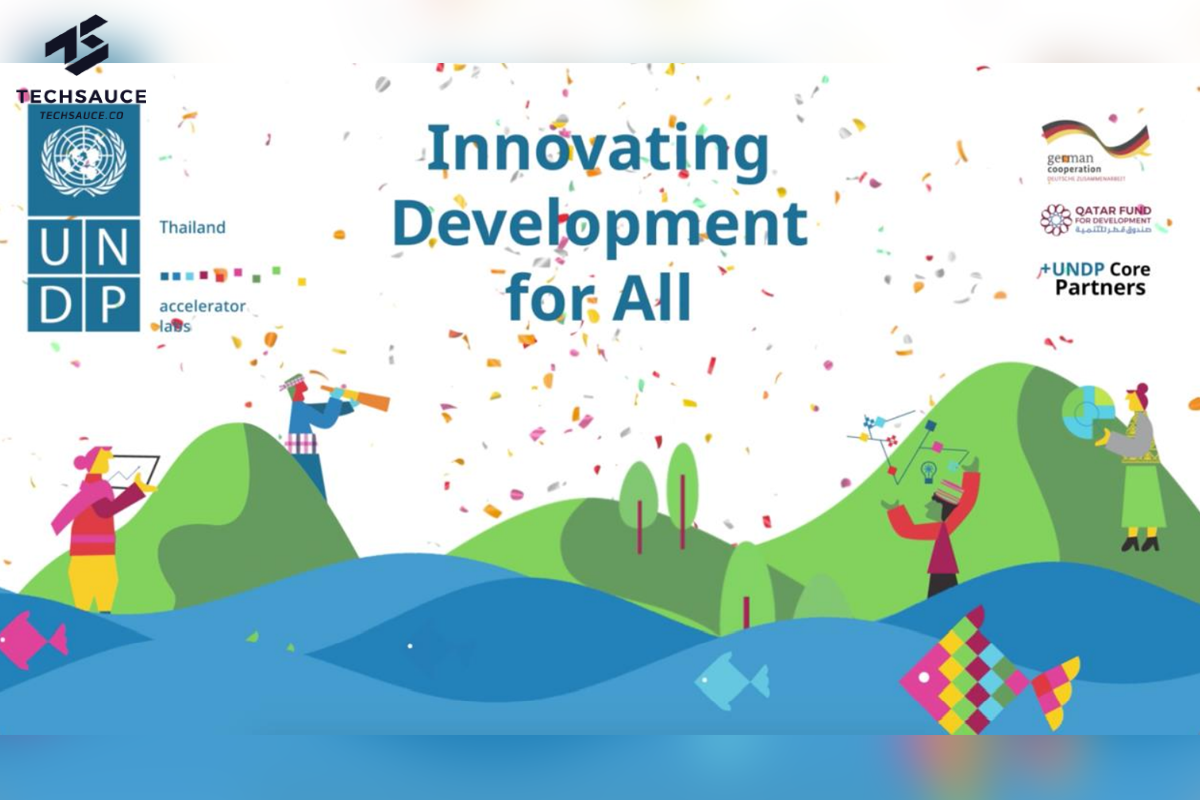 COVID-19 has made the achievement of the 2030 Agenda for Sustainable Development more challenging than ever before. "From economic slumps to climate change risks, to rising inequalities, new development challenges are emerging, upending lives and livelihoods, and stalling or reversing much of our development progress. So, the urgency to push for sustainable development is even greater. We need fast, far-reaching, and durable solutions now and the Accelerator Lab is a vital part of UNDP's response to this urgent demand," said Kanni Wignaraja, UN Assistant Secretary-General, UNDP Assistant Administrator and Director of the Regional Bureau for Asia and the Pacific.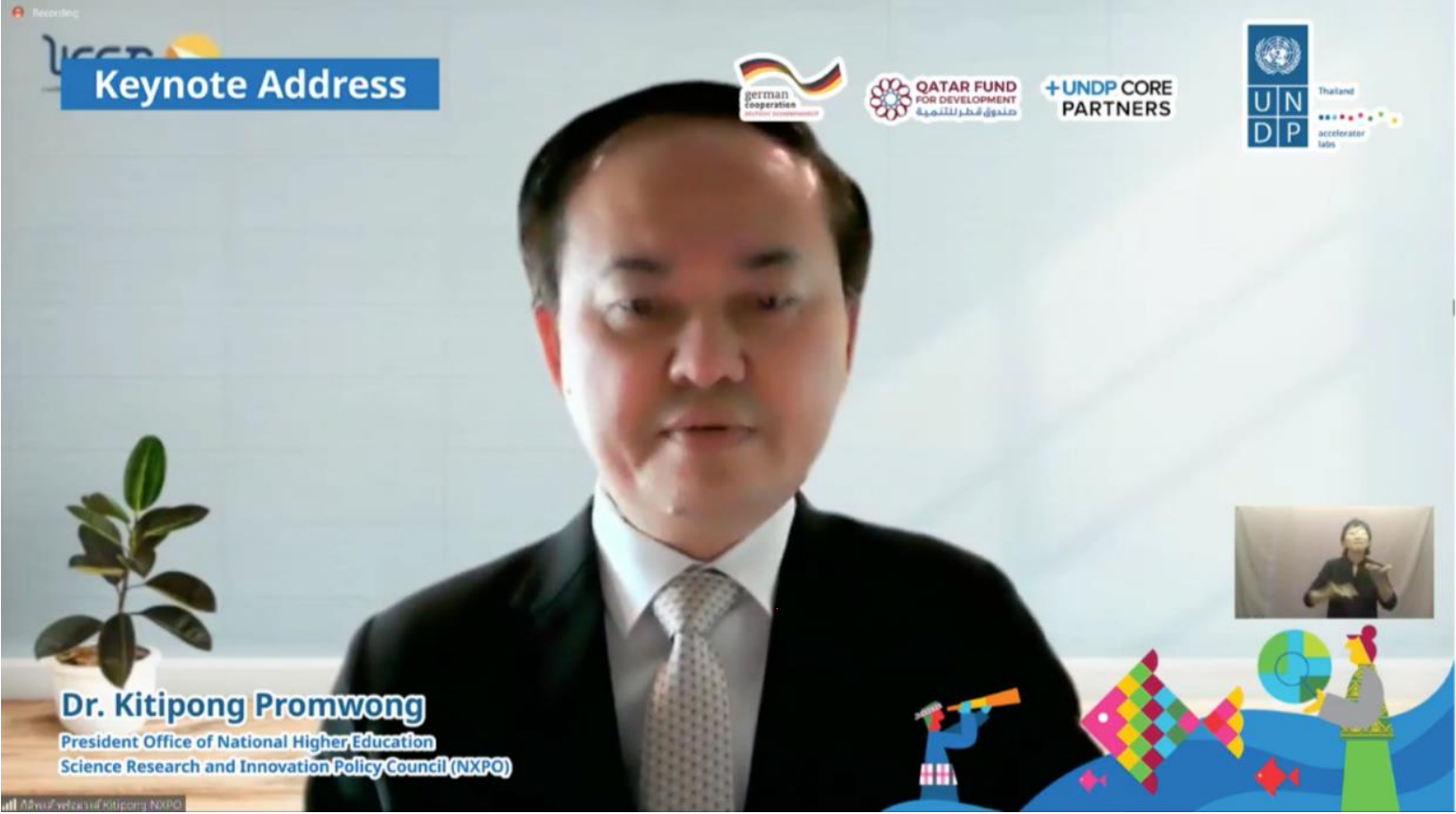 Addressing the event, Dr. Kitipong Promwong, President of the Office of National Higher Education Science Research and Innovation Policy Council (NXPO), stressed the importance of innovation in driving economic growth and sustainable development. "It is important that we unleash the creative mind of our best policy makers, scientists, and social innovators so they can fuel the engine of science, technology and innovation which are the key to overcome the complexity of today's challenges and make faster progress on the Sustainable Development Goals," said Dr. Kitipong Promwong, President, NXPO.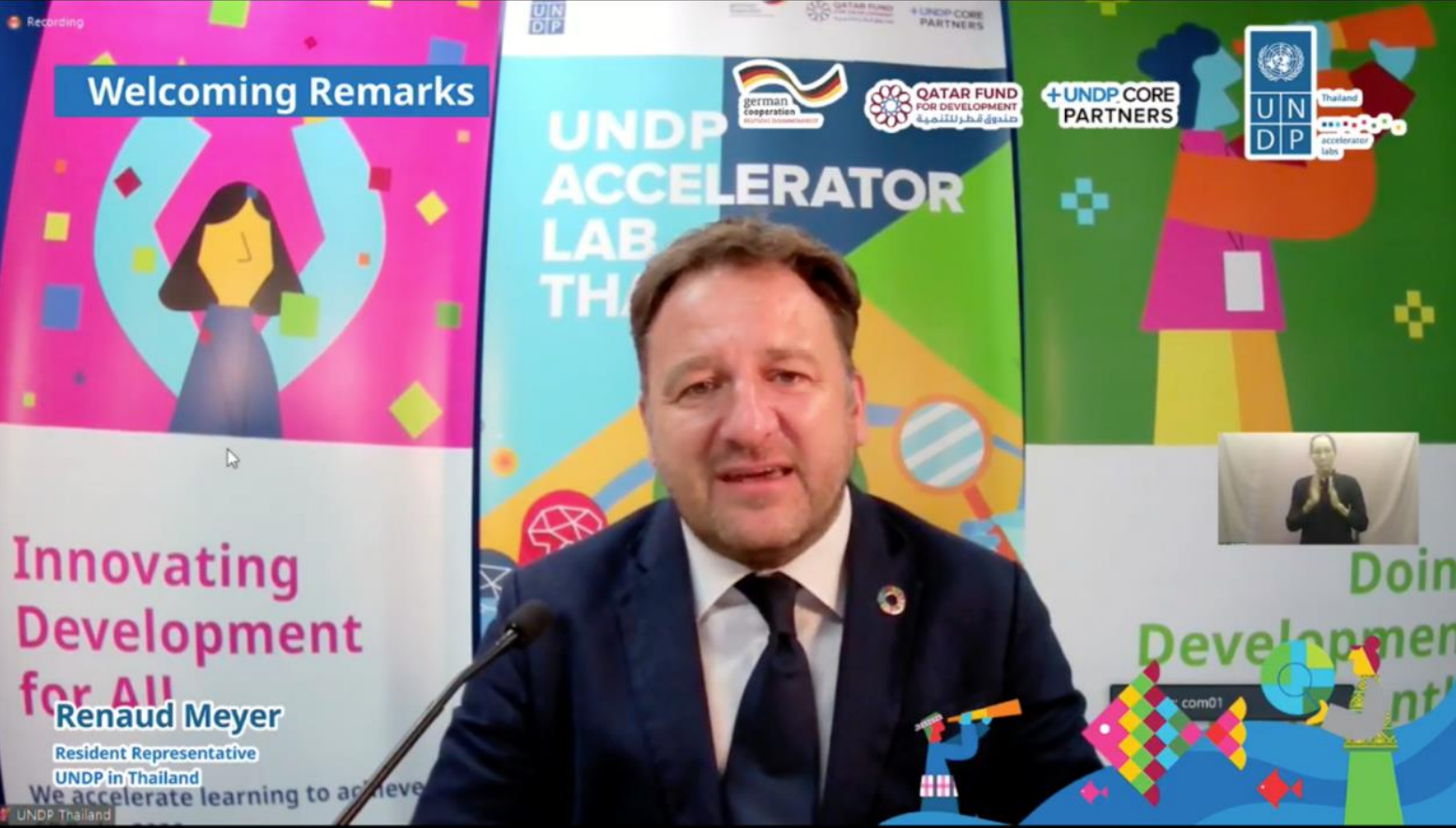 "Today's complex development challenges cannot be tackled single handedly and require not only new partners and local actors but also new innovative approaches. Housed within UNDP's country office, we expect the Accelerator Lab to become a leading hub for innovating development for all. The team is fully equipped with resources and expertise to work with our partners to co design and test the next generation of public policies and innovative solutions to address some of Thailand's most pressing challenges, such as COVID-19 recovery, air pollution, social inclusion, and waste management," said Renaud Meyer, Resident Representative of UNDP in Thailand.
Together with the Thailand Policy Lab, a collaboration between UNDP and the Royal Thai Government through the Office of the National Economic and Social Development Council (NESDC), the Accelerator Lab helps bring experimentation and evidence to support policy making and prototype scalable solutions by applying behavioral insights, data science, ethnographic methods, and other innovative approaches.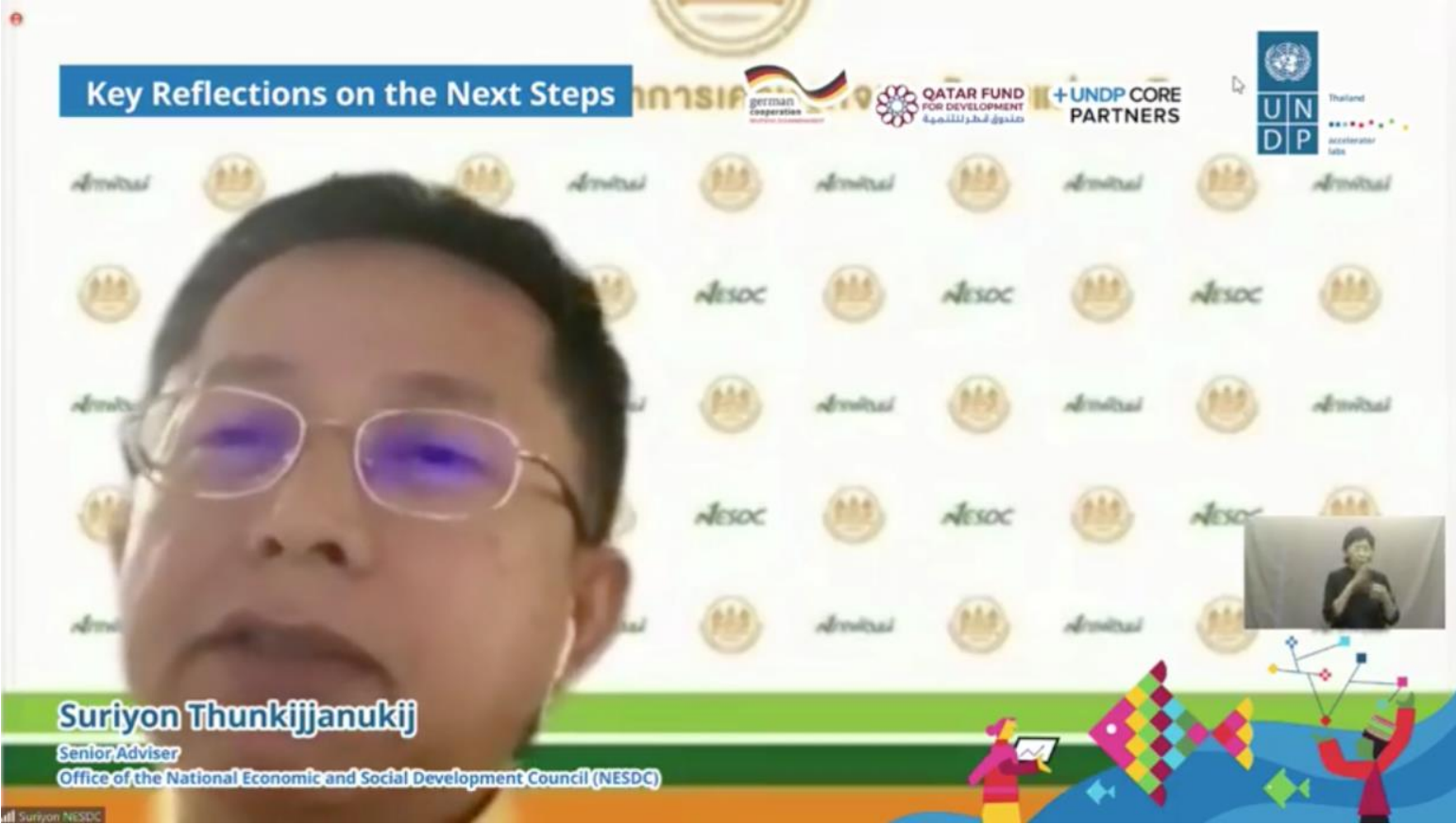 "A more effective and responsive policy process is needed if Thailand is going to transform into a developed country. At present, our key mechanism is the collaboration between Thailand Policy Lab and the UNDP Accelerator Lab. This collaboration will help legitimize the transformation process and also allow the success to happen more rapidly," said Suriyon Thunkijjanukij, Senior Adviser, NESDC.
"A lab is the place where innovators test, prove or falsify their ideas. It is a place for creativity. I am glad to join the forces supporting this Accelerator Lab Project by UNDP together with other partners. The Sustainable Development Goals can only be reached with a global effort. Thailand joining this global marketplace for creative solutions to the world's problems adds another dimension to Germany's longstanding cooperation with Thailand to address climate change," said H.E. Mr. Georg Schmidt, German Ambassador to Thailand.
"The Qatar Fund for Development's main goal is inclusive and sustainable development, this partnership with UNDP is a great step towards achieving this goal and we are proud to collaborate with such an important partner on bridging the humanitarian-development gap. We believe that these labs will transform the collective approach by introducing new services, backed by evidence and practice, and by accelerating the testing and dissemination of solutions within and across countries," said H.E. Mr. Ahmed Ali A.J. Al-Tamimi, Qatar Ambassador to Thailand.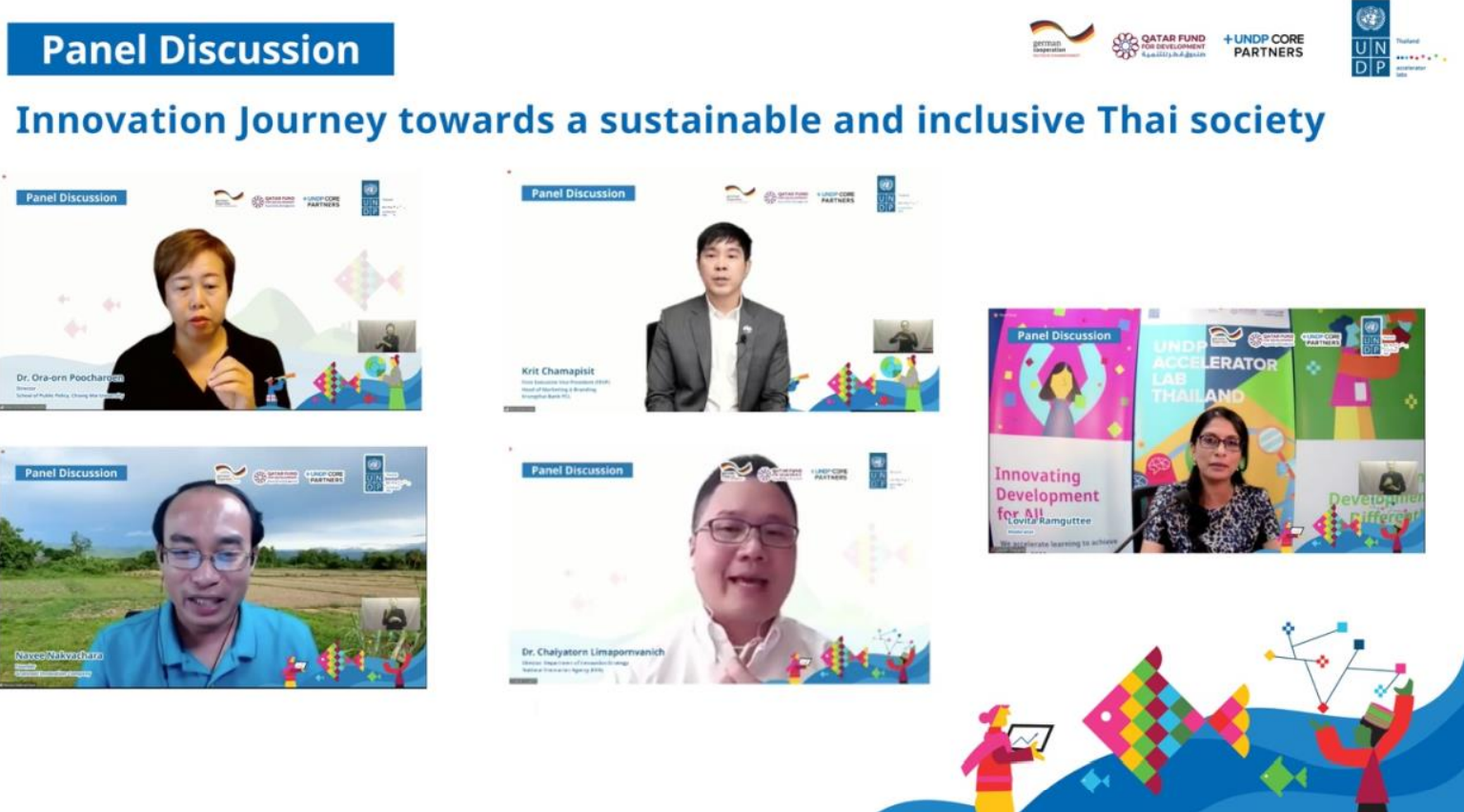 The launch also saw a panel discussion on 'Innovation Journey towards a sustainable and inclusive Thai society', joined by Dr. Chaiyatorn Limapornvanich, Director, Department of Innovation Strategy, National Innovation Agency, Krit Chamapisit, First Executive Vice President, Head of Marketing and Branding, Krungthai Bank, Navee Nakvachara, Founder, Grassroot Innovation Company, and Dr. Ora-orn Poocharoen, Director, School of Public Policy, Chiang Mai University.
For more information, please contact: Miss Aphinya Siranart, Head of Exploration, UNDP Accelerator Labs Email: [email protected]