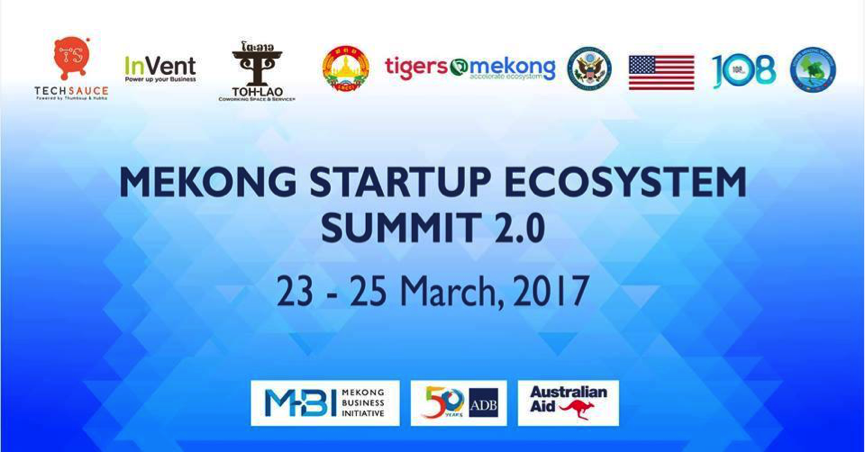 The Techsauce Global Summit 2017 Roadshow is in Vientiane, Laos during March 23-25 to host a pitching for startups from Laos, Cambodia, Vietnam and Myanmar, one of which will be selected to win a space on the final pitching stage with other top Southeast Asian startups in Bangkok this July.
From today until March 25, we invite all investors, ecosystem organizations & other interested participants in Laos & surrounding countries to join us for this event, which is being co-hosted with the Mekong Startup Ecosystem Summit 2.0 at the SME Service Center, Lao National Chamber of Commerce and Industry (LNCCI).
The Techsauce Roadshow portion of the Summit features a keynote address by Jeff Hoffman (Priceline.com – Agoda in Asia), an exclusive panel from Digio, Apptividia/Bookkaze & Priceline on how Lower Mekhong startups can scale up to Southeast Asia and a networking party sponsored by InVent. Mentorship sessions will also be held for all selected startups, who will give their final pitch the afternoon of March 25.
The Mekong Startup Ecosystem Summit 2.0 is a collaboration between the US Department of State, [email protected] program, 108.Jobs.la, Toh Lao, MBI, the Laos Chamber of Commerce and Industry and Techsauce to unite startup founders, angels and VCs in the CLMV market.
All interested individuals can join the free event here: Mekong Startup Ecosystem Summit 2.0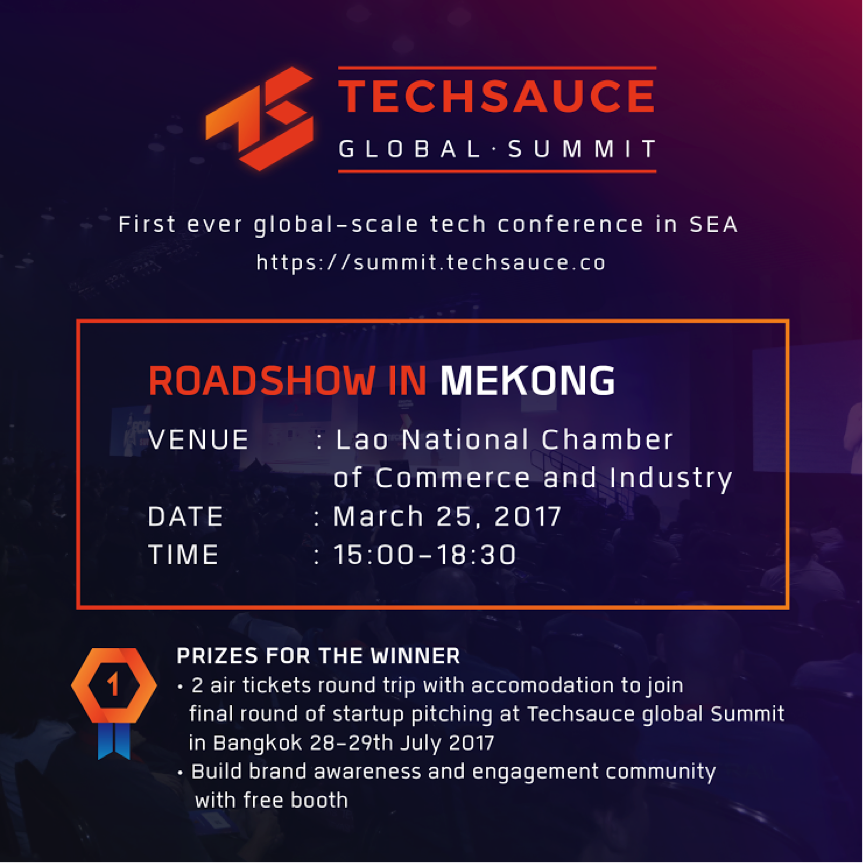 Mekong Startup Ecosystem Summit 2.0 | Techsauce Roadshow Highlights: Friday, March 24 11:10-11:40 – Keynote Address, "The Entrepreneurial Journey" by Jeff Hoffman of Priceline.com (Agoda in Asia)
13:45-17:30 – Techsauce Global Summit Roadshow in Mekong with initial presentation from selected startups and discussion panel, "How to scale up to Southeast Asia? Different perspectives on challenges of Asian markets"
| | |
| --- | --- |
| Moderator: | - Khun Tucksaorn Kongkaprasert (23 Studio) |
| Speakers: | - Khun Nopphorn Danchainam (Digio) |
| | - Khun Ukrit Visitkitjakarn (Apptividia, Bookkaze) |
| | - Mr. Jeff Hoffman (Co-Founder, Priceline) |
1730 – Networking Event, co-hosted by InVent, hosted at LNCCI
Friday, March 24
13:30-15:00 Techsauce Roadshow Final Pitch & announcement of the winner
_______________
Techsauce Global Summit 2017 is the melting pot for global and regional leaders in technology, venture capital, corporations and startups. Heralded by many as the "freshest and edgiest" tech conference in Southeast Asia, this is Southeast Asia's must-attend conference for technology entrepreneurs from Southeast Asia who wish to propel themselves onto the global stage and global investors who wish to identify the region's leading startups.
As Southeast Asia's first global-scale conference, it will assemble more than 6,000 participants in Bangkok on July 28-29 including 1,000+ startups, 200+ venture capitalists, angel investors and corporates, and 200+ journalists from global media outlets for this year's ultimate gathering at Centara Grand Convention Centre in Bangkok, Thailand. The Summit facilitates and opportunity open up to Asia and the rest of the globe with top VCs and corporations such as 500 Startups, Facebook, Samsung, HP, Dentsu Inc., EY and Idea Tokyo.
See a full list of speakers and full info here: http://summit.techsause.co
Book your tickets today & save: http://ow.ly/yfr3309Xnb5
To reserve spacing for booths, contact us at [email protected]