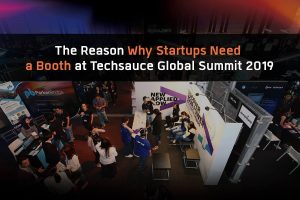 Once a year startups gather at the largest tech event in Thailand, Techsauce Global Summit 2019.  After opening reservations for booths, there has been a massive response for those wanting to showcase and network at the summit.  Here are reasons why you should elevate your business further with a booth at Techsauce Global Summit 2019.
This year Techsauce Global Summit will be at a grander scale with more stages and participants. Its theme, "Futuristic, Mysterious, Dynamic and Abstraction", clearly shows how diverse the summit has become.  It is going to be more colorful and creative with 12 stages covering a variety of topics. It will, of course, have both Thai and international coverage.
With such a big-scale summit, startups will have a platform to show off their products and services to investors, international journalists, customers, and even potential partners to support your business journey.  Other then booths, here is what startups will get from the summit.
 
1. The chance to show off to investors, foreign media, and over 20,000 participants
 Finding the right platform to meet the right people is the ultimate challenge for startups.  We guarantee that Techsauce Global Summit 2019will be a summit that will give you that platform to become known to the world, whether it be customers, investors, and potential partners.  They are ready to meet you at the summit so get ready to show everyone what you have to offer!
2. Meet with giant corporations and organizations from various sectors
 In addition to getting a booth of your own, you will rub shoulders with leading corporations and organizations from various sectors, whether it be dtac accelerate, PTT, or AIS.
 
3. The chance to get funding and being a part of leading accelerators
Startups that have joined the Techsauce Global Summit in the past all agree that it is not like any other summit.  Other than promoting your products and business, you will meet investors from various sectors.  Many startups have received funding with booths that has allowed them to scale up to a further stage.  Our secret sauce is our business matching session that helps you meet with investors one-on-one through scheduled meetings.  You will also get a chance to join leading accelerator programs to further your capabilities and knowledge.
 
4. The chance to meet new startups and partners from overseas and expand your network in Asia
Other than getting funding to scale up you business, having a partner that understands and has the same vision as you is important.  At this summit startups have the opportunity to share ideologies and ideas.  At Techsauce Global Summit is a hotspot for startups in Thailand.  Techsauce has already received interest from startups from overseas.  This is a chance for startups to build new connections that could lead to new markets. Don't wait to long to open up and learn more from others at the summit.

5. Cheer on startup pitching by startups from around the world
At Techsauce Global Summit 2019, there will be a search for the best startup from 20 countries in the Asia-Oceania region such as Malaysia, Singapore, Australia, and Israel. Cheer on the startup you think is the best!
6. Join the most exciting music festival and network
It is not just serious business at Techsauce Global Summit 2019.  It is more lively than ever with music performances that impresses participants and makes this summit unique. At this summit there are many activities to excite you and help you meet new friends at the same time.

7. Reserve a premium booth at a great price that gives you complimentary passes!
With such a activity-packed summit, you cannot afford to miss out.  Here is a look at what you will get with a booth reservation.
Startup booth (1.5 x 1.5 m.)
Details of Booth
Startup booth 1.5 x 1.5 m. priced at 12,999 Baht / Day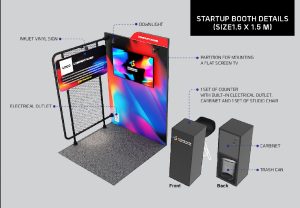 What you get:
-2 Complimentary passes for each day (with access to workshops and Night of the Mystery after party.)
-A booth with a logo of your business or product.  There will be a description of your business or product.  There will also be a ink-jet sign sized 120 x 60 cm.
-1 Downlight
-1 Power outlet
-1 Counter (W 0.50 x D 0.40 x H 0.90 m.) including a locker, a trash bin, and a seat.
-Free wifi for 2 users
Food and drinks from Centara Grand @ CentralWorld is priced at 500 Baht/person
Book now at https://bit.ly/2NNXmfd
Additional information on the summit is at https://summit.techsauce.co/