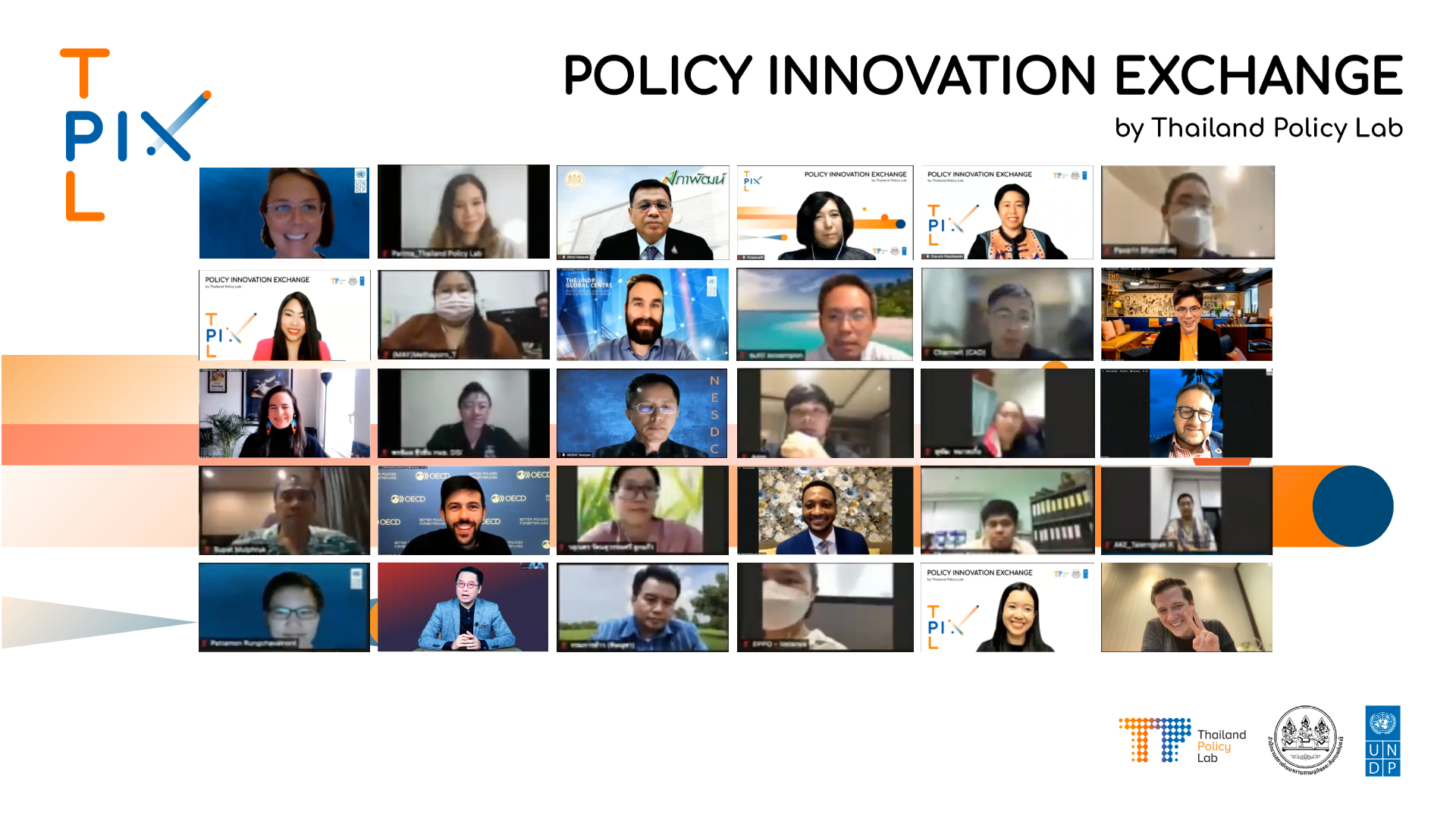 When talking about "policy", many might consider it irrelevant to them, a politician's worry, or a matter of fantasies that cannot be fulfilled. This, perhaps, is because the civil sector has neither a crucial role nor the opportunity to participate in policy design.
The participation from diverse demographic groups establishes an unprejudiced attitude and the awareness of how layered every aspect of the society is. For instance, if persons with disabilities do not participate in transportation policy designing, they may be at the receiving end of the consequences, causing a ripple effect.
Thailand Policy Lab asserts skill improvement of policymakers, whose drafted and issued strategies have an impact on all individuals from a local to national scale, as one of the best catalysts in promoting positive changes. With this intention, the "Policy Innovation Exchange" event (PIX) was held for over 800 policymakers, from entry-level officials to executive directors, to learn and develop new skills with other international labs in the field of policy design and citizen-centric innovation, aiming for the most effectual outcomes and the complete remodeling of Thailand's policy-making approach.
If you want to walk fast, go alone. If you want to walk far, walk together.
"Community members do not merely want what facilitates their activities of daily living, they also consider the impacts each of the facilities has on their ways of living " stated Warren Luk, CEO of The Good Lab, a non-profit organization that innovated, gave rise to social changes in Hong Kong, and carried out social innovation projects to experiment with different approaches in bettering community members' lives.
It is certain that the Good Lab gives priority to the people. This organization specializes in lubricating the negotiation process between civil society organizations, the government, private organizations, and some private corporations. Luk recounts one of the projects he and his team have worked on as a crux of what they are doing now: "In 2012, The Good Lab had the opportunity to help design and construct "Sheng Shui," a public space in the north of Hong Kong. The problem was the effluent treatment plant that emitted odors and polluted the water, heavily affecting the people in the area for no less than 30 years."
Their mission was not just to settle the dispute, they expected this project to bring environmental recovery, data on system flaws, and approval from community members. Indeed, a problem that had been prevalent for so long was difficult to solve in a short time, yet without a start at all, it would be impossible to see the end of these problems. "We pushed for the project again in 2019 by bringing our allies in every sector together and utilizing citizen-centric approaches of design."
"We started by contacting the locals to get an understanding of the problems they were facing, finding out what they truly wanted for their community, what direction they wanted to go. The answers we received were applied in the discussion with stakeholders during workshops, and a model plan was presented to the community to demonstrate how our solution would respond to their needs regarding the future sewage treatment plant."
Through working with different participants, they concluded that "community members did not merely want what facilitated their activities of daily living, they also considered the impacts each of the facilities had on their ways of living. The solution did not lie in fixing only the matter of location, it was also tied to how the locals lived. How we could aid them, then, should be determined with thoughtfulness and an understanding of their conditions."
For the case, The Good Lab spent another six months in planning the "social innovation" by engaging various affected parties in a discussion, as they believed welfare was made better through the sum of all aspects of life, not through only economical or social improvement. They also mapped a plan to boost the community's biodiversity. The Good Lab believes in participation of all, as expressed with the closing statement of Luk's oration: "If you want to walk fast, go alone. If you want to walk far, walk together."
Exploring exit strategy for extreme situations, such as the world where the pandemic goes on forever
Sometimes we might perceive innovation as scientific creation, since it requires actual problems as the foundation and the catalyst for solutions, with the help of science, as seen in numerous cases of newly discovered knowledge and technologies. But with a different point of view, seeing innovations as a matter of social science decreases the demand for resources and increases the chance of success substantially.
Gina Belle, CEO of Chôra, a non-profit organization from The Netherlands founded with the purpose of developing strategic innovation and system transformation, has worked with UNDP for two and a half years, implementing a new method of policy design and problem-solving approaches for governments and other stakeholders: the "portfolio approach" (the evaluation of components of the problem).
"Before fixing a problem, we have to understand its preceding issues, meaning that those particular issues have already affected people's lives in all aspects, and the impacts rarely stop there. That is why we need to have enough information before we start fixing a problem, otherwise, the fixing will not end," Gina explained the thought process behind and the origin of Portfolio.
"The portfolio approach helps us examine the problems in a way that mitigates minor human biases, since we gain a profound understanding of the problems, both on an organizational and a national level. This process of fixing an issue is to enlist all parties to a darts game, to aim at the same goal, and to continuously measure the performance. This enables a process in which we all learn."
Belle gave an example of a project she did with UNDP to improve the living conditions for citizens of Malawi, one of the world's 15 least developed countries: "We have refined the system of governance there. Our approach was knowing what the issues were and why they wanted the change because working on an intricate problem calls for a thorough assessment of the situation."
For a newly emerging and complex problem, we need to accept that there is not an answer to everything, and that we cannot solve every complication. We, instead, must find an opening where our intervention makes the biggest impact. Apart from this, issuing proactive policies that encourage new skills or new approaches, like designing policies intended for the future of tourism with COVID-19 prevailing, or with the repercussions from climate change we are battling today, is necessary.
"Everyone" is an important factor in designing innovations that will transform Thailand.
In Thailand, conferences in which problems are discussed are recurrent. Yet, the solutions and policies often end as drafts because the support from authority is lacking.
Dr. Pun-Arj Chairatana, the Executive Director at Thailand Innovation Agency, insisted that we urgently built our society that was conducive to innovation in order to stay current on the development trends of the 21st century.
Dr. Pun-Arj listed 7 examples of the hindrances found in development:
The gap in scientific knowledge and technological advancement between organizations

Innovators lacking the support needed to reach full potential under the present system

Citizens not utilizing the facilities laid for innovation sufficiently

The capacity for innovation advancement being limited to only large cities

Violation of regulations and systems governing innovation. Science policy is expected to reduce such legal and regulatory risks.

Thailand's universal principles of social innovation still relied on science, technology, and innovation policies offered by research in its making

The development of resilience against change, that was problem-solving approaches designed by social innovation, leading us towards a sustainable and of quality future
Dr. Pun-Arj believes that "advancement in science, technology, and innovation policies [would] bring about a positive change in the fields of business, innovation from the ground up, and social innovation as it [became] more accessible to people. The government needed to be involved in innovation, offering alternatives to policy makers' solutions, and using their authority to make decisions and instigate development, particularly in the public sector, as a way to steer the society towards a positive direction.
At the end, it should be indisputable that good policy design comprises two principal factors: holding people at the heart of the design process, and utilizing innovations and technologies to keep the policies relevant in the ever-changing world while being truly beneficial to the people.