On 1 April 2020, Devcurate, a Bangkok-based social venture focused on career innovation launched VANDA - a simple but effective "crisis service" for organizations facing hiring challenges in the face of the COVID-19 outbreak.
The global pandemic is now shaping productivity and work-place practices, affecting the majority of industries and the jobs of countless people across the globe. One major impact is the change to the way that new workers are being recruited into organizations. The outbreak has caused organizations globally and many tech giants, including Linkedin, Google and Amazon to take all interviews online - keeping everyone involved at a healthy distance.
In spite of the use of popular video conferencing tools such as Skype and Zoom, recruiters are still wasting their time trying to schedule for both recruiters and candidates to be available simultaneously. It is also no secret that for most hiring managers, it only takes a few moments to figure out if a candidate is a good fit, but most feel obliged to go ahead and ask the pre-prepared questions anyway. Sourcing the right candidates is never easy, and there will always be a few who make it to interview even though they are unsuitable.
VANDA is a next-generation video interview platform that enables recruiters from all sectors to tackle the recent disruption in recruitment, save time during the remote interview process, and weed out weak candidates early on. VANDA also helps candidates improve their chances of landing the right jobs and stay focused during the application process.
From April to June 2020, Devcurate is offering this FREE service for organizations in a bid to increase hiring productivity, help recruiters save time, and optimize the overall job interview experience while helping to overcome the challenges posed by COVID-19.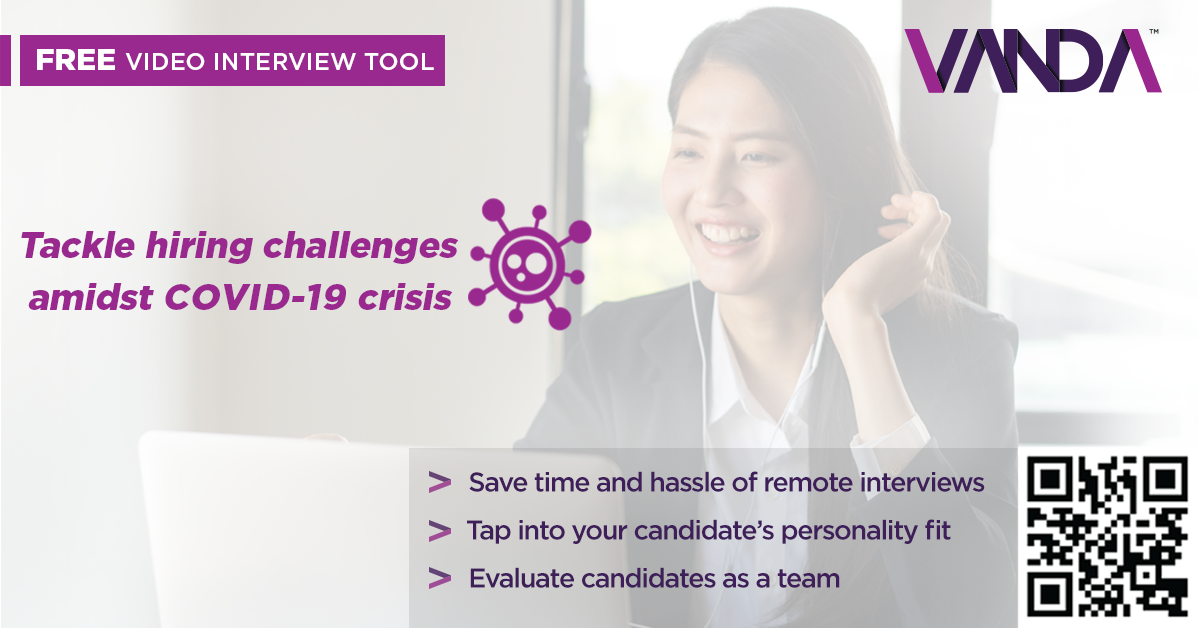 VANDA is a secure one-way video interview technology that allows recruiters to invite pre-screened candidates to job interviews. Candidates can directly answer questions and send their recorded answers back via the platform, without needing to be available at a particular time. Hiring managers and other team members can be tagged to specific jobs in order to evaluate candidates' performance. All these services are in one easy-to-use software interface.
This innovative tool lets hiring managers identify the most suitable candidates early in the hiring process, looking beyond hard skills and CVs. Recruiters can get to know their candidates more deeply by assessing their personalities, soft skills, and cultural fit. VANDA is quick and easy to set up, and issuing an invite to candidates takes mere seconds.
Organizations interested in using this free service are invited to fill out the form to secure a slot at https://bit.ly/3dtTjRN within the duration of this offer.
For more information please contact: [email protected]