The United Nations Development Programme (UNDP) and ChangeFusion launched Thailand's first ever impact accelerating programme, the 'SDG Impact Accelerator Programme'. This programme will support 20 impact enterprises to achieve financial sustainability while also addressing the unique challenges that the enterprises face.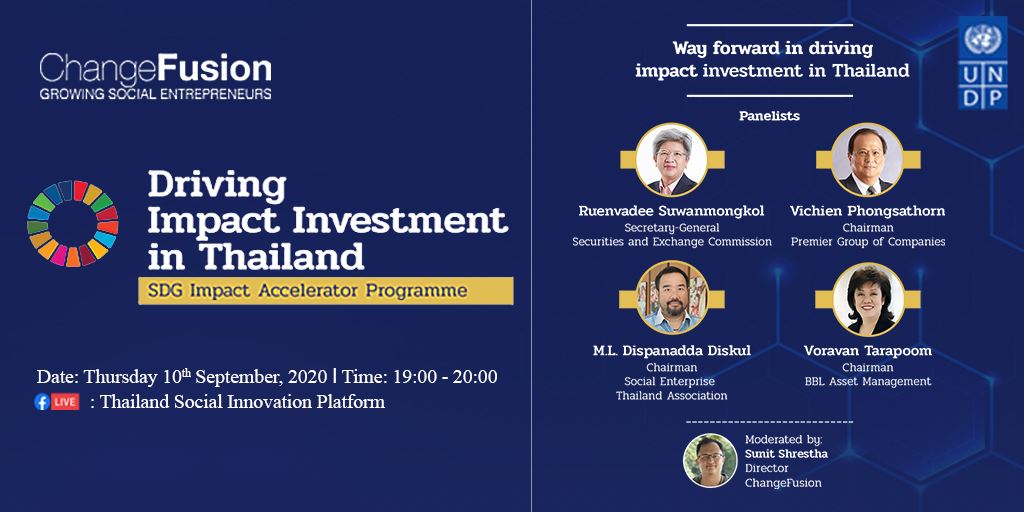 Following a rigorous selection process nationwide, out of 79 enterprises, 20 enterprises have been selected to participate in an intensive investment readiness program from September to December 2020. Finalists will be provided guidance on impact measurement and management, tailored business and impact acceleration assistance through a series of interactive workshops and consultation sessions. They will also get an opportunity to connect with impact investors and venture capitalists, and will be provided support from social impact practitioners and senior experts from UNDP.
As per the programme's qualifying criteria, all the selected ventures have business models that have proven economically feasible, and are scalable, sustainable and innovative with a clear profitability path for at least one year. Moreover the companies are contributing significantly to achieve the Sustainable Development Goals. The selected impact enterprises are 'a-chieve', 'Akha Ama', 'Buddy Home Care', 'De Quarr', 'Fang Thai', 'Farm Forest Factory', 'Fisherfolk',' GEPP Sa-ard', 'Inno Waste', 'Klong Dinsor', 'Local Alike', 'MoreLoop', 'Noburo', 'Orgafeed', 'Ricult', 'Satarana', 'Steps with Theera', 'TP Project', 'Vanta' and 'YoungHappy'.
Addressing the event, Resident Representative of UNDP Thailand, Renaud Meyer, said, "Our world today is dealing with challenges that are different in speed and complexity from any previous eras in history. As the COVID-19 pandemic continues affecting lives and livelihoods across the globe, the urgency to act for sustainable development is greater than ever before. We need entrepreneurs with social mindsets who can leverage innovation and disruptive technologies to tackle complex development challenges, make a real impact to improve people's lives, and ultimately accelerate our progress on the SDGs."
The programme is designed to help entrepreneurs develop the skills they need to deliver their social business goals. "The selected enterprises will receive support on business development and guidance on impact measurement and due diligence to ramp up their investment readiness before matching with potential investors or funding opportunities. The programme is also currently working with government entities, angel investors, local and international VC firms, foundations and banks to provide capital investment opportunities for participating ventures." said Sunit Shrestha, Director of ChangeFusion.
he event was followed by a panel discussion on 'Way Forward in Driving Impact Investment in Thailand', joined by Ms. Ruenvadee Suwanmongkol, Secretary General of the Securities and Exchange Commission, Mr. Vichien Phongsathorn, Chairman of the Premier Group of Companies, M.L. Dispanadda Diskul, Chairman of Social Enterprise Thailand Association, and Mrs. Voravan Tarapoom, Chairman of BBL Asset Management.