While "Hello, how are you?" might be a common greeting in many countries, Thai people prefer to say "have you eaten?", underscoring the importance of food to the country's culture. Thais are obsessed with food; whether it's cooking, eating or reviewing it, food is part of everyday conversation and this food conversation is unmissable on Twitter too. Food and drink is one of the top three most talked about conversations on Twitter and 88% of Twitter users in Thailand are passionate about food and drink .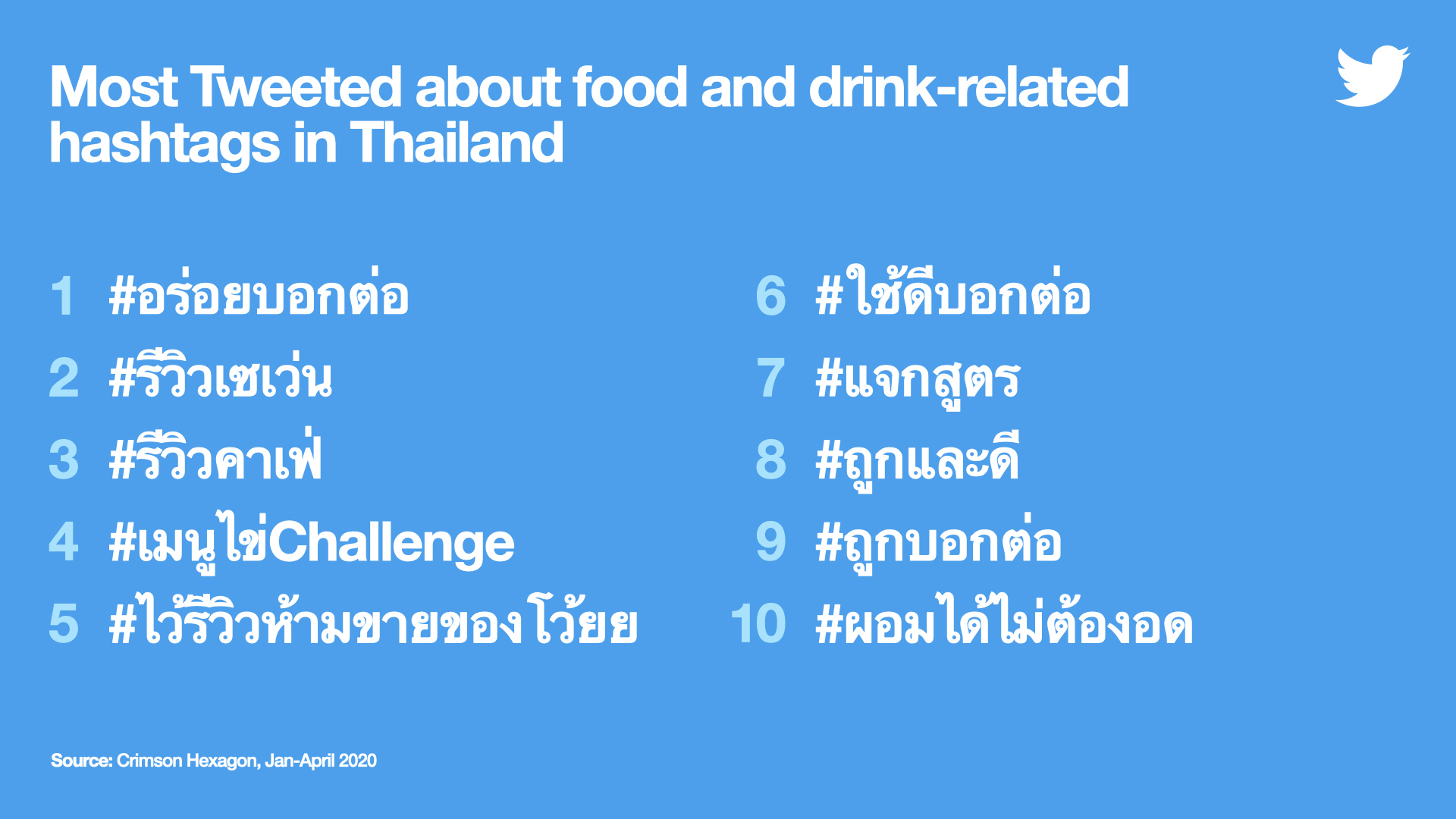 During Covid-19 and the trend to #StayHome, the food conversation on Twitter has grown considerably. From 1 February 2020 to 30 April 2020, conversations about food on Twitter in Thailand increased 56% . In addition to learning basic cooking skills and reviewing their latest bites on Twitter, Thai foodies are also sharing cooking tips and secret recipes. They're showcasing fun and creative menus, encouraging others to create their own as well as supporting those in need by Tweeting about their favourite restaurants currently affected during Covid-19.
Top Food Hashtags on Twitter in Thailand
When it comes to food culture, Thais love to talk about their food preferences and passions on Twitter. During Covid-19, food passions have been running high, spurning an array of hashtags around which food conversations are being driven. Here are the top 10 food hashtags on Twitter in Thailand during Covid-19 :
Food Conversations on Twitter in Thailand
The food and drinks conversation on Twitter in Thailand is broad and varied. It's also a topic that interests people of all demographics and backgrounds. Here are 5 of the most common food trends and topics on Twitter in Thailand right now.
1. Learn to Cook from Twitter Community
With people spending more time at home right now, interest in home cooking is on the up and novice chefs are turning their kitchens into the new fun den. From simple Thai dishes - how to cook an egg, anyone? - to something more suited to experienced amateur chefs, Twitter has become the place to go for "how-to" cooking tips.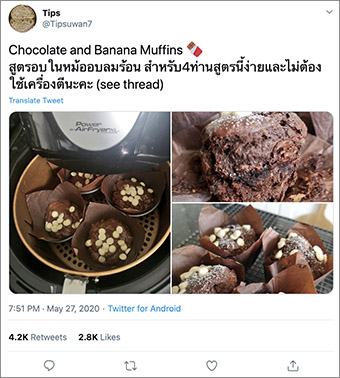 Embeddable Tweet: https://twitter.com/Tipsuwan7/status/1265626640899543040
For budding chefs, following the recipe is sometimes just not enough. Looking for a challenge, some Twitter foodies are bespoking their food and drinks, and adding their own special touches to make something unique.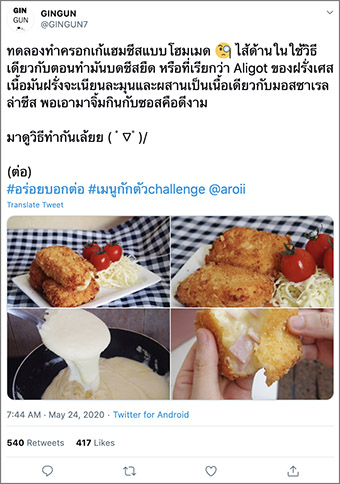 Embeddable Tweet: https://twitter.com/GINGUN7/status/1264356649600344065
2. Food for Others
With large numbers of people out of work due to Covid-19, many Thais are turning to cooking to make ends meet. Making cookies, snacks and whatever they can, they are Tweeting about them looking for customers, and the Thai Twitter community are showing their love by Retweeting and in some cases, helping to promote. Thai actor / screenwriter เต๋อ ฉันทวิชช์ (@terchantwist) showed his support and Tweeted that if anyone knew of people making snacks or desserts to Tweet to him and he would buy them and donate to hospital workers. Looking to help restaurants that don't sell through commercial apps, influencer spin9 (@spin9) asked people to highlight such outlets in the comments beneath his Tweet as a way to help raise awareness of those businesses to his followers.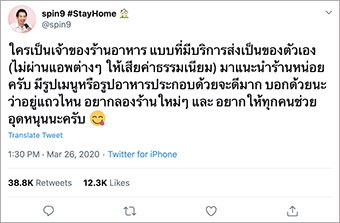 Embeddable Tweet: https://twitter.com/spin9/status/1243062758540599297
Meanwhile Thidakarn (@thidakarn), known for her support of healthy living, asked people to share details of healthy food sellers beneath her Tweet as a way to increase awareness, and also to encourage more people to eat healthily during this time of #StayAtHome.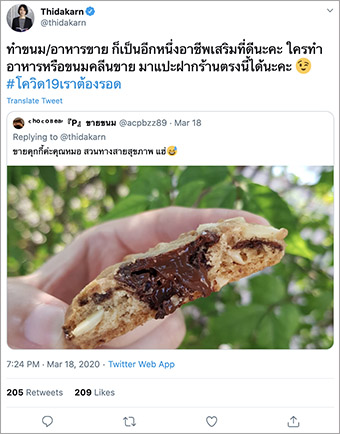 Embeddable Tweet: https://twitter.com/thidakarn/status/1240252836203524096
3. Engaging with Food Challenges
Less dining out has meant more cooking at home and dining in recently, leading to the rise of food challenges on Twitter. The Quarantine Challenge brought Twitter foodies together, with people Tweeting photos of their latest gastronomic achievements with the hashtag #เมนูกักตัวchallenge. Dutchie Yoghurt TH (@Dutchie_Yoghurt) were quick to connect, launching their Yoghurt Challenge where people Tweet dishes made with yoghurt and the hashtag #โยเกิร์ตChallenge.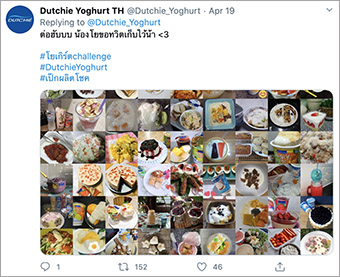 Embeddable Tweet: https://twitter.com/Dutchie_Yoghurt/status/1251435507273183233
4. Beefing up Your Cooking Gear
The trend to more people cooking at home has seen people turn their interests to kitchen appliances. Perhaps something that was not on the radar for some before, kitchen gear has become the new must-have. From multi-functional cooking pots and steamers, to blenders, oil-free fryers and more, the Thai Twittersphere is alight with the latest kitchen gadgets and brands have taken note: for each pre-ordered set, MK customers will receive a free MY-style suki pot.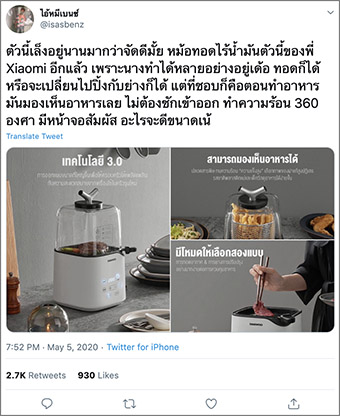 Embeddable Tweet: https://twitter.com/isasbenz/status/1257654378854379521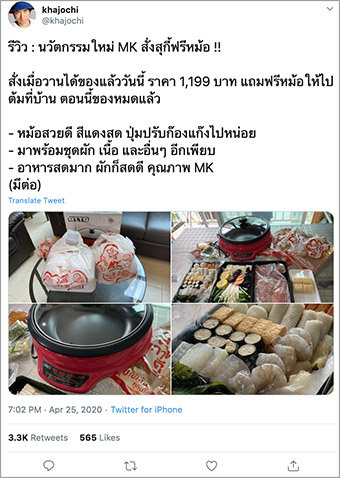 Embeddable Tweet: https://twitter.com/khajochi/status/1254017879839629314
5. Social Commerce and Supersized Portions
M-commerce has skyrocketed in Thailand during Covid-19 as more and more people are ordering their meals online. While at a restaurant a single portion would suffice, ordering in has seen food suppliers adapt and supersize their offerings for families and group dining at home.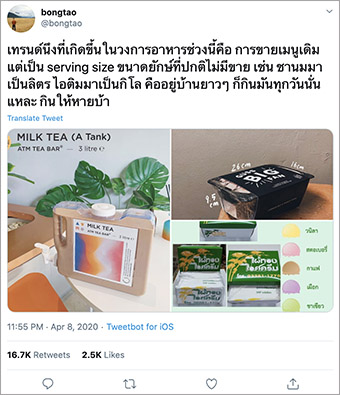 Embeddable Tweet: https://twitter.com/bongtao/status/1247931154193215488
Brands are Part of the Conversation
The food and drinks conversation on Twitter is vibrant and brands play a key part in this; one-third of Twitter foodies follow brands or visit a brand's profile on Twitter . Savvy food and drinks brands in Thailand are joining in the Twitter conversations, learning more about consumer behaviour and wants, and connecting with consumers on Twitter like never before.
Grabbing people's attention is the top priority when launching something new and Twitter has become the launch platform of choice for Fast Moving Consumer Goods brands in Thailand. Twitter enables brands to reach their target demographic and connect with Twitter's leaned-in and influential audience.
With a strategy to target Thai millenials on Twitter, Lays Thailand (@laysthailand) tapped into the current at-home reality and the popularity of gaming, chat and watching TV series online. Lays Thailand launched a "10 Baht" campaign whereby customers received free internet data which they could use to improve their #StayAtHome digital experience.
On their recent "10 Baht" campaign, Khanitha Taweepon, Marketing Manager of Lays, said, "Twitter is the place where people can follow the latest trends and it's popular with Thai millennials. For Lays Thailand, it is a must-use channel to engage with this key demographic. We tailor our campaigns to suit the target group and our "10 baht" campaign on Twitter was successful in connecting with Thai millennials. Twitter is also an excellent place for hearing feedback directly from our customers and is another reason we value it."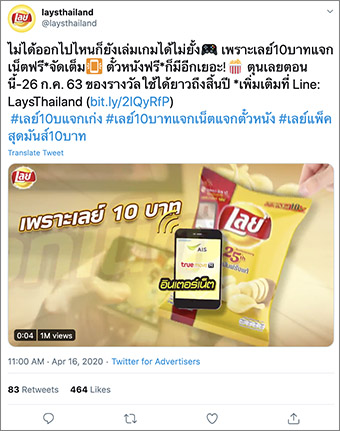 Embeddable Tweet: https://twitter.com/laysthailand/status/1250635026104025088
Leveraging Twitter's influential audience, food and drinks brands are reaching out with creative strategies and engaging video to launch something new. Using Twitter's Promoted Trend feature, Fanta Thailand (@FantaThailand) launched #ท้าลองหลอน (spooky challenge). Part of their annual 'What The Fruit' campaign, Fanta teased Tweeps to guess their latest mysterious flavours through an interactive experience on their website.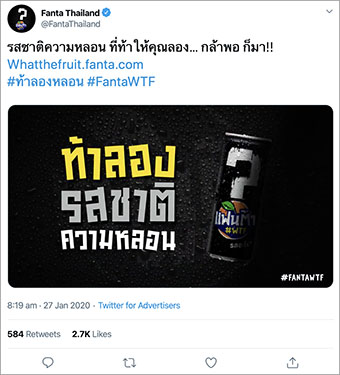 Embeddable Tweet: https://twitter.com/FantaThailand/status/1221603662155243520
The Power of Food Photos
Food is a visual subject and people on Twitter love to share their food-related photos. When cooking your latest masterpiece, snap; when you're about to eat, snap. Use Twitter's drag and drop feature to reorder your photos and show a cooking sequence, or simply present your favourite food photo first.